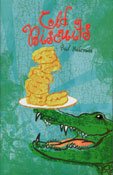 We know a few things to be constant in the South: Coworkers are extended family members, porch swings are adult-sized cradles, the weather changes its mind at the drop of a hat, and food is a bandage that will heal any wounded soul.
Gail Hederman, who is from Magee, Miss., recently finished her first novel, "Cold Biscuits" (Book Masters Inc., 2009, $22.95). The story will entertain and delight many southerners. Initially presenting itself as a girls' night-out tale of hilarity and mischief, the story soon becomes a small-town caper interwoven with two separate love stories.
Peppered throughout this wild account set in the fictional town of Surely, Miss., are beguiling characters such as a bloodhound that always dresses for the occasion and an alligator-whisperer that lives in a tree house.
I attended the "Cold Biscuits" book release party at the McAlpin House in Magee to chat with Hederman.
Out of all the charming characters in the book, The Pearl is by far my favorite. Who does she reflect in your personal life?
A very dear friend, and actually the catalyst for the whole project. It started off as a series of stories because she's always, always into something; and you know how you'll say, "One day I'm going to write a book about you"? Well, one day I just did.
According to the story, a cold biscuit is not only a stale breakfast item, but is also the weapon of choice for the narrator. Have you ever wound up on the wrong end of a cold biscuit?
Oh, yes, as a child. We delighted when my mother would discard the cold biscuits, and, of course, being in the country, you always had to invent activities. There were several children in my neck of the woods that we played with, and we thought those were great to throw at each other.
On more than one instance in the book, you go into mouth-watering detail about the food the characters eat. Do you have a culinary background?
I really don't, but I love food. I enjoy it, and I think Mississippi gets sold short on our ability to prepare food in so many different ways. I just happen to like to eat.
How long did it take you to write this book?
I worked on the book on and off for a (long) time, but seriously worked on it for a year.
How do you work through a writer's block?
To be honest with you, the best thing that works for me is to lay it down and walk away. Oddly enough, I write a lot, and (planned) a lot of "Cold Biscuits" in the car, because I am by myself driving, between Jackson and Hattiesburg, (and) I have time to think through things and make notes, maybe pull over and jot down something. So, basically, I just walk away from it and let it come back to me.
Is there a message in your book that you want people to grasp?
That humor is important to all of us, and I think that, living in the South, we have a lot to offer. I think our sense of humor is one of the strongest points about being a southerner. We're not afraid to laugh at ourselves. A smile, I would say, is what I would like to see people get out of this book.
What can we hope to see from you in the future—perhaps a continuation of one of the love stories in the book, or maybe even a sequel?
Well, I enjoy these characters so much, so yes, I would love to continue that. I have already written about 25,000 words toward a second one because I just can't leave these characters. Now, I may just be writing to an audience of one if no one loves this book, but I will keep writing. I think there's so much we don't know about these characters, for instance Pearl and Earl and their past, and I think these are great areas to explore.
Gail Hederman will sign "Cold Biscuits" at Lemuria Books (Banner Hall, 4465 Interstate 55 North) on Tuesday, Oct. 22, between 5 and 7 p.m. For more information or to find additional signings, visit her Web site.
More like this story
More stories by this author