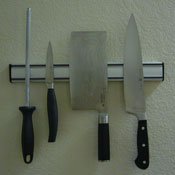 I graduated from college with only margarita glasses and a muffin pan to fill my kitchen. Since those two items can only go so far, I made a post-college IKEA pilgrimage to fill in the holes. I bought the cheapest kitchen tools IKEA sold, and nine months later after they all fell apart or rusted, I was again left with only my margarita glasses and muffin pan.
I have been slowly restocking my kitchen ever since with high quality, well made items. Good kitchen tools can last remarkably long and make a noticeable difference in your cooking. Stocking a kitchen doesn't have to be expensive, if you take the time to shop around. Kitchen stores have knowledgeable staff and pre-screened merchandise, but also shop at estate sales and consignment shops, the home-goods section of a designer discount store and restaurant-supply stores.
Knives
You only need three good knives: a chef's knife, a bread knife and a paring knife. You will use your chef's knife the most, so look for one that fits your hand comfortably. The knife should be six-to-10 inches long, depending on your hand size and comfort level. Cheaper versions of good knife brands often have lighter plastic handles that are easier to maneuver. Since your chef knife is your all-purpose knife, I recommend taking the time to go to a kitchen store and trying out different styles to find what feels the best to you.
Another option for a chef's knife is the Japanese Santoku-style knife. Santoku knives have a broader surface and are equally versatile.
Serrated bread knives compliment chef's knives because they easily cut items that are tougher on the outside than the inside. These specialized knifes are also multi-functional. Serrated knives cut tomatoes and peaches without bruising, cleanly slice cakes and shred large blocks of chocolate.
Finally, find a good, sharp paring knife. I like to have a very sharp paring knife for tasks like trimming fat off meat, but I also have a few extra paring knives because I end up using them more. Some styles come with a case, which are great for transporting to picnics or tailgating.
Once you have invested in good knives, you will also need a knife honer to maintain the blade (surprisingly, a sharp knife is much safer than a dull knife). Ideally, knives should be honed for every use and professionally sharpened twice a year.
Pots and Pans
Pots and pans can take up a lot of room, and I only have the space for what I use. I have a small and a medium-size pot, as well as a larger stockpot to use for boiling pastas (lasagna or spaghetti noodles) and soups. Pots should be sturdy with thick bottoms for even heat distribution during cooking.
Follow the same principles with sauté pans: one large lidded pan and one medium and one small sauté pan.
If you prefer non-stick pans, make sure not to use metal utensils because they flake off the non-stick coating. Once your pan gets dinged up with utensil scrapings, replace it because organizations like the Environmental Protection Agency have linked the chemical C-8, found in non-stick cookware, to cancer.
Cast-iron skillets are a great supplement to sauté pans. Cheap and sturdy, cast iron can also go directly into the oven. Most cast-iron skillets come "pre-seasoned," but you will still need to season it regularly. Seasoning is a way to keep your skillet from rusting by applying fat and heat. Most skillets will come with instructions, but directions are also readily available online.
Basic Kitchen Tools
In addition to knives, pots and pans, you'll need the following for a well-stocked kitchen:
• Tongs
• Whisk
• Spatula that can withstand heat
• A few wooden spoons and a slotted spoon
• A large microwavable glass measuring cup
• Measuring cups and spoons, metal ones tend to hold up better.
• A large wooden cutting board and a plastic cutting board for meat.
• A colander, preferably one with an elevated base.
• A rimmed cookie sheet • A metal (uncoated) drying rack
• A set of mixing bowls
• A 9-inch-by-13-inch casserole dish for baking and roasting
Filling in the Gaps
These basic tools will get dinner on the table, but the rest depends on the cook. Kitchen essentials are subjective and depend on what and how frequently you cook. Many people use rice cookers or bread machines for example, but I've never owned either machine. I routinely use my slow cooker, food processor, standing mixer and baking pans. Figure out what you need to cook what you want; kitchen tools are unique to each cook's kitchen.
More like this story
More stories by this author
Support our reporting -- Become a JFP VIP.
The news business has changed dramatically in the past year, and we need your help more than ever to keep bringing you important stories about Jackson and the Metro. Become a JFP VIP with an annual membership or you can Sign up as a monthly supporter. Thanks for anything you can do to empower our journalism!