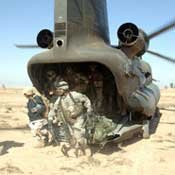 The economy has eclipsed almost everything these days, including the fact that last Friday marked the sixth anniversary of the Iraq war, a war this paper opposed since the week it started.
President Barack Obama says we'll pull our combat troops by August 2010, but leave 50,000 soldiers in-country for "training and support." By that date, the war will have dragged on for seven and a half years, eclipsed in length of U.S. wars only by Afghanistan (that "other" war) and Vietnam, which went on for a year longer.
To date, 4,262 U.S. soldiers have died in Iraq, along with 307 coalition soldiers. Wounded Americans number more than 31,000. Sources like Iraq Body Count put Iraqi dead at more than 91,000. More than 2 million Iraqis have fled their country.
Contractors outnumber soldiers in this war. Last year, a congressional report put the number of private contractors at 190,000 and the number of soldiers at 140,000. U.S. taxpayers fund all of the American activity in Iraq, of course, even the money paid to the faceless, unaccountable contractors.
And the amount of money spent in Iraq is staggering: To date, we've paid more than $607 billion, with another $50 billion or so allocated through the end of FY 2009, Sept. 30. But with our current deficit, foreign investments fund the war almost entirely; the Chinese are openly protesting footing America's bills.
The National Priorities Project makes a valiant attempt at putting the numbers in perspective, but it's difficult to wrap your mind around what that money could have meant for the American people: scholarships, affordable housing, health care.
Instead, the world is dealing with a global economic crisis the likes of which hasn't been seen since the Great Depression 80 years ago, along with crumbling infrastructure, massive fraud and decaying schools.
The war's anniversary sparked little protest; there's no draft, after all, so the men and women going to Iraq made the choice to fight, presumably. The country is collectively holding its breath, too frightened by individual insecurity to give much thought to such a small war in terms of American dead.
Some Americans would rather see Obama fail than the country pull out of this mess. Those people would rather continue down the same path that brought us to this point instead of lifting their eyes for a moment toward the possibility of something better. That's communal insanity, stupendously difficult to fathom.
As we enter year seven of the Iraq war, it's time for all of us to reflect on where we are, how we got here, who we lost and what we're going to do about it. Each of us has a share in the responsibility, and each of us has the power to make a difference. That's worth remembering.
Support our reporting -- Become a JFP VIP.
The news business has changed dramatically in the past year, and we need your help more than ever to keep bringing you important stories about Jackson and the Metro. Become a JFP VIP with an annual membership or you can Sign up as a monthly supporter. Thanks for anything you can do to empower our journalism!