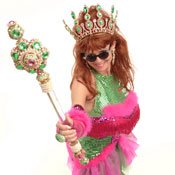 I finally caught up with Boss Sweet Potato Queen and author Jill Conner Browne as I was dragging groceries into my house. I had procrastinated doing the interview to find some quiet time, but as Browne says, "Life is hard on a good day." There is no quiet time around these parts.
However, I know that in one week, I will be at the Hilton with our people. All eleventy thousand of them. Maybe I will finally marry our inflatable boyfriend, Bernie. Or perhaps I'll make good use of a laser pointer. I'm quite sure that I'll make more memories for the scrapbook and laugh enough to forget all our problems. You can, too; in fact, I hope you do. You deserve it because I know for damn sure I do.
Browne is on the same page, cracking jokes about the recession and how, being that we will all be bankrupt, we should just live it up now at the most restorative time of our year: the Sweet Potato Queen weekend events March 19-22.
What do you want Jackson to know about the St. Paddy's parade?
Well, you know, that it's much more than a parade. People start coming in on Wednesday, and they stay through Sunday and Monday. This year we have 10 women coming from Indonesia. I think if they can make it, surely people can make that trek from the reservoir.
Yeah, I think people have just not known. I remember first finding y'all after the parade with Delta Burke. I knew there was a party somewhere with all those fun people, and I was going to find it.
You know our motto for the weekend is: "Anything for the chirren'." We do lots of fundraising for the Blair E. Batson Children's Hospital at our events. To put it in perspective, a kid's wheelchair, which makes my blood run cold just to say, costs $600. Blair E. Batson will treat any child for as long as they need it, and that costs money.
Last year we had the Hilton put 600 gallons of Jell-O in the hot tub for Jell-O wrestling, but we learned it was not big enough and that concrete is scary, so we will have a pool for the Jell-O wrestling. Also, we will have a pole at the Hilton, and for one quarter, you may dance at said pole. We have sold all-weekend pole passes for $10, and we have had some folks pay $15 to prevent some from dancing. Of course for $20, that person could get her pass back.
Which leads to the "b*tch penalty box" where you go when you say anything derogatory about anyone. As you can well imagine, we have found it best for some to just purchase a weekend "b*tch pass." You may curse all you want, but you cannot curse at someone. You can imagine what a hit this has been.
It's really all in good fun and all for the children.
And people don't understand that it's not just women at the events. We have women, men, young people, old people and all different colors of people.
Oh, another way we are raising money is by selling Sweet Potato Queen tattoos. You may purchase one on your own, and our Randall Wallace, who wrote "Braveheart," will apply this tattoo anywhere you'd like.
And you know, Randall is talented and all, but readers should know he is also incredibly sexy.
Yes, and single! If you are not the tattoo type, you may have this tattoo applied to our very own Martha Jean. In fact, we've had so many checks coming in that she's almost out of real estate. We are about to have to sell the body of another queen, but she doesn't know it, yet.
OK, so what does my $59 parade pass include?
On Thursday, we have Thirsty Thursday at the Hilton where we will have the wine. The Hilton has donated food. That's when we will have the pole, Tat-the-TaTas and a trolley for shopping.
We have buses running non-stop throughout the weekend. On Friday, there is the free margarita-wine-cheese party at the Everyday Gourmet, the SPQ at Hal & Mal's that night and then the Afterglow Party at the Hilton with more pole dancing and food.
Of course, Saturday is the parade followed by the Big Ass BBQ with free Barefoot Wine. This is when you can get your Jell-O Wrasslin' and Parade Float photo ops. That night is, of course, the Pearls and PJ's party, and karaoke. We've learned that after lots of wine, some of us become very talented singers, so you can sing there or go see The Bouffants from Memphis and Kacey Jones.
And then there's the Sunday brunch, which is the sweetest part of the weekend.
It's like going to the church of my dreams.
Yes, that's when it just all comes together. It is a separate ticket, however. It sells out quickly. And we do, in fact, wear bathrobes.
And it's not like the cliché church. It's very sweet but also very funny.
Yes. The entire experience throughout the week is very special. But, you know, if all I can do is get a laugh out of you, I feel I've done my job, and you will get your money's worth of laughter.
Parade passes and brunch tickets can be purchased at http://www.sweetpotatoqueens.com. There are no tickets sold at the door for separate events.
Thursday, March 19
• Thirsty Thursday The O-fficial Warm-up to a fun-filled weekend. All activities are centered on the Hilton-Jackson, the O-fficial Hotel of the Sweet Potato Queens, Fitzgerald's Lobby Bar. Live music, dancing, drinks and food pretty much all day and into the night.
• Exotic Dancer Pole (all weekend) Right in the middle of Fitzgerald's will be an exotic dancer's pole, and for a small fee or a Weekend Pole Pass, you can let out your inner stripper. A perfect photo op. (Blair E. Batson Children's Hospital fundraising effort.)
• Tat-the-TaTa's (all weekend) Buy your SPQ O-fficial temporary tattoos from the SPQ Store then have Kilt Boy, The Cutest Boy In The World and/or the SPQ Spud Studs install 'em. (Blair E. Batson Children's Hospital fundraising effort.)
• Renaissance at Colony Park 2ish-8ish. Ride their chartered trolley to world-class shopping—SPQ discounts! Call Ron Mills, Fondren Trolley, 601-213-7433, for estimated times of arrival.
Friday, March 20
• Big Hat Luncheon 10:30ish-2ish. Board the buses to BRAVO! Italian Restaurant. You must have a reservation for this event. Don't forget your big hat! Call BRAVO! for details, 601-982-8111, or http://www.bravobuzz.com. Be sure to also visit Mon Ami Day Spa & Laser Center.
• The Everyday Gourmet 2ish-6ish. Ride the bus to the free Margarita-Wine-Cheese Party brought to you by Barefoot Wine & Bubbly and Fat Mamma's.
• SPQ Ball 7ish-11ish. At Hal & Mal's. Featuring These Days with Jewel Bass; and our O-fficial singer/songwriter Kacey Jones.
• Afterglow 11ish at Fitzgerald's, until who knows, for more music, pole dancing, food and fun. Special menu includes Pizzas-to-go.
Saturday, March 21
• Million Queen March noon. Smile and wave: All of Jackson and the world are watching. (Blair E. Batson Children's Hospital fundraising effort.)
• 2nd Annual Big-Ass Barbecue 2ish-5ish. Free Barbecue provided by the Hilton. Free Barefoot Wine & Bubbly. There will be lots of singin' and dancin' to The Earth Angels; and Kacey Jones.
• SPQ Parade Float Photo Ops 2ish to 3:30 p.m. Climb aboard the actual SPQ Float for individual or Queen group photos by our O-fficial photographer, Duane Jones (Blair E. Batson Children's Hospital fundraising effort)
• Fitzgerald's Lobby Bar fabulous cocktails beginning at 10 a.m. and flowing until 1 a.m.
• Jello Wrasslin' Photo Ops 4ish, by the Hilton pool. For a small fee, join the Queens in the "Jell-o" for a unique photo op. (Blair E. Batson Children's Hospital fundraising effort.)
• O-fficial Body Tattooing of SPQ Wannabe Martha Jean immediately following Jell-o Wrasslin'; raise money for the children and help Martha Jean find her groove! (Blair E. Batson Children's Hospital fundraising effort.)
• The Fire Fly Sweet Tea Vodka Pearls & PJ's Party Our premier event is brought to you by Fire Fly Sweet Tea Vodka. 7ish-midnight-ish. Hilton, Westbrook Ballroom. Dance the night away to the music of The Bouffants from Memphis and Kacey Jones.
• Karaoke 8:30ish-midnight-ish. Next to the Fire Fly Sweet Tea Vodka Pearls & PJ's™Party.
• Big-Ass Crown 9ish. HRH Jill will announce the raffle winner of the Mon Ami Spa & Laser Center Big-Ass Crown. You must be present and wildly enthusiastic to actually receive said crown. (Blair E. Batson Children's Hospital fundraising effort.)
Sunday, March 22
• Bathrobe Brunch™ 8:30 a.m, Hilton, Westbrook Ballroom. The "Best Door Decoration" winner announced. Great food: Pig Candy, Sweet Potato Biscuits and Brenda's Shrimp and Grits. Free Champagne provided by Barefoot Wine and Bubbly. Special music from Lelon Thompson, Baby Jan and Jamie Ward. Jill Conner Browne shares Words To Live By —experience "the foundation of the frivolity." Special ticket required.
• Goin' Home Hymn Kacey Jones sends us away with our traditional closing sing-along hymn, "Never Wear Panties to a Party."
More St. Paddy's weekend events at http://www.jfpeventscom.
More like this story
More stories by this author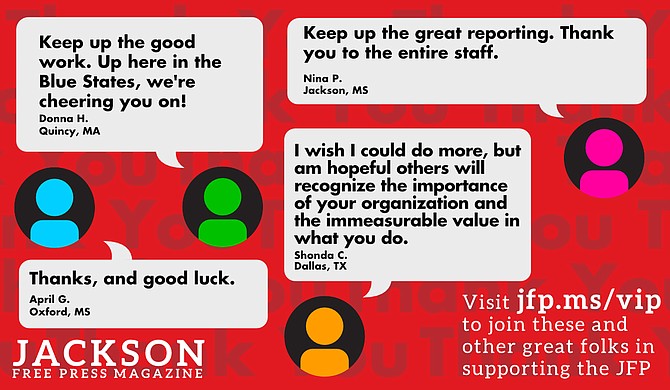 Thanks to all our new JFP VIPs!
COVID-19 has closed down the main sources of the JFP's revenue -- concerts, festivals, fundraisers, restaurants and bars. If everyone reading this article gives $5 or more, we should be able to continue publishing through the crisis. Please pay what you can to keep us reporting and publishing.