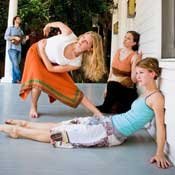 "Just like you can sit on a porch and have a relaxed conversation, we want to engage audiences in the same way through our choreography," says Krista Bower, executive director of Front Porch Dance and a dance professor at Belhaven College.
Bower and fellow professional dancer Valerie Nicholson's vision for the company came full circle after they met dancers Erin Rockwell, Susie Long and Emily Wright at Belhaven and began discussing the project in May 2008.
"We saw a need in Jackson for a professional contemporary dance company, and also a need to give these professional artists an opportunity to choreograph," Bower says.
Each of the five members, all under age 30, is trained in ballet and modern dance. Front Porch Dance focuses on a unique modern dance technique, creating their choreography through improvisation and collaboration.
"The pieces that we've done so far have all been collaborative works between the dancers," Bower says. "... We develop it together. It's a different approach from ballet."
Front Porch Dance is currently working with local musician Jamie Weems of The Scramblers, who hopes to bring old-time string music to the contemporary era.
The company performed their first choreographed work in October 2008 at the Community Dance Concert at Belhaven College. The group plans to perform a concert in April at The Commons Gallery in downtown Jackson, and they hope to perform a series of four concerts between September 2009 and June 2010.
More stories by this author