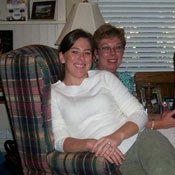 Pussy for Peace is a married 25-year-old woman from Tehran. The MySpace page she manages, http://www.myspace.com/ashleyrogersfoundation, is a sprawling hive of women's news and thoughts with a Middle East flavor. When a woman is attacked, shot or beaten anywhere in the world, the news often appears here, along with a host of pro-female thoughts. Many in Pussy for Peace's friends group are from the Middle East, and for them the site is one of the few places available where they may vent, share and celebrate their sexuality.
But it didn't start that way. Chad Henson, an Oxford, Miss., businessman, started the Ashley Rogers Foundation—the proper name of the site—in honor of his friend, Ashley Rogers, who was a victim of domestic violence. He wanted to find out what happened to his friend in her final hours in December 2006. Henson felt that the local media had let him down, and so had law enforcement. Maybe through MySpace he could make sense of what happened.
Officially, Ashley killed herself, but Henson doesn't preclude the possibility of foul play. Terri Rogers, Ashley's mother, calls her daughter's death a suicide although she blames domestic violence and her former son-in-law for driving her daughter there. Ashley suffered the sort of violence that landed her in the hospital. It got social workers called. It first caused her to attempt suicide in late summer 2006.
That was the summer of Ashley's college graduation, her pregnancy and marriage to an Oxford police officer. By late summer, there were serious problems in the relationship. One evening in late August or early September her mother says her former son-in-law handcuffed Ashley's ankles together with police handcuffs. She crawled after the key, but her husband grabbed her, pulled her into the bathroom and smashed her head against the toilet.
Sheriff's deputies arrived and arrested her husband, but he was free in hours. "He never even spent time in a jail cell," Rogers said.
Meanwhile, his wife stayed in the hospital on a respirator for five days. The hospital assigned a social worker to Ashley, but her husband convinced the authorities it was nothing serious. Just a family affair. He said he was only kidding. That's what he told his wife.
Terri couldn't believe it. "To see your daughter on a respirator with red marks on her ankles and a big knot on her head," she said. "And he said it was all a joke."
Soon after the hospital released her, she attempted suicide, and a family friend discovered her unconscious. He rushed her to the hospital where doctors saved her and sent her back home. Her life began to unravel.
Terri believes her daughter was too embarrassed to ask for help, and said that, for her part, she didn't know whom she could trust. Law enforcement seemed to be on the side of Ashley's husband.
Then, three days after Christmas, Ashley disappeared. Eventually the Mississippi Bureau of Investigation launched a search, but by then it was too late. Searchers found Ashley's car Dec. 31. The car had been driven off the road and hidden in some trees on a friend's property out in the county. Ashley was inside her car, dead. She had overdosed on pills.
Police ruled her death as a suicide and filed no charges. Terri said Ashley's husband didn't help with the funeral costs. He kept his job as a police officer and, she said, he soon remarried. To Ashley's friends and family, it was clear something was wrong with the system.
That's when Henson started the MySpace page.
"The page was for her friends," he said. "It was a place to compile information (about what happened) where the police wouldn't harass us."
It soon became something more. "I knew there was nothing I could do for her, but maybe there was something I could do in her honor, so I began looking around the world, and (domestic violence) looked like a huge social issue."
Soon the page had hundreds of friends—many female, many from the Middle East—and all with stories to tell (and photos and videos to share). Henson said American servicemen have also used the site to show solidarity for women's rights, and more than a few Middle Eastern men are members, too.
Some people have complained about the name, but Henson said the name is part of the site's power.
"That's the coolest thing, that's what caught people's eye," he says. "I was taking this issue, and I was putting a different issue right in their face. (Visitors) would expect a site about slutty women, but they found a site about women getting abused, getting acid thrown in their faces."
The site also helps to alert Middle Eastern women about abuses in the U.S. Henson said he would like his site to promote cross-cultural understanding rather than blame or a sense of superiority.
"They probably think that domestic violence doesn't happen here, that life in the U.S. is perfect," he said. "But no place is perfect. It happens in Muslim countries and in Christian countries."
In the years since Henson started the site, he says he has given control almost entirely to a handful of women from around the world whom he trusts and calls "female vigilantes."
They look after the site and alert friends of the site to women's rights violations around the world.
It is therapy through expression. For Henson it was a way to work out a personal loss and frustration, and it grew into a tool for dozens of women to express their frustrations. But Henson has no illusions about the site.
"I don't want to think I'm doing anything great or solving anything," he said. "It's more of a conceptual thing."
CORRECTION: This article has been corrected to reflect that a family friend, not her husband, discovered Ashley Rogers unconscious after her suicide attempt. The Jackson Free Press apologizes for the error.
More like this story
More stories by this author