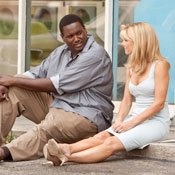 "Remember the Titans," the 2000 Walt Disney Pictures sports drama about an integrated Virginia football team and their first season together, is the quintessential American football movie. In the years since, there have been several noble attempts to replicate this perfect blend of heart-pounding drama and bone-crunching gridiron glory, but the efforts usually wind up in the "highly dramatic, minimally athletic" category.
Exhibit A would be "The Blind Side" from director John Lee Hancock ("The Rookie"), a motion picture based on the book by Vanity Fair writer Michael Lewis. Rather than treat the audience to a healthy amount of on-the-field action, this film spends most of its time on the figurative bench, focusing instead on a special family whose bold Good Samaritan decision morphs into an extraordinary story that is as inspirational and emotional as any game-winning touchdown.
Based on the story of a wealthy white family who adopts future All-American Ole Miss Rebel and Baltimore Raven offensive tackle Michael Oher, "Blind Side" fits in with the likes of "Rudy," "Friday Night Lights" and even "Jerry McGuireԗfilms that focus less on the game and more on the players.
Long before his star started shining in Baltimore or Oxford, Oher (pronounced "oar") was just "Big Mike," another forgotten African American teen lost in the rough government housing projects of north Memphis. Oher's early years, grittily recreated by Lewis and Hancock, were a classic example of someone escaping the frying pan, only to be engulfed by the fire.
Rescued from a broken family only to be thrown into an equally broken system, young Michael (Quinton Aaron) is passed around from foster home to foster home, and from school to school. With his likelihood of becoming another tragic statistic growing exponentially with each passing year, Oher winds up a castaway surviving in the impoverished ghetto, his past too horrifying to remember, his future too bleak to look forward to. His gigantic frame carries around a heart that is crushed to a mere shadow of what it could be.
Enter the Tuohy family (pronounced "two-ee"): former Ole Miss basketball star turned fast-food millionaire Sean (Tim McGraw), his interior-designer wife, Leigh Anne (Sandra Bullock), and their two children, Collins and Sean Jr. (Lily Collins and Jae Head). The upper class suburbanites' world aligns with Michael's after the lumbering giant enrolls as a student at the same Christian private school the Tuohy kids attend.
I'm a sucker for child stars (not the Miley Cyrus variety), and Head is endearing as the pint-sized, motor mouth Sean Jr. or "S.J." He takes on the role, without asking of course, of Michael's spring trainer and later "managing agent" after a gaggle of NCAA coaches comes to kiss Michael's ring and beg him to sign with their team.
This dorky sequence is complete with awkward cameos from Nick Saban, Tommy Tuberville, Houston Nutt and the dreadful Ed Orgeron (who would eventually recruit Michael to Ole Miss). It's the lowest point of the movie, and even the hilarious S.J. and his McGuire parodies fail to carry.
Bullock gets the highest score, though. She is radiant as always and looking a good decade younger than her 45 years. Just a shade shy of brassy, Leigh Ann is a study in contradictions. She is an opinionated and outgoing feminist über woman standing confidently atop her empire of career and family while pulling off a convincing role of brassy, Republican, cheerleading, storybook reading, compassionate homemaker. The role should be adequate practice in case Oliver Stone picks her to do a Sarah Palin biopic.
"Don't you dare lie to me," Mama Tuohy warns a bedraggled Michael after the family discovers him walking alongside the snowy road in just a T-shirt and shorts, his school books crammed into a grocery sack. When she finds out that Michael has nowhere to go, she offers him the family couch, a way more splendid one than he is used to having. One night at the Tuohy's becomes two nights, then Thanksgiving, then permanent.
When the most ridiculous and heinous allegations of the Tuohy's motives behind Michael's rescue come flying in from snotty friends, gossipy kids and even a skeptical NCAA, Leigh Anne goes into menace mode, daring anyone to go through her to get to her cherished family.
It's Leigh Anne who decides that Michael is worth saving, and this dogged quest leads him to a similar decision to use his God-given abilities to succeed both in the classroom and on the practice field.
With help from Michael's coach (Ray McKinnon) and tutor (Academy Award winner Kathy Bates), the young man improves his GPA, his self-confidence and his monstrous talent as an offensive lineman.
Some may label the film as patronizing or politically insensitive, but when you study the story behind the film, however, the true story of a 6'2Ғ, 310-pound NFL superstar who still hugs his "Momma," it's plain to see how Michael Oher's life changed Leigh Anne Tuohy's as much as the other way around.
The Michael Oher story is one of the nation's most successful racial-reconciliation success stories of recent memory.
And the movie's not bad, either.
More stories by this author
Support our reporting -- Become a JFP VIP.
The news business has changed dramatically in the past year, and we need your help more than ever to keep bringing you important stories about Jackson and the Metro. Become a JFP VIP with an annual membership or you can Sign up as a monthly supporter. Thanks for anything you can do to empower our journalism!