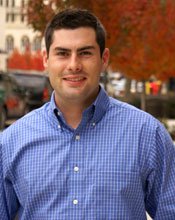 When some people think of Jackson, they conjure a place full of crime, drug houses, bumpy streets and rundown buildings, but not Crystal Springs native Jake Greer. Greer, 24, is using his passion and knowledge to bring more people and opportunities to the city.
Greer attended the University of Mississippi, where he received a bachelor's degree in hospitality management last year. A 200-hour internship with the Jackson Convention and Visitor's Bureau in summer 2008 allowed him to get his foot in the door; now he's the bureau's sales manager. In that role, Greer brings in large groups for conferences and helps with their travel arrangements. It's a job that makes Greer one of the first people to know about new happenings in Jackson.
"In the next two to three years, Jackson will probably be a destination city where people will be flooding in," Greer says. "It's exciting to promote something you see changing in a good way, and you know where it's going."
Greer attributes his success to hard work. "Nothing in life comes easy; you have to have a great work ethic, dedication and strong perseverance to reach the goals that you have set for yourself," he says.
With the Jackson Convention Center opening last January, the King Edward Hotel re-opening in December and plans to renovate storefronts along Capitol Street, Greer says these developments have brought a steady increase of visitors over the past few months—signs that the capitol city is making a comeback.
Still, Greer says he would like to see even more improvements to for the city to reach its full potential.
"We would like to see more restaurants and shops downtown. We have a lot of people coming to Jackson, and there isn't a lot to do after 5 p.m.," he says.
When he isn't working, Greer loves to attend Ole Miss football games. "I like to consider myself an Ole Miss fanatic," he says.
Following in the footsteps of his father, Greer also enjoys making music. His father, who lives in Crystal Springs, played in The Greer Brothers Band and made several appearances on the Grand Ole Opry. Their hit single was "Don't Turn Out the Light."
Greer says that although he was young during that time, it was still exciting. Now he enjoys playing country and classic rock songs on his guitar with friends. Although he commutes from Crystal Springs for work, he plans to move inside the city limits within the next year.
"I really enjoy representing the city, I take a lot of pride in that, and it's my favorite part of what I do," he says.
Support our reporting -- Follow the MFP.