The Washington Post is reporting that Attorney General Eric Holder plans to appoint a special prosecutor to look into possibility that CIA personnel "may have broken the law in their dealings with detainees." From the report:
Holder's decision could complicate the Justice Department's relationship with the White House, where President Obama has repeatedly expressed a desire to move forward from the national security controversies of the Bush administration. Deputy White House press secretary Bill Burton told reporters Monday that the president had complete faith in Holder and that the decision whether to launch an investigation was the attorney general's sole prerogative.
Previous Comments
ID

151162

Comment

Whoa.

Author

DonnaLadd

Date

2009-08-24T14:24:06-06:00
ID

151175

Comment

Yeah, Woah. As in: This really screws things up. Now whomever succeeds Obama will have no reason not to launch full investigations into everything he did, and so on and so forth.

Author

Ironghost

Date

2009-08-24T20:02:16-06:00
ID

151225

Comment

This really screws things up. Now whomever succeeds Obama will have no reason not to launch full investigations into everything he did, and so on and so forth. Are you certain this is a new thing? I seem to remember there being special prosecutors in the past. Something about a president being impeached feels like a recent memory. Another about a Vice President's chief of staff outing a covert CIA operative. Anything like that ring a bell? I'm not sure the cat was in the bag at this point.

Author

Todd Stauffer

Date

2009-08-25T15:04:54-06:00
ID

151227

Comment

I recall Clinton being impeached, yes. :) Of course, if he'd admitted he was getting services in the Oval office, nothing would have happened. My point, which got missed, is that once we start opening investigations of previous administrations, there won't be an end. When the republicans take the white house back, they'd certainly be free to start investigating Obama's staff. I'm not sure this is another level of hate and warfare the country wants between it's two parties.

Author

Ironghost

Date

2009-08-25T15:47:41-06:00
ID

151230

Comment

I didn't miss your point; I'm saying that the barn door is already opened and it doesn't take an administration changeover to make it happen. But along the lines of your point, I don't believe this is actually an investigation of the Bush administration as much as it is of the CIA, at least not so far. Holder has named longtime prosecutor John H. Durham, who has parachuted into crisis situations for both political parties over three decades, to open an early review of nearly a dozen cases of alleged detainee mistreatment at the hands of CIA interrogators and contractors.

Author

Todd Stauffer

Date

2009-08-25T17:06:15-06:00
ID

151231

Comment

Obama said when campaigning he was going to investigate the Bush administration. It was amended to "Just Policies" of the Bush Administration. I'm not sure if it'll only stop at the CIA or what. There's a lot of hate on the democratic side, you understand.

Author

Ironghost

Date

2009-08-25T19:05:31-06:00
ID

151232

Comment

Some of what you might consider "hate" might also be considered appropriate indignation and concern about the decidedly un-American tack that the CIA took in rendering, interrogating and allegedly torturing suspected terrorists (or people unlucky enough to be in the wrong place at the wrong time) in ways that went against our own principles. That's exactly the sort of thing that the American government should investigate and, at this junction, I would applaud Holder to bucking any White House pressure he may be feeling and applying the law.

Author

Todd Stauffer

Date

2009-08-25T19:13:54-06:00
ID

151236

Comment

Ironghost, if you think this is about "hate," I feel really sorry for you and your world view. And haven't you jerked that knee out of its socket yet this week defending Republicans on whatever topic comes up. I sure am glad I don't exist in a place where I feel like I have to defend a certain party no matter what it does. Judging things, and parties, and politicians on their own merits, or lack of them, on particular issues is a much more, well, intelligent place to exist. And the knees don't end up hurting as bad. As for your comment about Clinton, I supported his impeachment. You may well be right that he wouldn't have been impeached if he had not also obstructed justice, and he shouldn't have been if his actions didn't violate the law. However, that is different than whether he needed to be taken out on the White House lawn and tarred and feathered. I do not hesitate to say that Bill Clinton is as much of a disappointment of recent years as Obama has been a breath of fresh air. And that John Edwards makes me sick to my stomach. Neither one, to our knowledge, agreed to torture, started a war based on lies and fabrications, or wiretapped American citizens, but that in no way takes away from the severity of what they did do. That is, Iron, adults need to be capable to hold several thoughts at once, and not just follow a silly party line with every decision. That kind of binary thinking will be what rips this country apart if it happens. Too many people excuse anything a member of their party does. Why? I guess it makes it easier not to think, and just blindly follow. But it doesn't bode well for our country's future. You have to do the right thing, and if there is a scant possibility that the Bush administration set up a scenario for the kinds of torture reported (including rape of detainees' family members, Eric Holder has no choice. And all your blathering about Bill Clinton's stupidity doesn't change a thing about that. Right is right; wrong is wrong, and it doesn't matter what damn party someone belongs to.

Author

DonnaLadd

Date

2009-08-25T19:52:08-06:00
ID

151237

Comment

What makes what the CIA did under Bush any different from what they have been doing since they were set up as the OSS during WWII? They have been torturing people,killing people, wiretapping American citizens, starting wars and other dirty work for the Presidents and U.S. govt. for 50 years.

Author

BubbaT

Date

2009-08-25T21:49:16-06:00
ID

151239

Comment

I doubt much will come from this investigation.

Author

Jeff Lucas

Date

2009-08-26T07:39:24-06:00
ID

151240

Comment

Honestly, I'm with Jeff. It'll all be smoke and mirrors, and nothing much will come of it. Fact is both sides need the CIA. Oh, and thanks for proving MY point, Donna. :)

Author

Ironghost

Date

2009-08-26T08:44:16-06:00
ID

151241

Comment

A pessimist to the end, eh, Iron? Pessimists never made the world a better place, you know. That takes people who believe in the power to change things for the better, and to bring justice where needed. Oh, and thanks for proving MY point, Donna. :) You mean about Clinton, Iron? I never challenged that. He's an idiot in my mind. My views aren't colored by partisanship, but they are by facts.

Author

DonnaLadd

Date

2009-08-26T09:00:23-06:00
ID

151476

Comment

I saw Cheney and his ugly daughter recently badmouthing our president concerning Gitmo, healthcare and the investigation into the CIA's wrongdoing. I guess when you're as guilty as Cheney and as reliant on blind loyalty and followers as he is, all you have to do is get some television time, deny everything and blame other innocent people.

Author

Walt

Date

2009-09-01T16:58:01-06:00
More like this story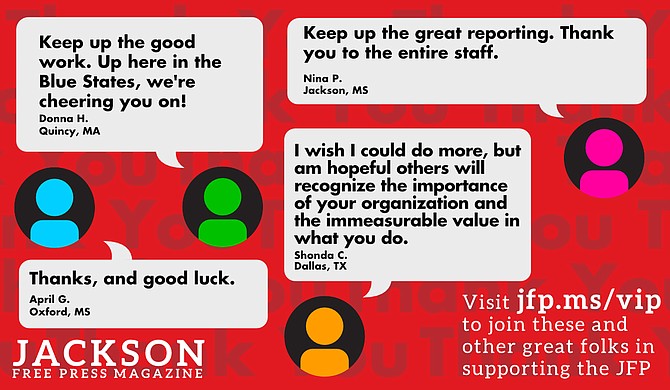 Thanks to all our new JFP VIPs!
COVID-19 has closed down the main sources of the JFP's revenue -- concerts, festivals, fundraisers, restaurants and bars. If everyone reading this article gives $5 or more, we should be able to continue publishing through the crisis. Please pay what you can to keep us reporting and publishing.