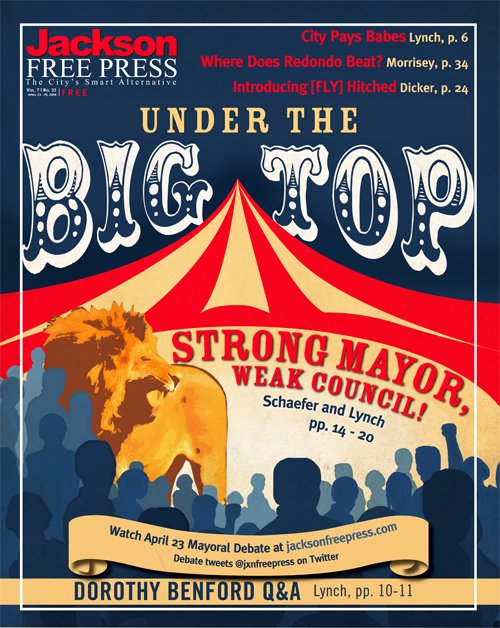 Forty-two candidates are looking to claim a seat on the Jackson City Council in this year's primary and general elections. All have high aspirations, but many don't know what they're getting into.
Some of the more inexperienced candidates attending local forums can point to changes they want to make, such as bringing in new business or hiring more police, but many of their goals are simply unattainable from a lonely seat on the City Council.
At an April 16 forum, Ward 5 candidate and developer Milton Chambliss railed against the Jackson Police Department's roaming Precinct 5, which targets crime in the downtown area.
"I'd like, as city councilman, to utilize the funds that are being spent on a downtown precinct in the other wards where the population actually lives," Chambliss said.
"I'd like to see the funds reallocated and policemen reassigned, so that there's more coverage in Ward 5 and other areas of the city where people actually live."
Council members cannot allocate funds within departments, however. Their influence on department spending is limited to confirmation of department heads and approving the city's budget.
Ward 5 candidate Charles Alexander, a substitute teacher and former health-care professional, can bemoan the persistent lack of new business in his ward, but he revealed precious little on the issue of incentives to promote business development at a March forum.
"Instead of raising taxes, we need a new tax base," Alexander said.
Alexander also promised to cooperate with other council members and the mayor, arguing that the city needs a unified government to attract development, but judging by past news stories, cooperation with the executive branch hasn't always come easy.
Negligible Power
One of the sovereign duties of the council is to either approve or reject the mayor's department head nominations. While most city employees move up through the ranks based on experience and tenure, will-and-pleasure appointments by the mayor—especially departmental leaders—need little more than the mayor's endorsement before they can step in to run multi-million dollar divisions.
Former Mayor Harvey Johnson Jr. had his fair share of problems regarding department heads—or at least, regarding their removal. Ward 2 Councilman Leslie McLemore once requested an opinion from the attorney general on the mayor's right to remove a department head favored by a majority of the council. The attorney general's office sided against the council, saying that council members did not have the right to reconsider the résumés of department directors that Johnson had refused to consider for reconfirmation.
Melton certainly had his own issues, despite the council's historic willingness to work with the executive branch under past administrations. Melton's 2005 nomination for chief of the Jackson Fire Department, Todd Chandler, was actually the first case of the council voting down a mayor's nominee. A majority of the council questioned Chandler's experience to run the whole department, while McLemore considered Chandler, formerly a fire captain, a polarizing figure who would re-ignite racial divides within the department.
Black firefighters accused Chandler of being racist, but clammed up whenever reporters demanded on-the-record details. Later, in 2007, 13-year-old film footage emerged that showed Chandler apparently acting like a buffoon amid white co-workers while doing a convincing Sambo imitation.
Fire Chief Vernon Hughes—the man the council confirmed in 2007—announced he was demoting Chandler to captain over the Division of Air Supply soon after. Chandler denied being the fireman in the video, though Hughes said he was convinced of the man's identity.
Still, Melton's reaction to the council's initial refusal to confirm Chandler continued for months, with the mayor refusing to bring Chandler up for a confirmation because he knew they were going to vote him down. The council needed to "grow up," Melton said.
Then, Melton tried to run another department with an unconfirmed head.
In 2007, the Jackson Free Press reported that Melton was pushing out Parks and Recreation Director Ramie Ford to make way for Charles Melvin, who had worked with Melton at the Mississippi Bureau of Narcotics and had followed the mayor to the city to oversee youth hires. He had no relevant managing experience beyond being, in the words of Melton, "a good swimming coach" and "great with kids," however.
The council refused to confirm Melvin to head the $6 million department, but Melton initially undermined the council's authority by keeping both Chandler and Melvin on—Chandler as assistant chief and Melvin an assistant chief administration officer with responsibility for parks and recreation. In their new positions, both men made about the same amount as department directors, well above their previous salaries. Melton then refused to nominate official directors over either department.
The council's power on the matter was negligible.
Power of the Bank Book
"We are a weak council/strong mayor form of government," said Ward 6 Councilman Marshand Crisler, who is running for mayor of Jackson in this year's election. "Our powers are limited, but we still have the power of the bank book."
On June 25, 2007, the council voted 5-0 to approve city payroll at a special council meeting, but then—on the advice of city attorneys—added an amendment reducing pay for Chandler and Melvin to their salaries prior to their appointments as department heads.
Melton was furious: "You have no right, no authorization to get involved in personnel issues, particularly as it relates to just two people. Chandler is in a position that I put him in. Mr. Melvin is in a position that I put him in. The executive branch reserves the right to do that, and we're not going to let the council play with their compensation," he said.
Attorney General Jim Hood stepped in to rule on the council's decision, however, informing the council that the mayor must move the employees back to their original salaries.
Melton, who had no legal expertise, said he believed Hood was incorrect.
"Well, the AG is absolutely wrong," Melton said. "I'm publicly saying that he is incorrect. … If I decide to promote Charles Melvin to deputy director of Parks and Recreation, that is within my right, and this council has nothing to do with that. ... I have assigned Chandler as assistant chief (after the council's rejection), and that is absolutely within my right."
In July 2007, Melton disclosed that Melvin was "still in charge," of his department even if he wasn't collecting an interim director's $80,000 wages, despite the attorney general's opinion that any nominee failing to get council approval must be bumped from the interim directing position.
Crisler and McLemore went on the attack. McLemore said the city was in violation of state law if Melvin was still directing the department, regardless of whether or not it was from the desk of assistant director. "I want to have this on the record: We are in violation of state statute. If a person is not confirmed, they should not be directing the operations of that department," McLemore said.
Melton then claimed he would personally run the departments, a position that offered a whole new slew of legal problems, and made painfully apparent how difficult it is for the council to rein in the mayor.
"If necessary, I'll run the department myself," Melton said, ignoring state laws restricting a mayor's direct role in city departments. "I've got a degree in health, physical education and ... I'm an expert swimmer and all that. ... I would be happy to do it. That's one of the few areas that I'm qualified for with 25 years experience. ... I'm fully qualified. My degree is upstairs."
Council members—at least the majority willing to disagree with Melton—were hesitant to dump the situation in court. They had already suffered enough setbacks from their own legal department.
The Antagonist In Your Office
Also in 2007—clearly a tumultuous year between the council and the mayor—the city cast a vote of no confidence in City Attorney Sarah O'Reilly-Evans, claiming she had fed the council incorrect information supporting Melton's position on department heads.
Earlier that year, Melton had attempted to placate the council's anger at firing Ramie Ford by creating a new city division to employ him, the proposed Neighborhood Enhancement Division.
Ford eventually threw up his hands and left to work for the state, but prior to his ship-jump, O'Reilly-Evans—who had served as Melton's attorney during his 2004 mayoral campaign—refused to offer legal advice to the council to counter the mayor's decision to create the new department. A majority of the council thought creating a new department was a bad idea considering city revenue shortfalls.
The council entered into a closed executive session on the legality of the new department, but the city attorney walked out of the meeting and instructed her staff to withhold information, according to council members. O'Reilly-Evans said at the time that she walked out on the instructions of Melton.
The council also criticized O'Reilly-Evans for offering legal advice that apparently contradicted the attorney general's earlier opinion regarding the removal of non-confirmed department heads. Council members claimed that O'Reilly-Evans advised them that it was legal for the city to run departments through the Administration Department. The city attorney doesn't return calls from the Jackson Free Press, but described the resolution to The Clarion-Ledger as "the continuing slander, defamation and harassment of the last few months."
Indeed, the council does not have the right to remove the city attorney, further proof of the council's comparatively weak power in comparison to the mayor's. Even council members admitted that the 4-to-3 no-confidence vote was intended only to send a message to the administration.
In February of that year, four members of the council were considering withholding funding to the city's legal department after what they described as that department's clear bias toward the mayor's office.
McLemore even spoke on the possibility of "abolition" of the legal department and farming the job out to outside attorneys: "For the record, I would like to see us abolish that department, to just wipe it off the face of the Earth," McLemore told the Jackson Free Press.
This was not the first time members of the council had second thoughts about the city attorney.
The council had already been stinging in November 2006 after saying they were "duped" by O'Reilly-Evans' employment agreement, which allowed her to get paid twice for her work in preparing bond proposals.
The Jackson Free Press reported that a paragraph in her employment agreement allowed O'Reilly-Evans to qualify for money normally paid to small-town, part-time city attorneys, letting her collect an extra 1 percent off the cost of any bond proposal. State law set her limit on a $65 million convention center bond proposal to $70,000, though O'Reilly-Evans already earned $113,000 in annual salary at the time.
The attorney opted to take only $25,000 in extra cash after the resulting rancor, although that gave the council small comfort.
At least four council members claim they did not recall reading that portion of her employment agreement, which was less than four pages.
"The majority of us, after really looking closely at this contract, find it shocking that we didn't see some of what was included there, and it's been a tough one for us," Councilwoman Margaret Barrett-Simon told the Jackson Free Press in a 2007 interview.
"There was nothing we could do to stop this," then-Council President Ben Allen said, while McLemore said paying the city attorney twice "for work that we've already hired outside counsel for" was "a terrible waste."
Soon after, the council complained that it needed its own attorney, similar to the political set up in nearby Memphis. The council had access to a pseudo attorney at the onset of Melton's term. Kimberly Campbell, now state Rep. Kimberly Campbell-Buck, served as the council's policy analyst, but council members say O'Reilly-Evans threatened to report Campbell to the state bar for offering the council legal advice—which happened to counter her own.
Council members had called upon Campbell to render an opinion on the council's responsibilities in bid proposals for the city's legal ads. State law requires the council pick the lowest qualified bidder, but Melton vetoed the council's 6-1 vote to award the ads to The Mississippi Link—owned by Socrates Garrett, who supported Melton's opponent during his election bid—because The Clarion-Ledger has a wider circulation.
Campbell advised the council to follow the letter of state law and pick the lowest bidder, not the biggest circulator.
"She personally said: '… That's not your job. You're not allowed to tell the council what they should do. If they need research done, they have attorneys that serve them. She told me she could bring me up on bar charges for that," Campbell told the Jackson Free Press in 2006.
The council hiring and paying its own attorney, however, runs counter to state law, and would require a change by the state Legislature.
The issue was never truly resolved, and incoming council members will have to contend with the reality that council veterans learned for us all in 2007: The city attorney works for the mayor, not the council.
The city did bring on an attorney to work directly with the council, although any perceived alliance can only be in name. The employee is still hired through the mayor's office. Thankfully, the political battles of 2007 have not transferred over into 2009 with the same venom.
Ward 1 Councilman Jeff Weill, who arrived on council during a 2008 special election after Allen stepped down, said the council makes a habit of hiring outside attorneys to address contested issues. Weill told the audience at an April 16 political forum that council members hired an outside attorney regarding the council's request for city employees' 1099 tax forms, referring to the services of Jackson attorney John Sneed of Wise, Carter, Child & Caraway.
Weill, a former prosecutor and professional mediator, also considers himself to be an acting attorney for the council, "making 19 cents an hour."
Information Resistance
The Sneed letter brought to head another reoccurring theme regarding the council/mayor relationship. The council has accused past mayors of not releasing information fast enough to suit council tastes, but council veterans McLemore and Barrett-Simon have told the Jackson Free Press that the current administration has, so far, been the most secretive.
The council and Melton entered battle again in late 2006 over the city's frequent use of temporary agencies for staffing needs. That December, the council voted 4-0 to pass an amendment refusing to make payments to temporary agencies supplying workers to the city of Jackson, arguing that names of individual workers had been left off by the administration. The week prior to that, the council voted down a claims docket based on concerns over temporary workers.
Chief Administration Officer Robert Walker admitted to the council that he had handed some information on temporary workers to then-Council President Allen, but withheld other requested information, including employee names and city payments to employees.
Crisler revealed the loudest frustration. "I'm still baffled why we've got to go directly to the mayor to get information that's public record," he said. Names and salaries, he said, were not confidential personnel matters, as Melton argued.
Melton has a clear affinity for the "personnel matter" fallback. He used it to withhold employees' names, to hide administrative civil wars, to keep city transfers under wraps and to hide tax information.
Members of the council were particularly keen to learn more about some of Melton's personal city employee hires.
As earlier stated, Melton had a habit of replacing seasoned employees with less-qualified friends. Melvin was one example, but Melton had also replaced city lobbyist John Waits with 28-year-old personal friend Marcus Ward in 2005. Waits had brought the city about $111 million in federal money for projects, but Melton refused to renew his contract after December 2005, and steered that money toward Ward's $70,000 employment. Melton later renewed Waits' $74,000 annual contract in 2006, though Ward remains on the payroll as Melton's chief of staff.
Throughout 2007, Crisler withheld his vote to pay for temp workers like the Wood Street Lawn Service, which was run by Melton mentees like Fredrica Brunson and Michael Taylor, who had earlier been arrested for armed robbery.
"f there was ever a reason to pause before making a decision on the claims docket, that company is the most glaring example," Crisler told the Jackson Free Press.
In 2006, Hinds County Sheriff Malcolm McMillin had actually sent deputies to retrieve Brunson and Taylor, who were accused of committing a Dec. 4, 2005, armed robbery of Headliners Barbershop. Although wanted for the robbery, they had been hiding out at the mayor's luxurious North Jackson home when news cameras caught them at Melton's Father's Day barbecue.
Melton dismissed the arrest attempt, telling deputies he would take care of it and, according to McMillin, drove off and "left my deputies in the street."
The mayor later surrendered the two after a call from McMillin. Nevertheless, the council remained suspicious of many employees with the city after the lawn crew incident, fearing Melton's personal temp-types could be doing "God knows what" in the words of Crisler, "and we'd be legally responsible for it."
"The mayor doesn't get sued when his people do something stupid," Crisler added. "That's all on any council member who approves their payroll."
Crisler adamantly refused to put his signature on any document addressing temp payments without the city attorney's signature already on it, arguing that "if I have to take that responsibility, she's going to take it, too."
Sneed's March 12, 2009, letter shows that the council remains suspicious of employee disbursements. Weill had convinced a majority of the council to seek the 1099 tax forms of every city employee, arguing that such documentation could reveal in who was being paid what.
The document request to the mayor elicited an immediate refusal from Melton, however, who argued that compiling the information would take valuable city time.
"Our staff is overwhelmed with sometimes very tedious requests to produce different kinds of information, so when these requests come in and our staff attempts to provide that information, that means other vital things that are necessary to the function of this city have to go undone," City Administration Officer Robert Walker told Weill in a January council meeting.
Weill argued that Director of Administrator Rick Hill had already compiled the information and was ready to hand it over at the mayor's approval. The mayor still did not approve, however, and even threatened to fire any city employee that provided the information to the council. Melton said that the forms contained employee's confidential Social Security numbers, and stuck to the argument after council members asked him to partially redact the information for employee protection.
The council considered voting to subpoena the information, but Walker and O'Reilly-Evans told the council that the seven-member body would need a super-majority of five members to override the mayor's veto of the subpoena vote.
"We have been advised that if the order, resolution or ordinance is subject to a veto, then it would take a super-majority to override the veto," O'Reilly-Evans said, emphasizing that the investigative efforts by the council also falls into a veto-sensitive category.
Weill expressed disbelief that city government could be run with so much unchecked power in the mayor's corner. "I can't believe the courts would allow a situation where an executive can veto, ignore or refuse to comply with an order to investigate a financial matter," he said.
Eventually the Ward 1 councilman hired Sneed to represent the council in the matter, and Sneed's consequential letter offered the flinty edge of litigation.
"As you know," Sneed wrote, "the city council constitutes the city's legislative branch and controls its budgetary and appropriations process pursuant to (state statute). …The city council is empowered by Mississippi Code Ann. 21-8-13 and 21-8-27, as well as city ordinance No. 2-39 to investigate any aspect of municipal governance, including the city's finances and its vendor arrangements."
Attorney General Hood had already submitted a Feb. 6, 2009, decision explaining that "the city council is authorized to request the production of and to receive the municipal tax records it has requested in order to fulfill its legislative budgetary responsibilities."
Hood also slapped down O'Reilly-Evans' claim that the council's subpoena is subject to veto, explaining that "the city council's independent authority to require production of municipal records is statutory and is not subject to mayoral veto."
Melton finally conceded to the council's power, but not before a massive mail-out to the city's 2,300 employees and an untold number of city vendors, warning that four members of the council had copies of their W-2 forms.
"The administration is notifying you because identity theft is one of the fastest-growing crimes in America," Melton said in a signed letter.
Each letter cost a 42-cent stamp, Weill complained. "We don't get a special rate with the post office, so the city could have spent thousands of dollars for what amounts to a political stunt."
"[W]e have done everything that we can to protect your privacy while producing and making the information available," Melton assured recipients of his letter—everything apparently short of redacting sensitive information, as the council had requested, according to Weill.
Council Cliques
O'Reilly-Evans played a fairly reliable card earlier this year in warning four members of the council that a veto override of Melton's refusal to provide employee and vendor W-2s and 1099s would require a super-majority. This is because the council has never been able to provide the five-member super-majority vote.
Three members of the council—Ward 3's Kenneth Stokes, Ward 4's Frank Bluntson and Ward 5's Charles Tillman—have remained staunch Melton allies in almost every council decision.
Crisler acknowledged as much during the January meeting. "That it takes five people to do anything is ridiculous to me," he said. "I've never heard that before. I feel more powerless than I ever have. What's the point of the council?"
The Stokes-Tillman-Bluntson triumvirate came into play during the Melvin and Chandler confirmation issues, as well as during their council-mandated interim pay cuts. The same three also voted in favor of Melton's attempts to raise employee salaries, even though Melton outlined no financial plan to compensate for the cost increase in the city budget.
All three also adopted the role of loyal opposition to the council's temporary decision to withhold approval of the city's payment to contractors after the Wood Street Lawn Crew incident. In fact, almost every decision made by the council that proved itself a pain for Melton had to be a vote not subject to a mayoral veto, specifically because the other council members knew a veto override would be out of the question.
The votes that caused the most issue with the administration, in actuality, were the votes that didn't happen—votes immune to an override. The council didn't confirm Chandler; the council didn't confirm Melvin; and the council refused to authorize salary increases or contractor payments.
Melton more than once vowed to override the council's no vote on pay raises, and promised to override the council's refusal to implement a new ordinance making it a crime to wear your pants lower than your waist. He was so sure of his ubiquitous veto power that he seemed confident that he could wield it even on these occasions, and then appeared flabbergasted when he could not.
Crisler routinely acknowledges Melton's unwavering alliance with the three. "These kind of voting blocs happen all the time," Crisler said in 2007. "That's just politics, but there's frequent agreement, and then there's selling out."
Allen even found himself agreeing with the three early in Melton's mayorship. Allen's ward heavily supported Melton in the election, and he was not above siding with the mayor on some contentious issues that alienated him from traditional allies like McLemore and Barrett-Simon.
In 2006, Allen sided with the Melton bloc in favor of restructuring the city clerk's department, an issue apparently dear to the hearts of the council's remaining three members at the time. Allen also generally sided with Melton on his potentially illegal move to close down the city's nude bars—a crusade that attorneys for the bar owners have since slapped down as a constitutional violation.
"This is just one of (Allen's) many decisions," Crisler complained in a 2007 interview, also making a reference to another bloc opinion on the city's 2006 petty cash fund. "He may gripe sometimes, but when it comes to something significant, he's right over there with them. He's on the fence, but too often he jumps to the other side."
Curiously, Crisler benefited from a temporary alliance of his own with the other three in a 2005 vote for council president. Tillman, Bluntson and Stokes voted for Crisler over then-Council President McLemore the year Melton took office. McLemore, a Jackson State University political science professor, had a history of challenging the executive's power over the legislative branch.
"I'm not surprised at how easily the new members were manipulated," McLemore said in a 2007 interview. "The actions taken by Ward 3 Councilman Kenneth Stokes and Mr. Crisler initially surprised me. On the other hand, one has to give kudos to the mayor for being able to pull those people together with whatever bait he used. Obviously, I was caught off guard. I think other council members were caught off guard."
McLemore said he realized a different kind of game was afoot at the beginning of Melton's term: "The red light went on for me then because Harvey Johnson, as mayor, had not been that overtly involved in trying to manipulate the direction of the council. That said to me then that we're in for a different ride."
Crisler earlier claimed that he and McLemore had a "gentleman's agreement" that he would again be council president after he returned from his military service in Iraq. The Crisler/Melton honeymoon ended early, with Crisler opposing Melton's move to close the strip bars over potential freedom of speech violations.
"(Melton) knows now that he didn't get what he was bargaining for in me," Crisler said in 2006, "but I'm not going to let the president of the council's office be controlled by any outside entity. My job is to make sure the council runs efficiently."
On the Outside, Looking In
As they try to fend off challenges for their seats, incumbent council members are facing criticisms of varying degrees of accuracy. While less seasoned contenders sometimes betray their lack of experience in their attacks, the former council members running for a second chance know just where to strike.
At the April 16 Ward 5 forum, Milton Chambliss criticized incumbent Charles Tillman for allegedly supporting and requesting a bill, recently approved by Gov. Haley Barbour, that would allow Jackson residents to vote for a 1 percent sales tax increase to fund public-safety and infrastructure improvements. Under the bill, a nine-member commission, which could include members not living in Jackson, would oversee the expenditure of the extra sales tax revenue.
"I cannot comprehend the city of Jackson's City Council allowing its authority over the tax money that comes into Jackson to be usurped like that," Chambliss said.
Tillman's predecessor in Ward 5, Bettye Dagner-Cook, explained that the City Council can only submit its legislative requests to Hinds County's state senators and representatives.
"We didn't send it up with all that garbage in it," Tillman said. "That garbage was put in it during the process in the Legislature. Don't put it on the city council. It's a state bill."
Despite Tillman's explanation and avowal that he opposes the bill in its current state, Chambliss implied that he should have gone further.
"I would not, as a city councilperson, have trusted the Legislature, the lieutenant governor and the governor with the future of Ward 5," Chambliss said. "The bill wouldn't have gotten away from the city council without me saying something about it."
Dagner-Cook offered a more nuanced criticism of incumbent council members for their support of an eminent-domain bill that would have facilitated Jackson State University's quick-take of several properties near its campus for development. Last year, she joined a successful effort to block a quick-take bill in the state Legislature. City Council actually passed a bill that would have supported JSU's quick-take scheme at a fall 2007 meeting, Dagner-Cook said, but the bill was rendered null when the Council failed to approve the meeting's minutes.
"When you rubber stamp everything that somebody does and do not read and see what's going on, I have a real problem with that," Dagner-Cook said. "I think they thought they were helping Jackson State. But they were helping them in the wrong way."
Frank Bluntson has also come under fire from his predecessor in Ward 4, insurance agent Bo Brown, who is challenging Bluntson again. Brown criticized the current council to the Jackson Free Press recently, saying that it had become "stagnated with cliques."
"I think the council ought to be approaching the city's needs from a business perspective more than just simply politics all the time," Brown said. "I think the council should treat the public—taxpayers—as customers. You don't want to have your customers think that you're disregarding their business."
At an April 9 forum, Ward 4 residents pressed the issue of council alliances and allegiance to the mayor directly. They demanded to know whether Bluntson and his rivals would serve the mayor or his constituents. Brown quickly vowed never to be a "rubber stamp" for the mayor.
"I didn't ever go along with wrong; I didn't ever go along just to get along," Brown said of his two terms during former mayor Harvey Johnson's administration.
Bluntson, however, struggled to maintain a conciliatory tone.
"A lot of times when you have people in the mayor's position, they might have something they want passed, such as the board appointments," Bluntson said. "I don't see Congress fighting up there with Obama, and they had tax problems and everything with some of his appointees."
After being corrected by members of the audience—outcry from congressional Republicans, among others, prompted Obama to rescind several of his Cabinet nominations—Bluntson continued: "I think that we ought to give the mayor that. How can you say the mayor's going to create jobs, and you won't even let him have his appointees? I think we should support the mayor when we can."
Repeating the conventional wisdom on Jackson's power structure, Bluntson downplayed the significance of any single council members' achievements.
"We operate under a strong-mayor, weak-council form of government," Bluntson said. "We have folks saying here tonight, 'I fixed the streets, I fixed this.' That's a lie. You didn't do that. You might have voted for it. The fact is this: You have to get help from four council members and then you have to get the mayor to sign off on it."
Brown was not the only candidate with a more optimistic view of the council's limited power. Henry Fuller, a first-time candidate and history teacher at Lanier High School, explained in simple terms a council member's capacity to influence the mayor's office.
"Let's not get confused," Fuller said. "If the mayor needs money after the budget is accepted, who do they get money from? Who votes on where the money goes? The council."
Previous Comments
ID

146203

Comment

This is one of the best articles on the current state of affairs in Jackson that I have read. It is factual and comprehensive. Anyone who wants to label the City Council as "Contentious" and screams "throw them all out" should study the above. Congratulatons to the JFP on presenting this very important subject in such a clear manner.

Author

Razor

Date

2009-04-23T08:32:20-06:00
ID

146241

Comment

You're welcome, Razor. Cheers to Adam and Ward. ;-)

Author

DonnaLadd

Date

2009-04-23T22:51:58-06:00
More like this story
More stories by this author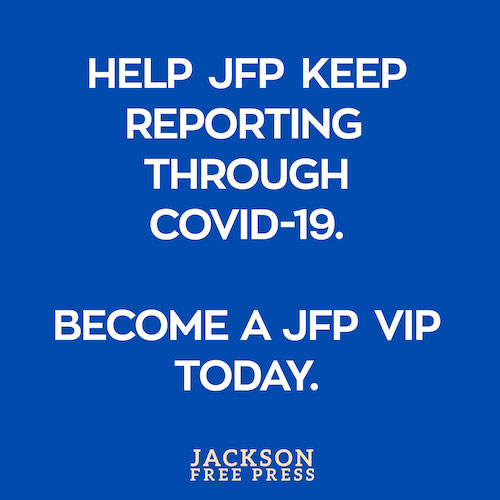 COVID-19 has closed down the main sources of the JFP's revenue -- concerts, festivals, fundraisers, restaurants and bars. If everyone reading this article gives $5 or more, we should be able to continue publishing through the crisis. Please pay what you can to keep us reporting and publishing.