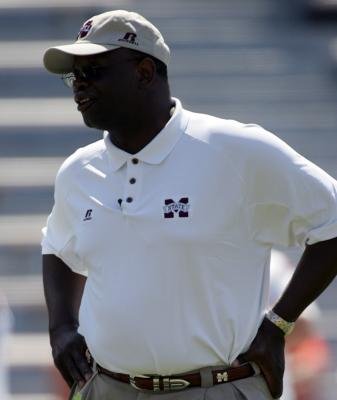 Mississippi State made history in 2003 when it hired Sylvester Croom, making him the first black head football coach in SEC history. Croom "resigned" on Saturday.
It's obvious that State told Croom his time was up. The school bought out his contract. Once again, when Doctor S says you're on the firing line, you should pack your bags.
Doctor S agrees with Rick Cleveland: Croom's exit isn't about color (except for green, the color of money). He just didn't win enough games. There are now just three black head coaches in the NCAA's Division I-A.
Croom inherited the mess Jackie Sherrill left at MSU: Probation, little talent and many players who were more at home in a police lineup than an SEC team's starting lineup. Croom cleaned house and won some big games. After an 8-5 season in 2007, it appeared he had turned the State program around. But the Bulldogs never got anything going on offense this season. If State had just an adequate -- not great, just adequate -- offense and kicking game, the Bulldogs would have won at least three more games this season.
When the Bulldogs lost to Ole Miss, 45-0, on Friday, you knew something had to give.
Previous Comments
ID

141046

Comment

I heard the announcers yesterday on a Big 12 game between Baylor and Texas Tech discussing it and how there needs to be more black coordinators that "move up" into the ranks. Specifically, they mentioned the defensive coordinator for Baylor. This guy held Tech, one of the highest scoring teams in America, to just 35 points. He ought to be on anyones list! I believe there are more moving up through the system and will have the shot at the head coaching positions. Rick is totally right, I think college football is more about green than black or white. As an Ole Miss fan, what I knew about Croom was very positive. He had beaten the last two years and I don't really know what happened Friday. I hope he ends up where he wants to be.

Author

Hayes

Date

2008-11-30T09:23:47-06:00
ID

141049

Comment

I would love to see more black head coaches at major programs. There are a good number of black coordinators who could possibly be in line for a head coaching job, like DC Charlie Strong at Florida and Tyrone Nix at Ole Miss (he interviewed for the HC job at USM, but withdrew his name). What does concern me, though, is if these coaches are given less rope to work with. Notre Dame showed Tyrone Willingham the door only after three seasons, though other coaches before and after him have traditionally been given at least five seasons. Also, many black coaches at major programs have been less than stellar. Michigan State, Oklahoma State, Mississippi State and Washington (where Tyrone Willingham landed after leaving Notre Dame) in recent years have had bad teams under black coaches. Of course, I don't think race had to do with them being good or bad. Sometimes, I wonder if the ADs at major programs see this and use it as an excuse not to hire a black head coach, and whenever they are hired, are they given as much rope to work with as a white coach. At every football program, all coaches are expected to win. Being black puts on more pressure on a coach.

Author

golden eagle

Date

2008-11-30T18:43:05-06:00