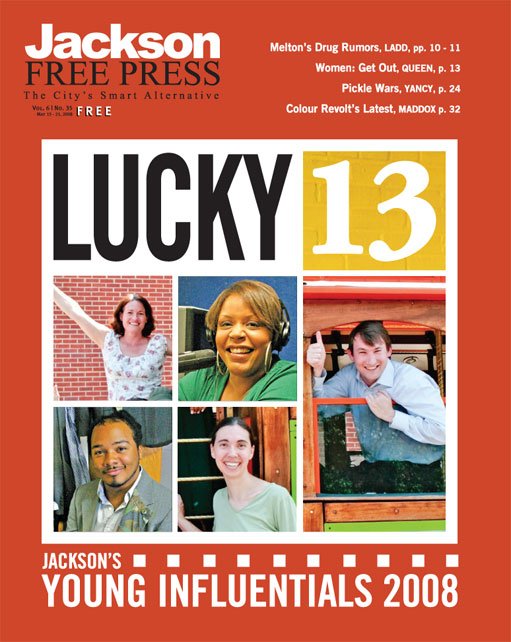 Jackson is the sort of place that has the potential for great change, a mid-sized city with both a rich cultural history and a fierce "up-and-coming" attitude. Given its size and accessibility, it's also the sort of place that begs its citizens to become actively involved in the development process.
The Jackson Free Press staff chose this year's change-makers—13 dynamic individuals under 40—for the exceptional projects they've spearheaded and the indelible marks they've made. Here, you'll find a respected yet eclectic group including tattoo artists, poets, athletes, coffee house owners, lawyers, non-profit visionaries and fashion designers—all part of Jackson's burgeoning Creative Class—who share a desire to personally and professionally invest in the city.
These young influentials already know the benefits of living and working in Jackson, and they believe in how much better it can become with a little sacrifice, creativity and a few extra helping hands.
Sure, they could move out of town; become another nameless face in a bigger, more economically prosperous city. But getting lost in the crowd isn't something on the docket for this group who are out to change the world, starting right here in Jackson. They already know how good it is to be home.
BRAD REEVES, LAWYER, BALCH & BINGHAM, AGE 29
by Brandi Herrera Pfrehm

Reeves—a Mississippi State University G.V. "Sonny" Montgomery Scholar and 2005 Ole Miss law graduate—has a knack for honing in on old gems that just need a little time and attention.
"[O]ne of the gifts I've been given is that I can see something that might be pretty run down but it's got character. I think maybe if it could just be renovated … it has potential."
As a self-proclaimed member of what's been dubbed Jackson's "Creative Class," Reeves hopes his passion for development can play a role in the city's cultural rebirth.
In 2006, he bought a run-down shack on Fortification Street. So rough, in fact, that his lender stepped out the day before closing. Not one to be deterred, he found another to invest in the next day, and set out to find a tenant to share his vision for a mixed-use business. A few months later, a group of four artists called, interested in turning their Belhaven Market booths into a shared studio/retail space. Today, you'll find ARTichoke run by a diverse group of women, and the business thriving in the spot where a heap of termite-damaged junk first stood. The Mississippi Main Street Association has since named the renovation "Best New Development."
Reeves has also given back to his community by serving on boards and volunteering with organizations from Jackson Young Lawyers to the Make-A-Wish Foundation and the Fondren Renaissance Foundation.
When does he find time to sleep?
"I'm still trying to figure out how to get sleep in, I haven't quite worked that one out yet … but I love to give back, and have a good time doing it," he says.
KIM ROBINSON, RADIO SHOW HOST, POLICY CONSULTANT, AGE 34
by Maggie Burks

"I turned into the runaway bride," she says.
After working different jobs in Jackson and New Orleans, Robinson's mother, a social worker who taught her the plight of the underserved, informed her of an opportunity to work with Oleta Fitzgerald at the Children's Defense Fund in Jackson. She jumped at the chance to give others a voice.
"It's not just a southern thing that I care about children, and I care about families, and I care about the poor, and I care about the underprivileged," she says. "It's that I saw that growing up, and I was taught that. Coming to work for the Children's Defense Fund was just a natural part of my life process."
Robinson came on as the grants manager for CDF in 2003, and after four years, she left to travel around the region as a policy consultant with other organizations in the South. Although she's out of town most of the week, Robinson makes it a point to host a morning radio show, Stiletto Sessions, on WJSU every Wednesday morning at 7:30 a.m.
"It's a 20- to 30-minute—depending on what the topic is—segment where we talk about anything from politics, to pop culture, to fashion, to the arts," Robinson says. "I try to have my finger on the pulse of what's going on."
JASON THOMAS, BUSINESS OWNER, ARTIST, AGE 30
by Jana Mertens

The influence The Ink Spot has on the local art scene and on Jackson is evident. After only two years of business, it has established a large clientele and a reputation for innovative, original tattoos and artwork that hangs in the connecting gallery.
Thomas, who has been tattooing since 2000, says his family was surprisingly supportive of his decision to make tattooing a full-time job. His grandmother even asked him to tattoo her a magnolia. He credits much of the business' success to his family.
"If it wasn't for them, I wouldn't be here," Thomas says.
In the future, Thomas plans to stay true to his mission of revitalizing downtown Jackson, although recent increases in rent will force the Ink Spot to move to a new location on South Street in two months.
"My ultimate goal is to help Jackson grow," says Thomas, "I want to help the youth realize that they can make Jackson a cool place."
CHARLES RICHARDSON, EXECUTIVE DIRECTOR, FONDREN RENAISSANCE FOUNDATION, AGE 33
by Kristen Phillips

Born and raised in Louisiana, Richardson, 33, left Baton Rouge and came to Jackson with his wife, Amanda, and son, Brooks, in May 2006, and began working at a bank in Fondren. When the position for executive director of the Fondren Renaissance Foundation opened up in 2007, Richardson submitted his resume. Now, more than a year after taking over the organization that works to promote and support this "renaissance" of the Fondren neighborhood, he is at the helm of operations for the peak hour.
"What makes Fondren so special is its unique combination of commercial and residential, and all different walks of life," he says. "You can literally go buy a castle over here in Woodland Hills, or go across State Street and find the perfect house for a first-time buyer."
What most excites Richardson about this breath of new life in Fondren is the fact that the developers understand and really "get" the Fondren concept.
"The key is to attract these young, creative professionals right out of college," Richardson says.
Ultimately, Richardson hopes to solidify every bit of Fondren, from corner to corner, and unearth the loads of potential still untapped.
"We have a diamond in the rough here," he says. "None of it needs to get overlooked."
MEGAN VOOS, VOICE OF CALVARY MINISTRIES VOLUNTEER SERVICES MANAGER, AGE 39
by Sage Carter-Hooey

In December 2003, Voos moved from the Bay Area to Jackson. She didn't have a job or a plan, but she knew she was ready for something new. The church she attended in Jackson turned her toward the Voice of Calvary Ministries and its Fresh Start Empowerment Program. Voos was drawn to their mission statement: "Rebuilding communities by rebuilding people through the gospel." She's been there ever since.
As the volunteer services manager, Voos is in charge of 400 to 500 volunteers who come from all over the country to help and teach in Jackson, but she also makes sure they learn.
"The bigger piece for me is the training they get while they're here regarding low-income communities and how they get that way." She tries to open their eyes and hearts to the dirty roots of poverty and racism in this state.
Five years ago, Voos could not have envisioned herself in Mississippi, let alone the ways Jackson would affect her. She now wants to take what she has learned and work toward an ideal community where people of different races are living, working and worshiping together.
ARTHUR STUBBS, BRAVO! SERVER, ARTIST, MUSICIAN, AGE 26
by Jackie Warren Tatum

"For about 10 years, I felt like my parents were nowhere to be found and for about five years I kind of stopped trying, all the while testing the fish line to see if they were still attached." He tried counseling, time, a move to San Francisco "because he needed to be angry for a spell." And then he returned to Jackson. And now lives with his family. And conveys genuine self-love and freedom from anger.
An A-B student at Hinds Community College and Belhaven, Stubbs changed majors several times and never got a degree, though he says he probably has the credit hours equivalent to one. He began working for Broad Street and transferred to Bravo! some three or four years ago, where he acknowledged during a wine tasting with sommelier Kelly Boutwell his ability "to taste in color," as he puts it, a phenomenon called synesthesia in which the stimulation of one sense evokes a response from another sense. He "tastes" in all the colors of the rainbow.
Stubbs dubs his art "energetic expressionistic"; his unpublished writing delves into psychology, philosophy, religion and science fiction; and he sings—you might catch him at Fenian's Monday night karaoke. Stubbs says art is his connection to "anything and everything and nothing at the same time." His acrylic mixed-media work will be part of a new show at the Mississippi Arts Center, opening June 19.
When Canada's Young Gay America Magazine asked him what it was like being gay in the South, he said he'd never had any issue with it. He looks at every person as an aspect of himself; and in order to completely love himself, he must love everyone he comes in contact with. In doing so, it leaves very little room for negative interactions.
JOSETTE BARTON, HIGH SCHOOL BASKETBALL COACH, REALTOR, AGE 30
by Ward Schaefer

After a successful college coaching career, Barton returned to high school coaching last year in order to have more time for her second full-time job: real estate.
"I wanted something to always fall back on," she explains.
True to her ambitious nature, Barton started her own company, Barton & Associates, as soon as she could. She passed her broker's test exactly one year after earning her realtor's license, the soonest she could legally. "I didn't want to just be making it; I wanted to always have more," she says. Having more lets her take care of her mother, a responsibility Barton takes seriously.
The eighth of 10 children, Barton is the only one of her siblings to attend college. She credits basketball with helping her realize that goal. Traveling as far as California with Amateur Athletic Union teams, Barton saw the opportunities that the sport could open for her. Basketball allowed her to attend Alcorn State, where she graduated in 1999 with a degree in education. From there she went on to Jackson State to complete her master's degree.
Not surprisingly, for someone who prefers to move at her own (quick) pace, Barton loves motorcycles. She speaks proudly of the Kawasaki 600 she owns and the Ninja she's planning to buy. Growing up, she would pretend to ride the motorcycle of one of her mother's friends. "I always said, when I got older I would get one," she says.
CLAY HARDWICK, FILMMAKER, DESIGNER, PRODUCER, STUDENT, AGE 21
by Greg Williamson

When Hardwick was at Jackson Academy, he designed Web pages and had 40 clients. In his spare time he nurtured mixedCore, an online artist collective for 15- to 20-year olds. He won Best Music Video in 2005 and the Ruma Award for most promising filmmaker in 2004 at the Crossroads Film Festival. Now 21, Hardwick is a year away from graduating from Millsaps College, but is constantly doing commercial work and his own creative video projects.
"It is exciting to be in Jackson right now, because you get feedback for what you do," Hardwick says.
Hardwick is partnering with Daniel Guaqueta and Drew Davis to produce "The Code," an episodic music show broadcast on-line that documents "the new music culture of the South."
If enough sponsors line up, he hopes to be able to work on it full time in the future.
His latest creative work, a short narrative video called "Teal Optical," just finished shooting with an all-Jackson cast and crew. "I really wanted to do something that involved a lot of people in the community," Hardwick explains. "It is a great experience to have people come create this film with you. When you kind of know what you're doing, but not really. But they still take you seriously and they are on the same page as you, and in the end you create this amazing thing together. … It blew me away."
ALEXIS SPENCER-BYERS, POET, CO-OWNER OF KOINONIA COFFEE, AGE 35
by Jackie Warren Tatum

In 1995, Spencer-Byers came to Jackson for a one-year editorial internship for Urban Family Magazine with Spencer Perkins and Chris Rice, members of Jackson's Voice of Calvary Fellowship Church and authors of "More Than Equals," a book on racial reconciliation. She has been here 13 years.
Spencer-Byers and her spiritual mentor and business partner, Lee Harper, will open Koinonia Coffee House on June 6, on South Adams Street, several blocks southwest of the waking giant, the King Edward Hotel. Spencer-Byers' big, brown eyes light up about creating a nurturing venue for camaraderie in her West Jackson community.
"We have made a point to create something as beautiful and excellent as we know how in a community ... no less worthy of a wonderful coffee house than the people in Northeast Jackson and the suburbs," Spencer-Byers says. The entrepreneurs expect area families, downtown workers and Jackson Staters to gather and feel comfortable in the large renovated home with its shiny wood floors and contemporary furnishings, a computer center and an elegant conference room. "No reason people can't come to West Jackson ... at least for coffee," she says.
Tall, lithe, 35-year-old Spencer-Byers lays bare her sweet strength in "Urban Verses," a compilation of poetry and stories published in 2005. The work exposes the pain of the inner city, her own spiritual journey and the personal trauma that birthed it. As a single woman with a much anticipated, newly adopted baby girl, Leah, Spencer-Byers became paralyzed with fear about being solely responsible for her and gave her up to other adoptive parents within a few days. Then, she fell into a "creative dearth or wilderness," out of which, eventually, poetry streamed forth easily for the first time. The book's theme is redemption, she says, "turn(ing) ... pain into art."
LASONDRA BARRETT, STUDENT, BASKETBALL PLAYER, AGE 18
by Kristen Phillips

Barrett, a member of the Lady Mustangs Basketball Team that recently won the State Championship for a second consecutive year, pushed herself right to the top with all that drive and competitive fight. Hoopgurlz.com named Barrett the No. 12 senior player in the country in their pre-season rankings. Far exceeding expectations, she was also selected as a 2008 McDonald's All-American, a coveted honor among high-school players across the nation.
"Murrah's well known for their basketball team, but academically they are one of the best in the Jackson area," says Barrett, whose senior schedule is filled with Advanced Placement classes. "I feel prepared for my college career."
JACKSON HARLEM, STUDENT, POET, CLOTHING DESIGNER, JOURNALIST, AGE 23
by Maggie Burks

"I love writing," Harlem says. "I write every possible chance I get when I'm not reading."
His first book of poetry, "My Southern Fried Affair," earned him the distinction of Tougaloo's first poet laureate. He plans to promote his second book, "Black Boy Juice," amid his busy schedule designing and creating anything from "power suits to night-on-the-town wear" for his clothing line, J.HAR American Royalty.
"I started actually hemming my own pants. My mom taught me how to hem, and she sews a little bit," Harlem says. "I started sketching last year."
After some private sewing lessons, Harlem began creating one-of-a-kind clothing for local male vocal group RecognitioN, in addition to items like leather hooded blazers and destroyed denim vests.
In the summers, Harlem is an off-and-on freelance writer with the Jackson Advocate, and during the fall writes for Tougaloo's paper, Harambee. He says he manages all his different hats with a calendar and prayer.
"Some things I just have to say, 'No I can't do (it),'" he says.
MATT ALLEN, LAWYER, CO-FOUNDER OF JACKSON PROGRESSIVES, AGE 30
by Kristen Phillips

"I made a conscious decision to move back to Jackson after law school, betting the farm so to speak, on the city being at a turning point and headed in a more positive direction," he says.
Currently an attorney with Brunini, Grantham, Grower and Hewes in downtown Jackson, and living right down the road in the Plaza Building on Congress Street, Allen, 30, feels like he made the smart bet.
Steadily becoming a significant presence among young professionals in Jackson, Allen has a homegrown passion for this city. That passion led him to share a beer and some conversation with local activist and hip-hop artist, Kamikaze, one afternoon at Fenian's. That afternoon the two collaborated to start a new group called the Jackson Progressives. They are the young, creative minds in the city who share a determination to see Jackson truly thrive as a city.
"Our goal is to make this group an avenue to get young people involved in everything that's going on in Jackson," Allen says. "It's a diverse group, so it also serves as a way to meet people you might have never known otherwise."
DEREK FITZGERALD/TANISHA FOXX, MAKE-UP ARTIST, FEMALE IMPERSONATOR, AGE 34
by Ronni Mott

Fitzgerald, 34, was born and raised in the rural town of Portageville, Mo. (pop. 3,201). He always knew he was different. But, unlike many young, gay black males—especially in the South—his family never rejected his sexual orientation, accepting him for who he was.
Moving to Jackson at age 19 to attend Jackson State University, Fitzgerald says he found himself here. In Portageville, African Americans ended up either working on a farm or in the auto factory. "It wasn't me," he says flatly.
Graduating in 1996 with a degree in psychology, Fitzgerald decided to stay in Jackson, and eight years ago, he began working as a makeup artist with Prescriptives cosmetics, a job that rekindled memories of watching his mother apply her makeup.
"I found my niche," he says. "I love doing makeup. I could talk about it 365 days a year. ... I love making people beautiful."
Jackson's nightlife appealed to Fitzgerald immediately; it was nothing he'd ever seen before. Discovering Club City Lights, a gay dance club, and its Saturday night drag shows, he was enthralled.
"My very first show, I actually thought these were women up there singing songs, and people were giving them money," he says. It wasn't until one of the performers approached him later, sans "face," that he realized what they were doing. Intrigued, Fitzgerald decided to perform in drag for a talent show at the club. "The very first time out of the gate, I won," he says, and shortly thereafter, Fitzgerald invented his alter-ego: Tanisha Foxx.
Since that time, Foxx has become a sensation in the world of female impersonators in Mississippi. Unlike many drag performers, she doesn't limit herself to one character, which keeps her act fresh and her fans coming back.
As for bigotry, Fitzgerald says his upbringing made him feel special, not weird. "Even when I was in school, I was never taunted," he says. Not looking for bigotry, he generally doesn't find it. It's a lesson worth passing on.
Previous Comments
ID

129829

Comment

These are exciting times Indeed! Im proud to point out besides our co-founder/vice chair Matt Allen..both Brad Reeves AND Julie Skipper(Board member) whose featured in the Jacksonian section are membes of Jackson Progrssives..We hope to add more to the fold..We're everywhere! The winds of change are blowing through this once sleepy town...A great line-up here JFP...congrats to them all..Hope to some of the ''11'' at our mtg next week. :-)

Author

Kamikaze

Date

2008-05-14T20:18:29-06:00
ID

129830

Comment

There are actually 13, Kaze. I was wrong when I said 11. They don't tell me anything around this joint. ;-) Yes, congrats to them all. This is a great group. And did y'all notice what happens when you click on one of the photos? It becomes a slide show of all the photos, thanks to the iVince. Just the latest JFP site surprise. (Donna posted this, not iTodd.)

Author

Todd Stauffer

Date

2008-05-14T21:22:33-06:00
More like this story