Thank you for an excellent article on the challenges, myths and realities of illegal immigration ("Los Cuentos Chinos: Immigration Myths and Realities," Feb. 21, 2008).
How easy it is for Americans to forget that we're all newcomers. Indeed, the ancestral Native Americans themselves presumably entered our continent by crossing an Aleutian land bridge.
"Remember always that you and I … are descended from immigrants and revolutionists," President Franklin Roosevelt declared in 1938 to the not-at-all amused delegates to the national convention of the Daughters of the American Revolution in Washington.
The next year, these same ladies would deny African American contralto Marion Anderson use of their Constitution Hall for a concert. Anderson, instead, standing on the steps of the Lincoln Memorial and greeted by a huge crowd, chose as her first solo, "My Country, 'Tis of Thee."
Yes, insecure U.S. borders have allowed an influx of millions of undocumented workers faced with poverty, malnutrition and/or political oppression in their homelands. Many have come here at risk to their very lives. Thousands have traversed scorching deserts—and in Florida, dangerous waters—often entrusting themselves to unscrupulous transporters to take low-paying jobs that most American citizens shun. Many have died in the attempt.
Yet followers of the monotheistic faiths are duty-bound to aid newcomers in our midst. The Bible—the Old Testament shared by Jews and Christians, and the New Testament—repeatedly commands believers to welcome and assist strangers.
"The stranger who sojourns with you shall be to you as the native among you," declares Leviticus 19:33-34, "and you shall love the stranger as yourself; for you were strangers in the land of Egypt."
Hebrews 13:1 adds: "Do not neglect to show hospitality to strangers, for by doing that some have entertained angels without knowing it."
Islamic Americans have the same obligation. "Serve Allah … and be good to … the alien neighbor, and the companion in a journey and the wayfarer."(Qur'an 4:36).
No one would argue that our frontiers should continue to be porous, or that non-citizens shouldn't officially register with the government at every level. And it's Monday-morning quarterbacking to wonder what even a fraction of the funds spent on the invasion and occupation of Iraq might have done to expand the Border Patrol and strengthen national boundaries.
But U.S. Jews, Christians and Muslims alike have no choice but to obey our divine command to aid the newcomers among us.
Faithfulness to God calls believers to oppose with all their might local, state and national policies that would deny a second chance to desperate people—and the opportunity to enrich by their very presence as eventual citizens this imperfect but wonderful ethnic stewpot that we cherish as "the land of the free and the home of the brave."
Dwyn M. Mounger
Interim Pastor, Fondren Presbyterian Church
Jackson
More like this story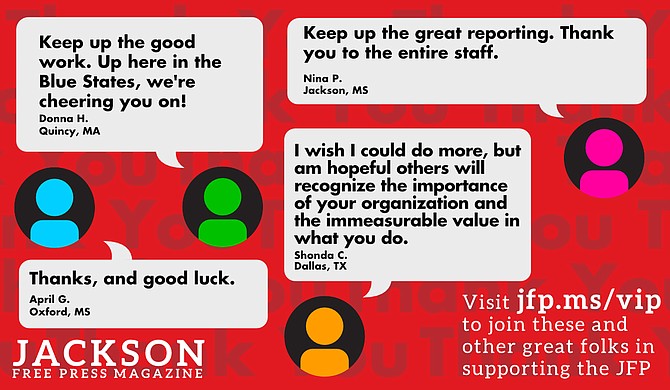 Thanks to all our new JFP VIPs!
COVID-19 has closed down the main sources of the JFP's revenue -- concerts, festivals, fundraisers, restaurants and bars. If everyone reading this article gives $5 or more, we should be able to continue publishing through the crisis. Please pay what you can to keep us reporting and publishing.