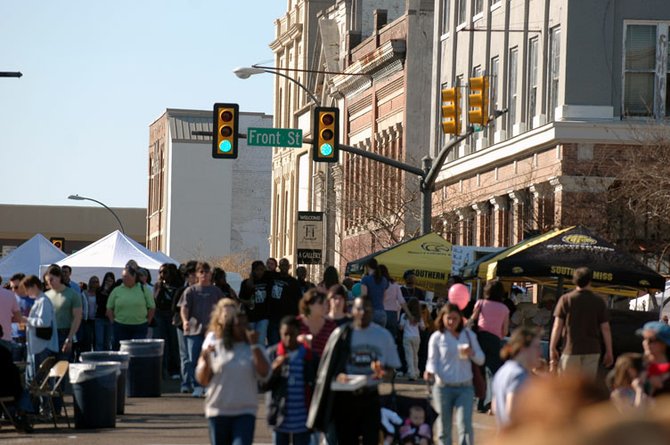 Does $4-a-gallon gas have you down? While we suffocate under the battle over oil, the price marquee at gas stations is constantly changing. When will we catch a break? We can't say that we'll miss Bush, but if his administration would throw us a lifesaver, maybe his approval rating wouldn't be so low.
In the meantime, though, roadtripping has to get creative, and local. "What's summer without the beach?" you might ask. Don't despair. You can still have fun at these close-to-home getaway spots without breaking the tank or your wallet. We've got something for the historian, the socializer, the foodie, the artist and more. And they're all less than a round-trip gas tank away.
Vicksburg | Quiet and Scenic
by Maggie Burks
When you take the exit off I-20, and begin to move closer and closer into Vicksburg, the smell of the Mississippi River and its cool breeze greets you. In historic downtown Vicksburg, people mill around, going in and out of shops and restaurants, and children throw stones at the river's edge. This is the perfect quaint weekend getaway spot, located just 44 miles west of Jackson.
Just off the interstate, you'll notice a large, gated park with white markers. It's the Vicksburg National Military Park, commemorating the siege and defense of Vicksburg during the Civil War. It contains tour roads, exhibits, a museum, the restored Union gunboat U.S.S. Cairo and more than 1,000 monuments and markers. If you're a history buff, this park is just one of the many opportunities to live in history. Visit Vicksburg National Military Park for more info.
Vicksburg has a plethora of beautiful antebellum homes and buildings, many of which have been converted into bed and breakfasts. Bed and breakfasts usually have a reputation for being cozy hideaways with superb service. Vicksburg bed and breakfasts, however, seem to take it a bit further.
Belle of the Bends (508 Klein St., 601- 634-0737), owned and managed by a husband-and-wife team from Colorado, is a three-story antebellum home not far from the Mississippi River. Each level of the home has a wrap-around porch, each containing three or so porch swings, which become inviting perches from which to look out into the gardens and sip tea. The breakfast lineup includes southern classics such as ham, biscuits and quiche, as well as a yummy fruit and yogurt parfait to top it off. A variety of teas and a never-ending pot of coffee are always on tap, too. Visit Belle Of The Bends.
In addition to Belle of the Bends are what seem like 50 other beautiful bed and breakfasts, including Cedar Grove Mansion (2200 Oak St., 601-636-1000), The Corners Mansion Bed and Breakfast Inn (601 Klein St., 601-636-7421), the lovely Anchuca Historic Mansion and Inn (1010 First East St., 601-661-0111) and others.
As a river city, Vicksburg is home to several casinos, including Ameristar, Horizon and Rainbow casinos. Gamers looking for a thrill could very well find it here in the midst of slot machines, card tables and more. In addition to the gaming, Ameristar also brings musical performers into its Bottleneck Blues Bar. Visit Ameristar Casino for more info.
Lazy afternoons are perfect for exploring Vicksburg. Take a drive around the town, and take in the ornate architecture, especially the downtown governmental buildings and older churches. Or grab a Coke float at the Biedenharn Museum of Coca-Cola Memorabilia (1107 Washington St., 601- 638-6514) and tour the facilities where the first Coke was bottled. If you're craving java instead, head over to Highway 61 Coffeehouse (1101 Washington St., 601-638-9221) and grab a coffee, then check out the art in the Attic Gallery located in the same space.
If that's not enough, take an afternoon trip down the road to the Windsor ruins, located near "Vicksburg's little sister," Port Gibson. This picturesque site features what is left of the Windsor mansions—it's beautiful columns. It is a staple Mississippi site, and the artist in you can find lots of inspiration.
Hattiesburg | Party-Seekers and Low-Key Socializers
by Vince Falconi
Drive for about an hour and a half, use approximately a quarter tank of gas, and you are in our southerly neighbor, Hattiesburg.
Being both a major metropolitan area and a college town affords Hattiesburg an active nightlife scene for both party-seekers and low-key socializers. Located downtown, the Thirsty Hippo's (211 N Main St., # A, 601-583-9188) space is limited and the air is hot when patrons pack in, but there's a nice patio area with a "pick up window" where you can get beer from the inside bartender. Check out Thirsty Hippo for details.
For a larger venue with a different feel, head down Main Street to The Bottling Company (126 Market St., 601-450-2653), a Coca-Cola bottling factory that has been converted into a bar and live-music venue. If you imagine a mix of Club Fire, the Electric Cowboy and the Bulldog, you'd have The Bottling Company. Visit The Bottling Company for upcoming shows and other details.
Looking for a quieter night out on the town? The nearby 206 Front (206 W. Front St., 601-545-5677) provides just such an opportunity. This is the place to go for a menu of high-end dishes with prices that won't break your bank account, as well as a great rooftop patio bar with a view of downtown Hattiesburg. Check out 206 Front for their menu and wine list.
Head over to the other side of town to the award-winning Crescent City Grill (3810 Hardy St., 601-264-0656), voted the best restaurant to blow your diet by Mississippi Magazine. With a menu full of Cajun and Cajun-inspired dishes, the CCG is one of three restaurants owned by Chef Robert St. John (who also owns the Purple Parrot Café and the Mahogany Bar). View their menus at New South Restaurant Group to plan a night out that will fill your stomach, but not empty your wallet.
For daytime travel, you can visit the Hattiesburg Zoo (107 S. 17th Ave., 601-545-4576) for only $2 a person, or head over to the Longleaf Trace (2895 W. 4th St., 601-450-7245) and rent a bike for $10-$25 for a nice ride along the trail. If shopping is your thing, check out The Milkspiller (208 S. 27th Ave., # 4, 601-268-9252), a store with vintage clothes, records, books and more. Add the store as a friend on MySpace (myspace.com/milkspiller) and get updates when new inventory has arrived.
For a trip on a half a tank of gas, Hattiesburg is certainly a worthwhile road trip on a budget.
Natchez | The Storytellers
by Donna Ladd
I didn't start going to Natchez for the food and fellowship with an eclectic group of locals; I started traveling to the town and surrounding area to cover old civil rights murder cases; Natchez was at the center of intense racial turmoil before and into the 1960s.
That may not sound like the most auspicious start to a piece about why you should road-trip to Natchez for a relaxing break from the city, but the truth is that I have been there reporting so many times since photographer Kate Medley and I went there in July 2005 that it's been like a second home of sorts. And it has grown on me.
No doubt, there's something creepy about the huge antebellum homes bumping up next to shotgun houses, and the extreme wealth (past and/or present) next to obvious poverty. But there is also something honest about it: The history of Natchez as a bastion of slavery is right up front for all to ponder (especially at the "Forks of the Road" slavery market site), along with the twisted humor that awaits in the annual pilgrimage that pays homage to (or snickers at, perhaps) a past that really does not deserve glory.
But amid that thickness of history await downright delightful people to get to know, and many of them know each other in ways that surprise; for instance, the (white) shop owners of a swanky boutique who are friends with the son of a (black) man killed by the Klan back in the day (and hooked me up with him).
That is my Natchez. I don't do pilgrimages, at least not of the type advertised. I, often with Kate, have stayed many times at Twin Oaks (71 Homochitto St., 601-445-0338), a gorgeous plantation and, er, guest houses owned by Regina Charboneau, a long-time Natchezian, chef and cookbook author who also owns Biscuits & Blues in San Francisco (yes, a cousin of the one her family started in Natchez). After a long day of reporting, Kate and I would often collapse into chairs at that Biscuit & Blues (315 Main St., 601-446-9922) for the eggplant poboy and fried okra. Or, we'd bolt into Planet Thailand (116 N. Commerce St., 601-442-4220) for some of the freshest pad thai and coconut soup we've had in the state. For breakfast, it was usually an egg sandwich or beignets at the Marketplace Cafe (613 Main St., 601-304-9399), which we dubbed "the media room" due to its free wireless.
More than anything, it's the conversations in Natchez I cherish the most. The stories are sad–like the pain in the eyes of the grandson of a white supremacist as he tells his stories, or the delight on a judge's face as he relates the tales of the city's most famous brothel.
Head down the Trace to Natchez. Then just wander and get lost in a town that time almost forgot, but not quite.
Canton | Lights, Camera Action!
by Maggie Burks
Welcome to the "City of LightsԗCanton. The backdrop for several major films—including "A Time to Kill" and "My Dog SkipԗCanton has the mystique of a small, preserved Mississippi small town that appeals to directors. And from the moment you enter the town, Canton gently reminds you of that fact. Keeping in fashion with the label "City of Lights," the historic town square is decorated year-round with Christmas lights. The courthouse is situated in the middle of the square, and the grounds feature an old, colorful carousel that children often ride.
Several small, unique retail and antique shops characterize the square itself, and it's easy to let time slip away when you're exploring each one. Antique stores dominate the square, and for good reason. Most of them sell high-end, well-crafted furniture and other goods; but you can also find items like a $10 pillbox hat or a reasonably priced 1950s clutch. There are also several boutiques located on the square that sell crafty accessories and lesser-known designer items. You're sure to get an eyeful of "southern girl"-themed T-shirts and Vera Bradley bags, as well as local artisan glass and beaded jewelry.
One of the highlights of the square is the pharmacy-apothecary-turned-art-gallery-and-shop, La Di Da (171 W. Peace St., 601-859-8106). Featuring mostly paintings and small crafts by local artists, this shop is full of vibrant and sometimes whimsical artwork. There are several paintings of animals, utilizing chunky, rich strokes and quirky themes. They also sell handcrafted stationary and several odds-and-ends.
Located near the visitor's center is the Canton Movie Museums, a series of permanent sets featured in big films. The museums allow you to stand in the same place as Matthew McConaughey in "A Time To Kill," and relive the scenes. The tours also include information about Canton and its history with other films.
July 4 weekend is one of the most fun times to be in Canton, as it hosts the Mississippi Championship Hot Air Balloon Fest. I remember the first one my dad took me to; it was magical. With balloon glows at night, food, competitions and fireworks, the fest is an ideal day trip. Stop into Davidson's Restaurant and Market (108 W. Center St., 601-855-2268) on the square in the early afternoon to peruse their kitchenware and cooking aides, and to grab lunch.
Besides being known for the films, Canton is a nice mom-and-pop hospitality kind of place. Randomly throughout the year and at Christmastime, especially, shopkeepers offer patrons warm apple cider, tea and cookies just to say "welcome." It's easy to feel welcomed in Canton; it's got a lot of charm.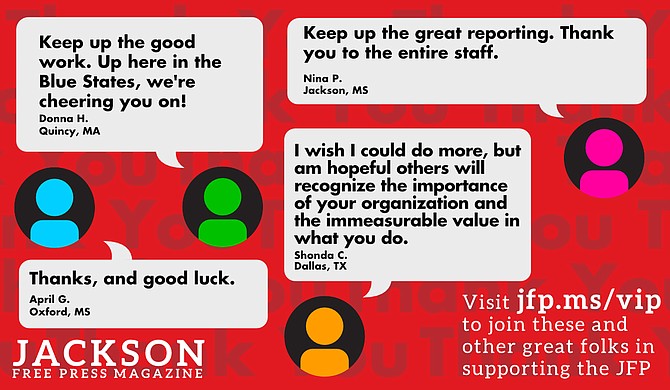 Thanks to all our new JFP VIPs!
COVID-19 has closed down the main sources of the JFP's revenue -- concerts, festivals, fundraisers, restaurants and bars. If everyone reading this article gives $5 or more, we should be able to continue publishing through the crisis. Please pay what you can to keep us reporting and publishing.