"Mississippi in the summer?" my friends, co-workers and instructors in Eugene, Ore. asked me with a look of bewilderment when I excitedly announced my plans to intern at the Jackson Free Press for two months. "Are you crazy!?"
I came here on a whim but after a week of living with JoAnne Prichard Morris, interning at the JFP -- jumping into action last Monday -- and meeting some of the most down-to-earth, inclusive, and vivacious people I've encountered, I can say with unwavering certainty that I sought a wonderful, adventuresome opportunity. I'm learning to live and write in a drastically different part of the country than my own. It's incredibly refreshing. And, the humidity really isn't as bad as I anticipated, so far...
Mississippi is called the hospitality state and it lives up to its title. Usually I cry within 24 hours of being in unfamiliar territory by myself, but between listening to JoAnne's fabulous life stories and feeling a synergistic energy among the JFP staff, I have managed to stave off homesickness, settling in quickly to this charming place.
I won't pretend that I haven't been worried out of my mind about navigating a new city and needing to meet interviewees in various Jackson neighborhoods; directions have never been my strong suite and I usually ride my bike everywhere back home. I was both relieved and amazed that I made it to the International Ballet Competition's headquarters in downtown Jackson for my first interview last Tuesday. (I held my own for knowing nothing prior about Thalia Mara and Jackson's huge, international ballet scene).
Wednesday, however, I managed to get completely lost driving myself to the Eudora Welty Library for one of the weekly Media Literacy Project research sessions with Bryan, Natalie and the high school aged "associates." I arrived 45 minutes late after leaving JoAnne's house, located a few minutes from the library. I would like to say I took a scenic tour to better acclimate myself to downtown. That wasn't my intention, though.
I pulled my first all-nighter in Jackson last Wednesday finalizing several articles that I majorly procrastinated on for my school's newspaper (we're publishing 24 pages, 10 straight days for the track and field Olympic Trials), detailing my first week in Jackson in a quasi-blog, "The Honorary Mississippian" (what JoAnne said she'd make me by the end of the summer), researching Freedom Riders, and typing two 30-minute free writes for Donna's intern class. I definitely need to read the book that's circulating in the office about time management and productivity.
I've studied journalism for three years but none of my instructors' advice on active listening and reporting well has ever really stuck beyond the basics. After Donna's afternoon intern class Thursday, I felt like I'd made a paradigm shift in the way I view these two journalistic skills that challenge me most. When I talked to my boyfriend via Skype that night, instead of occasionally spacing out and daydreaming about what I needed to get done, I looked directly into the webcam and tried my hardest to focus on him and his stories, responding in genuine interest with further questions and creating an environment for free-flowing conversation instead of stifled communication.
When I needed to make calls to set up interviews Friday, I quickly dialed the numbers and spoke to the IBC patrons without rehearsing my words too much and allowing my palms to line with sweat and voice to get shaky. I spend too much time wallowing in self-consciousness when I report, so simply being reminded that it's not about me -- that others aren't paying attention to my every move and word -- is liberating. Already, I can sense an extra hint of confidence within myself.
One fear I have in my interviews is that I'll unconsciously start talking with a Southern accent instead of my Northwest dialect and seem like I'm mocking those I'm conversing with. I adopt accents easily without thinking about it and have already caught myself saying "ya'll" quite often and "Nawlins" once.
Previous Comments
ID

131284

Comment

Great inaugural post, Lisa! Thanks for being so honest. We are really glad to have you on board at the paper and we can always use more vegetarian recyclers from the Northwest. And the humidity isn't bad... yet.

Author

sage

Date

2008-07-01T06:33:11-06:00
ID

131286

Comment

Welcome to Mississippi! Pardon our dirt roads you travel down. We hadn't quite caught up with modern times yet. *sarcasm off* You'll like it here. I'm promise.

Author

golden eagle

Date

2008-07-01T07:50:15-06:00
ID

131287

Comment

Welcome to Mississippi Lisa!! Don't worry, you'll know Jackson like the back of your hand before too long.

Author

andi

Date

2008-07-01T08:18:04-06:00
ID

131294

Comment

Welcome Lisa! I hope you can attend the IBC Reunion Gala performance on July 12th. It will give you a fantastic taste of what happens here every four years... I've volunteered for the IBC since 1982 and it has been an incredible journey. As you already know, you are in good hands at the JFP - best wishes to ya!

Author

bryanms

Date

2008-07-01T09:41:54-06:00
ID

131297

Comment

Lisa, Let me join everybody else in saying Welcome. Great post - you seem to be adjusting quite well.

Author

lanier77

Date

2008-07-01T12:02:14-06:00
ID

131299

Comment

I will add my welcome, too. Lisa has the honor of traveling the furthest to intern at the JFP so far. (We did have a wonderful intern from Yemen, but she came here for a program at Jackson State, so we can't claim to have lured her here!) We have an *amazing* crew (class?) of interns this summer (a total of nine, I think), and they're working on all sorts of fascinating projects directed by various staff members. They asked to have their own Intern Blog to chronicle their experiences here. And Vince obliged. Here is their blog if you want to follow it. There should be at least one new intern posting a day, so should be fun. Let's see: What colleges are represented? Let me see if I can recite them off the top of my head; I'm sure the interns will let me know if I miss any! Southern Miss (2) Ole Miss Alcorn Jackson State Tougaloo Rice University Fisk University University of Oregon Oh, and we have three returning former interns this summer to freelance and help/lead current interns with summer projects. They represent Belhaven College, Millsaps and Loyola. So there are a lot of school colors, so to speak, in the building this summer. Speaking of interns, they are coordinating the Jackpedia issue in early August. And they need your help: Go post info about Jackson – anything, everything – on jackpedia.com. Or if you refuse to post for some reason, e-mail info to the staff Jackpedia editor at sage (at) jacksonfreepress (dot) com, and we'll post. Remember, the Jackpedia issue comes from the wiki, so give us information about you, your business, your art, and your other favorites about town. Don't worry about formatting; we'll take care of that. Just post! The interns need you! ;-)

Author

DonnaLadd

Date

2008-07-01T12:17:19-06:00
ID

131787

Comment

Lisa, welcome to the fam! Hope to get to meet you soon! If I can help you in your adjustment to the SIPP or to Jackson, please don't hesitate to let me know. It's a beautiful secret! You'll love it or you'll be completely disgusted by it. Either way, I'll be glad to assist you with your Jacksonian experience. And by the way, it's cool to say New Orleans...not everyone here cuts words up and make them "country-fied" :-) But saying yall, well, that's a different story. You'll do good to make good use of that word. Peace&Power

Author

Queen601

Date

2008-07-01T14:30:53-06:00
ID

131804

Comment

We have legal interns in our office every summer and thruout the year from various places around Europe (mostly Britain and one from Germany too), San Francisco, Chicago, Long Beach, Kansas, Montana, Colorado, Texas, et al. Every single one of them liked Mississippi. Several have come back for second internships. Welcome Lisa. I've been in Eugene and Portland. In fact, I drove through the whole state. It's a pretty place. One of my favorite movies was shot or filemed in Oregon. It put y'all on the map. Can you say "Animal House." What a wonderful fraternity that was.

Author

Walt

Date

2008-07-02T08:59:09-06:00
ID

131826

Comment

Enjoyed your post, Lisa. Don't feel bad about getting lost. I've taken a lot of scenic routes, and I was born here!

Author

LatashaWillis

Date

2008-07-02T13:54:59-06:00
ID

131844

Comment

NINE interns? Dang, things sure have changed from my olden days. Welcome to Mississippi, Lisa. I've switched with you. Lynette Hanson (an old copy chief / everything else at the JFP) and I both live in Portland now. Summer here is hot right now, too, and none of us have air conditioning, so you're living right, girl.

Author

casey

Date

2008-07-02T23:13:28-06:00
ID

131845

Comment

Hey, Casey! I've been thinking about you. Probably because of all these interns. Visit soon!

Author

DonnaLadd

Date

2008-07-03T05:11:36-06:00
ID

131846

Comment

And Casey, you would die at the size of the new space since we doubled. My office, the newsroom and your old office are the same; essentially everyone else has moved. The best part (to me) is the new JFP Classroom (the old sales room). I teach all my writing classes there now and even better, I can teach weekly workshops for the interns now. The old pass-through design room is now the "Fly Studio," where all the product and shopping photos are shot, and the DIY projects are put together and photographed. I still laugh to think of that room filled with designers with us trying to stand over them to shoot stuff on the little lightbox table. I tell the newer people how tight it used to be (and about the even earlier duplex days), and it's hard for them to fathom. We even have an in-house music editor and events editor now, and a Web designer to take the load off Todd (the iVince, I call him from time to time, in homage to your iTodd label that stuck way back when). Of course, Stephen and Todd would say the best part is the big-ass new sales side. Adam would say it's his new office (remember him doing all his crazy interviews in the newsroom oblivious to what's going on around him? He's still a marvel.) I've also donated the Classroom for a high-school project this summer. So there's great energy everywhere at this newspaper you and Lynette and all the other alum helped build. ;-)

Author

DonnaLadd

Date

2008-07-03T05:28:51-06:00
ID

131855

Comment

Wow. That sounds hugely great. Seriously, I'm proud. That's wonderful. I'm finally growing up myself, too. I don't wear converse to work anymore. And no mohawks. But I still have the same spirit! I'm going to send you an e-mail, DL, about a story I want to work on next year and see if you have any suggestions. love to all y'all, casey

Author

casey

Date

2008-07-03T08:41:33-06:00
ID

131857

Comment

Can't wait for the e-mail! No mohawk!?!

Author

DonnaLadd

Date

2008-07-03T09:02:25-06:00
ID

131870

Comment

Thanks very much for all of the warm welcomes! Walt- My dad wrote for a local newspaper when "Animal House" was filmed. When he asked Belushi for an interview, the actor called him an expletive and that was that. I love hearing the stories from that era and before, when Steve Prefontaine wowed crowds at Hayward Field in the early '70s. Casey- I'm in awe it's so hot back home. WOW! Hang in there without air conditioning. Happy 4th, everyone.

Author

LisaKA

Date

2008-07-03T13:12:38-06:00
ID

131875

Comment

Casey and Lisa, y'all got to meet when we send Lisa back to Oregon. IF we do, that is. ;-)

Author

DonnaLadd

Date

2008-07-03T14:20:54-06:00
ID

131882

Comment

yes yes, look me up Lisa. I'm easy to find. It's been 95 here all week!

Author

casey

Date

2008-07-03T19:47:24-06:00
More like this story
More stories by this author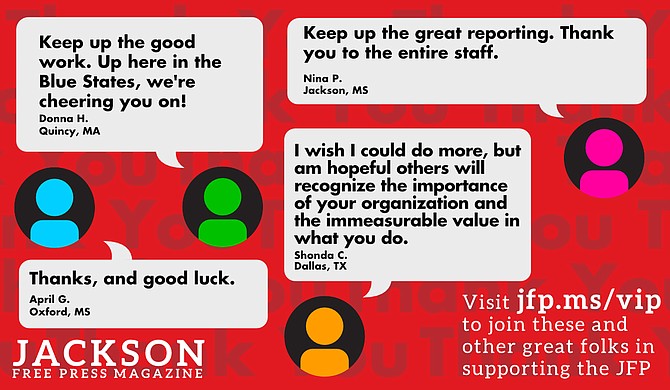 Thanks to all our new JFP VIPs!
COVID-19 has closed down the main sources of the JFP's revenue -- concerts, festivals, fundraisers, restaurants and bars. If everyone reading this article gives $5 or more, we should be able to continue publishing through the crisis. Please pay what you can to keep us reporting and publishing.