This doesn't mean much in the actual presidential contest (thanks in part to the Electoral College and its role of subverting the will of the American people), but it looks like nationally Obama has gotten a bounce from his "How would y'all like me to do this gig full-time?" tour of Europe and the Middle East, while McCain toured pancake houses and the back nine with George H.W. Bush to prove that, yes, presidents do live to be older than he is.
Of course, the devil's in the numbers...and there are some extremely interesting numbers. Demographically Obama can be 6 percentage points ahead of McCain even McCain leading by a 10 percent margin with white voters. Muy interesante.
WASHINGTON (AP) - Solid margins among women, minorities and young voters have powered Barack Obama to a 6 percentage point lead over John McCain in
the presidential race, according to a poll released Tuesday. Obama is ahead of his Republican rival 47 percent to 41 percent, The Associated Press-Ipsos poll showed. The survey was taken after the Democratic senator from Illinois had returned from a trip to Middle Eastern and European capitals, and during a week that saw the two camps clash over which had brought race into a campaign in which Obama is striving to become the first African-American president.
McCain, the senator from Arizona, is leading by 10 points among whites and is even with Obama among men, groups with whom Republicans traditionally do well in national elections. Obama leads by 13 points among women, by 30 points among voters up to age 34, and by 55 points among blacks, Hispanics and other minorities, the poll shows.
Previous Comments
ID

132866

Comment

Those are exciting numbers, though. Have you as a white man ever felt less relevant, iTodd? ;-) It's rather intriguing to me that McCain isn't leading more than 10 points among white men. Change, she is a'comin'. (And to you white guys: We don't dislike you. You just need to stop voting, and running the country, as a bloc! )

Author

DonnaLadd

Date

2008-08-05T20:26:05-06:00
ID

132867

Comment

10 points among "whites" -- they didn't break out white men. And, yes, I've felt less relevant. It usually happens in the women's shoe department.

Author

Todd Stauffer

Date

2008-08-05T20:27:38-06:00
ID

132868

Comment

Oops, I see. You're relevant to me and that houseful of cats we have.

Author

DonnaLadd

Date

2008-08-05T20:34:20-06:00
ID

132870

Comment

Obama's age is what I am attracted to. I don't think McCain is too old to run this country, but I like the era when Obama was a teenager or college age. It would be nice to have that influence in the White House. I missed it by just over a decade. Late 70's ruled!!

Author

saint H

Date

2008-08-05T20:57:39-06:00
ID

132875

Comment

Obama needs a much larger lead than that to win. He can be 5-10 point ahead and still lose. Hell, McCain could landslide if Obama is only a few points ahead in the polls. That isn't even a challenge for them to steal. They will argue that he was ahead by the margin of error. With our no-paper-trail voting machines, it will be easy to steal an election that was close in the polls and nobody will be able to do anything about it (again). The polling is skewed anyway. It's insane that it is even close! I, and lots of people my age that I know, don't have a home phone - only cell phones. So, a lot of young adults aren't getting polled. I have never been polled. Nobody I know has ever been polled. The numbers are off - McCain shouldn't even be in the same ballpark as Obama. Although, maybe the numbers are right. I shouldn't "misunderestimate" the ignorance of a lot of American people. Especially when I hear poor Mississippians defending multi-million/billion dollar corporations and politicians that are working against them behind the scenes.

Author

Tre

Date

2008-08-06T08:07:46-06:00
ID

132876

Comment

Well I can't get excited yet over those numbers which aren't large enough for my taste since I know there is some lying by some people about supporting Obama. As Tom Bradley, mayor of Los Angelas for over a decade, proved when he ran for governor of liberal California some people will say one thing before the cameras and on paper but do another when in the voting booth. We all know there is a percentage of racists who hates all blacks and are still training and waiting for the race war wherein they can finally wipe us all out and at last live in perfect whitedom. These people and milder forms of racists aren't voting for Obama and I hope the number of these isn't big enough to make a difference in this election.

Author

Walt

Date

2008-08-06T08:09:11-06:00
ID

132877

Comment

I'm always skeptical of Obama's poll numbers, especially the ones that have him ahead, precisely because of the "Bradley/Wilder Effect" http://en.wikipedia.org/wiki/Bradley_effect

Author

Jeff Lucas

Date

2008-08-06T08:40:02-06:00
ID

132878

Comment

Yup, and the American people will get what they deserve if they let McCain take this election. Those of us who knew enough to try and stop it will just have to sit back and watch the collapse of a once great nation. Maybe that is what has to happen so we can start over.

Author

Tre

Date

2008-08-06T08:42:44-06:00
ID

132881

Comment

Some analysts estimate Obama's numbers are underestimated by about four percentage points due to Obama's lead among the under 40 population who are more likely not to have a landline phone and therefore more likely not to be surveyed. I have an Internet phone (Vonage) and that may not get picked up either. No doubt there is a "Bradley/Wilder" factor also. They may both cancel out. It is too early to put too much stock in the polls right now though.

Author

FreeClif

Date

2008-08-06T12:13:40-06:00
ID

132887

Comment

That's an interesting point, Whitley, I no longer have a land line, nor do most of my friends (all in their 30s to 40s).

Author

Izzy

Date

2008-08-06T14:20:40-06:00
ID

132888

Comment

Another factor to consider is that they are surveying "likely voters". Who is considered likely? People who have voted before. There are going to be many people voting who have never voted before. There was an 84 year-old lady who said she had never voted before, but came out to vote for Obama. The polls had seemed to predict a close race in the North Carolina primary, but it was a blow out due to all the "unlikely" voters who turned out massively. This is going to be a hard one to predict. A key is can Obama's enthusiasm among "unlikely" young voters be sustained until election day? They are going to try to beat him up to cause the young voters to be disillusioned if possible. The only way they can win is to kill this "hope thing" among young people!

Author

FreeClif

Date

2008-08-06T14:31:49-06:00
ID

132890

Comment

Young people, put down that dope and pick up some hope. Don't go with McCain unless you want to continue the downward slope where you won't be able to cope - Revern J. L. "Nutcutter" Jackson.

Author

Walt

Date

2008-08-06T14:38:49-06:00
ID

132891

Comment

Meh. The only poll that really matters to me is the one on November 4. But it is encouraging to see a person of color actually appear competitive in a Presidential election.

Author

Jeff Lucas

Date

2008-08-06T15:02:45-06:00
ID

132893

Comment

I'm always skeptical of Obama's poll numbers, especially the ones that have him ahead, precisely because of the "Bradley/Wilder Effect" It crossed my mind, but I didn't know it had a name. If you look further down in the article, they talk about a possible "reverse" Bradley effect when it comes to Obama: After the Super Tuesday elections of February 5, political science researchers from the University of Washington found trends suggesting the possibility that with regard to Obama, the effect's presence or absence may be dependent on the percentage of the electorate that is black. The researchers noted that to that point in the election season, opinion polls taken just prior to an election tended to overestimate Obama in states with a black population below eight percent, to track him within the polls' margins of error in states with a black population between ten and twenty percent, and to underestimate him in states with a black population exceeding twenty-five percent. The first finding suggested the possibility of the Bradley effect, while the last finding suggested the possibility of a "reverse" Bradley effect in which black voters might have been reluctant to declare to pollsters their support for Obama. By comparison, with only one exception, in each state with inaccurate opinion polls for the Democratic contest involving Obama, those same polls accurately predicted the outcome of that state's Republican contest, featuring only white candidates. While their cause continues to be debated—for example, many polls underpoll African-Americans and young voters—the pollsters' errors have raised expectations that as the presidential primary season progresses, Obama's polling numbers will be widely scrutinized as analysts try to definitively determine whether the Bradley effect has become a significant factor in the race. When Obama first threw his hat into the ring, my observation was that some blacks were afraid to get behind him because they didn't want to get their hopes up or thought Obama would be assassinated and wanted to "protect" him. A lot of that changed after Iowa. Regardless of how this story ends, I'm proud of him for making it this far. It's never been done before.

Author

LatashaWillis

Date

2008-08-06T15:58:22-06:00
ID

132915

Comment

What the fluck is going on with the Clintons? Why in the hell won't they go away? Just the other day, Bill said the constitution sets the qualifications of a president instead of saying he personally thought Obama was qualified to be president. Now Hillary and some of her supporters are saying they should be heard at the convention. I thought they had already been heard and rejected. Bill Clinton and Hillary are the Democrats worse nightmare. I won't even mention how they're treating us after we tired on them. Could it be Hillary knows she won't make the list of vice presidents?

Author

Walt

Date

2008-08-07T16:40:47-06:00
ID

132916

Comment

The ominous quote for me was Bill said he would have more to say in January. I'm thinking, why don't you just shut up. If he shut up, we could get over it and believe him when he says he has no personal animosity towards O for jamming Hill at the line of scrimmage and intercepting the nomination meant for her. What happened to being a good sport?

Author

FreeClif

Date

2008-08-07T16:51:59-06:00
ID

132920

Comment

Author

LatashaWillis

Date

2008-08-07T20:36:50-06:00
More like this story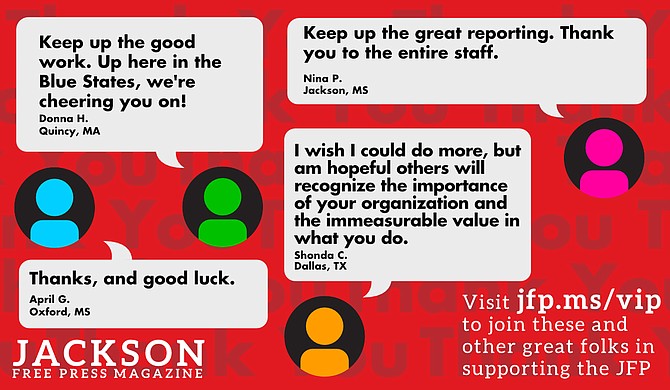 Thanks to all our new JFP VIPs!
COVID-19 has closed down the main sources of the JFP's revenue -- concerts, festivals, fundraisers, restaurants and bars. If everyone reading this article gives $5 or more, we should be able to continue publishing through the crisis. Please pay what you can to keep us reporting and publishing.