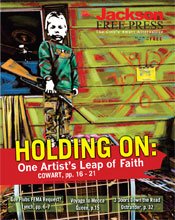 Her eyes were burning from the sandy water, and her body was covered with bruises, but she wasn't exactly sure how or when she had gotten them. An hour and a half after Hurricane Katrina passed, the water had receded but it was still storming. The debris was deep and shocking as Rosemary Pursell crawled through it looking for one of her tenants, a woman who was missing.
Suddenly, Pursell saw the missing woman, trapped between studs, looking at her, "like a deer trapped in the headlights," as she would later describe it. The woman had no shoes on to protect her feet from the debris, so Pursell took off her shoes and gave them to the woman so she could get out.
Pursell had been the apartment manager at 634 Water St. in Biloxi for 10 years. Her apartment, No. 24, was gone, along with several others. She had stayed through the storm because some of her tenants had not evacuated. Her memories of the day are replayed in the audio account that accompanies H.C. Porter's painting of her, "Holding On," in which she is standing defiantly with gloved hands and holding a three-pronged hoe in front of what is left of her apartment complex.
"I'm glad to be on this end of it. I'm glad I'm helping to rebuild, that's the mending part," she says on the audio that accompanies the painting.
Happy Tears
Snowflakes were beginning to thicken outside, but inside the Mississippi Arts Center in downtown Jackson on March 7, 2008, the weather only added to the excitement. Some of the guests had never seen snow; they were adults and children who had lived their whole lives on the Gulf Coast. That's where they were when Hurricane Katrina hit Aug. 29, 2005, upending their lives and ripping their homes and belongings into shreds, taking everything that many of them owned.
But on this night, the children were dressed in fancy little dresses and handsome miniature suits as they enjoyed mini hamburgers and tiny tuna sandwiches. Their hair had been combed and fixed for a special occasion. After two and a half years, the lady had found survivors among the debris, listened to their stories of darkness and painted pictures of their survival, made good on her promise. Their pictures were hanging in a big museum for the world to see.
Tonight, the artist looked like a glamorous New York fashion model, in her herringbone stockings, high-heeled slingbacks, a white brocade belted coat and triple strand of coffee-colored pearls. The intense faith of H.C. Porter and her collaborator Karole Sessum's "Backyards & Beyond" exhibit radiated through the Arts Center from the front door, all the way up the stairs, and into all the adjoining rooms of the jazz-filled complex where adults nibbled pancetta-wrapped asparagus and catfish bites and eyed their young to ensure they stayed on best behavior.
Setting the stage for the show was a life-size sculpture at the base of the stairs, representing the tangled chaos after the storm. Dishes, clothes, a truck, road signs, and rakes-in-trees were muddled together. Dangling from the ceiling midway up the stairway was a piece of cloth snared on a tree limb, a poignant symbol of Katrina's day-after desolation. Sessums, the exhibit organizer known for an immaculate attention to detail, looking slim and graceful in her silky black pantsuit, had left no visual stone unturned.
When Pearlington resident Tracy Bennett, one of 51 Katrina survivors at the opening, saw the pictures of her family, she was stunned. "It was unbelievable, amazing," she said. "I just wasn't sure what to expect. It brought back memories of the storm. It showed the destruction, but they were beautiful pictures."
Tracy's 11-year old daughter, Harleigh, was 9 when the storm hit. It had destroyed her home and her grandparents' home. She stood looking at the paintings, including one of her holding a miniature carousel that survived the storm, crying what she would later call "happy tears."
"It was very emotional," she said.
Porter's bright smile the night of the premiere did not just come from the relief of finishing such a huge project but also from the satisfaction and positive feedback from the individuals for whom she photographed and painted. The responsibility of telling their stories had weighed heavily on her.
"I wasn't sure how the people would respond to my art pieces," she said. "When I first met them two and a half years ago in the piles of debris, they didn't know me from Adam. They just knew I was taking their picture and listening to what had happened to them."
Throughout the night, cameras clicked and flashed as small groups of excited survivors wanted a picture with Porter. Grabbing onto her coat sleeve, they pulled gently on her, causing her to bend forward ever so slightly. She tried keeping up with them in their hurriedness to have their picture taken with her in front of the picture she had painted of them.
Called Home
Porter and Sessums were traveling in the Northeast as part of a 12-city touring exhibit when Hurricane Katrina hit the Mississippi Gulf Coast. Worried about their friends and family, they called home. But because they thought there was really nothing they could do from so far away, they continued their travels.
But while they were in Pennsylvania, collectors of her work began calling and urging Porter to return home. They knew that with Porter's artistic style, her distinct voice and her special ability to relate with people, she should be documenting this dramatic piece of history.
Still Porter and Sessums kept travelling. The news of Hurricane Katrina was everywhere. While they were at an art venue in Washington, D.C., a woman came in, and after seeing that Porter was a Mississippi artist, walked up to Porter and Sessums and ordered them to go home. Both are spiritual women and through this stranger, they suddenly felt that God was calling them back.
Porter grew up Presbyterian in Jackson, and joined Campus Crusade for Christ after graduating from the University of Alabama. While active with Campus Crusade for Christ, she spent three months serving in Hungary. She again travelled to Hungary in 1987 with First Presbyterian on a mission project. Then, while living in the Millsaps Arts District in the early 1990s, she started an art program for children in the area called "Avenue for Art." One day a week for eight weeks, she taught children about art—how to enjoy it, and how to express themselves with it.
Growing up United Methodist, Sessums spent her early years playing the piano for her grandparents' small Methodist church in Forest. As a young adult, she served as a youth director at Wells United Methodist Church. She attended Mississippi College on a basketball scholarship before receiving her nursing degree from the University Medical Center. In 1987, Sessums stepped out on faith and started an outreach ministry called Sonrise Cycling. She spread God's word while biking through communities.
Called home, the pair drove from Washington, D.C. to the Mississippi Gulf Coast that September, talking about how they envisioned the project God had called them to do. "Ideas were flying," Sessums said. Every step they prayed, asking God, "What next?" when they weren't sure how to continue.
When Porter and Sessums arrived in Pearlington two weeks after the storm had hit, it was hot, and mud was on everything. The smell was terrible. The trees were burned from the saltwater. There were bare slabs where houses once stood. Clothes, furniture, pictures, dishes, dolls, cars and trucks were tossed and tumbled together. Porter remembers seeing an ice cream truck in a tree. Orderliness had ceased to exist.
So Porter, with her digital wide-angle lens camera in hand, and Sessums, with a recorder and microphone, set out to document one of the worst natural disasters the United States had ever experienced. FEMA had required people to pull everything out of their homes and put it on the street. Wearing shorts, T-shirts, baseball hats, protective socks and loads of sunscreen—and sometimes masks—Porter and Sessums would walk down a street and see families' personal things piled in heaps, finding people among the chaos willing to tell their stories.
At night it was eerily dark. As sounds of generators reverberated throughout the night, Porter and Sessums stayed in their 21-foot Chinook camper. The days were long and exhausting, mentally and physically. Weekends were spent doing their normal business of travelling to juried fine-arts festivals to sell art to support their new mission. They lived like this off and on for a year.
'We Will Survive'
On March 7, the day of the "Backyards and Beyond" opening, the Beau Rivage casino in Biloxi supplied bus transportation for the Gulf Coast Katrina survivors who were honored in the show, who could not have otherwise made it to Jackson. While waiting at the La Quinta Inn for the bus to arrive, one young Latino boy, Chris Cuello, who is in one of the images with his mother Myriam, "Together," was so excited about coming to Jackson for the show that he called Porter's gallery in Vicksburg, just to talk.
"He was so excited, he just wanted to tell me he was coming," Sessums said.
On the audio that accompanies their portrait, Myriam Cuello tells of what Katrina cost them, small and large. In her thick accent, she tells of how her neighbor was distraught over not having water for her coffee, even as destruction lay all around.
After Myriam's husband left to get the neighbor water, she said to her, "Excuse me, lady, are you American? You need to be stronger, remember." Her words seem to have centered her neighbor. "Alright, Myriam," the neighbor responded.
Porter's pictures capture not only the devastation and loss of Hurricane Katrina but also the faith, hope and resilience of Mississippians. "For a photographer, there is a moment that you wait on when a person really, truly lets you see themselves," Porter said. "It could take 30 seconds, or it could take two hours. Each piece reflects the instance the person allowed me to see them."
Even though a face can seem sad and lonely or lost and depressed in a Porter painting, the vivid colors and shapes give the viewer a feeling of strength, like that of Katrina survivors who are still picking up and rebuilding their lives.
Porter's work begins with her own black-and-white photographs. She then makes a high-contrast silkscreen print of the photograph. She completes the piece by using acrylic paint to accentuate the shapes that emerge from the print. When asked if she can envision the finished product as she works, Porter answered: "One brush stroke leads to the next."
In the upper atrium of the Arts Center, Porter and Sessums placed a hand-painted 8-foot-by-8-foot banner recreated from the meteorological hurricane poster that was in Delisle Elementary School on the Gulf Coast. Like the children in the school, who each had made their mark on the storm as a part of the healing process—On the banner in Delisle, one student wrote, "We Will Survive"—each person visiting the show is given an opportunity to leave a message.
The Center for Oral History and Cultural Heritage at the University of Southern Mississippi partnered with "Backyards & Beyond" and set up a kiosk at the exhibit where persons can share their Katrina stories or just respond to the show.
'This Is So Healing'
"Grief is an important and necessary reaction that eventually leads to emotional healing," an article in Total Health magazine states. Part of grieving is sharing thoughts and feelings with others—and having them really listen. As a result, both sides can grow.
Nancy Duncan, from the Dallas-Fort Worth area, bought the painting "Bringing Hope" after seeing only the black and white photograph, as many of the collectors did. At the March 7 opening, she explained that the show itself—with the 54 painting owners interacting with the 51 survivors—had touched her as little else had. "I feel this is the most powerful tribute to Mississippi. I have never seen anything like it. We all watched New Orleans and (New Orleans Mayor) Ray Nagin showcase the devastation there; H.C. Porter has given Mississippians a powerful and unique tribute where others have forgotten."
"When viewing Porter's work," Duncan said, "it allows us the knowledge to look into the faces and know the people."
Duncan said she particularly felt moved by audio of a Pennsylvania father talking about how his two girls had come to help in the clean-up effort and had left Mississippi transformed as better individuals. In the audio that accompanies the painting "I Heard The Voice of Jesus Say," the teenage volunteers who had come from Lancaster County, Pa., said they had no idea how much debris was left and how much the people of the Gulf Coast had really lost.
"I just don't understand how they are going to get it all cleaned up," said one 16-year-old girl. "I just think it's amazing."
Collectors of the "Backyards & Beyond" project represent 12 states, including Mississippi's first lady Marsha Barbour, who owns "Grace."
Corin Morrison, from Vicksburg, owns "Holding On" with her husband, Bob. She said that when she saw the painting for the first time, she was in awe. But human interaction with its subject took the experience to an even higher level. "It was amazing to meet Rosemary and hear what she had gone through. It personalized the painting and her story," she said.
Porter said her own reconnection with Rosemary at the show was powerful. "She walked up to me and put her hands on my shoulders and looked me in the eye and said, "I'm sure everyone has told you this. This is so healing. You don't know what you've given us; this is so healing."
"Backyards & Beyond" is an interactive art exhibit that runs through June 8 in the Mississippi Arts Center in downtown Jackson (201 E Pascagoula St. 601-960-1500). The gallery is open from Monday through Friday, 10 a.m. to 6 p.m., Saturday, 10 a.m. to 5 p.m., and Sunday, noon to 5 p.m. The project will later travel across the United States. On Thursday, May 8, at 6:30 p.m., Porter will conduct a personal informal tour of the show, reflecting on her experiences during the project. For more information, visit http://www.backyardsandbeyond.org or http://www.hcporter.com.
More stories by this author
Support our reporting -- Become a JFP VIP.
The news business has changed dramatically in the past two years, and we need your help more than ever to keep bringing you important stories about Jackson and the Metro. Become a JFP VIP with an annual membership or you can Sign up as a monthly supporter. Thanks for anything you can do to empower our journalism!