I hate to say I told you so … but I did.
In 2006, when I was the Democratic nominee for the United States Senate against Trent Lott, I basically predicted that he would not finish his term. If you remember, Lott was a little less than enthusiastic about seeking re-election, seemingly waiting for public opinion to prod him into the race. Remember when he said that the only reason he ran was because he felt compelled to help the Gulf Coast recover, being a victim himself?
It's clear now that Lott wanted to retire and make some real money, hence the "Herding Cats" memoir. The GOP begged him to stay until Haley got re-elected, then the governor could choose his replacement. Well, Haley lived up to his end of the deal, and now Trent rides off into the sunset, which means greener (as in money) pastures ahead.
Basically, Sen. Lott is leaving the Senate to take advantage of the provision in the new lobbying reform legislation that allows a member of Congress to not serve in the next session and instantly become a member of the K Street Gang, as D.C. lobbyists are called. Had he served out the full term, Lott could not lobby Congress for two years after leaving office, meaning in his case, the year 2014.
Lott now leaves a legacy of being a great Washington insider, a person able to maximize the system for great personal benefit. He attained enormous political power and wealth for himself, while his state floundered at the bottom of every socioeconomic scale. One could argue that his role in the Katrina recovery was vital; however, it is my contention that he could have done so much more with nearly 40 years of Beltway experience to benefit the average citizen of this state.
Having said that, what does his resignation mean for Mississippi immediately? First thing it should tell us is that the Katrina money is gone. No more federal aid will be appropriated to help in the rebuilding efforts of the Mississippi Gulf Coast. We are now on our own, which means whatever is not finished within this next fiscal year, which ends on Oct. 1, 2008, will have to be completed with limited state funds or not at all.
Secondly, it means we will have two elections for the U.S. Senate during a presidential election year. According to the Mississippi Code of 1972, Sec. 23-15-855, the governor can appoint a senator within 10 days of the resignation and then call for a special election to be held on the General Election Day. Gov. Barbour, in a press statement, has said that he will appoint the best person, and it will not be himself.
(Yes, he said that.)
So who will be the player(s) in this process? The odds-on favorite is Congressman Chip Pickering, who also happens to not be running for re-election in 2008. Pickering is young enough where the two-year waiting period will not affect him, but he may have lost his will to fight in a Democratic-controlled Congress.
If not Pickering, then who? Roger Wicker. The congressman from the first district of Mississippi has been jockeying in GOP circles to be Lott's successor for the last couple of years. However, there seems to be a slight feud between him and the governor at the moment, so that is not a lock.
A remote possibility is Amy Tuck. It would be historic, as she would become the first female to hold the post, but would she really consider it? She automatically said no when a congressional seat became available, but maybe an appointment for one year would suit her fine rather than running for something every two years. Just a thought.
Outside those obvious suspects, it would then become wide-open with a plethora of 30-to-50-somethings on the GOP farm team to choose from. Yvonne Brown? Nick Walters? Charlie Ross?
What about Democratic candidates? Well, remember that Democratic primary everybody was salivating over in 2003 between Ronnie Musgrove and Mike Moore/Eric Clark (all names interchangeable) that never happened? Maybe 2008 will be the year for a special election match-up. Other than that, who knows? The Democratic Party has had a hard time finding candidates for Pickering's seat and for the U.S. Senate race against Cochran, so it may not be too engaged for a special election. Many have already written the obituary for the Dems, and a no-show in 2008 will certainly confirm that premise.
What looked like a hum-drum presidential election year has now turned out to be a potential historic election year in Mississippi politics.
Just remember I told you so.
Rep. Erik Fleming is a columnist and blogger for the Jackson Free Press.
Previous Comments
ID

75690

Comment

Rep. Fleming, I regret your loss as I did vote for you and was hoping this would be your seat. I call the "Trent Lott" establishment part of the "good ol' boy" regime and if it calls for him to come out of retirement to gain a calculated move for another "good ol' boy" then, so be it. It is after all...politics (politrix) and not always the best man or woman wins. When Pickering bowed out I considered it due to some "rumor" or something disruptive to his character down the line. He is very young to give up so easily, so maybe he will be the next "good ol' boy".

Author

Maria

Date

2007-11-30T03:28:50-06:00
ID

75691

Comment

I suggest reading this: http://www.slate.com/id/2178712/nav/fix/

Author

Willezurmacht

Date

2007-11-30T09:59:57-06:00
ID

75692

Comment

The New York Times opines today on the state of congressional lobbying in America: Mr. Lott's planned departure — conveniently ahead of the new two-year wait before a retired senator can lobby — is shedding light on Capitol Hill's quasi-aristocracy of ex-incumbents who never return home and stay close by to work politics from its more lucrative shadow world.

Author

Todd Stauffer

Date

2007-11-30T10:01:36-06:00
ID

75693

Comment

He resigned because he got tipped off to the indictments of Scruggs et al. The insurance companies will move to unseal all the records in their cases, and Lott will be implicated. He resigned because he does not want to face an indictment AND a Senate ethics probe simultaneously.

Author

Willezurmacht

Date

2007-11-30T10:13:08-06:00
ID

75694

Comment

Great article , Eric and I do remember that you Mississippians that Lot would not complete his term: This was every reason for concerned voters not to support him. It is so unfortunate but, we continue to deal with the skin we are wrapped in. It does not matter how intelligent you are or how sencere you are about working for the best possible outcome for this State. Lott has absolutely nothing to feel good about except his personal gains for self, friends and family. Lott's 40 years of service still finds MS standing in the poverty line and at the bottom of the pile in most categories. I don't know what it will take for MS to realize that we can not continue to do the same thing and expect different results.

Author

justjess

Date

2007-11-30T10:19:51-06:00
ID

75695

Comment

Well, Eric, congratulations on finally being right about something. ;) (You know I'm always going to give you a hard time concerning your views on women's rights)

Author

Lori G

Date

2007-11-30T10:29:59-06:00
More like this story
More stories by this author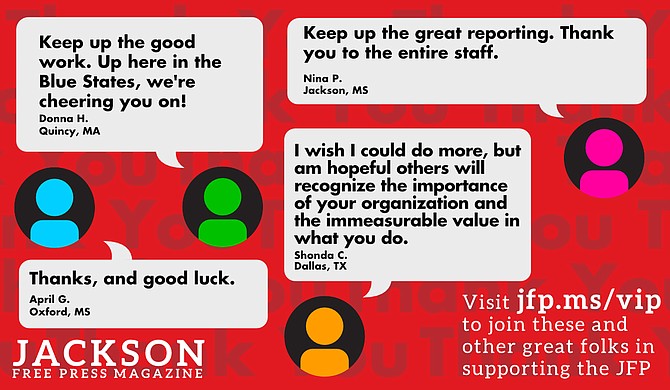 Thanks to all our new JFP VIPs!
COVID-19 has closed down the main sources of the JFP's revenue -- concerts, festivals, fundraisers, restaurants and bars. If everyone reading this article gives $5 or more, we should be able to continue publishing through the crisis. Please pay what you can to keep us reporting and publishing.