"(The LeFleur Lakes) plan is really unpopular with everyone but you, John. It is a different world when you are not in the room. There is no question that this plan is unpopular." The collective gasp was audible.
John McGowan seemed not to have anticipated that the Friday presentation in the LeFleur Lakes charrette would focus on alternatives to his plan. He certainly had not expected Andrés Duany, partner in the internationally recognized firm DPZ and moderator for the charrette, to return a negative report on his plan. It was too expensive; the island was so large many residents wouldn't even have beachfront; the island was too large for Jackson to sustain development; extensive and prolonged ecological litigation was certain; increased flooding in Town Creek was certain; there was minimal community support. Duany's criticism of a project in which McGowan had invested 11 years was long and damning.
The Levee Board invited Duany to analyze the LeFleur Lakes project and help Jackson move forward with the economic and morale boost it so desperately needs. After meeting extensively with members of the community and government, Duany presented a plan that would use the Army Corps of Engineers' levee system for flood control and dredge a lake half the size of McGowan's.
Duany's One Lake plan would let the Pearl River flow naturally through LeFleur's Bluff State Park. Below the park, engineers would dredge a lake in an area the Corps destroyed in the '60s, and the soil would be used to create an island less than half the size of McGowan's. This new plan would rely on the sort of mixed-use, pedestrian-friendly model New Urbanism champions. There would be public parks, an outdoor amphitheater and a pedestrian bridge connecting to the park. With savings from this scaled-down plan, Duany urged the development of a Town Creek riverwalk running beside the new art museum and convention center.
The audience was excited about these ideas. I went into the weekend feeling upbeat about the future of our city.
At 7 p.m. on Monday, citizens filled the TelCom Center. Bill Orr, chairman for the Levee Board, stepped to the microphone for introductions. "Tonight we will be viewing a series of plans which have been developed: the Army Corps Plan, an alternate LeFleur Lakes plan and John McGowan's plan, which is a very effective flood control plan." Orr could not have been clearer about where he stood.
Duany then took the stage and offered a different picture than he had Friday.
As Duany moved through his presentation, McGowan's LeFleur Lakes argument began to resurface. Rather than a thriving natural ecosystem, our Pearl was subtly cast as an environmental disaster through phrases like "tak[ing] the kids down to see what's left of the river." Duany characterized environmental litigation as petty and selfish. He mocked representative government by presenting private investment in McGowan's plan as the "old way" of doing things "before we started depending on the government to do everything."
To Duany's credit, he spent a great deal of time presenting his ideas for a Town Creek riverwalk. I imagine he didn't dwell on McGowan's plan because he felt pressured to put a positive spin on a plan that he still thought would be mired indefinitely in technological, investment and litigation problems.
Toward the end of Duany's final presentation, Councilman Frank Bluntson yelled from his seat, "Will you help us find a planner?" He seemed unaware that we were hearing from one of the nation's leading city planners. Our community worked with Duany's development firm to develop the One Lake Plan, which Duany thought was realistically within our reach and included downtown development. But the plan that this world-class city planner thought was most practical and representative looked to be pushed aside in favor of the same old boondoggle, which represents the interests of only a small group of people who have power and wealth.
During the question and answer period, many in the audience were interested in specific numbers that would not be available until the final report. The audience pressed for public involvement past the charrette. Duany's answer was vague, and indicated that the charrette itself was the peak of public input. Both Duany and the audience became exasperated, in sharp contrast to the hope and excitement elicited by Friday's discussion period.
It is apparent that the forces planning to dredge and flood our Pearl River for economic gain and flood control have the upper hand. The members of the Levee Board, charged with making development decisions, formed the LeFleur Lakes Development Foundation last year with the apparent purpose of advancing McGowan's project. City officials seem not only powerless over what happens to our lands but scared to truly participate in the debate. The charrette was apparently our main venue for public discussion, and I'm concerned that the Levee Board applied political pressure on its outcome when they saw it was not yielding the result they sought.
The scariest part of this process is how our community is being muzzled in the name of development. Most Jackson natives with expertise in fields such as biology, hydrology, public health and conservation work for the state. They seem afraid to speak out against McGowan's plan for fear that their organizations' funding will be cut by LeFleur Lakes proponents who hold positions of authority in our government. Considering how quickly funding for the Airport Parkway went wobbly when that project seemed to threaten McGowan's island, their fears look well founded.
Ten years into planning this project, public input remains stifled. If McGowan gets his island, it will be in spite of the experts' best advice and the public's best interest.
More stories by this author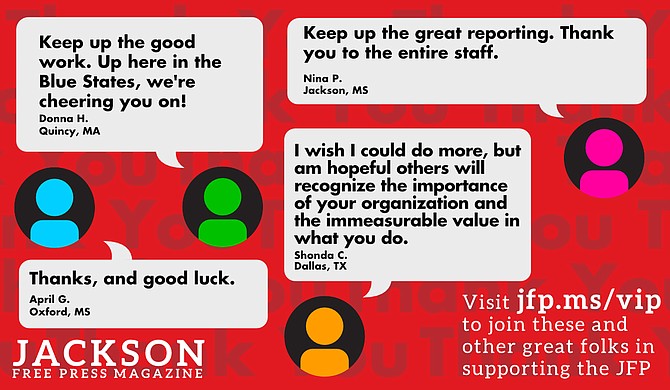 Thanks to all our new JFP VIPs!
COVID-19 has closed down the main sources of the JFP's revenue -- concerts, festivals, fundraisers, restaurants and bars. If everyone reading this article gives $5 or more, we should be able to continue publishing through the crisis. Please pay what you can to keep us reporting and publishing.