Attorneys for Mayor Frank Melton filed motions this morning calling for Melton's arrest warrant to be vacated or stayed.
In a motion dated March 5 (PDF, 3.56 MB), Melton attorney Dale Danks asks for emergency relief from the Mississippi Supreme Court. (A second, much shorter motion (PDF, 484 KB) makes substantially the same arguments but in a filing with Judge Tomie Green herself.) The motion asks that Judge Green, who issued an arrest warrant for Melton for probation violations last Thursday, be recused from any further matters relating to Melton's probation. It asks that the arrest warrant be vacated or stayed until a new judge is appointed to oversee Melton's probation.
The motion argues that Green should "immediatly" be recused based on her earlier decision to recuse herself from Melton's approaching felony trial for his alleged involvement in the Ridgeway incident. "On November 20, 2006, (Green) transferred all pending matters against Mr. Melton to the Hinds County Circuit Senior Judge explaining in her Order the existence of ex parte contact and communications with persons outside the judicial system and outside the presence of counsel; further Judge Green stated she might be a witness in the future cases. In the Order (Exhibit "3"), Judge Green retained jurisdiction over plea negotiations that she participated in with Mr. Melton. These reasons alone require Judge Green's recusal."
Danks' motion makes much of the fact that Green rejected an earlier plea bargain between Melton's attorneys and prosecutors, insisting on stricter conditions for Melton's probation. For instance, the motion states that it was Green who insisted that Melton wear an ankle bracelet, though only for the first three months of Melton's year-long probation. The motion contends that Melton should have had that bracelet removed Feb. 16. As part of the agreement, "the trial judge also agreed to keep certain conditions of the plea deal confidential and directed that the record of the plea negotiations be sealed."
Danks argues that this intervention by Green violates Rule 8.04 B.4 of the Uniform Circuit and County Court Rules, which "expressly states that '[t]he trial judge shall not participate in any plea discussion.'"
Danks' motion also claims that Melton's curfew was set by his probation officer rather than Judge Green. "Mr. Melton's counsel was advised by the probation officer that he had nothing in writing from the Court establishing a curfew, but that it was 'an unwritten policy.' Furthermore, and irrespective of whether or not an enforceable curfew existed, Mr. Melton advised the probation officer of his activities and was not instructed by the probation officer to cease any of his activities."
Danks also expresses concern about a statement Green made to The Clarion-Ledger, in which she states, "I can't imagine Jim Hood getting together what he needs to get together in that type time by early next week." Green indicated that Melton might spend as long as two weeks in jail awaiting his probation recovation hearing, according to the motion.
Danks' final point regarding Green is that "previous actions of the trial judge would cause a reasonable persion knowing all the circumstances to harbor doubts about her impartiality to preside over any probation recovation hearing." Danks mentions the temporary restraining order and preliminary injunction Green issued to city employees, forbidding them to refer to the Ridgeway duplex as a "drug house," an order that was later overturned by the Mississippi Supreme Court.
"Judge Green's treatment of the civil/injunctive component of the Ridgeway Street incident was unprecedented," Danks writes. "Judge Green reportedly made numerous procedural and substantive errors, belittled counsel for the City and improperly shifted the burden of proof. ... As a direct result of Judge Green's conduct towards the City of Jackson arising from an incident involving Mayor Frank Melton, the city filed a Writ of Mandamus seeking Recusal of Trial Judge. ... Apparently, instead of defending against the City's attempt to have Judge Green recuse herself, Judge Green transferred 'all pending cases' involving the City of Jackson to the Senior Judge."
This alone indicates that Green is not impartial and should be recused, Danks contends.
Danks concludes by arguing that none of the probation violations listed in Green's arrest warrant for Melton were actually probation violations. Danks argues that the curfew violation is not a probation violation because curfew was never part of Melton's plea agreement or subsequent Sentencing Order."
Danks acknowledges that Melton was "present" during police activities on Feb. 10, when Melton participated in a raid on the Upper Level nightclub. "However, the presence of Mr. Melton as Mayor during activities of the Jackson Police Department is not a violation of any condition of his probation," Danks writes.
Danks also argues that Melton did not violate his probation when he spent the night in the presence of minors Jan. 3 because this was not a term of his probation, either.
Danks speculates that the Jan. 9 letter (PDF, 284 KB) Dennis Grant of Probation Services Company sent Melton, warning him not to violate his probation, originated with Green. "It is obvious from this letter that the probation officer met with Judge Green regarding the clarifications of probation conditions. For the first time, Mr. Melton and his counsel were informed of probation conditions that heretofore did not exist."
In that letter, Grant writes Melton: "The conditions of your bond are also conditions of probation and any violation of either can lead to revocation of your suspended sentence."
Watch for updates.
Previous Comments
ID

125930

Comment

As part of the agreement, "the trial judge also agreed to keep certain conditions of the plea deal confidential and directed that the record of the plea negotiations be sealed." Then tell Blunston to shut his pie hole by saying Melton is wearing an ankle monitor! Blunston, not Judge Green, let that one slip. Of course, our Supreme Court is not that great either, so they will probably find some way to protect Melton. Heck, Melton is one of their champions against sex toys! He's probably a god in their eyes!

Author

pikersam

Date

2007-03-05T12:31:30-06:00
ID

125931

Comment

It was also Danks who stated in the Clarion Ledger that the Mayor was abiding by all the conditions of his probation, including wearing the electronic monitoring device. I didn't get that information from Bluntson, I got that info from reading Danks comments in the Clarion Ledger. Does that mean the Judge should take action against those who make public comments about sealed information, including attorney Danks?

Author

JenniferGriffin

Date

2007-03-05T12:44:06-06:00
ID

125932

Comment

Here is the link to WAPT's new piece on today's actions. The mayor recently underwent a double bypass operation. He remained in the hospital over the weekend, and Danks said Melton might stay at St. Dominic's through Tuesday. Now, here is WLBT's story from this weekend. Attorney Dale Danks wouldn't tell WLBT whether any of Melton's Texas doctors would be visiting. He had triple bypass surgery in Texas in January. Triple bypass! Is it triple bypass or double WLBT? There are so many glaring inaccuracies in the WLBT report. Have fun reading! Look at how they let Stokes get away with warping the public by twisting the law! "By us going after misdemeanors first, you now must wonder if you have a ticket for parking in the city of Jackson you're gonna be arrested, put in jail, and you got killers walking the streets? I'm not pointing the finger who's right and who's wrong, I'm just saying what's right and what's wrong," Stokes added. Right Stokes. That is what is going to happen. Way to fear monger Stokes! BTW: Unnecessary visits to the emergency rooms of America are part of why health insurance costs are rising!

Author

pikersam

Date

2007-03-05T12:52:18-06:00
ID

125933

Comment

My error on previous post. The Clarion Ledger attributed the release on the electronic monitoring to Judge Green, not Danks. I misread. Don't look for the Supreme Court to side with Judge Green, thought I will be interested to see if this goes before all the Justices or a three judge panel.

Author

JenniferGriffin

Date

2007-03-05T13:02:03-06:00
ID

125934

Comment

Hope it doesn't go like this: http://www.youtube.com/watch?v=kxmA3cp4O6g

Author

Kingfish

Date

2007-03-05T13:24:33-06:00
ID

125935

Comment

Danks quote from the article: Judge Green reportedly made numerous procedural and substantive errors, belittled counsel for the City and improperly shifted the burden of proof. What the hell is the word "reportedly" doing in this? If Danks can't substantiate these allegations, he should not be including them in a motion before a court of law.

Author

Tim Kynerd

Date

2007-03-05T13:37:34-06:00
ID

125936

Comment

Yes, that is odd. "Reportedly," huh? That certainly indicates second-hand knowledge on his part.

Author

DonnaLadd

Date

2007-03-05T13:44:10-06:00
ID

125937

Comment

I have read the motion, and there is enough there that it would be best for the judge to voluntarily recuse. These challenges will be endless if she doesnt. Another judge is likely to issue a warrant given the facts as stated.

Author

Willezurmacht

Date

2007-03-05T13:51:45-06:00
ID

125938

Comment

OH geez I will be shaking my head for days if I hear he gets out of this jail time. I have been hearing about this in NOLA. Donna, me and Jessica Kinnison miss the JFP! I was just filling her in last night on all the drama. GREAT job reporting this story!!!

Author

Jes

Date

2007-03-05T14:42:15-06:00
ID

125939

Comment

melton has become this City's political CANCER. All of the folks and especially the Clarion Ledger who are responsible for getting him in office and Johnson out are having to deal with this aggressive maniac I only wish that Danks had the class of the Gentleman who rescued and eventually married Vanessa Williams, America's first Black MS America. The first thing he said was, "WE MUST GIVE THE CROWN BACK." And she did. frank and dank have no interest in "the greater good"of/for Jackson. This issue is about legal maneuvers to prove how much smarter they are and they are willing to sink a whole ship.

Author

justjess

Date

2007-03-05T15:10:50-06:00
ID

125940

Comment

What I'm wondering about at this point is: What about the bond violations??? Aside from probation, he is clearly in violation of the bond requirements as announced the day the indictments came down. Does this Judge Webster care what is going on down here? Obviously, Melton is ignoring those requirements, and could be a danger to himself and others as a result, as well as has the capability to flee. You really start to see why Melton thinks he is above the law—because too many people changed with upholding the law turns their heads when it comes to him. And they will all be responsible should something bad happen (as if it hasn't, but it could be even worse than Upper Level and Ridgeway incidents).

Author

DonnaLadd

Date

2007-03-05T15:14:51-06:00
ID

125941

Comment

I agree on the Judge Webster issue. My other question is - did he and how did he - change the bond requirements? Weren't the bond requirements changed by Judge Webster after he took the case? I know the JFP is working on this weeks story, I sure hope you have a chart that lists each requirement for probation and then for bond, because so many people keep saying they are significantly different and it would be nice to see how - which would end some of the questions.

Author

JenniferGriffin

Date

2007-03-05T15:26:45-06:00
ID

125942

Comment

dont' worry jes, you got Nagin. and it looks like he just screwed the attorneys for the city.

Author

Kingfish

Date

2007-03-05T15:43:53-06:00
ID

125943

Comment

It's funny. I feel like i've traded in one mayor for another of a lesser evil. Its good to know i have come to a city where the mayoral antics are about the same!

Author

Jes

Date

2007-03-05T16:37:07-06:00
ID

125944

Comment

Jes, since you feel like you have traded "one mayor for another of a lesser evil" I would like to know the name of the "traded" mayor and by chance if it is Johnson, I would like for you to do a background check and get to know this man personally before trying to equate him as a "lesser evil."

Author

justjess

Date

2007-03-06T10:43:47-06:00
ID

125945

Comment

..."by chance if it is Johnson, I would like for you to do a background check and get to know this man personally..." ...there it is...at it again eh? just not gonna quit beating that dead horse! But I digress..had to drop that 2 cents..Im gone til later.

Author

Kamikaze

Date

2007-03-06T11:07:36-06:00
ID

125946

Comment

justjess does have a point. It is really disingenuous to even put Johnson and Melton in the same sentence at this point. That doesn't mean Johnson was perfect. But he did a lot of things very well. And he was not a convicted criminal with a warrant for his arrest for violating probation while awaiting trial on five felony charges.

Author

DonnaLadd

Date

2007-03-06T11:09:25-06:00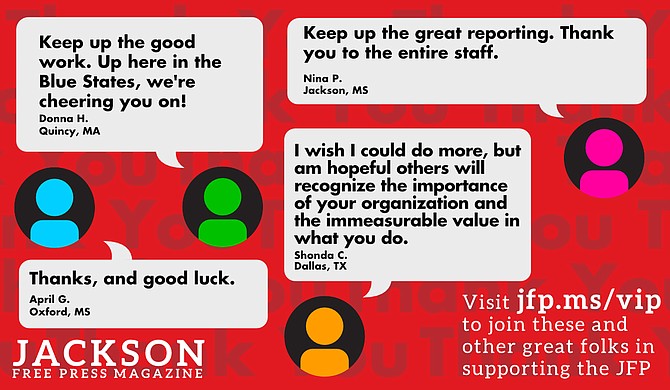 Thanks to all our new JFP VIPs!
COVID-19 has closed down the main sources of the JFP's revenue -- concerts, festivals, fundraisers, restaurants and bars. If everyone reading this article gives $5 or more, we should be able to continue publishing through the crisis. Please pay what you can to keep us reporting and publishing.