A sweltering Mississippi summer is the perfect time to find something creative to do to get your mind off the heat and humidity—preferably, something indoors, at least until the sun goes down. There's no need to look very far for activities to fill your coming days and nights. There are art exhibit openings galore. Beyond that, the Mississippi Museum of Art opens its new doors, and a new studio makes its way to Brandon. One innovative exhibit, at Swell-O-Phonic, fuses together skateboard and hip-hop cultures with a backdrop painted by several local artists specifically for the event this month. There's Tougaloo's Art Colony, where you can go to learn new techniques from masters. And if you're more interested in purchasing art than learning how to produce it yourself, there will be the "Mother of All Art Auctions," July 19. All of that, and we haven't even gotten beyond the visual arts. You won't lack for things to do in the capital city this summer. Be inspired while you're staying cool.
Exhibits and Openings
Mississippi Museum of Natural Science presents "Hunters of the Sky" June 23 through Dec. 2007. Visitors explore the world of raptors such as eagles, hawks, falcons, owls and the rarely seen condor, and will learn more about what we can do to ensure their survival. Free with admission to the museum. For more info call 601-354-7303.
International Museum of Muslim Cultures The Legacy of Timbuktu Exhibition featuring 25 rare African manuscripts. The exhibit explores life in the rise and decline of the empires in West Africa and their leaders, manuscript preservation and production, French colonialism in Mali and the slave trade, and the Muslim roots of Mississippi blues, among other things. Open through Dec. 2007. 601-960-0440.
"Other Heroes: African American Comics Creators, Characters and Archetypes" art exhibition through June 30, Jackson State University Art Gallery, Dollye M.E. Robinson School of Liberal Arts Building. A showcase of more than 40 artists featuring the work of a who's who of famous African American comics creators past and present. The "Other Heroes" show is a vast and diverse look at racial representation in the comics medium. All profits from the sale of the catalog will be donated for Scholarship America for Hurricane Katrina and Rita relief funds. 217-355-8569.
Ohr-O'Keefe Museum of Art (1596, Glenn Swetman Street, Biloxi), June 1, deadline for "Diggin; It" George Ohr Rising Gulf States Art Competition. $3,500 in awards. Applications available online at http://www.georgeohr.org Show will be held at the museum, Aug. 24 through Sept. 28. Also on June 1, Hands On Gulf Coast and the Ohr-O'Keefe Museum provide a Free Art Day for children and families, noon-4 p.m. at Henry Beck Park on Division Street. Clay, paint and other fun activities will be provided. June 15, opening reception for the Mississippi Clay Invitational Exhibition, a two-day pottery demonstration workshop and an exhibit of new works by six Mississippi potters featuring an art talk at 5:30 p.m. by Guest Curator Brian Nettles followed by a reception for the public. Guided tour and discussion of contemporary Mississippi clay artists Conner Burns, Matt Steadman, Antoinette Badenhorst and Claudia Cartee in context of Mississippi's long-standing ceramics traditions. The exhibit will run June 15 through Aug. 10. June 18, Sara Miller will teach Intermediate Pottery at the new studio of the Ohr-O'Keefe Museum of Art. Students who take at the intermediate level should know how to center the clay. Classes are $200 for 10 weeks; museum members pay $180. For more info about the classes e-mail [e-mail missing] July 20-22, Beginning Watercolor Workshop, and July 27-29 Advanced Watercolor Workshop with instructor Victoria Lenne. $200 for non-members, $180 for museum members. Register online at http://www.georgeohr.org July 26, 6 p.m. at Glenn Swetman House "Art Appreciation: George E. Ohr Begs to Introduce himself as … Potter to the Push" Anna Harris, curator, give a "re-introduction" to the life and work of George E. Ohr in a gallery talk and slide show. Aug. 24, opening reception: "Diggin' It, 2007 Gulf States Juried Exhibition" through Sept. 28. Art talk at 5:30, reception 6 to 8 p.m., open to public. Award ceremony, 7 p.m. For general information call 228-374-5547.
New Artwork by Kennith Humphrey at Nunnery's Gallery, free. 426 Meadowbrook Rd., Jackson. 601-981-4426.
Opening of ArtWorks Studios in Brandon, offering fine art lessons beginning this summer. Open registration May 19, 9 a.m.-noon. Art lessons are as follows: Session 1, June 5-7, 10-12 and 19-21, two-dimensional studies—drawing, painting, and design. For grades 1-6, 9-11 a.m. and grades 7-12, 2-4 p.m. Session 2: July 10-12, 17-19 and 24-26, three-dimensional studies—ceramics, sculpture and design. For grades 1-6, 9-11 a.m. and grades 7-12, 2-4 p.m. For more info call 601-731-8661 or 601-622-5511.
New works by Susan Ingram at Southern Breeze Gallery (4500 I-55 North Suite 160, Jackson). Artist Reception Thurs. June 7, 5-8 p.m. Very much a realist, Ingram is known for her interplay of light and dark as she paints the landscapes of Mississippi. For more info, call 601-982-4222.
ARTichoke Gallery Artist Reception featuring the photographic works of New Orleans' own, Jackson-claimed Gerard L. Howard June 7, 6-9 p.m. 601-949-4000.
"Eudora Welty: Other Places" through June 19 at Historic Jefferson College, Highway 61, Washington, Mississippi. A Museum of Mississippi History traveling exhibit featuring photographs taken by Welty in New Orleans and New York City. Free admission. For more info call 601-442-2901.
Sneakerboxx Jackson's First Exclusive Sneaker and Art Event/Skate or Die! June 22, 7 p.m. at Swell-O-Phonic. Admission $5 (free with exclusive kicks until 8 p.m.). Food, Red Bull, live performances, customized sneaker giveaways and a cash prize for the freshest kicks. June 23, doors open at 1 p.m.; skateboard exhibition, 4 p.m. Live sneaker customization, free video gaming, etc. Featuring original art from George Miles Jr., Bro. Shame Jones, Josh Hailey, Nathan Bruce, Jennifer Campbell, Kwes, Tony Davenport. 601-981-FLIP.
"New Harmonies" Smithsonian Museum Traveling Exhibit on American roots music, which opened at the MSU Riley Center in March, will be on exhibit in Mississippi before moving to other states: May 6-June 21 at The Union County Heritage Museum in New Albany, Miss.; June 28-Aug. 9 at the Southern Cultural Heritage Foundation in Vicksburg; Sept. 1-28 at Mississippi Gulf Coast Community College in Gulfport; Oct. 2-Nov 14 at the Marion County Historical Society Museum & Archives; Nov. 21-Jan. 16 at the Delta Blues Museum in Clarksdale. In addition, a photography exhibit showcasing Mississippi blues artists by photographer Marianne Todd is schedule to appear in locations where the Smithsonian Exhibit will be traveling.
On the Stage
Davis Planetarium Events Large Format Films Australia: Land Beyond Time. Tracing the 4-billion-year journey of the southern continent, "Australia: Land Beyond Time" explores the lavish richness, diversity and uniqueness of Australia's life. Life that survived and evolved during the most challenging of voyages.$6.50, $4 children/seniors. 201 E. Pascagoula St. 601-960-1550.
Black Rose Theatre presents "Seeing Stars in Dixie" by Ron Osborne, Show June 7-10 and 14-17; A Night of One Acts: Auditions June 18-19, Show July 19-22; "Heaven Can Wait" by Harry Segall: Auditions July 23-24, Show Sept. 13-16 and 20-23; "Who Killed Aunt Caroline?" by Grant Richards: Auditions Sept. 24-25, Show Nov. 8-11 and 15-18. 103 Black St. Brandon, 601-981-2456.
New Stage "Lost Highway: The Music and Life of Hank Williams" Musical biography depicting the rise and fall of the brash, forever young, always legendary singer-songwriter who stands among the greatest innovators of American popular music. Show May 29-June 10, Wed.-Sat. at 7:30 p.m., Sun. at 2 p.m. Tickets $22 for adults, discounts available for students, seniors and groups. 601-948-3533.
New Stage Theatre Summer Day Camp Earlybird registration is now available for New Stage's annual Summer Day Camp. Student currently enrolled in 1st-4th grades can participate in the Acting Mini Camp ($200 early-bird registration/person) June 11-22 from 9 a.m.-12 p.m., Monday-Friday. Students currently enrolled in 5th-12th grades can participate in the Broadway Jr. Camp Intensive ($300 Early Bird registration/person) June 25-July 21 from 9 a.m.-4 p.m., Monday-Friday. Call now to reserve your child's spot. Limited scholarships are available by audition and application. (601) 948-3533 or [e-mail missing]
Mississippi College hosts "Summer Stock" Theater Workshop June 18-22, 8 a.m.-5 p.m. each day. The workshops are designed to teach all skills necessary to make drama a part of the worship experience. Areas covered will include speaking, acting, script writing, staging and more, culminating in an original performance June 21 & 22 in Aven auditorium. Maximum 50 participants. $100 per person. More info call 601-925-3229.
New Stage Theatre presents "The Pirates of Penzance, Junior" July 19-22. The entire summer camp will participate in this classic Gilbert and Sullivan musical. Tickets $10 for adults, $5 for children. Call 601-948-3533.
Creative Classes
Kuumba Afrikan Drum and Dance Company Classes and jewelry making, arts and crafts for ages 6-14. Kuumba Afrikan Market, Saturdays 11 a.m.-2 p.m. 4865 N. State St. 601-362-7078.
Summer Classes for kids, adults, and seniors in classical fencing (Foil, Epee, Sabre), historical swordsmanship (broadsword, long sword, rapier and dagger, quarterstaff), theatrical fencing (Think: "The Princess Bride."), Tai Chi Chuan for health and relaxation, Wei Ch'i (4000 year old game of Go), self-defense with a walking cane and umbrella and more. Intro sampler gives overview of all classes. MSFencing.org
Everyday Gourmet Cooking Classes children and adult. Each class features a different cuisine. Guest chefs/class prices vary. 601-977-9258.
Dance
New ballroom dance studio Strictly Dancing will hold a weekly practice dance 8-9:30 p.m. on Thursday evenings for $10. The studio is located in the Quarter shopping center off Lakeland Drive above Mug Shots (formerly Panino's Restaurant). Also, Weekly dance Wednesday nights, 8-9:30 p.m., at Strictly Dancing in the Quarter, over Panino's. Admission $10. For more information, call 601-987-0082.
Roger and Tena's Beginner Choreorobics Dance Off An energetic modern-style dance workout from husband/wife duo; choreographer-Roger L. Long and performer-Tena Long. Beginners and those 50 and older wanting to get active are welcome. $20 per month/$5 per class. Wed., 1 p.m. Old Trace Park on the Reservoir. 601-856-6876. [e-mail missing]
Jackson Irish Dancers Traditional Irish dance for kids (ages 6 and up) and adults: solo dance classes for kids & adults. 601-592-9914.
Magnolia Ballroom Dancer's Host Dance Sat. June 16, July 14, Aug. 11, Sept. 22 in the Forestry Building at the Ag Museum. 8-11 p.m. Ballroom dancing, Swing, Hustle and more. $15. BYOB. Dress "elegantly casual." Lakeland Drive at I-55. 601-278-5889.
Music
Mississippi Bluegrass Band Fair River Station join Harmony & Grits in the Mississippi Opry Sat., June 9, 6 p.m. at the Pearl Community Room (2418 Old Brandon Road, Pearl). $10 adults, children free. Food and drinks available. For more info call 601-331-6672 or 601-331-9911.
Alison Krauss and Union Station featuring Jerry Douglas at Thalia Mara Hall, Thurs., June 14, 8 p.m. Tickets on sale March 23 at 9 a.m. at The Coliseum Box Office & All Ticketmaster Outlets, ticketmaster.com or 601-355-5252. Tickets $47.50-$39.75
Chieko Fukuda Ensemble at St. Andrew's Episcopal School in Ridgeland, June 14, 7:30 p.m.. Fukuda has received numerous national awards in Japan for her skill with two traditional instruments: the koto, a 6-foot-long horizontal instrument with thirteen strings, and the shamisen, a three-stringed instrument resembling a banjo. She will be joined by Atsuko Oshima and Mr. Kizan Kawamura, both graduates of the NHK Traditional Music Conservatory in Japan. Tickets are $10. For more info call 601-956-4456. http://www.jasmis-us.com
Harmony & Grits featured at the July Mississippi Opry 6 p.m., Sat., July 14 at the Pearl Community Room (2418 Old Brandon Road in Pearl). Admission: $10, children all ages enter free. For more info call 601-331-6672, 601- 939-1094 or 601-331-9911. Food and soft drinks will be available.
Jubilee! Jam XX Get ready to jam, y'all. Jubilee Jam is back, June 15 and 16. This year's line-up includes Ludacris, The Black Crowes, 3 Days Grace, Breaking Benjamin and Alvin Youngblood Hart, just to name a few. And that's not even mentioning the local artists. Tickets are on sale now. $20, in advance. jubileejam.com
Two Stick Sushi Bar in Oxford hosts a preview show of the upcoming North Mississippi Hill Country Picnic, June 15. The lineup features Kenny Brown, Duwayne Burnside, David Kimbrough, Cedric Burnside, Danny Lancaster and John Barnett. Two Stick is located at 1007 Harrison Ave., Oxford. For more info call 662-236-6639.
String Legends Harold & Ovaline Andrews Headline the August Mississippi Opry 6 p.m., Sat., Aug. 11 at the Pearl Community Room (2418 Old Brandon Road in Pearl). Admission: $10, children all ages enter free. Regulars Harmony & Grits will also perform. For more info call 601-331-6672, 601- 939-1094 or 601-331-9911. Food and soft drinks will be available.
Open Mic-nite at Club Total (On Gallatin Street, one block from Union Station), Every Thurs., 9 p.m. Live Band at midnight. Call all poets, musicians, singers, rappers and comedians. Come show your talents and see if you're ready for the big time. Special guest performance each week. For more info call 601-817-6005 or e-mail [e-mail missing]
Literary and Signings
Lemuria Readings Thurs. June 7, 5:30 p.m., "Sex Heals" by Laura Moore; Sat., June 9, 1 p.m., "Simply Salads" by Jennifer Chandler; Sat., June 16, 1 p.m., "Finding Sanctuary in Nature" by Jim Ewing; Mon., June 18, 5 p.m., "What You Have Left" by Will Allison; Tues., June 19, 5 p.m., "Historic Churches of Mississippi" by Sherry Pace; Wed., June 20, 5 p.m., "Long Time Leaving" by Roy Blount; Sat., June 23, 1 p.m., "Leaper: The Misadventures of a Not-Necessarily-Super Hero" by Geoffrey Wood; Sat., June 23, 11 a.m., "The Nineveh Project" by Craig Alexander; Tues., June 26, 5 p.m., "Landsman" by Peter Charles Melman; Wed., June 27, 5 p.m., "Your Body is Changing" by Jack Pendarvis; Wed., June 27, 5 p.m., "Famous Fathers" by Pia Z. Ehrhardt; Sat., June 30, 1 p.m., "O' Middler Saves the Day" by Timothy Weeks.
Celebrating Richard Wright in Natchez. A year-long celebration of the life and work of Richard Wright through book readings and discussions leading to the 100th anniversary of his birth in 2008. All events are free and open to the public, participants are strongly encouraged to read the book prior to the discussion section. Discussion dates and books are: June 9, "Eight Men"; July 21, "This Other World: Haiku"; Aug. 4, "Black Power"; Sept. 8, "The Color Curtain." Call 601-445-8862 or e-mail [e-mail missing] for times and locations.
Call for Writers The Arts in the Heart of Augusta festival invites Southern authors to join our Literary Village in Georgia. During the annual three-day event, tens of thousands of people celebrate all that is the cultural arts in the Southeast, including our deep literary tradition. The Literary Village is a gathering of writers from all walks of life and from all publishing methods who sell their work, stage readings and network with other authors in a fun, casual and creative environment. The festival will run Sept. 14-16. Call 706-738-1142 x208 or 706-826-4702.
Community
Mississippi Museum of Natural Science Raptors Galore! July 3, Join David Hall, Master Falconer and Director, Wildlife Outreach Foundation noon-1 p.m. for a talk on conservation education about raptors and how scientists use raptors as barometers of environmental health. Live raptors will be highlighted in the program. "Northern Swallow-tailed Kite Recovery: Implications of Predation, Reproduction and Social Behaviors" Aug. 7, lecture by Jennifer Coulson, PhD and President of Orleans Audubon Society, on findings from her long-term study on the population ecology of the northern Swallow-tailed Kite, a subspecies of conservation concern. Most events are free with admission to museum. For info on any of the above events, call the museum at 601-354-7303.
Mississippi Brilla Futbol Club The highest level of soccer in the state. Soccer fans shouldn't miss their chance to see "Mississippi's Soccer Team." Schedule (all games are 5 p.m. at Mississippi College, Longabaugh Field): Sat., June 9, vs. Austin Lightning. "T-shirt night" The first 500 attendees receive a MS Brilla FC t-shirt. Wed., June 20, vs. New Orleans Shell Shockers. Post-game Christian music concert. Wed., July 4, at 2 p.m., vs. Nashville Metros. Maximum family price $12, and "Shirts Off Our Back" MS Brilla FC Patriotic Jersey Auction. Sat., July 7, vs. Baton Rouge Capitals. The first 500 attendees receive a free MS Brilla FC backsack. Sat., July 21, vs. Laredo Heat. All Brilla summer campers wearing camp t-shirt receive free admission.
The Department of Archives and History presents the "History is Lunch" Series, a brown-bag series of lunchtime lectures. Programs last from noon to 1 p.m. and are free. Programs are held at the William F. Winter Archives and History Building (200 North St., Jackson). June 20, Tom Henderson from the Millsaps Library, will show images and discuss his collection of Gulf Coast memorabilia; July 11, Charles Reagan Wilson, University of Mississippi, will discuss his new book, "Southern Missions: The Religion of the American South in Global Perspective;" July 25, LaRita Smith: "A Portrait of the Artist as a Creek Dweller," "Human Shield," and more; Aug. 1, Clay Williams, exhibits designer, Museum of Mississippi History, discusses the restoration of the Old Capitol. Bring your lunch, coffee and bottled water available. Call 601-576-685.
Millsaps College Summer Camp "Kamp Kool" is offering a Computer Camp (June 12-15, $150, grades 5-8), a Guitar Workshop (June 11-15, $80, ages 12-17), Chamber Music Camp (June 18-22, $200, grades 7-12), a Pre-Geometry Workshop (June 6, $80, grades 7-9), College Writing (July 11-12, $80, grades 10-12), Salsa and Swing into Summer (June 11-15, $60, ages 13-18), 3-D Modeling and Computer Animation (June 4-8, $125, grades 8-12) and Crafts, Manners, and More: Girls' Day Out (Saturdays June 9-23, $85, ages 7-11). Registration for Kamp Kool is open now and is available by calling 601-974-1130. All camps require a $25 nonrefundable deposit. Call 601- 974-1130 for more or visit http://www.millsaps.edu/news_events/acsummercamp Millsaps also offers athletic camps for children from the ages of 5 to 17 this summer. Registration forms and more information are available online at http://www.millsaps.edu/athletic/camps/summercamps.shtml
Millsaps College/the University of Massachusetts/ National Science Foundation offer two forensic science classes for educators as part of the National Chautauqua Short Course Program: "Increasing Student Interest in the Sciences by Introducing Forensic Science into the College Classroom" June 11-13, and "The Application of Forensic Anthropology and Forensic Pathology to Stimulate Student Interest in the Sciences" June 14-16. Both courses will be taught by Alan A. Price, Dr. Edward B. Waldrip and Dr. Hugh E. Berryman on the Millsaps College campus. For more info contact Professor Bob Nevins at 601-974-1412 or [e-mail missing]
Speed Dating Event for Single Professionals June 12, 7 p.m. at Two O'Clock Bayou (810 Lake Harbour Drive, Ridgeland). All Singles, Ages 27-39, $30. Register at http://www.Cupid.com/PreDating, online registration is required. For more info contact 601-500-0059 or e-mail [e-mail missing]
Statewide Domestic Violence Conference hosted by Mississippi Attorney General Jim Hood, "Domestic violence in Our Communities: Enhancing the Legal Response," June 13-14 in Choctaw, Miss. The conference is especially targeted to law enforcement, judges, court clerks, probation, parole officers and others providing services to victims of domestic violence. Free. For more info call 601-359-2002.
Two-day Lectures/Workshop with Dr. Llaila O. Afrika, June 15-16, 6 p.m. at Everlast Health and Wellness Center (5202 Keele Street, Jackson). $25/night, $40 for both nights. The lectures are titled "Holistic Relationships and the Nutrition Connection" and "Taking Control of Your Health: Diabetes, Fibroids, Heart Disease, Obesity, Cancer and Other Common Diseases." 601-982-8624.
Mississippi Craft Center's Grand Opening Festivities Thurs. June 7, 7-10 p.m. A Preview Party and Fundraiser for the Guild. Fri. June 8, 10 a.m. a Dedication Ceremony and Ribbon Cutting will be held. June 9, 10 a.m.-5 p.m. A Summer Show and Sale will take place on the grounds of the new Center. For more, or to order Preview Party tickets, call 601-981-0019.
"A Celebration of Justice" a benefit for Mississippi ACORN June 20, 6-9 p.m. at Freelon's (440 N. Mill Street, Jackson). "Spirit of Justice" Honorees are District Attorney Faye Peterson, Attorney John Arthur Eaves and Mississippi Trial Lawyers Association Interim Director Pam Johnson. Also featuring a silent art auction. Tickets $35-45, sponsorships available. Contact 601-360-5123.
"A Day in Technology" Free event Come learn about technology that may help your business. Speak with vendors such as Citrix, Fortinet, LeftHand Networks, Archmail and Packeteer. June 21, 8:30 a.m.-4 p.m. at the Mississippi Telcom Center (105 Pascagoula Street). Then join in on a charter boat excursion on the Ross Barnett Reservoir with food, drinks and live music. For more info call 601-956-8909 or e-mail [e-mail missing] Only 100 spaces available.
Hattiesburg Historic Mobile Street Renaissance Festival June 30. Day-long festival is designed to celebrate the rich musical and cultural heritage of Mobile Street, the historic black business and entertainment district of Hattiesburg. 3 music stages: blues, gospel and children's, boxing, Sho 'Nuff Good Barbecue Cook-Off and arts/crafts. [e-mail missing]


Tougaloo Art Colony July 14-20 at Historic Tougaloo. A week-long experience in the visual arts for artists, educators and students. July 15-18, Art Talks, demos, and/or slide shows by instructors and participants, 7 p.m. in Berkshire Cottage, room 107. July 16-20 Hot Art Exhibit, Owen's Health and Wellness. July 19 Mother of All Art Auctions, 7 p.m., Owen's Health and Wellness. July 20, Open Studio, 9 a.m.-noon. Registration fee $25, Tuition $350, Independent Study $150, Room and board $375 (single), $275 (double). For more info call 601-977-7839 or 601-977-7743.
Third Annual Fur Ball benefits the Mississippi Animal Rescue League, Aug 16, in Sparkman Auditorium at the Mississippi Ag Museum. Music by Eddie Cotton. Tickets $75/person; $125/couple. 601-969-1631.
Previous Comments
ID

84926

Comment

Went to the gallery show openings at Southern Breeze & Artichoke yesterday - made me love Jackson and the interesting scene here. Thanks, JFP for the summary of summer stuff. Now I can't complain that I don't have anything to do!

Author

Izzy

Date

2007-06-08T09:17:55-06:00
ID

84927

Comment

For more fun things to do in Jackson, check out ARTichoke, Saturday, June 23 from 10 to 3. We'll have several of our ARTists demostrating in our front yard and out back in our new pARTy shed. Sam Clark (Ceramic sculpture), Joseph Williams (thrown ceramics), Brenda Neuman (hand-built ceramics), Anne Campbell (wire sculpture), Charles Campbell (folk-art furniture), Jenny Thomas (fused glass), Linda Jackson (stained glass). It promises to be a fun and interesting experience.

Author

ARTgal

Date

2007-06-20T11:30:02-06:00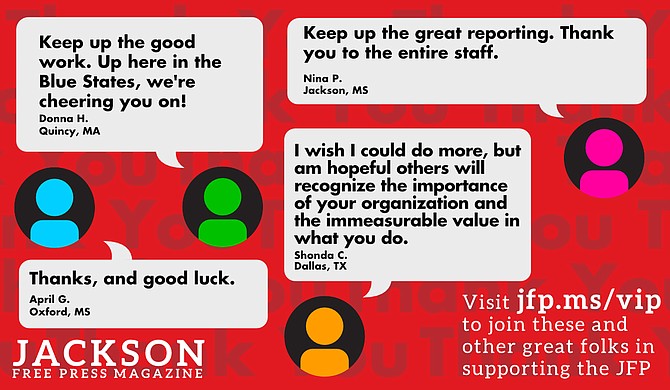 Thanks to all our new JFP VIPs!
COVID-19 has closed down the main sources of the JFP's revenue -- concerts, festivals, fundraisers, restaurants and bars. If everyone reading this article gives $5 or more, we should be able to continue publishing through the crisis. Please pay what you can to keep us reporting and publishing.