This week, city officials finally handed in their budget revisions to the City Council, detailing cuts that will be made to city departments in order to reconcile a nearly $4 million deficit. Those cuts represent a sad state of affairs—the manifestation of Mayor Frank Melton's mismanagement of the city.
Not surprisingly, the budget revision does not feature cuts to the high salaries for jobs filled by Melton's friends and supporters, despite their lackluster performance as an administration.
In this, our Summer Arts Preview issue, it's particularly ironic to note that the Melton administration has opted to make deep cuts to arts and culture funding in Jackson. The Greater Jackson Arts Council will receive $35,000 less this year than it was originally granted; the Jackson Zoo will receive $35,200 less.
Just one top-heavy administrative salary, such as the $74,304 paid to the mayor's sister-in-law for public relations, could restore those grants.
Other cuts to arts organizations include 25 percent cuts for the symphony, the opera, the Mississippi Museum of Art, Stewpot Community Services, the Urban League, the Central Mississippi American Red Cross and others. In all, it's $113,450 in cuts.
In presenting the budget revision, Chief Administration Officer Robert Walker noted that the city has "about 18 employees making more than $70,000." Consider this: Assuming an average of $75,000, only a 9 percent across-the-board pay cut for those high-paid employees could more than restore every one of those cuts to arts and service organizations.
Of course, Melton mismanagement affects much more than culture services—it affects basic services, such as public works, which will continue to operate at "bare bones" capacity on street and infrastructure repairs.
Take a good look at what the Melton administration has gotten us—legal bills, cuts in basic services, a shrinking police force and a ballooning fire department budget. Now, fewer potholes will be filled; arts and culture organizations will curtail their offerings.
The citizens of Jackson and the City Council should demand that the city find some of these cuts not just in key positions and in city services, but in the superfluous jobs that Mr. Melton has given to his friends and family members.
Even if it's just a percentage of the necessary funds, the Melton administrative should make cuts in its top-heavy administration and restore some budget dollars to the service organizations and street-level workers who are considerably more useful to Jackson than is Mr. Melton's entourage.
Previous Comments
ID

74958

Comment

JFP, can you see the steam coming out of my ears from your office? You should because there's a lot of it. Just look to the north. Grrrrr...

Author

LatashaWillis

Date

2007-06-07T10:26:42-06:00
ID

74959

Comment

You want to see mismanagement? Just check out what Judge Skinner has to say about our police department. Finally, someone who is telling it like it is. He frames this around a sexual abuse case that is giving him fits. Rightfully so! Judge Skinner says he is being told that officers need more proof to make arrests -- even with medical reports and information from the Department of Human Services, the Children's Advocacy Center and the Youth Court Guardians for Justice. "They never could explain what their burden of proof is, but they said that they didn't want to arrest somebody and the allegations end up being false because a child has falsely accused somebody," he said. Judge Skinner also says he is not just having problems with sexual abuse cases. "I'm not talking about misdemeanor cases," he says. "I'm talking carjacking cases, sexual abuse cases, house burglary cases -- you name it. I'm having to dismiss cases because we're not getting reports. I'm having to dismiss cases because the officers are not showing up to testify in court, and they're not giving me any alternative. "And they do not have a better friend. If they will come into court and do their job, I will do my job." Then he drops this bombshell: Judge Skinner says he has been told no arrests have been made in 200 or more cases where children have been sexually abused. I think we know what the problem is - LEADERSHIP! We have an inept Chief, an inept Mayor, and inept cronies. We talked with Chief Anderson by phone: "We have investigated the cases," she told us. "I have, and the assistant chiefs have reviewed the cases, and we can't find anything different than what the officers have found. We have met with Judge Skinner and members of his staff, and we have put things in place to make sure reports are taken to youth court in a timely manner. Steps are also in place to hold officers accountable." Yeah, it's the officers on the streets fault. It's not the fault of the over-bloated leadership that is gutting the City and the budget to protect some facade of an image called Mayor Melton. It's not the fault of leadership that can't keep officers or firemen, who then call on the desk workers to 'hit the streets' to fight the rise in crime. Yet, it is these desk jobs that are integral to the problems that Judge Skinner points out. Your answers are not solving the problem, just making it worse. Face it, we are in trouble the longer he is in office. I don't care how many art museum openings you have across from buildings being built, you cannot hide the fact that Melton is a complete disaster as Mayor. I wonder if the folks at the opening today told the Italian guy that the City just cut funding to the museum and the Zoo? "We've got a good problem today ... for the first time in almost 20 years, we're having a hard time hearing because of all the construction going on in your capital city," City Council President Ben Allen said, to applause from the crowd at a ribbon cutting ceremony of the museum. "Dr. Buranelli ... we're not going to apologize for the construction. Those are jobs. But we appreciate your persevering," Gov. Haley Barbour good-naturedly addressed the Vatican Museums director, who curated the blockbuster Italian art exhibition that opens the new facility. The museum opens to the public on Saturday. Councilman Allen you are fudging the truth a bit there aren't ya'? I seem to remember just three years ago a couple of cranes working downtown on various projects. You seem to forget (purposely?) that had Melton not been elected, then KEH and Farish St. wouldn't have been held hostage to the mayor's delays. If we didn't have Melton, we still would have Katrina, Capital Green, and the Museum. There is nothing going on downtown that is happening because of Melton - except his friends and cronies getting the biggest projects. It's time we paid more attention to what Judge Skinner is saying over the exaggerated glee of a council person, and an uninterested (in Jackson) Governor.

Author

pikersam

Date

2007-06-07T18:03:45-06:00
ID

74960

Comment

Pike, could you do me a favor and start some discussions about the city at forum.wakeupjackson.org? You have the kind of insight I need to get things revved up over there.

Author

LatashaWillis

Date

2007-06-07T19:03:19-06:00
ID

74961

Comment

Looks like Ben has jumped back on the other side of the fence. Watch to see how the dynamics of the voting bloc on the city council changes!

Author

honey2me

Date

2007-06-10T22:54:12-06:00
ID

74962

Comment

that report by Judge Skinner was deeply disturbing. My husband and I were robbed at gunpoint in Jackson over a year ago and never saw justice. That in and of itself is awful. But to think of victims, esp. young victims who are repeatedly getting raped and abused is much worse. These are crimes that could be prevented. I have tried to remain open minded about Shirlene Anderson, but this has changed my mind. She needs to DO HER JOB!!!!!!!

Author

Izzy

Date

2007-06-11T09:32:57-06:00
ID

74963

Comment

LW, I am wanting to blog more; but, I've been busy lately. So, I give where I can. ;-) I'll get over there soon, and you can cut and paste the above to start a thread if you wish. But, here is more on Judge Skinner's complaints. He really paints a bleak picture for sexual abuse victims in Jackson. God, I would hate to become known as a child predator haven due to years of cover-up by JPD or interested parties. Though several higher profile "incidents" that occurred over the years makes you wonder! "In some of these cases the perpetrator is still in the same home with the victim and that's disturbing or they're on the street," said Judge Skinner. Judge Skinner says he has been told no arrests have been made in 200 or more cases where children have been sexually abused. Now other officials are coming forward to say something is terribly wrong. "In Jackson, Mississippi it is quite frankly a haven for child molesters because they're not being arrested," said Cathy Dixon, Ph.D. Opps, spoke too soon :-( More... Dr. Dixon, the Clinical Director with the Mississippi Children's Advocacy Center, prepares forensic interviews for children where there are allegations of abuse. "We had a case here where a girl was molested by her stepfather for years. He was a registered sex offender and JPD would not arrest him," said Dixon. "It is very frustrating when you cannot see that alleged perp incarcerated," said Keisha Graham. As an investigator for the Mississippi Youth Guardians for Justice, Keisha Graham has spoken to hundreds of mistreated children. Graham and Dixon both say Jackson Police officers will give multiple reasons for not making arrests in these cases. Possibly the most common is not having physical or medical evidence of abuse. "In 95% of cases, or real legitimate cases there will be no medical evidence, so if you're hanging your case on medical evidence, you're allowing 95% of child molesters walk the streets of Jackson," said Dixon. But even when the report is complete with medical reports and the child's testimony, Graham said an arrest is never guaranteed. "You have concrete information and it gets to the Police Department and it comes to a halt," said Graham. Jackson Police Chief Shirlene Anderson would not return our calls Friday. Keep up the fight Judge! My family is behind you! But, the astute "crime fight'in expert" Mark McCreery, and his crime buddies at SafeCity, say this is all the fault of case backlogs in the DA's office. It's like they live in a different world then the rest of us normal folks in Jackson. SafeCity? Not so much.

Author

pikersam

Date

2007-06-11T20:37:41-06:00
ID

74964

Comment

LW, I am wanting to blog more; but, I've been busy lately. So, I give where I can. ;-) I'll get over there soon, and you can cut and paste the above to start a thread if you wish. I understand. Take your time. I'll probably do a copy/paste soon.

Author

LatashaWillis

Date

2007-06-11T22:25:11-06:00
More like this story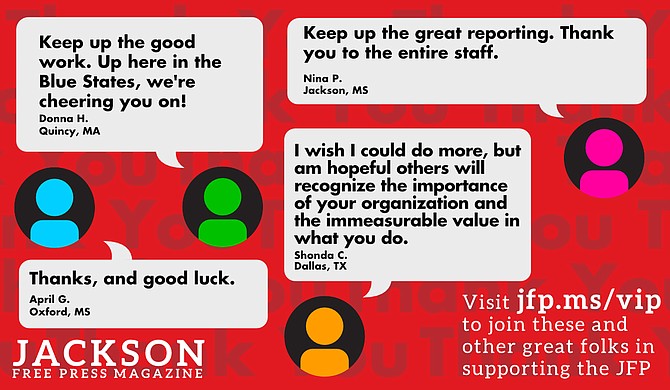 Thanks to all our new JFP VIPs!
COVID-19 has closed down the main sources of the JFP's revenue -- concerts, festivals, fundraisers, restaurants and bars. If everyone reading this article gives $5 or more, we should be able to continue publishing through the crisis. Please pay what you can to keep us reporting and publishing.