Jackson Mayor Frank Melton is off to the woods of Jefferson Davis County with about 40 young men this week.
The mayor assembled 40 participants, all between the ages of 12 and 17, for a week-long camping trip to the Sophia Sutton Mission campgrounds near Bassfield. Melton said the camp aims to make a difference in the lives of the city's at-risk youth.
The work schedule, a rigorous regiment running to 5 a.m. to 7 p.m., contains events such as hiking, swimming lessons, volleyball/football, and two slots dedicated to basic reading and math. It also contains an 8 a.m. daily slot for Bible study—nothing uncommon to summer church camp, but an unexpected addition to a camp under the purview of city government.
"There's a problem with a city-sponsored event containing religion because there's a very clear separation of church and state in the U.S. Constitution," said ACLU of Mississippi Executive Director Nsombi Lambright. "It's like the government is imposing its religious beliefs on these young people that are participating in this summer camp. All of them may not be Christian. It's government-sponsored religion, a clear violation."
The Sophia Sutton Mission Assembly's 1987 annual report says that Sophia Sutton Begley was a white woman, born in 1893, who lived near Prentiss. Begley bequeathed the property in 1954 with the condition that it only be used for Christian activities.
Sheriff Henry McCullum—who deputized Melton in 2004 after Gov. Haley Barbour relieved him of his Mississippi Bureau of Narcotics duties—has secured $31,885 through a Social Services Block Grant and the Temporary Assistance to Needy Families program to use the Sutton property as a camp for young people, according to a July 13, 2007, interview in The Hattiesburg-American.
"I've got a school, baby, I've got a school," McCullum told the paper. The campground boasts the largest swimming pool in the area, and accepts both boys and girls, although Melton's program is limited to boys under 17.
Assistant CAO Goldia Revies recently presented the plan of the 2007 Mayor's Summer Youth Camp to the JPS Board, looking to rent a JPS bus for transportation. The board granted the city use of a bus.
"District policy allows other organizations to use JPS transportation as long as the district is reimbursed for the cost and as long as the reason for the use is educational," said JPS Board Vice President Jonathan Larkin, referring to the two daily hours of the course devoted to math and reading. "There was no justification for refusing the mayor in the case like this."
Another requirement for the bus rental was that the camp patrons must be either JPS students or registered in a GED program. JPS agreed merely to supply the bus and the driver, but offered no insurance coverage to the teens. The liability release portion of the registration form requires a parent to release the camp manager, camp director, instructors, employees, sponsors and the camp itself "of any and all liability connected to" attendance.
Attorney John Reeves said he did not think a release involving minors could be easily defended in court.
"For the release to be valid, it would have to be a negotiated thing between the parties, involving pretty much adults, in my opinion," Reeves said. The camp's parental consent form also asks parents' consent for their kids to volunteer for community service to the city of Jackson, with a work schedule not to exceed 40 hours, with no monetary compensation for the services performed. The consent form explains that the child's volunteer service is necessary in order to qualify for a slot at the work camp. Melton told WLBT this week that he is using the camp to decide which young men will get jobs doing lawn cleanups for the city.
Parents also had to sign a media release saying that the Mayor's Summer Camp could "photograph and/or videotape for use on their website, promotional brochures or during a local newscast or print interview," with no further financial compensation.
Revies did not return calls regarding the boys' work schedules.
Melton told WLBT that each boy who completes the camp will be given a job, adding that he wants to hire the teens as city workers to pick up trash and cut grass.
The mayor said he is personally paying all the expenses and told WLBT that he is arranging the camp to better get to know the children. It's quite a jump from last year, when Hinds County Circuit Court Judge Tomie Green forbade Melton to supervise minors as a condition of his bond. Melton allegedly directed at least one minor to commit a felony last year when he allowed youths to demolish a home on Ridgeway Street with sledgehammers. A jury acquitted Melton of the charges.
The outing seems similar to camps that Melton sponsored for young men when he was a private citizen in Jackson. News reports show that he took young gang members away to a camp in Texas in the '80s, which included gang leaders like Joseph Staffney, who was later murdered on the streets of Jackson. His brother, Anthony Staffney, now works for Melton and the city since he, Maurice Warner and Vidal Sullivan were acquitted of the murder of Aaron Crockett in 2001.
Melton told the Jackson Free Press in a series of interviews in 2006 that he believes it is his mission to take in young men with missing fathers, and often mothers, and mentor them. "[T]his is what I was put on this Earth to do, and I will never back up. And I will never apologize. This is what makes me happy, and I can tell you if those kids weren't living in this house, I would not be sitting here interviewing with you because I wouldn't be here. I would not be here," he said in April 2006.
As a Jefferson Davis deputy, in a county with some of the worst drug-dealing in the state, Melton also brought kids from there to Jackson to the Farish Street YMCA in Jackson for a swim, followed by a barbecue at his home and a tour of Jackson State, according to a 2004 Clarion-Ledger article.
Two weeks after he was sworn in as deputy there, Melton said he tried to help apprehend David Warner, who the FBI calls one of the region's largest drug dealers of crack and pot, who was indicted June 23, 2004. Melton told the Clarion-Ledger then that he was talking to Kenneth Warner, the father of the reputed drug kingpin, to get him to surrender.
But when the FBI executed a search warrant on Warner's 5,100-square-foot home, he was not there. They did find a sealed federal indictment inside his home, however, leading them to believe he was tipped off. "Super Dave" Warner—the first Mississippian to make the U.S. Marshals' 15 most dangerous fugitives list— was apprehended a year later in Toluca, Mexico, and extradited to the U.S.
"I've been to the parents' home a couple times to talk to them when we were looking for this boy," he told the JFP last year. "… But the problem I have with that is when your son builds like a $300,000 house across the house from where you live, I think I'd have a few questions. If Matthew built that, I'd think we'd have to have a talk about it."
Matthew Melton is his biological son, who grew up in Texas.
Previous Comments
ID

67941

Comment

melton's mission in life to be a father to kids who do not live with there father is a definite dichotomy. He did not live with his own kids. Again I write of my concern for the limited scope of employment in City jobs for African-American youngsters. Must they all be paper picker uppers and grass cutters?? Why aren't these kids given an opportunity to be exposed to other entities of government and counseled towards a career track? melton is our version of the 21st Century mr. charlie. The plantation is located at 2 Carter Grove and work detail extends to the streets of Jackson. The field hands are the young boys between the ages of 12 and 17 who are without fathers and feel helpless to break the vicious melton cycle of making/keeping these vulnerable kids in a hostage like situation, i.e., If I LET you go to camp, you will work in the broiling hot son cutting grass and picking up nasty paper. Folks, this needs to STOP!

Author

justjess

Date

2007-07-26T09:22:16-06:00
ID

67942

Comment

He can't run the city because he is too busy running after young BOYS trying to be that father figure that he (FM) thinks they need. Letting BOYS stay at his house and allowing them to do what they want to do and go on raids with him tearing up vulnerable people's home is not being a FATHER. FM is a thug and when are we (the citizens of Jackson) going to put a stop to him and his madness. We are letting him tear down and up a city that the Honorable Harvey Johnson, Jr worked so diligently and hard to build. Harvey might have taken his time (which some considered him being "slow") doing things and getting projects started, but he got things done and did it the RIGHT way. To me, him doing things at a turtle's pace is a sign of brillance. Wake up Jackson, we have thugs taking over City Hall and Jackson!!!!

Author

maad

Date

2007-07-26T12:05:51-06:00
ID

67943

Comment

Author

LatashaWillis

Date

2007-07-26T14:14:06-06:00
ID

67944

Comment

I THOUGHT MELTON WAS ORDERED TO STAY AWAY FROM KIDS?

Author

filetmeow007

Date

2007-07-30T15:16:51-06:00
ID

67945

Comment

That order was lifted by the judge.

Author

LatashaWillis

Date

2007-07-30T15:18:12-06:00
ID

67946

Comment

Already, let's not use all-caps, filet. That's means you're shouting, and it's hard on the eyes. thx.

Author

DonnaLadd

Date

2007-07-30T15:25:05-06:00
ID

67947

Comment

WAPT did a story on Camp Frank and he said that some of the boys there have smoked marijuana and they give him the names of some drug dealers whom Frank vowed would be arrested tonight. He also said only two boys at the camp have solid relationships with their fathers and that he would seek the help of DHS to find missing fathers. Shouldn't DHS be looking into Frank and his relationship with these boys and why they are living in his home?

Author

golden eagle

Date

2007-07-30T22:02:39-06:00
ID

67948

Comment

Let me clarify by saying that the boys who smoked marijuana didn't do it at the camp, but that they have done so before.

Author

golden eagle

Date

2007-07-30T22:17:22-06:00
ID

67949

Comment

So.........it was a snitch camp? Why would you place those children in that position? Now after FM gets his little glory from the arrest, those boys still have to live in that neighborhood. Don't think the people in the neighborhood won't be able to narrow down on who told. And how the heck is he gonna sic DHS to find somebody's daddy when his own damn kids ain't seen theirs! This gets better and better.

Author

honey2me

Date

2007-07-30T22:56:19-06:00
ID

67950

Comment

I was thinking the same thing, honey. Isn't he endangering their lives? And if he's going to arrest those guys, why does he protect some of the young men in his house from arrest? I, too, wonder how Col. Don Taylor is going to react to Melton's promises on his behalf.

Author

DonnaLadd

Date

2007-07-30T23:07:38-06:00
ID

67951

Comment

Something you probably didn't know about Col. Taylor: He was my ROTC instructor in high school.

Author

golden eagle

Date

2007-07-31T06:58:24-06:00
ID

67952

Comment

Wow, what was that like?

Author

DonnaLadd

Date

2007-07-31T06:59:51-06:00
ID

67953

Comment

Actually, it wasn't a bad experience. The Colonel was pretty cool, well-reasoned guy. He wasn't a stern guy, but he wasn't afraid to tell you like it is. We used to remark about how he looked like Barney Fife. Remember the sit-on-the-wall punishment I told you about the other night if we broke a rule? That was his idea.

Author

golden eagle

Date

2007-07-31T07:26:51-06:00
ID

67954

Comment

Sit on the wall? What do you mean?

Author

LatashaWillis

Date

2007-07-31T13:23:52-06:00
ID

67955

Comment

Sit on the wall? What do you mean? You lean your back against the wall and arch your legs in the position as if you were sitting in a chair, except you're not actually sitting in a chair.

Author

golden eagle

Date

2007-07-31T14:34:16-06:00
ID

67956

Comment

Oh, okay. Sounds unpleasant. :-)

Author

LatashaWillis

Date

2007-07-31T16:22:06-06:00
ID

67957

Comment

So, did any drug dealers get arrested like Frank said would happen? Methinks it's just another fabricated tale in order to make it seem like he cares about cleaning up drugs in the city.

Author

golden eagle

Date

2007-08-01T12:59:47-06:00
ID

67958

Comment

Personally, I think FM needs some new recruits and that's why he had those boys snitchig.. :-)

Author

honey2me

Date

2007-08-01T13:49:44-06:00
More stories by this author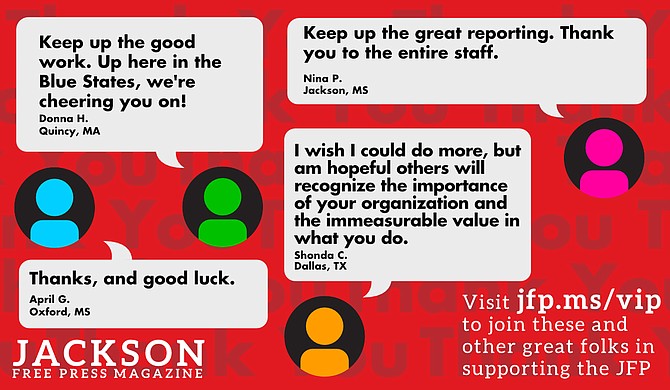 Thanks to all our new JFP VIPs!
COVID-19 has closed down the main sources of the JFP's revenue -- concerts, festivals, fundraisers, restaurants and bars. If everyone reading this article gives $5 or more, we should be able to continue publishing through the crisis. Please pay what you can to keep us reporting and publishing.