Life without music wouldn't really be life; it'd be a lot like life, an imitation of it, but it wouldn't be life. It's even more difficult to imagine a life in Jackson—the City with Soul—without its often under-appreciated, unrecognized music scene. The capital city has innumerable undiscovered jewels.
When many of these acts finally get their due props, we'll be able to brag to our friends in far-away places, "I knew them before they made it big," or "He's a really cool drummer. I've hung out with him before at fill-in-your-most-frequented-music-locale here."
Whether you like country, hip-hop, rock 'n' roll, folk, gospel or something in between, it's all here ... in our backyard. Not only do these various genres have representation in Jackson's music scene, it's quality representation. These are artists that—if given an opportunity—any producer or record exec from some multi-million dollar company who had good sense would be eager to sign. And with the world becoming smaller and smaller, thanks in large part to the Internet, you can get your hands on artists' musical adventures with the click of a mouse. That way, you don't have to wait to hear the music you love to groove to at local hot spots in the comfort of your home.
James Brown, recently deceased Godfather of Soul, once said, "Funk is bout the injustices, the things that go wrong, the hungry kids going to school trying to learn." Jackson musicians ... kids, if you will ... are hungry, indeed.
But not only are they hungry, as Jacksonians are expressing themselves musically more than ever, they're producing the soundtracks to our lives here in Jackson.
The Power Of A Good Soundtrack
by John Yargo
Photo by Darren Schwindaman
An effective movie soundtrack has subtle power. In fact, I found my way into music through these potent dramatic artifacts. One display of its power is a supreme achievement in the genre: "The Graduate." Within the Mike Nichols film starring Dustin Hoffman, Simon and Garfunkel's evocative melancholy permeated every scene, giving gravity to its frequent silences and order to its flights of chaotic passion. For those that have seen the movie, it is hard to separate the two.
In the case of mediocre soundtracks, the rub is often in the lack of symbiosis. Just as great actors depend on stage chemistry, a film's music might provide artistic legitimacy to a flagging project. The best example is "Forrest Gump," a movie in which few viewers separate the brilliant, if idiosyncratically eclectic, music from Ron Howard's ideological and narrative disaster.
But just as in that grab-bag of '60s and '70s pop, some keen listeners may find the collection to be "violently yoked." Most of us remain patient as a film tries on a few different combinations. Where, if ever, do the melodies of both Nick Drake and Il Divo belong together? I can only assume that an audacious young mind has already attempted such a match.
Are there other examples of soundtracks dissonant with the director's vision and the screenwriter's plot? One curious example is the closing scene in the late '90s gem, "Rushmore," where a teacher and her spurned young student share a dance to The Faces' beautiful (if bitterly misogynistic) "Ooh La La." Director Wes Anderson could have made a career of finding such musical nuggets; the original band's cynical message brings an added complexity to the moment of reconciliation. The sensitive viewer is baffled as to directorial intent, with the song and scene in sharp contrast to one another. Anderson's song lists can carry away the tragicomedies he writes and directs.
Probably the greatest soundtrack of all time (as an object apart from the movie) is The Who's "Who's Next" album, taken from the abandoned "Lifehouse" film project. The rock-operas Pete Townsend created in the '70s were astonishing soundtrack half-breeds, trying to trump the narrative advantages of the opposing medium through character arcs stretching across a dozen songs.
Although the movie soundtrack has fascinating possibilities, I cannot help but recognize the subsequent decline in the movie score, its cinematic relative. As Wes Anderson imaginatively constructs the way pop music and film drama converse, John Williams quietly reworks old standards, and the strong legacy of the great Bernard Herr-mann disappears, probably forever.
Mike Ford
Instrument sculptor Mike Ford hails from Pass Christian. Now 38, he's been tinkering with electronics since he was a kid, modifying and repairing synthesizers and guitars to suit his tastes. When he sold his exotic string collection to help pay his tuition, he began to create works of art by using found objects—cheap toys and other gadgets—along with circuits. Rewiring the circuits, he creates working instruments that are also unique and beautiful pieces of art. You can see his work at the Ink Spot gallery, May 11th, from 7-10 p.m, or the Mississippi Craftsman Guild when it opens later this spring. For more information, call 601-981-2499.
The Dreamiest Babes In Music
by Emily Braden
Photos by Charles A Smith and T.C. Perkins
Jackson's music scene is full of hot rockers, sexy emcees and dreamy singers. But who tops the list? You voted Allison Jenkins of Wooden Finger and Kamikaze as tops of the hot list.
Allison Jenkins
Folks are reluctant to identify Allison Jenkins of Wooden Finger as "hot." So am I. Tiger Weekly describes Wooden Finger's songs as "sad and haunting as ghosts rising from the Delta," and says that singer/musician Jenkins holds a "distinctly Southern sadness in her low, echoing voice that is as hypnotic as a siren's call." Yes, it would be a mistake to piece Jenkins as the typical, hot and sexy lead singer. While she is all of those things, with long, blonde hair, striking blue eyes and flawless ivory skin so perfect it screams barter with the devil, her angelically sonorous voice that bellows raw-emotion lyrics leaves onlookers sheepish.
When I first heard "Asian Dreams," I was reminded of my generation's definitive Chantreuses: Sarah McLaughlin, Natalie Merchant and Suzanne Vega. I remembered The Cranberry's "Linger," and making out with a high school sweetheart, surrounded by Mississippi summer air, all the stars twinkling, crickets chirping with a perfect first love. I always knew the innocence wouldn't outlast growing up and hearts would be broken, but hey, but memories were being made.
Sigh. Allison Jenkins is so dreamy.
So, I called on those boys from my high school to describe Allison's aesthetic appeal; those musician boys we romanticized in high school—Thomas Jackson of the Thomas Jackson Orchestra and Mike Boyd, whose classical guitar melodies have taken him to Carnegie Hall. I knew these now-men would have the words to describe Ms. Dreamy. But alas, no. Like the boys from high school, they both cowered with unworthiness. This is why no one ever calls Edie Brickell or Tori Amos "hot."
Mike deferred the question to Thomas, and Thomas simply said, "Allison has a great set of pipes; I bet she's a good kisser." My very own husband, who I know has a thing for blondes, stared at her picture speechlessly, while Wooden Finger's "When I Sleep" played hypnotically. It was as if Allison Jenkins was a wondrous newborn baby he could break accidentally or a beautiful cat whose temperament couldn't be discerned.
She's that gorgeous. You can find Wooden Finger's music at Be-Bop in Jackson and Border's in Flowood. Or go to Wooden Finger's site where you can stare whimsically at Allison Jenkins and find more information on their second release.
Kamikaze
Whether he's Kamikaze the urban rapper, or Brad Franklin the former AP journalist, Kaze's dreaminess, or hotness, describes a man who loves his music, loves his community and works tirelessly for both. Sure, his brazen opinion columns and rap lyrics ruffle some feathers, mine included. But fans for those who read him every other week in the Jackson Free Press or hear his music (from the early days with David Banner and Crooked Lettaz or his soon-to-drop "Draft Day II") will tell you that Kamikaze listens to them, and he's honest regarding his growth as a person and a musician.
Several weeks ago at the Best of Jackson Party, among a crowd of hundreds, I was eyeing a man who I knew smelled very, very good from three feet away. As he and his entourage got closer and closer to my entourage, I decided I would stop and ask what he's wearing. Well, just like I thought, that man was Kamikaze—the Kamikaze I openly debate on the JFP blog. I've criticized his opinions and flat out covered my ears with "lalalala" when he responded with his take on women in rap. Yet, when finally face-to-face, Kaze opened his arms wide and bear hugged me, and he even let me kiss his left cheek, where I could take in more of that good-man smell.
He's tall. He's well dressed and well groomed. He smiles big, and he seems to know everyone in a room. Fellow columnist Lori Gregory says we love Kamikaze because we're "cooler" for knowing him. He gives us street cred. Suffice it to say, Kamikaze is a good man to know, all hotness included, who seems to be happy to know you, too.
The Queen, who is a fan, a friend and a fellow JFP blogger says it best: "Unlike rappers who find themselves taking issue with not being able to be informative and entertaining at the same time, Kamikaze has no problem preaching to us and having our heads bob at the same time. His educational background really comes into play when he spits verses. He is socially, politically and spiritually conscious. He speaks what is true for him. He is a sound, thinking man, and rapping is only a portion of what makes him hot. ... He's very good looking and exmplifies the epitome of a strong black man."
Finally, anyone who has seen his newest promotional photographs—in the leather jacket—must swoon or die. Seriously, is he our new Elvis or what? Hot, hot, hot.
Visions From A Naked Indian
by Matt Saldana
Photo by Matt Saldana
On Feb. 24, Florence High School senior Jason Wilson, 18, will host the Free Expression Exposition at Hemphill Park in Florence. The music and arts festival, which features eight bands for a general admission of only $2, will encourage audience participation in collective art and impromptu musical performance. Several bands will play at the festival, including Wilson's own band, The Reggae Tribute.
How did you come up with the idea for the festival?
We have to do a community-based senior project to graduate. We always talked about how cool it would be to have a music/arts festival in Florence. We called it Florencestock, and just played around with that idea. As it got closer to the senior project, I thought that would be a perfect way to get the festival done.
It reminds me of Waynestock in "Wayne's World 2."
One of my friends, for the longest time, was really big into music, and he got me into a lot of things. Since 9th grade, he talked about Florencestock as a joke. Not a lot goes on in Florence, but there's a lot of artistic people there. We all have to come out to Jackson or Madison to see anything or hear anything. That's why the community responded to it, because people are eager to see something. We have two bands from Florida that are coming up, sharing a spot. That's really exciting. We have people from Oxford and Hattiesburg coming up. It's really blossomed.
The point of it is it's just a whole day where you can come out and do anything to express yourself artistically. You've got your outlet, and you don't have to pay for your spot. You don't pay to look and listen. I want everyone to play a part, in some way, which is what kind of makes it different. Plus, the price is only $2. I tried to make it as cheap as I could. We have a thing for the senior project, where we have to make at least $250 and donate it.
Where will you donate the money?
The Mississippi Arts Commission. I have photographers and artists lined up to set up tables and put up their art. I have some canvases that I'm going to put up, so if you feel like painting, you can paint. If you just want to leave it somewhere, someone can add to it. I'm just going to give those canvases away at the end of the day. Someone had an idea for a ping pong tournament, so we're putting that together. That's what I'm trying to stress—whatever ideas people have, I want them to feel free to get them done, as long as they're in the realm of possibility.
It's sort of art for art's sake.
That was the whole point, and I was just using the senior project idea to open the door to get it done. If it works out this time, I'm open to try to do it every year, especially with how big it seems to be getting.
How did you get into music?
It started out with my dad. I remember the first time I got into downloading music, nine years ago. He told me to download "Roundabout" by Yes, and I was blown away. Another band he's really into is the Moody Blues, and we've seen them in concert twice. All these bands from the '70s. I was just amazed by the difference in music then and now. That got me big into it, and some of my friends were getting into it, (and) bands like Led Zeppelin and Bob Dylan. It was probably about 8th grade when I started getting exposed to music, and by 10th grade, I was addicted.
If you had to describe your band's style, what would it be?
It depends on who's writing the music. The kind of music I write is usually folk oriented. Mostly it's upbeat folk—like Donovan. But if I really were to have my choice, I'm big into symphony music, like Electric Light Orchestra. Our keyboard player, a lot of the stuff he writes is instrumental, epic. We'll also do love songs he writes. Wesley writes stuff that sounds anywhere from Modest Mouse to Wilco.
Tell me about the bands who are playing.
It's a good mixture of music. It's got everything from Anne Davis, a folk artist, The Weeks, who are in the indie pop scene, Scott Albert Johnson on harmonica, Electric Mudd, who play blues, Andrew Bryant—he's kind of modernized folk is the only word I can think of. And then TTOCCS REKARP, Questions in Dialect, whatever you consider them: experimental. I wanted to make it diverse, to attract a lot of different people. All the people who are playing are doing it for the music, for the sake of getting the festival going. They're all genuine artists who care about what they do.
Last week, the JFP offered to sponsor Wilson's festival. Visit the Free Expression Exposition for more details on the event.
Have Mercy, Mercer
by Jakob Clark
Crap. I want to like the new Shins record "Wincing the Night Away," and I might eventually, but I'll have to give it several more spins. I will admit I am writing this moments after my first listen. I bought the new record last night while hunting for a "man purse" for the various items I want to have with me at all times, including my new iPod, camera, various Dwell magazines and any book I am currently reading. After much disappointment with that endeavor (I found only one messenger bag, and it had "New York" written on it), I settled on stopping by the nearest record store to look for The Shins' new release. Sweet! I've been waiting for this a long time. It's been four years since their last full-length release.
The first few songs, I felt fine (although I had to swallow the shock of an unexpected synth-heavy, vocal-effected first track). It's a little different, but so was "Chutes Too Narrow," and I ended up liking that record a lot. As I kept listening, more and more synth and drum loops emerged. I won't say that this record is full to the brim with said synth and loops, but it's a little alarming for the used-to-be-super-organic-except-for-sometimes-when-it-really-mattered band. I miss the charming basement recording feel that "Oh, Inverted World" gave. With the third release, The Shins go even further away from that feeling.
Sometimes, I think I might be the only unfortunate idiot who bitched about Dylan going electric. Perhaps I am speaking too soon, but most music lovers I know tend to prefer the first record above all. The freshman release seems to havea certain honesty. There is a pattern among many bands: Make a brilliant DIY'er, get popular, and then slowly fade into the grip of fancy studios and keeping up with yourself (aka add some neat-o beats so the girls can dance to it a la Of Montreal).
Songs like "Phantom Limb," although still imbued with the "new sound," remind me of days passed when The Shins danced to the beat of the heart rather than the synth drum. Track five, titled "Sea Legs," falls off into an unfortunate bass heavy/drum loop Depeche Mode pissing contest. The song after "Sea Legs," called "Red Rabbits," I don't even want to talk about, but I feel the need to give you fair warning. There's this weird digital keyboard sound that slightly reminds me of the faux steel drums on The Little Mermaid's "Under the Sea."
It's possible that I will like this record more after a few weeks. Well, I don't dislike this record, per se, it's just that I have really high expectations for this band. If nothing else, it is James Mercer's great songwriting with some beats you can make out to. Neat.
More like this story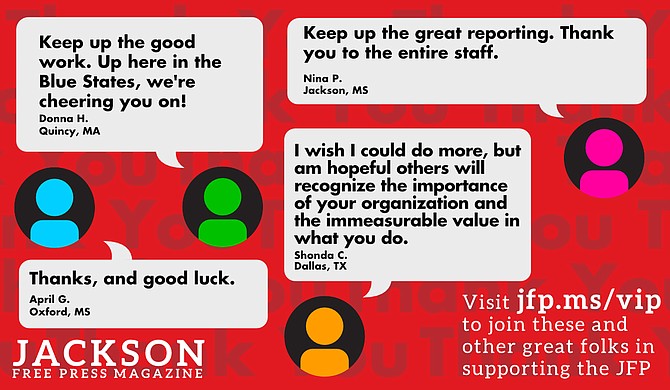 Thanks to all our new JFP VIPs!
COVID-19 has closed down the main sources of the JFP's revenue -- concerts, festivals, fundraisers, restaurants and bars. If everyone reading this article gives $5 or more, we should be able to continue publishing through the crisis. Please pay what you can to keep us reporting and publishing.