Yeah, you've been playing that same Living Better Electrically EP for years now. Your Colour Revolt EP got worn out months ago. Don't worry, though, J-town has plenty of other good musicians to fill up your iPod. And these artists are going to make 2007 hot. The Bold New City offers up everything from smooth R&B and acoustic to experimental twists of sound and thumpin' beats.
Recognition
Meeting Recognition (brothers Rico and J'Rod) at the Hooter's off Northside Drive provided a nice juxtaposition—two suave and confident R&B singers in front of a backdrop of mullets and NASCAR memorabilia, with country music wafting in the background.
Prior to our meeting, I'd only heard the tracks they've made available on their MySpace page, and of those songs, the one that grabbed my attention was their last single, "Get It, Get It." Its beats and chorus reminded me of Usher's dance tracks, and its catchiness struck me as something you could hear on any mainstream radio station. That's not commentary on their originality by any means (as of late, they've been working with producers and writers from Atlanta), it speaks more of their talent. Their songs drip with charisma.
And charisma is exactly what I met while talking at Hooters. If you were to meet either of them, you'd find yourself hard pressed for a reason to not like them. Their sense of humor and passion for what they do increases their approachability.
All those qualities can be found in their music. Whether in the energy of "Get It, Get It" or in the sentiment of their version of K-Ci & JoJo's "All My Life," Recognition's ambition is undeniable. While balancing their college classes with work on their recording, they've also found time to also write songs for other R&B artists, and to stay connected to their beginnings working with a few gospel acts.
Even more, they find time to do live performances. While I've not seen a Recognition live show, drawing from their songs and their attitudes, you can bet they wouldn't disappoint. Combining hot songs with their innate stage presence, their show would be built up by the energy of a crowd of fans, something Rico & J'Rod have already amassed, and for which they have the utmost appreciation. Certainly a sign of these Murrah High School graduates' ability to remain grounded no matter what levels of stardom they're sure to achieve.
— Vince Falconi
The Weeks
It is hard to believe that the members of The Weeks are still in high school. The Weeks deliver a grown-up, potent rock sound in the vein of Iggy and the Stooges or the Strokes. Songs like "Kissing a Stranger" and "Too Damn Pretty" are packed with steady, chunky rhythms and building energy. Cyle Barnes' vocals are punchy, and he doesn't hold back one bit. You'll find his twin Cain on drums, Chaz Lindsay on rhythm guitar and vocals, Sammy Williams on lead guitar and vocals, and Damien Bone on bass.
With a list of influences including Kings of Leon, Rilo Kiley, The Mars Volta, and even local friends Champagne Heights and Colour Revolt, The Weeks are definitely rooted in rock, and they rock pretty hard. But ironically, their most popular song is "Hold It Kid," a soft, yet powerful acoustic tune that is a very personal song for the band. Written by Williams and Cyle Barnes, the song addresses the painful reality of living with drug-addicted parents.
The Weeks have only been playing together for about a year, but their sound is solid and the band seems to be in it for the long haul. The Weeks' debut album is set to drop on April 21, and the guys are getting out and playing as much as they can in the meantime. Lindsay says that you better "be ready to dance and have a good time" when you go to a Weeks show, because that's their purpose – to have a great time while making music.
— Andi Agnew
Jason Bruce
Photo by Roy Adkins
With a little Jason Mraz and Ben Folds thrown in for good measure, Jason Bruce is ready to conquer your pop-loving ears. At 21, Bruce writes and performs his own tunes with the ease of a seasoned performer. His music mixes mellow lyrics about love in the movies with instruments playing different roles. His voice is startlingly clean and honest on his track, "What It Takes," which is just one creation that he describes as "the anti-love song." The conviction with which he sings makes anyone believe him.
"I want to write about a realistic look at love, approaching why problems happen in relationships," he says plainly about his songs.
The Jackson native, currently a junior at Belhaven College, is planning a tour this summer. The tagline on Bruce's band shirts "We're not listening to the words; we just like the way they sound," is a truism in his performances, with his talent and charming melodies. Everyone should see him perform live at least once: just Bruce on guitar with the occasional keyboards, he utilizes effects pedals, loop sampling pedals and even his laptop to create a sound bigger than just one man. This boy has the chops and drive to make it.
— Neola Young
TTOCS REKARP
Photo by Roy Adkins
Don't bother trying to make sense of the name. TTOCCS REKARP (pronounced tox rekarp) is a name Daniel Guaqueta made up when he was 12, when the project first began. Almost two decades later, and TTOCCS REKARP is becoming something of a Jackson fixture. Guaqueta, the project's only main member and also the drummer for Wooden Finger and Questions in Dialect, uses a music aesthetic he sharpened at that young age: record with anything, whenever. The result is a sonic mash-up of the electronic, the proverbial, the new, the replaced and the a capella.
"I think everything makes music," Guaqueta says. "I often whistle with birds, listen to the rhythm of my engine."
Guaqueta's whistles and hums have led to boxes of recordings, most of which no one has heard. On some, he has converted old Bell Biv DeVoe tapes into new songs. On others, popcorn tins and wire hangers harmonize in new tunes.
"I would also scratch records and play them through a tape recorder, switch the tapes around and re-record them," Guaqueta says. "It was my experiment in music since I wasn't classically trained."
These days you can find him on stage with a dozen or so other musicians collaborating in the live incantation of TTOCCS REKARP. Or check out his latest offerings on MySpace.
— Casey Parks
Lil' C
So you've been lettin' your shoulder lean all this time, thinking that came from Atlanta? Young Dro and T.I. might be the voices that tell you to lean, but it's Ridgeland's Lil C's beat that makes you want to lean. His beat is a little crunk, a little hussle and completely ill. In fact, of the almost 300 track reviews of "Let Your Shoulder Lean" on iTunes, almost all point to the beat as the sickest of the year. It's got enough bump to make you want to move, but the beat is no Lil Jon all-out crunkathon. Instead, it's a dark, crawling beat that makes you want to, well, lean. In fact, were it not for that beat, there'd be no lean at all.
Besides making you lean, he's also made you go elastic by popping out the beat for Dro's "Rubberband Banks." And he brought you to Jeezy's stomping grounds through the beat for "My Hood."
And the 19-year-old producer isn't stopping there. He's a member of both Pimp Squad Click and Grand Hustle, and he's already got projects in the works with T.I., Young Jeezy, Young Dro, Young Capone and others. Put on some good earphones and watch this young'n put the Dirty on the map.
— Casey Parks
Jerriod Avant
"Grey hoodie, word goodie, old rhymin' ass nigga/Come share, come listen soak it in go figure/Cerebellum knowledge sellin', never sold out/Sell it back, cash it in, leave sad, go pout/Wrote this flowed out."
If you are privileged enough to hear Jerriod Avant spit (translation: recite poetry with great lyricism), you will probably hear these words precede the actual poem. This 25-year-old Jackson poet (by way of Crenshaw, Miss.) has created a name for himself in the spoken-word community in the Metro area. His hip-hop-like flow mixed with creative imagery and his ability to tell a story puts Avant in a class of his own.
Avant started doing poetry after seeing the third season of Def Poetry Jam on HBO and hasn't looked back since. He names familiar poets like Saul Williams and Nikki Giovanni as those who have influenced him since he jumped on the spoken-word train.
"I am spoken word because of my love of hip-hop as a culture. It's the art and freedom of poetry that gets me. I can say what I want to say, write what I want to write," Avant says. Although spoken word seems to be a natural calling for Avant, he's making plans for his future, just in case his acclaim doesn't reach money-making status. A student at Jackson State University, Avant is majoring in communicative disorders in order to practice audiology in the future.
"I have to do something that will feed my family," he says, but he'll always put emphasis on the things that are important to him. In a piece titled just that, "Emphasis," Avant declares, "I'm praying that my talent never fails or exempts me/I'm part flesh so part-time sexy women tempt me/And sometimes I let 'em pimp me/I lose and then they clinch me/But I pray strong and evade wrong."
If you are looking to see Jerriod Avant perform some of his always thought-provoking, often soul-stirring originals, you can find him at Seven*Studioz on Thursday and Sunday nights and The Reggae Café on Wednesdays.
— YaYa Browne
More like this story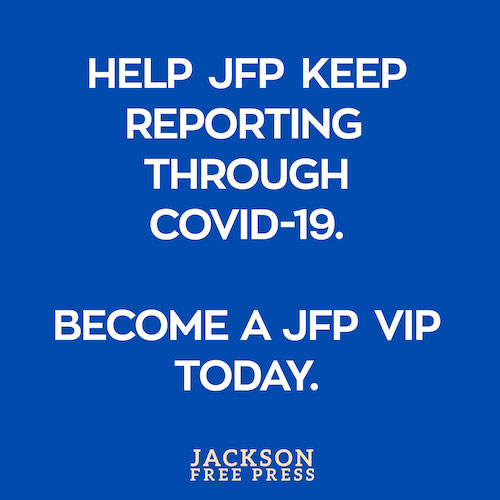 COVID-19 has closed down the main sources of the JFP's revenue -- concerts, festivals, fundraisers, restaurants and bars. If everyone reading this article gives $5 or more, we should be able to continue publishing through the crisis. Please pay what you can to keep us reporting and publishing.