Several members of City Council were outraged today that Mayor Frank Melton abruptly cancelled the confirmation hearing of Charles Melvin, who is Melton's choice to head up the Parks and Recreation Department. Melvin's confirmation hearing was scheduled weeks in advance, but around 11:30 a.m., Melton announced he was cancelling the hearing because Councilman Frank Bluntson was sick.
City Clerk Cedric Morgan said the mayor told him that Bluntson was on his way to the doctor and wanted to be at the confirmation. "I called Bluntson and I told (Assistant City Clerk) Patricia Gilbert to call all council members and see if it was OK to cancel the meeting," Morgan said.
Council President Ben Allen said many council members never gave their permission to cancel the meeting, however.
According to council members, Melton argued that confirmation hearings require all seven council members be present. Councilwoman Margaret Barrett-Simon said that Melton simply invented that requirement. Confirmation rules are set by City Council itself, she said, and all that is required is a quorum of four members.
Allen summarized the episode as an abuse of good faith. "Our laws were made for reasonable people to interpret in reasonable ways. Our constitution is beautiful until you get some people who can tweak it to their advantage. Some things aren't spelled out. There're not supposed to be spelled out because reasonable people interpret reasonable things," Allen said.
Council President Ben Allen and council members Leslie McLemore, Charles Tillman, Marshand Crisler and Barrett-Simon attended today's hearing. Allen, Crisler and Barrett-Simon have all publicly expressed reservations about confirming Melvin, whose chief qualification to run the $6.2 million department is his "superior athletic ability," according to both Melvin and Melton.
Crisler said he suspected the mayor had skirted the confirmation without actually withdrawing Melvin's nomination. Allen said that Melton has no authority to cancel council meetings unless he calls the meeting. Allen called this meeting, however, meaning that any cancellation would require a majority vote. Allen went on to point out that Melton is only "an invited guest" at council meetings.
Three council members—Crisler, Barrett-Simon and Allen—voted to conduct the confirmation hearing even though Melvin was not present.
"We've got a quorum here now," Barrett-Simon said. "What are we waiting for? I don't see why Melvin should continue getting paid almost $80,000 a year if he's not confirmed."
McLemore was against holding the vote because he said that even if they held the hearing, they would ultimately have to conduct it all over again. "We don't know the law enough to determine if Melvin's presence was required. We didn't know, and legal didn't know. So why wade in on a legal thicket on this issue when you don't have to?" McLemore asked. "Melvin can't stay interim forever."
Tillman had briefly stepped out of the room at the time of the vote.
In the end, the council agreed to push back Melvin's confirmation hearing until next Monday, but assuming council has a quorum, they will proceed with the hearings whether Melvin attends or not, Allen said.
"The mayor canceling the meeting was highly irregular. We're not even sure it's legal," Allen said. "We're giving the mayor the courtesy of another week to conduct the hearings, but there won't be any more cancellations. We expect that Melvin will attend, but we will move forward regardless. We're very disappointed at the lack of protocol that was exhibited in this whole episode."
This story has been updated since it was first posted.
Previous Comments
ID

127183

Comment

go frank go!!!!!!!!

Author

Big Tee

Date

2007-04-16T15:45:10-06:00
ID

127184

Comment

Looks like these guys have no clue how to conduct business. Shirlene tries to fire the board members of a private organization, and Melton cancels City Council Meetings. The guys isn't going to get confirmed and Melton is a wuss for not going ahead as planned! Not to mention the way he canceled today again is a sign that he doesn't understand the rule of law or how government works. But, two years in that is not a viable excuse! But hey! We got Heidel and Speed in Planning. Really, that's all we got! Heidel and Speed in Planning. The department, which is responsible for planning the city's growth, zoning, business development and building permits, has 81 budgeted positions, 35 of which are vacant, including the director's position. The deputy director's position, which paid $67,465, is frozen because the money was needed for the $150,000 salary of Jimmy Heidel, the city's economic development consultant. More than six key positions recently were vacated. More... At month's end, Mary Merck, the department's zoning administrator, will leave after eight years to work at a private firm. Barrett-Simon said Merck's departure will signal the end of continuity and significant experience within the department. Barrett-Simon said she will insist on being told which vacancies will be filled and the status of the planning department budget. "Mary has pretty much been holding the department together," Barrett-Simon said. "That's the last straw. The planning department is essentially gutted." But Melton said he has discussed the matter with Allen and concluded those who have left in recent months "needed to be gone." "I took the position, 'Ben, what the hell have they been doing all those five or six years?' " Melton said. "And it doesn't break my heart that some people left from over there because when I look at the city, what has gotten done?" Emphasis mine - (but does it really matter? lol) Way to go Meltonites! I hope all you NJam'er are all cozy and comfy sitting in your secured homes while your man Melton attempts to ruin Jackson. Hope all this is worth what ever projects/land/deals the few of y'all are getting because the rest of us are getting screwed! BTW: Melton is an ass (no surprise there) for saying this kind of crap about good people who worked hard for this City! The gall he has is atrocious and embarrassing to us citizens who do care about Jackson! Our neighborhood association has spent hours on the phone with Mrs. Merck who went above and beyond her duties to help us.

Author

pikersam

Date

2007-04-16T15:53:08-06:00
ID

127185

Comment

Ya, know the mayor won't be there next Monday!

Author

pikersam

Date

2007-04-16T19:04:16-06:00
ID

127186

Comment

I wonder what flu Bluntson caught? Whatever Melton gave told him to get, more than likely.

Author

Ironghost

Date

2007-04-16T19:25:12-06:00
ID

127187

Comment

Sounds like the mayor needs to take up hopscotch because he sure likes playing games.

Author

LatashaWillis

Date

2007-04-16T20:02:40-06:00
ID

127188

Comment

So, is council's plan to turn out all of Melton's lap dogs? I can't say I blame them, but, normally in politices don't you swap favors to get things done? Like, ok, we will confirm your favorite 2 or 3 and you let us dump these guys - and you get your new position, but you gotta get a planner who actually has experience, we will even pay extra because we need it bad! Ok that was a heck of a sentence, but isn't that the way grownups do politics???

Author

Danno

Date

2007-04-17T03:23:41-06:00
ID

127189

Comment

Who said Frankie-boy would play nice? Give him an inch and he'd rename Jackson to Meltonburg.

Author

Ironghost

Date

2007-04-17T07:00:12-06:00
ID

127190

Comment

Danno, what, to me, is the real problem in most American Government today. Almost everyone is so worried about the "politics" and have lost sight of what really matters. You and I and all the rest of the citizens. Let's face it, Melton needs to go, but who replaces him? Another politician? Another person who has an agenda that most likely will not be what everyone wants. Politics has become a career, where it was a public service so many years ago. We need to put emphasis on bringing in public servants and get rid of the politicians. Just my opinion. JFP ROCKS!!!!!

Author

kdbstlrfan1

Date

2007-04-17T07:01:19-06:00
ID

127191

Comment

Yes, but the problem council has with Charles Melvin is that he appears to be grossly underqualified for his position. City Council rejecting him is government working the way it's supposed to. Also, keep in mind that council happily approved the vast majority of Melton's appointments. In fact, they were so eager in the beginning to let him get down to work that they approved City Attorney Sarah O'Reilly-Evans' contract without realizing it had an expensive "bonus" clause allowing her to take a cut of bond issuances, much to their later chagrin.

Author

Brian C Johnson

Date

2007-04-17T08:29:11-06:00
ID

127192

Comment

Ben Allen would probably make a good mayor. I like Beverly Hogan for mayor. She is MUCH better qualified than her nephew, Marshand, who in my opinion, is not qualified to be mayor.

Author

Kingfish

Date

2007-04-17T08:35:53-06:00
ID

127193

Comment

Oh My gosh, those goofballs approved the city attorney? What on earth were they thinking? I don't know anything about her being qualified, but her walking out on the council should have been an automatic ouster to me. Danno

Author

Danno

Date

2007-04-17T09:13:26-06:00
ID

127194

Comment

Its not that they weren't thinking, its that they weren't reading.

Author

Kingfish

Date

2007-04-17T09:16:55-06:00
ID

127195

Comment

They approved O'Reilly-Evans within a month of Melton's inauguration. Considering the walk-out you mentioned, it seems doubtful that they would approve her again. City Council has complained very vocally in the last three months that the city attorney acts as a representative to the mayor rather than the city itself, as her position requires. The result is that City Council does not feel that she gives them sound legal advice. They certainly would never approve her contract again. And yes, they should have read the contract more carefully, but the point Allen et al. has made is that as the city's attorney, she should have informed the council about that very important clause in her contract before they voted. Instead, she made not a peep. You see why the majority bloc in council feels that the mayor does not act as a good-faith partner in with them in city government.

Author

Brian C Johnson

Date

2007-04-17T09:54:33-06:00
ID

127196

Comment

Give him an inch and he'd rename Jackson to Meltonburg. Since he did say he'll own CMMC, that may not be too far off the mark. I like Beverly Hogan for mayor. She is MUCH better qualified than her nephew, Marshand, who in my opinion, is not qualified to be mayor. How is Marshand not qualified? I can't say at this point in time if he is someone I would or would not support.

Author

golden eagle '97

Date

2007-04-17T09:59:33-06:00
ID

127197

Comment

So, SORE didn't know if Melvin had to be present at the confirmation hearing? What are they paying this lawyer for? She walked out on the Council several weeks ago. She slipped in a bonus with her bond contract and now she can't give an answer to something that seems so simple? Does she have anyone she can consult with for these issues that should only require a person with good reading and interperative skills. Just thinking. Bluntson's absence was politically contrived. Stokes has begun to be "missing in action, also." These folks are a mess and I guess it just doesn't matter if they have made a mess of Jackson.

Author

justjess

Date

2007-04-17T10:11:47-06:00
ID

127198

Comment

show me where he is qualified.

Author

Kingfish

Date

2007-04-17T10:32:20-06:00
ID

127199

Comment

I wonder what flu Bluntson caught? Whatever Melton gave told him to get, more than likely. Or it could be something Supv. Calhoun gave him with their situation and all.

Author

rukiddinme

Date

2007-04-17T16:24:16-06:00
ID

127200

Comment

Kingfish, in your opinion, what are the qualifications for Mayor of Jackson?

Author

Fitz

Date

2007-04-17T16:28:56-06:00
ID

127201

Comment

Someone who has some government experience but also has spent time in the private sector and has experience as an executive, meaning he knows how to run a business, formulate strategic plans, and also understands the political environment. I don't think time spent in academia alone qualifies you for mayor. I don't think a couple of terms as a city councilman and a job as a cop or reserve deputy qualifies you for the job either. If we are going to criticize the proposed head of parks for just being a cop and not being qualified for the job, Mr. Crisler is subject to the same criticism.

Author

Kingfish

Date

2007-04-17T16:44:34-06:00
ID

127202

Comment

Well let's see, what about 20 years of military with 3 tours as a commander, not a reserve deputy but serveral years narcotics (shot in the line of duty), not just a cop but police chief (Utica), not just a couple of terms as city councilman but 3 times president, in every one of these positions he had to deal with budgets, personnel and networking. Certainly understands the political environment and how to formulate strategic plans. Government experience on the city, county, state (national guard) and federal (marines & army) levels. Oh, and lets not forget, you have a"great" CEO in the office now.

Author

Fitz

Date

2007-04-17T22:38:20-06:00
ID

127203

Comment

20 years in the military means nothing. Most of that has been a reservist. I was in hte military. I know alot of officers with similar and service and said service does NOT qualify them at all to be mayor. being a narc does not qualify him to be mayor either, I don't care how many busts he made or hours he logged on duty. I would never consider Melton to be a "ceo". He was used as a front man so that a group could take advantage of the awarding of licenses to minorities. If it weren't for that, he would be a nobody. City council does not qualify him for the mayoral office. He's never met a payroll. Never had to truly hire and fire people except for that small office of Utica Police Chief. Would you put a Utica police chief in charge of the State Police if that was his only management experience? Of course not. Working on the city council is good for building coalitions and debating, however, the charter favors the mayor and the city council can not do all that much. He has never worked as an executive. He has never had an operating budget that was anywhere close to the size of Jackson's. He has not had to formulate and implement a strategic plan, which is standard practice for most CEO's as well as mayors. So aside from time as a cop and time as a soldier, as well as serving on the city council, there is nothing that really qualifies him for the job. As I stated, his aunt is MUCH better qualified. When she worked for Allain, she had a budget of $500 million. She ran entire state agencies. She has exactly the kind of political and management skills you need for that kind of job. I'm sorry. Its just that in a town the size of Jackson, there are better qualified people to be mayor.

Author

Kingfish

Date

2007-04-17T23:37:45-06:00
ID

127204

Comment

By the way, using your criteria, Bracey has almost the same record and a sstronger one in some areas. Long time cop and was Police Chief of a major department. Served for years in the Army. Was a First Sergeant in a Special Forces Line Company and is Airborne and Special Forces qualified. If anything he would have a stronger record than Mr Crisler. Would you support him based upon YOUR criteria?

Author

Kingfish

Date

2007-04-17T23:40:46-06:00
ID

127205

Comment

I don't believe anyone on this blog is saying Beverly Hogan would not be qualified to be Mayor of Jackson. I never got the impression that she wanted to be Mayor. Being President of Tougaloo is probably what she wants to do and is doing well. Many of our very best elected officials in this Country come up through the ranks without ever being a CEO of private business. There is much to be said for understanding the ins and outs of City budgets, the restraints of Federal, State, and Local laws, and how and where to obtain money for the City. Also, Civil Service is not to be scoffed at nor should continuity from one Administration to another be abused. I, for one, did not realized how delicate a balance a City maintained until the willful destruction of Jackson's underpinnings took place. Give me someone with good management skills, integrity in their private and public life, and experience in city government and I will probably vote for them. Give me someone who also has been a combatant in the war and drugs and that makes them even more attractive. For my vote, Crisler seems to have what I want.

Author

ChrisCavanaugh

Date

2007-04-18T08:44:06-06:00
ID

127206

Comment

For what it's worth King, Crisler was an officer, so his military service does count as leadership experience. Whether it's the sort of service you want to see is another matter. Also, calling him a "reservist" so dismissively seems sort of harsh. It's not good enough that he went to Iraq two times? I'm a bit puzzled by your animation on this subject. Is it that you have reservations about Crisler or that you outright wouldn't vote for him? Would you vote for McLemore over Crisler, if they were running against each other? Allen? I'm just curious. (We should all keep in mind that if Melton is removed from office next week, we will face a 60-day special election for his replacement, at which time these questions will no longer be academic.)

Author

Brian C Johnson

Date

2007-04-18T08:52:44-06:00
ID

127207

Comment

Many of our very best elected officials in this Country come up through the ranks without ever being a CEO of private business. There is much to be said for understanding the ins and outs of City budgets, the restraints of Federal, State, and Local laws, and how and where to obtain money for the City. Also, Civil Service is not to be scoffed at nor should continuity from one Administration to another be abused. I am not disputing that one bit. However, I am talking about what I think is best for the position of mayor. Being mayor requires an understanding of business and it IS an executive position that requires the same skills as a CEO.

Author

Kingfish

Date

2007-04-18T09:02:51-06:00
ID

127208

Comment

I was a reservist Brian. Bracy was in my battalian actually. I don't think I'm being harsh when I use the term. I know plenty of officers who are reservists and have been to Iraq and Agfhanistan. By the way, being an officer in the military doesn't mean you are a great leader. I've known a lot of dumbass lieutenants. Having said that, I simply take the position that if I were hiring someone for this job and not voting for them, what criteria would I put in the job requirements and then I would compare it to the resume offered. I would vote for Allen over the other council members, just based on resume alone. However, if you offered me someone like Beverly Hogan, with her resume or someone with a similar resume, I could vote for that person as well. NOW let me point something out to you that some posters will disagree with. If you have a candidate from the minority population elected in an areal, he is probably going to be MORE attentive to the needs of the majority population as he REALLY needs their support. He's not going to be inclined to blow them off as much as someone who is elected with 80% of the vote and then can ignore certain segments. I'm seeing it in Baton Rouge right now with Mayor Holden. He has been a good mayor and was elected in a majority white city and has been more interested in coalition building than say Melton for example.

Author

Kingfish

Date

2007-04-18T09:12:16-06:00
ID

127209

Comment

King, I think the word on dumbass lieutenants got out a long time ago. ;) Thanks for answering my questions. I don't necessarily agree with all your criteria, but they are certainly reasonable.

Author

Brian C Johnson

Date

2007-04-18T09:27:09-06:00
ID

127210

Comment

Thanks Brian. Thanks Chris. Kingfish, it's obvious that you have some other issues with Mr. Crisler. So you get your candidate, I have mine, and we will see you at the polls.

Author

Fitz

Date

2007-04-18T09:41:04-06:00
ID

127211

Comment

obvious? what other issues? what other issues are they? I've stated what they are.

Author

Kingfish

Date

2007-04-18T09:43:16-06:00
ID

127212

Comment

King, I think he's commenting on the fact that you seem so vehemently against Crisler, even though by your own statements, it's just that he's not qualified.

Author

Brian C Johnson

Date

2007-04-18T09:50:13-06:00
ID

127213

Comment

My language is not that strong. Compare it to what I've said about Melton. Its pretty weak actually. get something straight. I know his family. Love his mother. Used to be a very good friend/mentor of mine years ago. He was a marine. I respect the hell out of that. He was in Iraq. I damn sure respect the hell out of that. I respect the fact he's been a Councilman. I also have alot of respect for him and his character. I also have seen alot of people push him for mayor and I am merely questioning why he is qualified to be mayor when I don't think he is. The more strongly they push for his being mayor, the more strongly I question the reasons why he should be. Jackson is going to need MAJOR work when Melton leaves. We are going to need a mayor who won't have much of a learning curve and knows how to use basic management principles, something Melton has not been doing. I want someone who knows what it is like to be in charge of a company or agency with a multimillion dollar budget and has no experience in large budgets and the accompanying tasks. I want someone who has experience in controlling costs and also who understands how business operates so we can create an environment more friendly to them. I don't think I am asking for too much in a candidate when I say that.

Author

Kingfish

Date

2007-04-18T09:58:22-06:00
ID

127214

Comment

So, would you try to bring Harvey back? Let me say this, Marshand is and will be very friendly to the business community. "Some" business people don't know how to approach him. They are used to making "deals" with potential candidates and they can't approach him that way because of his character and he carries a real badge, gun and maybe a pair of handcuffs. I've been in business for 25 years, made payrolls and managed projects with billion dollar budgets but I wouldn't want to try to run city government like a business. We don't have to follow the same rules. I know that Marshand would appoint very capable, qualified people to oversee the city's finanaces and personnel just like Mrs. Hogan does at Tougaloo.

Author

Fitz

Date

2007-04-18T10:12:37-06:00
ID

127215

Comment

Well, Allen, McLemore, and Hogan have NO law enforcement experience. Give me a candidate that is better versed in gov't red-tape over the CEO who hasn't a clue how to do much more than pay taxes when it come to gov't. fish, you just have issues with Crisler. Go back to when Melton was arrested the first time and check your posts... no different. There is no need to try and spin his excellent career into some kind of negative. If you don't like him, don't like him. But, based on what I've read in these last few posts, he has a dern fine resume to run a City or lead group of police officers and soldiers.

Author

pikersam

Date

2007-04-18T10:23:43-06:00
ID

127216

Comment

I think we should let the Mayor of this city do his job and let the city councilman do there jobs. and give them some justice since we are either Mayor nor Councilman just trying to be heard and dont know how to be heard except saying something that we have no clue about. except what we read in the paper which isnt always true, Know the facts and I know the Mayor is trying but the more you stir in mess the more mess you get so stop stiring in the mess people. and get behind the Mayor and this City

Author

cass

Date

2007-04-18T10:28:52-06:00
ID

127217

Comment

I AM behind this city! But I cannot get behind THIS mayor. He can't tell the truth and he can't remember all of the LIES! He is reckless and lawless. This city can not prosper under his reign.

Author

Fitz

Date

2007-04-18T10:35:26-06:00
ID

127218

Comment

Well, cass, how do you know that we only know what we read in the paper?

Author

ChrisCavanaugh

Date

2007-04-18T10:42:01-06:00
ID

127219

Comment

Uh, Cass, we know what we find in our investigative reporting. And we're not looking for someone such as yourself to tell us how to think or how to do our civic duty. The problem is that the mayor is not doing his job, and he is blocking City Council from doing theirs. A good citizen does not ignore such travesties, and the folks here do not intend to.

Author

DonnaLadd

Date

2007-04-18T10:44:24-06:00
ID

127220

Comment

well, the way that your acting tells me that when you dont know something and by the comments you have made over the last couple of weeks you dont understand what your saying and do you know what happens when you assume something you make an a.. of you and others be mindful of what you say and how you say it and know your facts. now correct me if you can !

Author

cass

Date

2007-04-18T11:01:07-06:00
ID

127221

Comment

Not at all Pike. I could still vote for Mr Crisler. It would depend on who he is running against. Right now we are just discussing possible candidates. Now if he were running against Harvey or McLemore, then I would vote for Mr. Crisler. I think one of Harvey's weaknesses was he was not a leader and was prone to let things drag before making a decision. Idon't think Marshand would have that problem. He does have a law enforcement background which would definitely serve him well as mayor, unlike our current cowboy. As far as McLemore, he has been an academic for the most part in addition to a City councilman. I want someone with a bit more experience outside of the classroom. In baton Rouge we had a Republican guy as mayor. Bobby Simpson. Was mayor of Baker, a small town in EBR Parish. Was in totally over his head during his tenure as mayor. He had no clue how to run a large city. So I am a little wary of people with not much background in operating departments, agencies, or businesses that are on a sizeable scale. That is probably my main concern with Mr. Crisler. I did not say I would not vote for him however. Just depends on who his opposition is.

Author

Kingfish

Date

2007-04-18T11:06:25-06:00
ID

127222

Comment

well let me explain something to you its not always true what you find in your investigative reports thats why they tell you what they want to know, so you can do just what you are doing now believe what you write and makeing others believe you know what you are talking ABOUT. when you really dont just write what they tell you and thats what you go by. oh by way the Mayor can't block the city council from during their jobs only the city council does that. when they allow it to happen. what folks I am a citizen of jackson not folks of jackson. remember that

Author

cass

Date

2007-04-18T11:15:35-06:00
ID

127223

Comment

Cass, you are contributing nothing to this conversation. Also, learn how to punctuate. Anyway, I don't have to correct you--I can suspend you instead. See ya!

Author

Brian C Johnson

Date

2007-04-18T11:20:41-06:00
ID

127224

Comment

cass: can you back it up instead of just running your mouth off? What are some examples?

Author

Kingfish

Date

2007-04-18T11:25:34-06:00
ID

127225

Comment

Sorry King, I already gave Cass his/her walking papers. I ordinarily wouldn't suspend someone so quickly, but considering the utter mendacity and pointless badgering in Cass' posts, it really didn't seem worth it to me to make everyone put up with Cass while we tried to "reform" said person. On with meaningful discussion.

Author

Brian C Johnson

Date

2007-04-18T11:28:29-06:00
ID

127226

Comment

Hell, I'm GREAT at eating so Franky should put me in charge of eatery permits.

Author

Jo-D

Date

2007-04-19T21:08:18-06:00
More like this story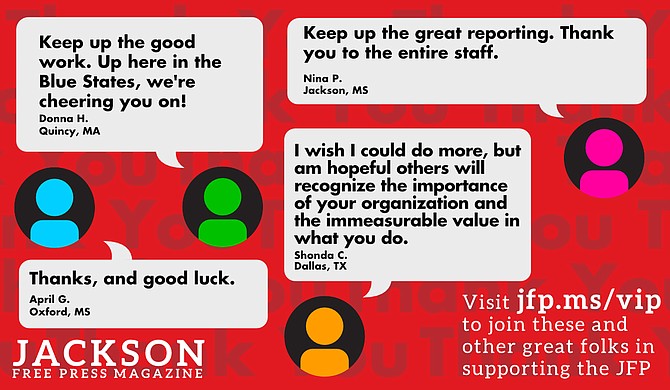 Thanks to all our new JFP VIPs!
COVID-19 has closed down the main sources of the JFP's revenue -- concerts, festivals, fundraisers, restaurants and bars. If everyone reading this article gives $5 or more, we should be able to continue publishing through the crisis. Please pay what you can to keep us reporting and publishing.