What if I said in an opinion in the Jackson Free Press that all black people were crooks, or all Islamic people were murderers? In his "Don't Feed the Natives" (July 26, 2006) article, Ken Stiggers did just that to my industry. He made a blanket statement about something he obviously knows little, if anything, about: the pawn shop industry. "One block away is the pawn shop where burglars could receive cash for their stolen items," Stiggers wrote.
Making negative comments about anything, whether race, religion or a person's livelihood, without knowledge of what you are speaking is wrong, and to put it out in a public forum and tear down years of hard work building up a reputation is immature and unprofessional. I challenge you to come in to our store across from Battlefield Park any time and let me tell you about our state and national associations, and the state law passed in 1993. Call the Department of Banking and Consumer Finance, our regulators, and ask about our industry and the director's impression of it. Call the JPD and ask the gentleman over the pawn shops in Jackson what he thinks.
Did you know that we assist in solving crimes by downloading our transactions to a database in Jackson all over the country each day? Or that pawnshops nationwide now end up with less than one-half of 1 percent of all stolen merchandise in the U.S.? Did you know there were only 10 pawn shops in Jackson?
I challenge you to investigate a little before making these kinds of statements. While ripping someone's industry might pale in comparison to doing the same to a race or religion, it's still wrong, it still hurts, and it's not what a person with a public forum should do.
— Kevin McDonald, Jackson
"B" Movie Subconscious
All those drive-in movies about giant mutant ants in the desert and death-dealing flying saucers that haunted my youth, were, of course, about nuclear fears and the cold war. Only "B" movies really track our culture. See "Twin Towers" for an example of a beautiful, deeply spiritual work without politics or hatred. But the wonderfully schlocky "Snakes on a Plane" is a pop reworking of "United 93" with the bad guys morphed into reptiles and a desperate wish that we can somehow do something ourselves to regain control. We can, of course, save ourselves by refusing to allow fear mongers to destroy our Constitution and commit endless war. But "B" movies still provide the best glimpse into our collective subconscious.
— John Davis, Jackson
Save Me a Copy
I was in Jackson a month ago, and was able to pick up two copies of the Jackson Free Press. I was very impressed with your weekly. This was my first time in Jackson in four years, and I wish the JFP would have been around during my time as a student at JSU. I was able to see Jackson in a new way because of your publication. So next time I come to Jackson, the JFP will be the first thing I pick up.
— Craig Bridgeman, Gary, Ind.
'Do What the Spirit Say Do'
Victoria Gray Adams, 79, founding member of the Mississippi Freeedom Democratic Party, orator and organizer, passed away Sunday, Aug. 12. Mrs. Gray, Fannie Lou Hamer and Annie Devine led the MFDP in 1964 to challenge the exclusion of Black people from voting rights and the Democratic Party.
Since Reconstruction, Mississippi had a one-party all-white political system, along with most other Southern states. It was kept in place by systematic denial of black peoples' right to vote. The MFDP and the Selma March won that right nationally, and were recognized in 2004 at the National Democratic Party Convention for their role. Despite violence and economic reprisals, Victoria Gray continued to devote her life to struggle.
Rooted in her close-knit, rural community of Palmers Crossing, near Hattiesburg, she became active full-time in the Civil Rights Movement in 1962 at age 37. Joining forces with the Student Nonviolent Coordinating Committee (SNCC), she helped organize and teach literacy in her own community. Speaking eloquently with great insights, she reached thousands of people locally and nationally, and her strong faith in the power of ordinary people to do extraordinary things like building a "beloved community" was known by many.
Victoria Gray served on the National Executive Board of SCLC, organized by Virginia State University's Interfaith Center, actively participated in independent political networks and taught civil rights history at the University of Southern Mississippi and JSU's Fannie Lou Hamer Institute.
For 30 years, Adams actively worked against racism and for community development in Petersburg, Va. She organized Army wives in the African American Women of Thailand, children into a Virginia Freedom School, sharecroppers, housekeepers and students.
I was lucky to work with her in several frameworks both in Mississippi and nationally, and learned from her deep faith in our ability to make a better world. She took young people seriously and would often "take wisdom from a child."
We will walk in her shoes as best we can. In August 2004, Sisters Committed to the Past, Present and Future in Palmers Crossing and Hattiesburg gave a moving tribute to Mrs. Gray. Over 200 people gathered to celebrate their friend, mentor and beloved leadership sister.
The Mississippi memorial service will be held Saturday, Sept. 9, at 1 p.m. at the Parkview Heights United Methodist Church on Hardy Street and Highway 49 in Hattiesburg.
— Harriet Tanzman, Jackson
More like this story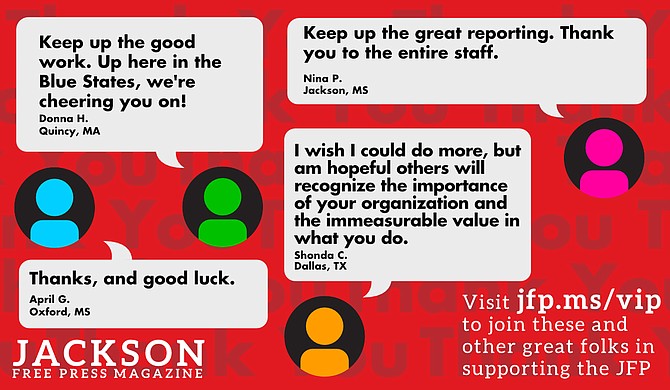 Thanks to all our new JFP VIPs!
COVID-19 has closed down the main sources of the JFP's revenue -- concerts, festivals, fundraisers, restaurants and bars. If everyone reading this article gives $5 or more, we should be able to continue publishing through the crisis. Please pay what you can to keep us reporting and publishing.