By The Honorable Erik R. Fleming, Member, Mississippi House of Representatives, District 72
First, let me take this moment, before I respond to Chairman Rangel's question, to thank the over 205,000 Mississippians that put their trust in me on November 7, 2006. It was honor to be chosen as the Democratic nominee and I wish Senator Lott well in being selected for a fourth time to represent us in Washington.
Now to the question which, despite the apology, needs to be answered. I made the decision to live in Mississippi 23 years ago, right after I set foot on the campus of Jackson State University. It was a far cry from the university it is now, but I felt a sense of belonging from the minute I came here, after my exodus from Chicago.
Yes, Mississippi was the poorest state in the nation then, and it still is. However, mere statistics don't tell the whole story about the Magnolia State. During the campaign, Senator Lott ran a commercial that can be used by the Department of Tourism to promote Mississippi. It highlighted our natural beauty, our cultural diversity, our faith and our economic achievements. Yet, it was one word in that ad that summed up the Mississippi experience: resilient.
Resilient means to be able to recover quickly from setbacks. The latest example has been the resolve of the people in our Coastal counties to rebuild their homes, businesses and lives. But that historically has not been our only example. Whether the cause of the challenge was natural or man-made, Mississippians, as a collective whole, showed the resilience of a God-inspired people. I have always made the claim that man may have drawn the borders of Mississippi in 1820, but God traced the outline with His divine finger.
In the Bible, it has been proven that people who understand that the favor of God is more important than life itself can do great things in challenging times. The testimony in the legendary Tower of Babel story is not how God created the languages of the world, but the fact that God had to intervene to stop His chosen people from building a tower to Heaven, because since they believed, they would have succeeded.
It is on that premise that I chose to stay in Mississippi, to be a public servant in Mississippi, and to raise my son here in Mississippi. See, I believe in God and I believe in Mississippi. I also believe that we have a calling to move our state from the conditions that subject us to ridicule from those who don't fully comprehend the Mississippi experience.
First things first, we collectively have to believe in ourselves and envision the big picture of this state's future. In my campaign, I stated that our biggest immigration problem was not who was coming in, but who was leaving. One out of every five of our four-year college graduates leaves Mississippi, either for good, or until they seek to retreat home in retirement.
Mississippi has been victimized by great migrations since the sunset years of the 19th Century. The reason for most of those who chose the option of exodus in the past was opportunity and escape from oppression. Why should that be acceptable in the 21st Century, when enlightenment abounds in such a way that Mississippians have been some of the leaders in cultivating it?
We have to have a mindset change. We can no longer look at our state with short-term vision, focusing on the negative. We have to develop a faith vision, a vision that answers the Robert Kennedy question, "I see things that never were and ask why not?"
I see a Mississippi that does what President Bush has yet to live up to from his post-Katrina address in New Orleans: face the challenge of poverty head-on. I see a Mississippi with a vibrant economy, based more on small, community based businesses, a statewide public transit system, and a more educated workforce, not just in skills, but in leadership as well.
I see a Mississippi that not only rebuilds physical structures, but cultural relationships that have been strained for nearly two centuries. I see a Mississippi poised for greatness because our people finally believe in the promise of God and of themselves, His creation.
It is obvious Chairman Rangel does not share that same vision I do, or else he would not have asked the now infamous question. But now since the question has been posed, let's answer it. Not with angry words, but with that true Mississippi value: resilience.
Previous Comments
ID

170297

Comment

I just noticed this article, and I enjoyed your response to Rangel's statement. Resilience is an appropriate adjective for our beloved state.

Author

L.W.

Date

2006-11-25T19:55:08-06:00
ID

170298

Comment

Good article, Rep. Fleming! Sorry I missed your rally at Janice Carr's before the election - I was coming, but my mother went in the hospital and I wasn't able to attend. I had been looking forward to it. Your race this time was a long shot, but it was really good practice for the next, much more serious one, and your commitment to Mississippi will do you proud! Thanks for providing a choice this time, for those of us who desparately wanted one.

Author

C.W.

Date

2006-11-29T21:33:25-06:00
ID

170299

Comment

Speaking of N.Y.C. - what the hell is going on with the cops there? I'm surprised no one is talking about this travesty on JFP.

Author

C.W.

Date

2006-11-29T21:38:42-06:00
ID

170300

Comment

I'm working on a feature on my civil liberties site re: the Sean Bell thing. I'll post a link here when it's up. Definitely tragic. Peace, TH

Author

Tom Head

Date

2006-11-29T21:58:07-06:00
ID

170301

Comment

What's your url, Tom?

Author

C.W.

Date

2006-11-30T23:47:53-06:00
ID

170302

Comment

http://civilliberty.about.com -- and thanks for asking! :o)

Author

Tom Head

Date

2006-12-01T01:34:19-06:00
ID

170303

Comment

Thanks, Tom, and forgive me, I knew that. Life has been a little rough around the edges lately and I haven't sharpened back up yet. Actually I found it some time back more or less serendipitiously. I was googling something, and your site popped up, and I did a little doubletake when I saw that the .about host was none other than Tom Head. :-) Great job, Tom!

Author

C.W.

Date

2006-12-02T10:15:55-06:00
More like this story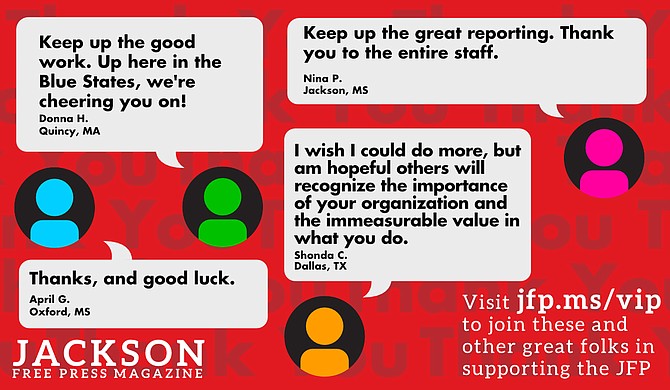 Thanks to all our new JFP VIPs!
COVID-19 has closed down the main sources of the JFP's revenue -- concerts, festivals, fundraisers, restaurants and bars. If everyone reading this article gives $5 or more, we should be able to continue publishing through the crisis. Please pay what you can to keep us reporting and publishing.