The Clarion Ledger reports:
The Clarion-Ledger filed a lawsuit Tuesday against the city of Jackson for failing to respond to requests for public records involving crime statistics, the mayor's security budget and his authorization letter to board an aircraft armed.
The lawsuit contends that the city refused to hand over a range of documents, including the mayor's expense report for a trip to the Bahamas and papers showing firearms training for the mayor.
...
"I want to go before a judge and I want to demonstrate to the judge how The Clarion-Ledger has been inaccurate and inept in their reporting and they've given the public misinformation," he said earlier Tuesday, adding that the paper's coverage of crime and other topics has been erroneous.
The mayor could not cite any law that entitled him to deny requests based on his opinion of the source of the request.
Previous Comments
ID

122146

Comment

Luckily, the clarionledger isn't looking for much except to foreclose him from refusing their future requests. I predicted lots of suits once he took office but I'm hopeful he won't cause any real good ones that place the city at great financial risks. Frank has the same problem many of my clients have. They believe that judges and juries are as gullible and amenable to all kinds of strage bullshit as they are. Again, he's either a slow learner or has a mighty dim view of how the legal system works. No judge will give a damn about his opinion on the clarion ledger. I believe Brian Johnson was prophetic when he said always go with the smart guy.

Author

Ray Carter

Date

2006-05-31T10:30:10-06:00
ID

122147

Comment

I will just sit back and watch these two losers fight it out. There is an old adage that says "there is no honor among thieves". IMO both of these attention seekers played the game very well until they stole the hearts of the majority of the people. Now they are fighting amongest themselves. I predict that there will be a lot of skeletons fall out of the closet on both sides. The real winner will be the public, who will get a chance to see the good, the bad, and the ugly.

Author

lance

Date

2006-05-31T13:19:36-06:00
ID

122148

Comment

The kicker in these open meetings and open records suits are the attorney's fees that can be recovered. In the last one won by the CL against the City of Jackson they recovered over $60,000.00 in attorney's fees.

Author

pneville

Date

2006-05-31T13:26:26-06:00
ID

122149

Comment

I think that since Melton "tore" the requests up, than HE should be made to pay any penalities or damages. BTW, the dictionary definition of shread is....... shred·ded, or shred shred·ding, shreds To cut or tear into shreds. The key word is tear.

Author

lance

Date

2006-05-31T13:36:58-06:00
ID

122150

Comment

pneville, That's why it's important for the city to follow the law. We are about to post this week's cover story, which is a long feature on open records. (More informative than anything you'll ever find in The Clarion-Ledger.) The story is called "The Closed City," and that is what Jackson has become under this administration. Fortunately, Melton has no real authority over open records laws, because these laws were established at a state level and supercede his authority. At present, the legally required system for releasing information is completely broken, whether through accident or design. If the Melton administration does not get its act together on open records, I am sure this will only be the first of many lawsuits against it.

Author

Brian Johnson

Date

2006-05-31T15:00:42-06:00
ID

122151

Comment

Yes, I agree that this still looks like we're watching a lover's spat between The Clarion-Ledger and Frank Melton—however, the newspaper is right that its requests should be honored. It stings a bit that they have not covered Melton's campaign against the JFP in past months, as we will cover him trashing them. But the stories that are about to go up with really bring everyone up to date. I'm glad to see The Clarion-Ledger at the accountability party. Wish they'd joined us a while back, though.

Author

DonnaLadd

Date

2006-05-31T15:10:35-06:00
ID

122152

Comment

It was hard to argue against the CL's claim for the $60,000 in attorney's fees since that is what they had actually already paid its law firm.

Author

pneville

Date

2006-06-01T20:33:47-06:00
ID

122153

Comment

Just in from the CL: Jackson Mayor Frank Melton and The Clarion-Ledger today signed an agreement ending the newspaper's lawsuit against the mayor over unfilled requests for public documents. The agreement requires the mayor to provide documents requested by the paper within 48 hours and to inform all of his department heads in writing that they are to answer all future open records requests within 14 working days, the period set by state law. But the agreement must be ratified by the Jackson City Council to end the suit entirely, lawyers for both sides said. "He wants to go ahead and put this behind him, so he can move on to other serious matters that need his attention," said former mayor Dale Danks, who is Melton's attorney in the lawsuit. "He thinks by doing this at this time and getting it behind him, he is going to set the right example for the City Council and the members." Clarion-Ledger lawyer Leonard Van Slyke said the agreement holds Melton accountable for making sure city department's under his control abide by state law. As part of the agreement, the mayor has agreed to put it on the June 27 council agenda. Van Slyke said if the council does not approve the settlement, the newspaper will move forward with its lawsuit against city and the City Council. So now the mayor's attorney, who is the city's contract attorney, has worked out this settlement for the mayor and the city counsel will have to approve or be responsible for the city being sued, when it was the mayors actions that brought this suit to the city. FM walks away clean and the City is left to comply with his wishes, something is messed up here. Can not the city counsel modify the agreement to include all forms of public information request.

Author

malt

Date

2006-06-20T19:42:54-06:00
ID

122154

Comment

Yep, I know, they called and interviewed me about it. Out of respect for the reporter (not the newspaper), I didn't break it online, yet.

Author

DonnaLadd

Date

2006-06-20T19:47:15-06:00
ID

122155

Comment

He's not just any attorney. He's also the former Mayor. It's like a psychedelic version of "Deliverance" at City Hall.

Author

pikersam

Date

2006-06-20T19:48:00-06:00
ID

122156

Comment

It's remarkable, really, to see how other journalists (or editors) work. Chris Joyner and I had a good talk about public records yesterday—and I made it clear to him repeatedly that I had *two* concerns about The Clarion-Ledger's settlement with Melton: 1. That because it was public-records law, which must apply to everyone, that that be taken into consideration when an agreement was reached with one publication. We talked about the problems with this in some details. 2. That Melton's private attorney, Danks, should not be in the role of "overseeing" the public-records process in any way. We also talked in some detail about the reason the city has so many public-records requests—because they do not have good public information folks and that they tell media outlets to file a public-records request over the silliest little thing -- then it becomes a big drama for them. This, however, is what shows up in the story: Donna Ladd, editor in chief for the Jackson Free Press, said she is concerned the city still might stonewall other media outlets. "We want it made clear somehow that the city has not reached an agreement (solely) with The Clarion-Ledger. It has to treat all media the same way," she said. Attorneys for both sides said they believe the settlement will benefit all media outlets and that the public at large by reforming the city's public records process. "The whole idea is to have a uniform process for all requests," Danks said. What B.S. Lifted out of context as that quote is, it makes it sound like I don't understand that this settlement was between the two parties -- but that my concern, which I stated clearly for him, is that the city should not be settling a public-records request with one media outlet because, by the very nature of those laws, it could not then be apply unequally. The city should not be setttling the suit with one outlet; it should be following. the. law. The Clarion-Ledger should take this to court, not try to work some deal with Melton's private attorney who has all sorts of potential conflicts dealing with public records (like the requests about his contract that we have pending). It makes no sense that they're not. To make this clear, at the end of our conversation, I clarified to Joyner that I had two problems with the settlement and to please report both in context. And the other big problem they have, which Joyner and I talked about specifically, is that the city attorney's office opposes a settlement. They don't tell us that part in this puff piece on behalf of The Clarion-Ledger, now do they? Sigh. At least he didn't try to interview me in e-mail.

Author

DonnaLadd

Date

2006-06-21T08:41:14-06:00
More like this story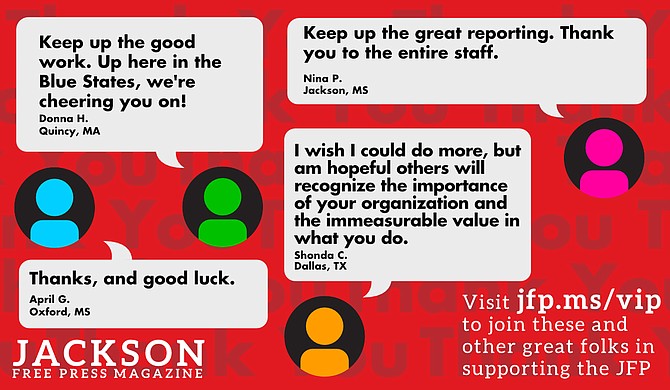 Thanks to all our new JFP VIPs!
COVID-19 has closed down the main sources of the JFP's revenue -- concerts, festivals, fundraisers, restaurants and bars. If everyone reading this article gives $5 or more, we should be able to continue publishing through the crisis. Please pay what you can to keep us reporting and publishing.