Rebekah Potter asks local photographer Roy Adkins about the state of the art, technology and that seventh circle of hell, wedding photos.
Why did you choose photography as a medium?
I had the opportunity to take a short course in photography at Birmingham Southern in 1991, and it was the first time that I had considered photography as an art, and not only a way to document holidays and other family events. Then while at Mississippi State, I decided to major in art, and after intro to photography, I knew it was what I wanted to do. I still enjoy painting, drawing and printmaking, but photography provides this dichotomy I feel isn't present in other mediums: the skill level required to take acceptable photos is almost nil, but to convey an idea or feeling and technically do it well is very challenging.
Do you like portrait photography more than, say, landscape photography?
I love portrait photography and photographic abstractions, but lately I have been trying to improve my landscape/cityscape skills. I like Lee Friedlander's cityscapes; he is a big influence on the way I try to compose my city shots.
But back to portraits, which have been the long-time love. I think that there are so many things you can do with a portrait, it has so many possibilities, and you can convey so much so simply—therefore, I will always enjoy making them. Lately, I have been going for lots of detail and very saturated, contrasty close-ups, similar to some of Philip-Lorca diCorcia's portraits.
When people see a photo they often simply believe it. Are people catching on to advances
in the technology?
I think many people's mindset has already been there for years; Jerry Uelsmann did amazing things in the darkroom that are better than the majority of Photoshopped imagery out there today. People like Uelsmann, and famous instances of retouching, such as the hand removed from the "Migrant Mother" photo by Dorothea Lange, made many people skeptical of anything photographic. There are many more people aware of the possibilities now than there previously were. Conversely, in my day job (at Photo Images) I see lots of people who think that we can do magic with Photoshop, probably in a large part due to TV shows that use some magical form of photo enhancement.
What was your hardest shoot?
As far as an art shoot goes, I had this idea for suspending a model from swatches of satin, so I put eyehooks in the ceiling and created this elaborate rig. The model was amazingly cooperative and forgiving, but it didn't work well and was very uncomfortable.
For a commercial shoot, that would be photographing a good friend of mine's father's second marriage. The family dynamic and tension made it horrible.
Are technical aspects most important in a shot?
Great shots can be good enough to overcome having technical flaws, and I can show you hundreds of my technically fine images that are horrible. I think the important thing is understanding the limitations and possibilities of the medium.
Why not paint rather than photograph people?
I like to paint people, but I am a whore for the immediacy of reward. Seriously, I like the details and textures of the skin; I want to see things that only Jan van Eyck would have painted.
When you are behind the lens, do you feel like a different person? Protected? That you have more freedom to do what you want?
In some ways, I am more reserved. Many people are nervous about how you can make them look, and you don't want to make them more nervous by using the camera to shield yourself from them. In the last few years, people have become much more confrontational toward me taking pictures. I don't think that everyone realizes that you can photograph anything you want as long as you are on public property, and sometimes those people can be a little rude. So to answer your question, I feel I have less liberty behind the lens.
Walker Evans and others photographed the depressed South during a time of desperation. Do you think there is a need for the same thing on the Coast after Katrina?
It is such a different time now, people want to see destruction, and we are a nation obsessed with negative news. But I think we should all try to do what we can to help people who need it, and if compassionate images of people affected by the disaster could raise more awareness and foster more needed support, as opposed to creating more racial divide and blame for which government agency failed, then yes, that is what we "should" be doing. Unfortunately, in my opinion I don't think there is a demand for images of the humanity and people affected. Since the market wouldn't support it, the production would have to be supported by the government or some charitable group. Hell, maybe it is being done, and I simply haven't seen it due to my local media providers.
Do you think people like to buy photography?
I think some people like knowing they have a one-of-a-kind, and most people don't get that feeling from photography. According to the press, it is easier to sell, but that is nationally. Locally, I think it is a harder sell, but I have nothing to back this up, just my opinion.
Who are some of your favorites?
My favorite photographers, ordered vaguely chronological by when I discovered them: Edward Weston, Sally Mann, Jan Saudek, Weegee, Irving Penn, Joyce Tennyson (after meeting her I'm not as enthusiastic about her as I once was), Jock Sturges (I respect his ideas as much as his images), Cindy Sherman, Gregory Crewdson, Lee Friedlander and Erwin Olaf (what I have seen of his I like, but this is a brand-new and tentative one).
What is your next project?
A voyeur series about what we don't want people to see, or possibly compositions based on classic paintings, whichever one I create a successful image for first. I have a lot of beginnings of projects that didn't work, which these might be.
How about shooting for advertising or weddings?
Weddings are the seventh circle of hell. I think advertising is very similar to art photography. The photographer has to be willing to bend their aesthetic to meet the client's wishes (which can be very painful). I enjoy advertising/commercial product shots, especially on the rare occasions that you are asked to create something that looks good.
Roy Adkins' photographs can be viewed at http://www.LightandGlass.net and http://www.VindaugaGallery.com E-mail [e-mail missing] for purchasing information.
More stories by this author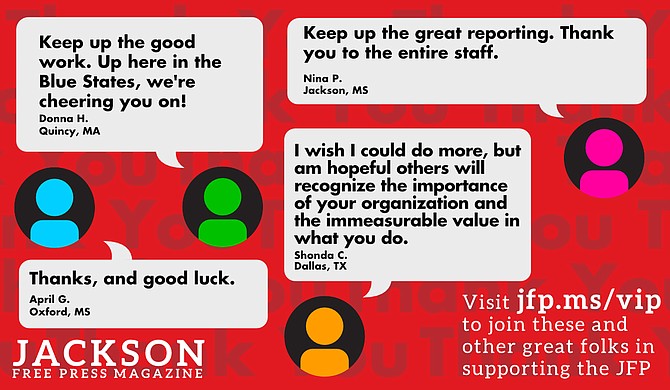 Thanks to all our new JFP VIPs!
COVID-19 has closed down the main sources of the JFP's revenue -- concerts, festivals, fundraisers, restaurants and bars. If everyone reading this article gives $5 or more, we should be able to continue publishing through the crisis. Please pay what you can to keep us reporting and publishing.