Grace House is a local homeless shelter for people suffering from HIV and AIDS. Many people, due to the stigma of this illness, lose family, friends and ultimately, their ability to support themselves after testing positive. Trey Mangum, the director of Grace House, sat down to speak about an innovative program for residents—an art exhibit and reading they are holding for the residents at the Lott-Stanton Gallery. Grace House residents created all of the artwork for the exhibit during art classes taught at the shelter over the past six months.
How did the idea for the art classes and subsequent show come about?
Linda Townes, the director for Mississippi State Hospital Community Services Stubbs Homeless Program, received a grant to do art therapy in different shelters around the area as part of a Continuum of Care System. I believe there are five shelters involved currently. Stubbs is the only program in the country right now getting grant money to do art therapy in homeless shelters. Tony DiFatta was already doing art classes for the Mississippi State Hospital and became involved in the project. Linda then asked Tony if he would like to get involved. It started with Tony coming once a week to have art classes with the residents, and then Linda began having journal and writing classes once a week as well. From there, it just seemed a natural progression. Tony has taken them to tour art galleries. One week, they even watched "Basquiat." He teaches them all of the different forms of art. It's been amazing.
How did Grace House become involved?
I've always been a big believer in expressive art therapy. It teaches the residents ways to express themselves they've never tried before. It gives them a healthy outlet to express all of their emotions involved in testing positive and the ramifications of that. I truly believe that expressive art therapy leads to emotional balance. The journaling they do with Linda gives them a chance to verbalize their emotions—sometimes for the first time.
Explain exactly what Expressive Art Therapy is and the benefits?
Expressive Therapy helps encourage people to express and understand emotions through artistic expression and through the creative process, whether drawing, dance, music or writing. Sometimes emotions that cannot be verbalized can be expressed through this type of therapy. For Valentine's Day, think of a red heart as a representation of love. It's an abstract concept made into a more concrete artistic form. Of course, that is over simplifying it, but you get the idea. Sometimes for stigmatized and disempowered populations, expressive therapy becomes a powerful way to release emotion. It's also the concept behind journaling for catharsis. It can be a powerful spiritual tool and is reflective in all cultures. I have always found expressive therapy to be an exceptional tool in the therapeutic process. And Tony and Linda are really amazing teachers.
What is showcased in the exhibit?
Just writing and art they've done in class while at Grace House. There is some poetry, some painting: It's all extremely creative, and I've been amazed at the residents' talent. One of our residents passed away recently, and the other participants in these classes decided to dedicate this showing to him. It has been a good way for them to express their grief and honor their friend.
Are you planning on this becoming a yearly event?
I would love for this to become an annual event! Just like our Walk of Grace AIDS Walk scheduled this year for Oct. 14 in downtown Jackson. I hope this remains an ongoing process for Grace House and its residents.
Tony DiFatta reports that he has been impressed with the residents' commitment to the classes and the creativity of their projects.
"The other day, one of the residents that had never painted in his life before this class followed me to the car asking for more canvases. He had already used all the ones I'd given him. It's just been great working with them," DiFatta said.
Mike Nunnery with Nunnery Gallery helped frame the residents' work, and the Art Supply HQ donated the supplies for the residents. DiFatta has also created a painting for the exhibit that will be auctioned off, with the proceeds going to Grace House.
The art show and reading by the residents of Grace House will be held on July 13 from 5-8 p.m. at the Lott-Stanton Gallery located at 1800 N. State Street. Proceeds from sale of art will benefit the residents of Grace House. The artwork will be available for purchase July 7-13.
More like this story
More stories by this author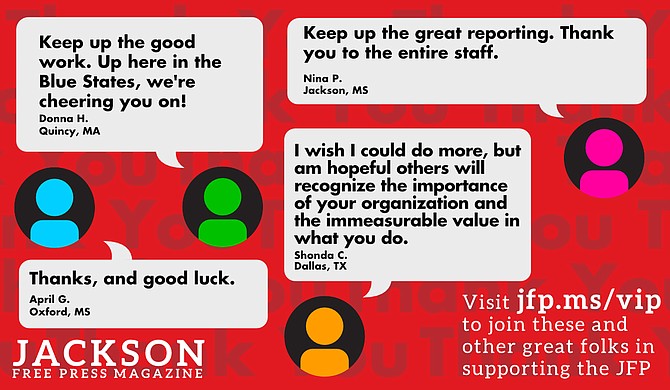 Thanks to all our new JFP VIPs!
COVID-19 has closed down the main sources of the JFP's revenue -- concerts, festivals, fundraisers, restaurants and bars. If everyone reading this article gives $5 or more, we should be able to continue publishing through the crisis. Please pay what you can to keep us reporting and publishing.