In my weekly summary of this past week, I did not mention the blowup at the Capitol during the Immigration hearing held this past Wednesday. It deserves an entry of its own. As an invited participant of the hearing, here is my eyewitness account of what happened.
It started at noon, right after a huge hearing concerning human cloning (another entry coming later) in Room 113. Rep. Mike Lott, R-Petal, who is now the executive director of M-fire, a conservative immigration reform group, conducted the legislative hearing. Only six legislators, including myself and Lott bothered to show up. Representatives from FAIR, a national conservative immigration reform group and MIRA, a local liberal immigration reform group were in the audience. Can we say oil and water not mixing? Anyway, Lott proceeded to list many of the immigration bills that were offered by him or Rep. John Moore, R-Brandon. I was invited and recognized to talk about my bills and we got into a civil debate about the merits of each of the bills mentioned. That part of the meeting took about 45 minutes of what was scheduled to be a hour-long hearing. Then Lott recognized Susan Tully, a former LAPD officer, who is the National Field Director for FAIR to state the group's position, primarily on the bills that Lott and Moore introduced. Even though Lott tried to get her to speed up her testimony, the MIRA folks thought Lott was using her as a stall tactic to deny them the opportunity to speak. Out of deference to me, I knew that was not the case, and he was going to give them equal time, but by that time, my MIRA friends started shouting down Ms. Tully as she railed about Americans being denied jobs because of illegal immigrants and about "anchor babies", children of illegal immigrants born in America . The Sargeant-at-Arms of the House was summoned and, after he tried to restore order, advised Mr. Lott to shut the meeting down. Lott did, the MIRA folks rejoiced, the FAIR folks were mad, and I sat in my chair, waiting for the room to clear. Afterwards, I talked with all parties involved, well, actually I listened to them all vent, and watched some heated exchanges, as the reporters for the C-L and the Jackson Advocate scurried for interviews. It was a throwback to the days of protest in the 1960's, with advocates of both sides clamoring for the respect and attention of their elected representatives. It is truly a sign of things to come over the next two election cycles here in Mississippi.
Here is my position on the issue of immigration (from http://www.fleming2006.org):
I believe that America should do better towards its immigrant population. It was immigrants who shaped our culture with their beliefs and built our nation with their labor. I believe that immigrants should be protected from unscrupulous employers on issues concerning wages, organizing, health care and housing. I do not support English-only legislation. I support immigrants legally working in this country to be allowed to receive driver's licenses, for their own safety and ours. I do not support vigilante groups like the Minutemen interferring with the duties of the men and women that make up our Border Patrols. I believe we should not discriminate against immigrants from certain countries like Haiti, while allowing other immigrants to freely come into our country. I will support legislation that will allow children of immigrants to recieve all the educational opportunities available from Kindergarten through Post-Secondary levels. I will also support legislation that would allow taxpaying immigrant workers, after five years, the opportunity for earning legal status.
Previous Comments
ID

170042

Comment

I believe we should not discriminate against immigrants from certain countries like Haiti, while allowing other immigrants to freely come into our country. That has always bothered me. I remember seeing footage of Haitians being gathered up at a port to be sent back home, when just previously I saw footage of Cubans jumping into the sea, swimming for freedom. I hate double standards.

Author

L.W.

Date

2006-02-07T00:44:18-06:00
ID

170043

Comment

LW, I appreciate your point about double standards. However, I don't think Cuba is the best basis for comparison to Haiti. Haiti never was perceived as major base for anti-U.S or anti-capitalist sentiment; Cuba was and to an extent still is. Although the USSR (Cuba's patron) hasn't been a going concern for 15 years, it's still widely despised in many circles because Castro is still in power. Furthermore, the anti-Castro sentiment seems to have taken on a life of its own (never mind that the attitude is an anachronism in this post-Cold War era). A much better analogy with Haiti would be a poor historicaly "white" nation that doesn't express anti-US ideas (say, many Balkan nations, particularly Romania , Bosnia, and Albania). How come immigrants from those nations don't generate the heat and controversy that Hatian immigrants do?

Author

Philip

Date

2006-02-07T02:42:52-06:00
ID

170044

Comment

I agree with you, Philip. I think Cuba came to mind because that particular event right before Haiti. But I can tell that you get my point. ;-)

Author

L.W.

Date

2006-02-07T12:09:28-06:00
ID

170045

Comment

Update: HB 1073, one of the bills Rep. Lott introduced, to ban persons without a U.S Birth Certificate from attending any of our state's community colleges and univeristies, has died. Late last week, I offered an amendment to do just the opposite. It would have allowed students who have graduated from a Mississippi high school, after having attended there for two consecutive years, to be able to attend a state institution of higher learning at in-state tuition rates. (See New week, New Thread blog). My amendment was challenged on a point of order. The speaker later ruled this week that my amendment was germane and properly presented before the House. The University and Colleges Committee chairman, Rep. Charles Young, D-Meridian, then made a motion to recommit the bill before my amendment was voted on. The bill was then recommitted, thus killing it for this session. Did you get all that? If you are somewhat confused about all of the legislative jargon, go to www.ls.state.ms.us, click on House of Representatives and then click on House Rules. (BTW, the speaker was in error when he allow a motion to recommit the bill to preceed the vote on my amendment, but I let him slide on that one)

Author

Rep. Erik Fleming

Date

2006-02-10T20:59:44-06:00
More like this story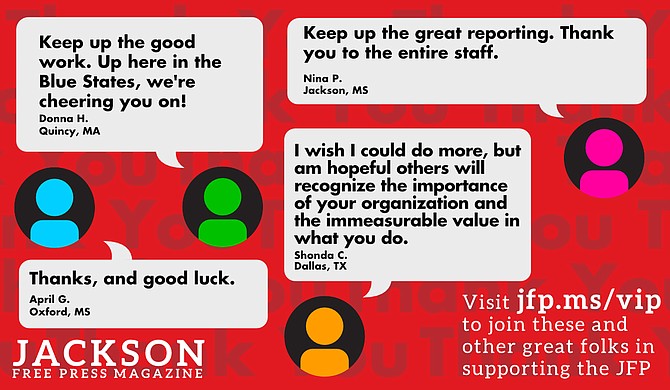 Thanks to all our new JFP VIPs!
COVID-19 has closed down the main sources of the JFP's revenue -- concerts, festivals, fundraisers, restaurants and bars. If everyone reading this article gives $5 or more, we should be able to continue publishing through the crisis. Please pay what you can to keep us reporting and publishing.