The scenic, beautiful Natchez Trace Bike Ride for the metro area is in Ridgeland off Pear Orchard. You see two separate views while biking. From Pear Orchard there are many beautiful homes plus the everyday commuter traffic. Once you enter the parkway along the reservoir, the view completely changes.
You feel like you're in your own world because it's just you, your bike and nature—the perfect biking experience. In addition, it's safe for bicyclists all along the Natchez Trace. Bicyclists travel the Natchez Trace from Nashville to Natchez—more than 400 miles. The Old Natchez Trace predates back to Columbus' voyage of 1492. On May 21, 1934, Congress approved money to pay for surveying the route and determining if a Natchez Trace Parkway should be built. Construction of the parkway began in June 1937. On May 18, 1938, the parkway became part of the National Park Service.
On April 22, the Ridgeland Natchez Trace Century Ride, a recreational bike ride along the Natchez Trace, takes place. The ride is appropriate for all levels of bikers. Beginners may choose the 25-mile ride while more advanced may attempt the 100 miles.
—Skyla Dawn Luckey
Second place: Belhaven
Third place: Fondren
Best Place for Yoga:
Butterfly Yoga 3025 N. State St., 601-594-2313
Who knew that finding your feet could be so much fun? I have developed a new-found relationship with my feet since attending classes at Scotta Brady's Butterfly Yoga. In the beginning, I was intimidated by the thought of putting my rear in the air and contorting my body in ways unknown to me, but my fears were relieved when I finished my first class and learned the principles behind Anusara Yoga. This "heart oriented" yoga that celebrates our bodies and our individual abilities is the practice of choice at Butterfly Yoga. The lime-green building in the Fondren District welcomes people to practice at their own pace and allows for creativity and clarity. Inside it is bright and open, just like the wonderful, skilled instructors. Thank you, Scotta, Tara, Kristina, Edy, Dana, Kate and Shauna for making Butterfly Yoga the Best of 2006 and making Jackson a more beautiful place to be.
—Jerusha De Groote
Second place: Bikram (2475 Lakeland Drive, Flowood, 601-420-9636), Body Benefits (731 S. Pear Orchard Road #30, Ridgeland, 601-991-9904) (tie)
Third place: Courthouse Racquet & Fitness (various locations, 601-956-1300)
Best Bookstore:
Lemuria Book Store
4465 I-55 N. #202, 601-366-7619
L - Location, on the second floor of Banner Hall
E - Every author who comes to sign and read new books
M - Many who find what they want, one and all
U - Uniqueness you experience when you take a look
R - Reading you will do once you've made your selection
I - Individual books to discover, both fact and fiction
A - Lemuria is all that
I - Igniting the minds of readers, young and old
S - Selection, staff and service, truth be told
T – Time spent browsing or seated in the comfortable
space
H - Hundreds of special volumes lining the walls in the
dotcom annex
E - Eudora Welty and the wealth of her works about our
home place
B - Blue Moon Café where writers and readers dine on
stories each August
E - Evans, as in John, Lemuria's owner—surely he
deserves a bronze bust
S - Sammiches and beer when Jill Conner Browne's
reads from her latest SPQ
T - Time to visit Lemuria—that's the truth I'm telling
you.
—Lynette Hanson
Second place: Barnes & Noble (1057 E. County Line Road, 601-991-3835)
Third place: Books-A-Million (4950 I-55 N., 601-366-3008)
Good showing: Borders 100 Dogwood Blvd., Flowood, 601-919-0462)
Best Window Shopping:
Highland Village
Highland Village actually is the best place to window shop in Jackson—if only to see how the other half lives. I can't count the days I've spent wandering in front of their cluster of well-coiffed storefronts stuffing my cold, working hands inside my pockets as I peer longingly in the window wishing that rabbit-trimmed cashmere sweater was covering my cold and rough exterior. Yes, it is rather Dickens and self-flagellating. But, the martinis at Bravo! later on make it all better.
—Ali Greggs
Second place: Fondren
Third place: Dogwood Festival MarketGood showing: Northpark Mall
Best Gallery:
Gallery 119 3017 North State St., 601-366-5141
Although Gallery 119 is small, the art dazzles the minds and souls of the people who view it. James Patterson, proprietor, has been a catalyst for the Jackson art scene for more than 10 years and continues to make his mark along with the renaissance of the Fondren area. Article Design shares the North State Street building with Gallery 119. Jimbo Harwell's mid-century modern furniture and accessories compliment the art on display with an explosion of creativity and good taste. —Mandy Mitchell
Second place: Brown's Fine Art & Framing
(630 Fondren Pl., 601-982-4844)
Third place: Southern Breeze Gallery (4500 I-55 N. #160, 601-982-4222)
Best Locally Owned Business,Best Alternative to Wal-Mart:
McDade's, various locations
It's funny to me how quickly your dreams can come true in Jackson. Really. As someone who is devoted to the idea of thinking globally, shopping locally—and who introduced that phrase to Jackson a bit over three years ago—I so wanted a local grocery store to call my own when we moved back here. I wanted to be able to walk up to, say, Mr. Winn-Dixie or Ms. Kroger and say, "How are you doing today? And by the way, could you start stocking my favorite yogurt?" I wanted to able to spend my hard-earned money at a grocery store where the people who work there are empowered to help people—not corporate drones who don't especially care about my problems. I wanted a grocery store that felt as much like a family gathering place as anything else. Was that too much to ask?
No. When Greg and Kathy McDade—transplanted Jacksonians who are now one of the city's power couples—decided to start a local mini-chain of their first Maywood Mart store, we all hit it lucky. We now have a grocery store where everybody knows our name. Or, at least we know theirs. And this is a beautiful thing. With local grocers like these in our neighborhoods, it would be shameful to spend another dime at a place like Wal-Mart. So please keep shopping locally. And thank Mr. and Mrs. Dade the next time you see them sweeping the floor.
—Donna Ladd
Best Locally Owned Business
Second place: Cups (various locations, 601-362-7422)
Third place: Lemuria (4465 I-55 N. #202, 601-366-7619) and Pillow Donuts (5036 Parkway Drive, 601-572-8332) (tie)
Best Alternative to Wal-Mart
Second place: Montgomery Hardware (2801 Old Canton Road, 601-366-4441)
Third place: Fondren
Good showing: Brent's Drugs (655 Duling Ave., 601-366-3427)
Best Hair Stylist:
Brian at Tangle 3000 N. State St., 601-987-0123
I'm damned picky about hair salons. Sometimes it feels like I want the impossible in a hair salon. Small and arty and rather hip. Not pretentious. Not filled with vapid conversation and gossip. A place where they don't talk my head off when I clearly want to doze and enjoy the pampering. Somewhere I can walk to from work. A stylist who will work me in when I inevitably call too late to get an appointment before a big event. Somebody who doesn't try to constantly sell me services and products (even though I might buy them).
Amazingly, I got all that this year when Brian Brower opened Tangle right here in Fondren. I've never had a better salon experience—he knows how to cut my hair, he tells me he doesn't think I should try to cover my gray ("I like it," he says simply). We talk about films, ART Mix, the important of shopping local, why Starbucks is a bad idea for Fondren. He fits me in late. He cuts my hair like the chicks' in the pictures. A hair stylist can't get any better than this. And apparently his packed client list agrees with me.
—Donna Ladd
Second place: Roxanne Rogers at Bridges Salon (361 Towne Center Blvd. #1301, Ridgeland, 601-957-8713)
Third place: Morgan Cook, Salon (Northpark Mall, 601-957-3020), and David Creel, With David Salon (1625 E. County Line Road, 601-977-9700)
Best Liquor Store:
Kats Wine Cellar 901 E. Fortification St., 601-354-9181
Kats has been Jackson's favorite neighborhood liquor store since 1967. Kats has all the liquor essentials—from cheap vodka not fit for a Russian tractor to the finest Polish imports, from syrupy abominations like Jagermeister to that celebration of the raspberry, Chambord. As for wine, this isn't the biggest liquor store in Jackson, but each bottle is selected with care. You can aid the enemy by selecting a Chataneuf du Papes from France (my favorite, Chateau la Nerthe is available at a very reasonable price) or you can aid the other enemy and buy robust red zinfandels from Schwarzenegger's California. Come to think of it, I'm pretty sure New Zealand and South Africa are enemies now, too, which brings me to my personal theory of viticultral geopolitics—they're all enemies, so drink up. Be sure to ask the knowledgeable staff for their recommendations, and if you ever have the time, chat up the security guards. They're pretty interesting, folks. Perhaps the best endorsement I can offer is a confession: When we're done putting out this crazy issue of the JFP, I'm driving straight to Kats to buy some celebratory vino.
—Brian Johnson
Second place: McDade's Wine & Spirits (1220 E. Northside Drive, 601-366-5676)
Third place: Joe T's Fine Wines & Spirits, (286 Highway 51, Ridgeland, 601-605-7602)
Best Tattoo/Piercing Parlor:
Squench's Tattoos Limited
3780 I-55 South, 601-372-2800
Another year, another victory for Squench's. The tattoo parlor, located on East Frontage Road (I-55 South), once boasted bumper stickers that read, "My Mom gets all her tattoos at Squench's Tattoos LTD." What a plug! Pick Mom up Tuesday through Saturday and take her to get your own custom-made, matching, mother-daughter/son symbols of love permanently grafted to your upper arms. Or, if your love isn't of the creative bent, there are plenty of sample tattoos available, pre-designed and ready to choose from.
In business since 1985, Squench's is sure to have what you're looking for, from permanent makeup application to body piercing to tattooed portraits (please allow extra time to create a tattoo from a picture), and—in case you went somewhere less reputable last time—they also do corrections and cover-ups.
But heed the wise words of "Wedding Crashers": "Tattoo on the lower back: might as well be a bull's-eye."
—Margaret Cahoon
Second place: Eternal Body Art (3611 I-55 S., 601-346-5963)
Third place: Animal House (420 N. Bierdeman Road, Pearl, 601-933-1120)
Best Dollar Store:
Dollar Tree Various locations, 601-956-3874
A dollar here. A dollar there. Before you know it, you could dollar yourself right out down to nothing left with not much to show for it. Not so if you frequent the Best of winner, the Dollar Tree where "Everything's $1.00," according to the Kelly green letters adorning the storefront. Dollar Tree might be DLTR on the NASDAQ, but for us Jacksonians, it's all about m-o-n-e-y in the p-o-c-k-e-t. Check out the Yellow Pages at Yahoo, and you'll find four Dollar Trees in Jackson and three more in the metro area. Unless your favorite, or closest, dollar store is Fred's or Dollar General, you'll know right where to head when you need picture frames, soda pop, DVDs, snacks, jigsaw puzzles, calendars, school supplies, pretties to set or hang around your home, duct tape, toys, paper towels, coloring books, you name it. At dollartree.com, the company describes itself as a customer-oriented, value driven variety store. Sounds right to me.
—Lynette Hanson
Second place: Fred's Discount Store (various locations, 601-371-0468)
Third place: Dollar General Store (various locations, 601-373-2300)
Best Thrift Store:
N.U.T.S. 114 Millsaps Ave.601-355-7458
I like to think of myself as a "pearl diver." That is, I can find the jewels among junk—and I like little more than the thrill of the hunt. That means that I am absolutely addicted to the Good Samaritan thrift shop in the Millsaps Arts District—also known as N.U.T.S. (Neat Used Things for Sale). The hours at the thrift store are limited (8 a.m. until 3 p.m.; Thursday, Friday and Saturday only), so I've taken to cruising over there on Saturday afternoon, usually about 2:30 p.m. It doesn't take me long to find my pearls—whether a massive Ann Taylor black turtleneck to wear to Butterfly when it's chilly, or kitschy Christmas ornaments and accessories. (Senior editor JoAnn Prichard Morris loved the little Britney Spears t-shirt she got in the JFP's Dirty Santa—until Stephen Barnette took it away from her.) Last week, I got five—count 'em—five hip, chunky necklaces for $1 apiece. I grab up funky wind-up toys like the angry Incredible Hulk doll that now leers at crooked politicians from reporter Adam Lynch's desk. I get old vinyl for my re-emerging album collection, including '80s dance remixes that are tres-cool still (or again). Then there are funky leather blazers, recycled binders for my research (cheaper than Office Depot, and local) and the dancing cowboy Santa that graced our table in Fondren Corner for holiday ART Mixes.
—Donna Ladd
Second place: Salvation Army (110 Presto Lane, 601-982-4881)
Third place: The Orange Peel (3026 N. State St., 601-364-9977)
Best Boutique:
Treehouse Boutique 3008 N. State St.601-982-3433
Garments, gifts and accessories, oh my! The Treehouse is a boutique of mysterious elegance. The air is comfortable, and the mood is girly and romantic. And arty and quirky, all at once. The vibe compels you to spend everything you've got in your wallet—and be happy about it. Once again, Treehouse has reached the coveted status of Best Boutique in Jackson. There is little doubt that they will win again, as Jude Muse and her friendly staff continue to set fashion standards in Jackson. And girly girls, remember that you can set up a gift register of sorts at Treehouse and then just send your man in to check your list twice. Or hell, three times. Start hinting now as Valentine's Day approaches.
—Lea Thomas
Second place: Migis House of Style (4804 Lakeland Drive, Flowood, 601-939-8205)
Third place: Lemongrass (4465 I-55 N., 601-914-3181), and High Cotton (4500 I-55 N. #188, 601-982-3280) (tie)
Good showing: The Orange Peel (3026 N. State St., 601-364-9977)
Best Festival:
St. Paddy's Day Parade
It's the big one, and that's not changing anytime soon. The Party That Malcolm Started has grown and stretched and gotten famous with crazy women around the globe who treat it as a glitter-infested Mecca. But Mal's St. Paddy's Parade didn't start out as a place of bestsellers; it was a vision of a man and a community hero who was working hard to help this city claim its rightful place as the Crossroads of the Creative and Crazy South long before Fondren started blooming again and the idea of the JFP hadn't occurred to a damn soul. Malcolm White is a visionary who understands that a community needs a strong core, filled with laughter and belief in itself. To me, that is what Malcolm's parade symbolizes. Just call me a Malcolm wannabe. If each of us do a tenth of a percent of what he has done for the city, Jackson will rule the country.
—Donna Ladd
Second place: Jubilee!JAM
Third place: ARTMix, Arts, Eats, and Beats, and Fondren Unwrapped (tie)
Good showing: Red Beans and Rice Festival
Best Museum:
Mississippi Museum of Natural Science
2148 Riverside Drive 601-354-7303
You're never too old for a field trip to a local museum. One Jackson museum in particular has attracted a crowd: the Museum of Natural Science. Where else can you go to see life-size depictions of giant sloths and T-Rex? The Museum of Natural Science serves both as a locale for family fun and even a memorable date. If showcases of aquariums, snakes and alligators are not enough to impress you, you can explore the museums' numerous nature walks. Strolling through the backwoods of the museum, you can hardly believe you are in a metropolitan area. Starting Feb. 4, the museum will display the rainforest photographs of Stephen Kirkpatrick, called "Lost in the Amazon."
—Catherine Schmidt
Second place: Mississippi Museum of Art (201 E. Pascagoula St., 601-960-1515)
Third place: Mississippi Agricultural & Forestry Museum / National Agricultural Aviation Museum (1150 Lakeland Drive, 601-713-3365)
Best Fitness Center:
Courthouse Racquet & Fitness, various locations
We all could take better care of our bodies. That's the premier reason weight concerns are at the top of our list of goals. Many of us make the same resolution every year. Well, Jackson, there is no excuse for not keeping that resolution this year. Whether you're trying to lose weight, maintain your current weight, or get fit for the upcoming beach season, Courthouse Racquet & Fitness Centers have the gurus and the equipment to help you accomplish your goals. Indoor pools, tennis courts, monstrous weight rooms, cardio rooms, aerobics classes, yoga classes and day care make it difficult to find excuses not to go. Or if the YMCA, The Club or Baptist Healthplex are more to your liking, that's OK, too. You have no excuse. Really, you don't.
—Lea Thomas
Second place: YMCA (Various locations, 601-354-4484)
Third place: The Club (342 N. Gallatin St., 601-714-5992)
Good showing: Baptist Healthplex (717 Manship St., 601-968-1766)
More like this story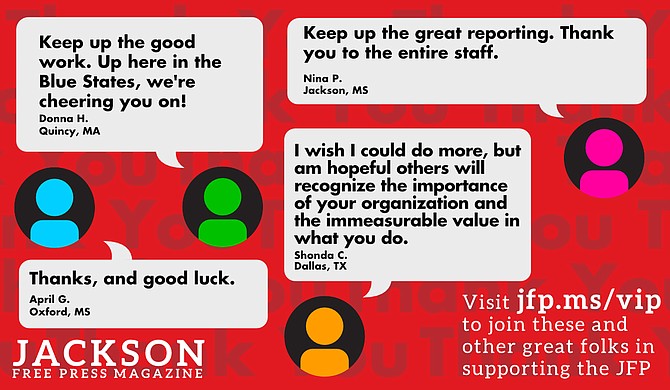 Thanks to all our new JFP VIPs!
COVID-19 has closed down the main sources of the JFP's revenue -- concerts, festivals, fundraisers, restaurants and bars. If everyone reading this article gives $5 or more, we should be able to continue publishing through the crisis. Please pay what you can to keep us reporting and publishing.