A bill (SB 2310) to increase the tobacco tax up to $1 in the next two years and eliminate the grocery tax by 2014 passed with 90 votes in the House. It should be on the governor's desk by tomorrow. While I supported the bill (since I have been pushing both concepts for five years), I was deeply disturbed by the politics behind it.
The bill as it is should concern many small municipalities that only have a grocery store to generate their sales tax revenue. I don't believe that the additional tobacco revenues will generate enough to handle the shortfall. I had an amendment to recitfy the problem but my amendment never saw the light of day and other amendments were flat out rejected, including one by Rep. Upshaw to eliminate the sales tax for charitible organizations. Why? Because the politics of the day, the diktat if you will, was to pass the bill as it passed the Senate and put the pressure on the governor to either sign it or veto it. If Haley signs it, he approves a tax increase, if he vetoes it, he vetoes a tax reduction. So it was more important for the House to put the governor on the spot than it was to enact good public policy. If anyone should have been put on the spot, if should have been Amy. If we had allowed one amendment to get in, it would have sent the bill back to the Senate to either concur with the changes or send it into conference. Then we really would have seen if Amy was serious about her commitment to both concepts. The way the bill is now, it is pitting the pro-tobacco tax people against the state's mayors. My amendment, in my humble opinion, would have solved the problem and would have created additional revenues for the 82 counties of this state. Hopefully, it will have another chance, since the chair of Ways and Means said repeatedly in presenting SB 2310 that it was flawed and the problems it creates would be worked on before this session ends Sine Die
Previous Comments
ID

169968

Comment

Rep. Fleming, can you provide a plain-English translation of the amendment you proposed? I'm curious and have not seen it. For what it's worth... As a smoker, I personally don't mind the increase on cig. taxes. Also, I completely appreciate the grocery tax relief but wish it could happen over a shorter span. What's the reasoning behind the long-term reduction in the grocery tax?

Author

kaust

Date

2006-01-12T15:37:59-06:00
ID

169969

Comment

I saw on the news yesterday that the mayor of Raymond was concerned about losing tax revenue since about 40% of it comes from grocery sales. She said that there could be a future where her constituents are enjoying paying less for groceries but may be angry about unfilled potholes, etc. Did her complaint sound reasonable to you, or do you think it was more of a scare tactic? Also, do you think the passing of this bill has more to do with the upcoming November legislative elections rather than decreasing the tax burden on the citizens of this state? Personally, I would enjoy a lower grocery tax, but I would be concerned if it had a negative impact of small businesses and small towns.

Author

L.W.

Date

2006-01-12T18:40:56-06:00
ID

169970

Comment

L.W.: It was not a scare tactic. It is a reality if we don't fine tune the legislation a bit. According to my sources in the governor's office, it looks like Haley will veto the bill next week, which now brings me to Knol's question. Knol: My amendment would have: Kept the tobacco tax increase to 75 cents for the next two years, then a $1 from then on. Lowered the grocery tax to 2 percent with the city and counties getting all of the revenues. Created a sales tax diversion of 6.2 percent to the counties, something they don't have now. Raised the education ad valorem sales tax diversions for the next ten years.

Author

Rep. Erik Fleming

Date

2006-01-13T07:03:24-06:00
ID

169971

Comment

Addendum: Right now the sales tax diversion for cities is around 18 percent. By lowering the grocery tax and allowing the cities to keep every last dime of it basically would equal to a 28 percent diversion for the cities of this state, a 55 percent increase.

Author

Rep. Erik Fleming

Date

2006-01-13T07:09:04-06:00
ID

169972

Comment

Erik, is there a way that it could have been left to the cities or counties? Seems like that would have been the best choice. Seems like I've been to cities (not the entire state) that had no grocery taxes. Your addendum seems like a fair compromise and 2% is really not bad -- especially compared to what we're paying now.

Author

kaust

Date

2006-01-13T07:48:36-06:00
ID

169973

Comment

Rep. Fleming, thanks for clarifying. I was so confused when I saw Rep. Masterson, from Vicksburg, say cities would suffer. In Minnesota, where I'm from, sales tax is sort of just parcelled out, back to the cities. It's not a city tax, it's a state tax. So, your diversion amendment makes a lot of sense - is there a chance your amendment could be re-introduced somehow? Sales tax on groceries is so regressive (well on clothing not good either). I think New Mexico has a rebate for low-income folks, maybe that would be an alternative here. Or, put it on alcohol as well as cig's. Or, hmmm. Just off groceries somehow. Good luck.

Author

sunshine

Date

2006-01-13T14:30:14-06:00
ID

169974

Comment

The bill has passed and is on the way to the governor. The only way it can be changed now (assuming Barbour won't veto subject to an override) is to pass a second bill dealing with the allocation of the remaining sales and tobacco tax from the first bill.

Author

Rex

Date

2006-01-13T14:37:12-06:00
ID

169975

Comment

Ok, what are the chances he will veto? As ya'll may know by now, I'm from Minnesota, where the guv's veto quite a bit. It's a sport there, in winter. Remember Jesse Ventura? (this is only for those who can stand to hear it - he's a dodo now. and HB will soon be as well.) No, I did not say that. ha . Just trying to get even more excitement here.

Author

sunshine

Date

2006-01-13T15:30:30-06:00
ID

169976

Comment

a study on sales tax on food, for those of us who like such reports - http://www.cbpp.org/1-13-03sfp.htm and let me just add, I will try to stop saying I'm from Minnesota. I think Mississippi is looking better, now I've been here a bit. and read the JFP. ha.

Author

sunshine

Date

2006-01-13T15:50:03-06:00
ID

169977

Comment

There's a good chance Barbour may veto, but the margin of passage in both chambers indicates the veto could be overridden. Question is, does Haley want to force a showdown with his colleague and can the "master DC Lobbyist" exert enough influence to ensure he won't be defeated (i.e., lose face)?

Author

Rex

Date

2006-01-13T16:03:29-06:00
ID

169978

Comment

Well, Rex, what are you hoping for? hmmm. It does not look good for some cities, as it stands. It's a strange situation. But overall, I say , get that tax off food, for pete's sake. Get aid to cites some how else. IMHO. We'll see. It's really not the most exciting bill, but I'd say it's important. And let's move on. Good for early effort , I hope. Espero que si.

Author

sunshine

Date

2006-01-13T18:16:07-06:00
ID

169979

Comment

Sine Die - Rep. Fleming Espero que si. - sunshine Okay, forgive my ignorance, but can I get a translation? That's it - I'm teaching myself Latin. :-)

Author

L.W.

Date

2006-01-13T22:44:45-06:00
ID

169980

Comment

Knol: Since there is not complete home rule for the cities, it has to be done by the Legislature. Everyone: There is a chance my amendment will have a second life as it was a combination of two bills I offered and the chairman of Ways and Means did say that if SB 2310 needs fixing, he would look at ways to do that.

Author

Rep. Erik Fleming

Date

2006-01-14T01:14:34-06:00
ID

169981

Comment

Latasha, when the legislature adjourns for the year, they calll it adjourning sine die ("without a [stated] day [to reconvene]"; e.g., nobody says "We'll pick this back up tomorrow"). Espero que si is Spanish, and means "I hope so." Cheers, TH

Author

Tom Head

Date

2006-01-14T01:20:24-06:00
ID

169982

Comment

Tom, I figured that second statement was in Spanish, bur since Spanish has Latin roots, I began to question myself. Okay, maybe I should take up Spanish too. Hey, I took French in school, a'ight? :-)

Author

L.W.

Date

2006-01-16T16:46:50-06:00
More like this story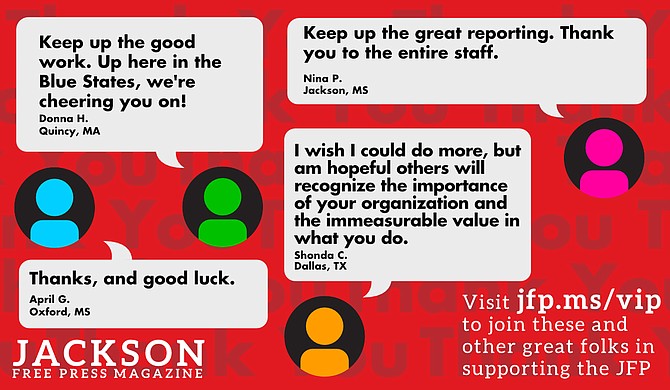 Thanks to all our new JFP VIPs!
COVID-19 has closed down the main sources of the JFP's revenue -- concerts, festivals, fundraisers, restaurants and bars. If everyone reading this article gives $5 or more, we should be able to continue publishing through the crisis. Please pay what you can to keep us reporting and publishing.