July 6, 2006: JACKSON—-State Representative Erik Fleming, D-Clinton, a Democratic candidate for the U.S. Senate in Mississippi, today urged U.S. Senator Trent Lott, R-Mississippi, to follow the lead of his Mississippi Congressional colleagues and donate all or part of his contributions from Jack Abramoff's clients to hurricane relief efforts.
"In light of the recent allegations of impropriety and the guilty pleas of Jack Abramoff and his associate, I am urging Senator Lott to donate all or part of his contributions from Abramoff clients to the efforts of hurricane relief, similar to Senator Cochran and Congressman Pickering.
"According to Lott's office and the Mississippi Band of Choctaws, the contributions he received from them were legitimate, based on a long standing policy of supporting Mississippi's Congressional delegation. However, Senator Lott has received $7,500 from Abramoff clients outside of Mississippi since the year 2002. As a victim of Hurricane Katrina, the senator is well aware of the needs of his fellow Mississippians, and should make a good faith gesture to causes that seek to make our citizens whole again.
"As a member of the National Black Caucus of State Legislators, I am asking that Mr. Lott donate, at the very least, the $7,500 received outside of Mississippi to our hurricane relief fund; so that our organization can continue the works of aiding those less fortunate cope with the devastating effects left behind in Katrina's wake."
Previous Comments
ID

169872

Comment

It has been five days since Lott's office issued a statement saying they will not return any Abramoff client funds. It seems as though he is defending his Choctaw contributions but has not addressed the money he received from other tribes. The media seems satisfied with his explanantion but the citizens of this state should not. The countdown will continue every Monday until he changes his mind.

Author

Rep. Erik Fleming

Date

2006-01-09T14:34:06-06:00
ID

169873

Comment

So many legislators have felt that they had to return their Abramoff money, simply because the media held them accountable for it. Clearly media moguls in this state are gentler with their Republican friends in the legislature. Cheers, TH

Author

Tom Head

Date

2006-01-09T17:06:51-06:00
ID

169874

Comment

It has been 19 days and still no sign of Lott returning any cash. The countdown continues...

Author

Rep. Erik Fleming

Date

2006-01-17T20:43:41-06:00
ID

169875

Comment

Correction, 13 days, don't want to jinx it.

Author

Rep. Erik Fleming

Date

2006-01-17T20:44:35-06:00
ID

169876

Comment

Now it has been 19 days. I don't think he is going to give up the cash. BTW, here's what Lott had to say in November concerning the issue of campaign finance and lobbying reform: " (Sen.) John McCain (R-AZ) needs to relax. He needs to focus on national security and issues critical to our country. We don't need a new law on lobbying." Politicians in Washington being corrupted by big money is not an issue critical to this country? Hmmm...

Author

Rep. Erik Fleming

Date

2006-01-23T07:03:54-06:00
ID

169877

Comment

The good senator will contribute the money to the Katrina relief...his Katrina relief fund. The media and the general public is not picking up on this story, and that will be the problem in the coming weeks/months as you try to get a footing on the issues. There are those across the state that feel that at this time the senator would be able to provide more pork to the trough than EF. This is probably true. So do we compromise ethics, good government, and the future well being of our citizens because we can get more pork fat today? We can and will survive, and we can do it with uplifted heads by letting the senator retire to his rebuilding and rebuild the respect for Mississippi across this country.

Author

canineterrier

Date

2006-01-27T16:56:15-06:00
ID

169878

Comment

26 days and counting...Thanks, canine for your analysis. I believe you are right about this, but I will continue to post an update just to remind folks that TL has received money from outside of Mississippi through Abramoff's clients, $7,500 to be exact, that he has not answered for.

Author

Rep. Erik Fleming

Date

2006-01-30T07:38:05-06:00
ID

169879

Comment

32 days and counting...It does not seem likely that TL will return the Abramoff money, but now it seems he will join in the lobbying reform bandwagon. TL and Sen. Diane Feinstein, D-CA, have co-sponsored a bill that would limit earmarks added on to legislation. Earmarks are amendments added to congressional bills just before the deadline for consideration. This is usually where the "pork projects" are added. Looks like six more years of TL means no more "pork" for Mississippi, just the opposite of what the daily newspapers expected and hoped for. Here is a link to the article: http://washingtontimes.com/national/20060203-121203-9439r.htm

Author

Rep. Erik Fleming

Date

2006-02-05T23:22:19-06:00
ID

169880

Comment

40 days ago, TL's spokesperson said they were not going to give back any Abramoff money and they seem destined to stick to their word. The countdown continues...

Author

Rep. Erik Fleming

Date

2006-02-13T11:35:48-06:00
ID

169881

Comment

52 days!!! Gotta admire the man for holding to his cash, I mean principles.

Author

Rep. Erik Fleming

Date

2006-02-25T14:37:53-06:00
ID

169882

Comment

62 days. Just thought I'd mention that.

Author

Rep. Erik Fleming

Date

2006-03-07T19:00:19-06:00
More like this story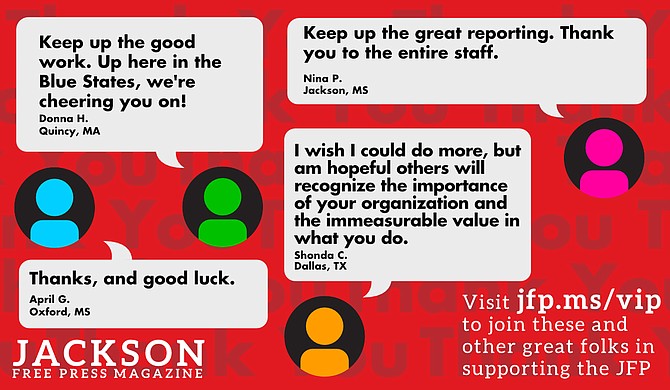 Thanks to all our new JFP VIPs!
COVID-19 has closed down the main sources of the JFP's revenue -- concerts, festivals, fundraisers, restaurants and bars. If everyone reading this article gives $5 or more, we should be able to continue publishing through the crisis. Please pay what you can to keep us reporting and publishing.