"It's Boneqweesha live with members of the McBride family as they respond to V.P. Cheney's lil' shootin' accident in Texas."
Judy McBride: "From this psychologist's perspective, Cheney's slip on the gun is like a slip of the tongue. Or shall I say that the V.P.'s mishap manifested as a 'Freudian Slip,' a phrase originated by the father of modern psychology Sigmund Freud. If I could delve into Cheney's subconscious mind, I would conclude that the accidental shooting of a 78-year-old Republican lawyer has some deeper significance."
Cootie McBride: "Judy, your analysis of the situation is deep. Sometimes the truth has a way of coming out in the most embarrassing and unexpected ways."
Nurse Tootie McBride: "I honestly thought the V.P. shot the old man in the booty. Imagine buckshot all up in your booty. And while nurses and doctors remove pellets lodged in the booty cheeks of a man in pain, lyrics from a classic R&B song by Jr. Walker and the All Stars play through the hospital speakers:
I said buy your self a shotgun, now. We're gonna load it up, baby, now… Ah, then you shoot him 'fore he run, now. I said ... Shotgunnnnnn!
Boneqweesha: "You heard it live from the McBrides! I leave you with this ancient, modern, ghetto proverb: When you get shot in the butt, ya can't sit down. Boneqweesha Jones, reportin'."
Ken Stiggers is a TV producer and the co-host of the Lyric Lounge at Santiago's.
Previous Comments
ID

71469

Comment

Shotgunnnnnn! Thanks a lot, Stiggers. Now that song will be in my head ALL DAY! :-P

Author

LatashaWillis

Date

2006-02-23T11:43:55-06:00
ID

71470

Comment

As usual, Ken; you the bomb. Thanks for mentioning, Jr. Walker, my musical hero when I was a child. I joined the school band because of him. No one could play funk like that either before or after him. Not even the jazz great Charlie Parker. What a wonderful combination of playing and singing. I nearly cried when he died although I was a grown man by then. Barry Gordy was famous for schooling and telling musicians how to sing and play. Legend and reports have it that he told everyone to leave Jr. Walker along and just let him do whatever the hell he wanted to as he already knew more than everybody else. For years music producers told sax player to "do some of the Jr. Walker stuff." He has never gotten all the credit he deserves for his original styles of playing the saxophone.

Author

Ray Carter

Date

2006-02-23T13:19:57-06:00
ID

71471

Comment

I just wanted to bump this...mainly because I giggle every time I read "all up in your booty". *giggle* *snort*

Author

Lori G

Date

2006-02-23T15:35:48-06:00
ID

71472

Comment

Bump and grind at will. In fact, I think we do a whole lot more of that around here since you showed up, missy.

Author

DonnaLadd

Date

2006-02-23T15:42:47-06:00
ID

71473

Comment

HA! I tend to have the "bump in the booty" effect. :) Seriously, Ken, I loved this. When I was growing up in the Delta my mama would get "all up in my booty" if I forgot to say "yes ma'am." It had a COMPLETELY different meaning in that context. ;)

Author

Lori G

Date

2006-02-23T15:48:16-06:00
ID

71474

Comment

You learn something new every day. My son told us the reason he didn't say "yes mam" and "no mam" was because he just couldn't remember to say it. Because I erroneously thought he was slow I believed him. I later learned he tricked me. I should have gotten all up in the booty. As I think about it I should go find him and do it right now.

Author

Ray Carter

Date

2006-02-23T16:09:51-06:00
ID

71475

Comment

Ray-you probably should do that. My mama gettin' "all up in my booty" probably saved me from a desperate life of crime, abject poverty, and a myriad of drug addictions. Ask Ken... the last time we spoke we decided the main thing wrong with parents today is the fact they don't get "all up in their children's booty" ENOUGH.

Author

Lori G

Date

2006-02-23T16:45:27-06:00
ID

71476

Comment

I hear you, Ali; but the boy is now 29 and has gotten real big. I'm not sho' I can take him now. I don't want to go down in history also as a man who got whupped my his only child. Don't get me wrong. I ain't scared now. Just wise. It's often a bad thing to have a child out of wedlock. I never intended to do it. My next door neighbor broke in our house one night while i was sleep and had her way with me. She got pregnant in the meantime. I fought as hard as I could to stop her but you know how hard it is to stop a woman intent on getting what she wants. I'm gonna take this story on the comedy circuit one day. As far as I know, my son doesn't do any hard drugs. I'm sure he has used and sold some of some nature but I never saw any evidence of any nature when he was with me. My prayer is that he get it together some day and be a good father to his four children.

Author

Ray Carter

Date

2006-02-23T17:34:33-06:00
ID

71477

Comment

Is something wrong with me i want to have a boy just for the fact of kicking him in the booty when his smart teenage days take over? Girls would judt be sweet little liars and i's believe everything she said. But if capital punishment i.e. spanking your kids is the topic i'm all for it i think more people should do it and i think the reason my soon to be in-law has been in and out of rehab is because his dad never picked him up by his neck when he had the chance. ok thats a little hars, how about kicked him in his booty

Author

*SuperStar*

Date

2006-02-23T17:40:59-06:00
ID

71478

Comment

Superstar those little girls can be something awfully special. I have twin grandchildren, a girl and boy, 5 years of age. The difference is amazing. Caleb, the boy, is a bundle of energy, can't be still, and wears granddaddy out in a couple of hours. He prefers my wife over me. MaKayla, the female, is adorable and loves hanging with granddaddy. She prefers me over my wife except when we go to the mall. As soon as we walk out of the mall she disengages grandmother's hand and grabs mines. It makes the wife mad at times. It's funny to me. I had to tighten both of them up last Saturday for being bad. MaKayla didn't think Granddaddy would get her too but I did. I'm making a great and conscious effort to treat both exactly the same. I hope neither uses drugs otherwise they're likely to lose a part of granddaddy.

Author

Ray Carter

Date

2006-02-24T10:16:47-06:00
ID

71479

Comment

But if capital punishment i.e. spanking your kids is the topic i'm all for it Giggle. Do you mean "corporal" punishment? "Capital" punishment means you want to kill the child. Snicker.

Author

LatashaWillis

Date

2006-02-26T00:14:48-06:00
ID

71480

Comment

hehehehehehe. you made my day....

Author

Latasha

Date

2006-08-26T00:04:00-06:00
More stories by this author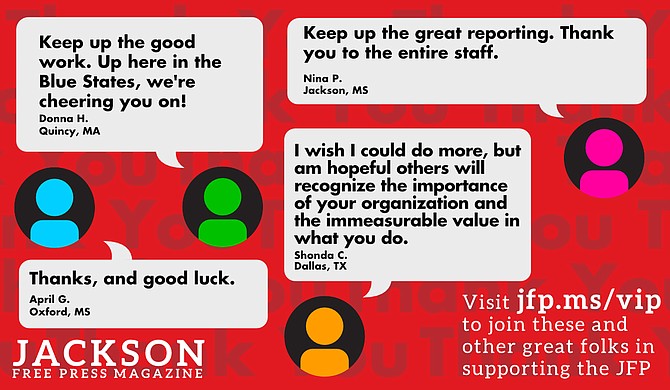 Thanks to all our new JFP VIPs!
COVID-19 has closed down the main sources of the JFP's revenue -- concerts, festivals, fundraisers, restaurants and bars. If everyone reading this article gives $5 or more, we should be able to continue publishing through the crisis. Please pay what you can to keep us reporting and publishing.