I think this question is one to be discussed since I have not seen a magazine or any periodical out since I relocated to MS in 1996 that so forwardly addresses the issues of pro-choice and various degrees of sexuality. This recent issue is one example of the paper's acceptance of diversity, but is by far not the first.
I applaud their efforts and the "movement" they have put in place for creatives. Would like to know what other regular readers of the paper and website think about this.
Previous Comments
ID

104767

Comment

I think the JFP is doing it insofar as (a) letting others Mississippians know there are others out there who think more or less like they do and (b) creating a name-brand image of Jackson as a relatively liberal haven (or at least non-neocon one). The important thing to remember is that we don't need the whole state on our side. All we really need is a small geographic area with a "name-brand image" of being non-hostile to those to the left of the Mississippi mainstream. If you look at historical voting records, you'll find that Belhaven and Fondren areas were relatively open to those outside that mainstream long before the JFP was even an idea. However, the openness of that area was difficult to see through all the "Bible Belt" fog. The JFP is serving as a foglight in that case. The blogs also allow great discussions that run totally out of step with the prevailing national image of the state. The paper and blogs certainly helped improve my own image of the metro area (having lived there almost four and five years ago for 13 months). So to sum it all up (even if repeating myself), all the things the JFP does are definitely helpful in creating a new "name-brand" image for the area. But it'll be quite a long haul. Newly prosperous places had to spend a generation at minimum getting all the right pieces in place BEFORE the locale achieved its prosperity (e.g., Tupelo, the NC Triangle area, Atlanta, Austin, and countless others). By creating an image that there IS an alternative in Mississippi that you don't always have to go to, say, Atlanta and (pre-Katrina) New Orleans to get, the perception will become a self-fulfilling prophesy.

Author

Philip

Date

2006-02-13T19:32:15-06:00
ID

104768

Comment

Philip, I agree with you, and have to say the wording of the JFP beig a "foglight" is appropriate for what I was getting at with the theme. I have found the articles and the people spotlighted as interesting, though the paper seems to give you more or a three-dimensional view of them and what makes them who they are and what they do.

Author

c a webb

Date

2006-02-13T19:40:23-06:00
ID

104769

Comment

"Foglight"? Hey, that reminds me of my time on Nantucket (Island), and how I fell in love with the foghorns at night from the ships passing the island. What a lovely memory. Thanks, guys. ;-D As you all know, the JFP's mission from the beginning has been unabashed and deliberate: to promote diversity and, thus, love, peace and understanding among people of different races and beliefs in Jackson and Mississippi, including the idea that individual Americans have the right to choose how they live their lives. I'm thrilled at how the community has opened its arms to that message. That says more about the community, and the fine people here, than it does about the JFP. We're just a conduit for all of your talents. Thank you all for stepping up and together staring down the hate that lingers. That's what it takes. You may think that's we're loosening the Bible belt buckle; I happen to think that the community is coming together to further a vision of faith, spirituality and understanding much stronger and more powerful than any pop-political idea of religion and faith and marketing slogans of "What would Jesus do?" Personally, I think our greatest spiritual leaders believe(d) in action over rhetoric, and I applaud you all for your active efforts to make our state better and more accepting to all of its residents. You awe me every single day. Peace.

Author

DonnaLadd

Date

2006-02-14T00:59:28-06:00
ID

104770

Comment

Donna, I read your post and thought you're being quite modest. Think about it: who was talking about these things so openly before the free press came into existance. You have pushed the envelop a few times, and that has been a welcomed shot in the arm for our city and our state. I can only think of one time when I frowned at a free press cover (the one that talked depicted the mayoral race as a boxing match and had the female candidate listed as "the other woman"), but I'm sure it sparked discussion and got people involved in the process. And for that, it served a purpose. You all deserve the praise and recognition that you have received, and if this latest issue is an indication, you will continue to do it in the future.

Author

c a webb

Date

2006-02-14T01:56:07-06:00
ID

104771

Comment

Thank you, C.A., I truly appreciate your comments. Coming from you they are very meaningful. As for "the other woman," you're quite right. That was a bit dicey, and I'm sure that I wrote it, as I do most of the dicier headlines. (Wait til you see this week's cover headline!) But I'm not exactly known for being "politically correct"; I like to play a bit with our ideas about language and stereotypes and what is acceptable, but only up to a point. (In this case, I believed that Ms. Smith was being treated like "the other woman," in a sense.) I believe strongly though in compassion for others and not offending to offend, even as we need to tweak when one needs to be tweaked. It's an interesting balance to maintain. I would never in a million years, for instance, run those Mohammed cartoons. Stereotyping an entire religious belief system in such a simplistic and incorrect way seemed a rather weak way to me to make a point about "self-censorship." I think there are better ways to do it without ridiculing a whole belief system (which is what is done constantly in what passes for today's discourse). As for this issue, and the story about the gay couple, it is a love issue, and it makes sense to celebrate different types of love. That is simple to me. We did not dirty this up in any way. I believe Mississippians with love in their hearts can handle that, even if they do not personally believe in homosexuality. I truly think that our people are tired of being treated like they are backward and closed-minded fools who can't handle sophisticated media and challenging ideas. They can, and they do, and the overwhelming response to the JFP proves it. Again, I applaud our readers. Sure, we work hard, but so do you all. The readers and the simply overwhelming response is what inspires me and the staff to do what we do. I really cannot imagine doing anything where I'd get more positive and immediate feedback every single day—from people of all religions or none at all, all ages, races, backgrounds and so on. The one thing that has surprised me is how little nasty criticism we've gotten, and most of that has come from about five guys in North Jackson and the publishers of competing newspapers that are, themselves, divided by race. Go figure.

Author

DonnaLadd

Date

2006-02-14T02:28:32-06:00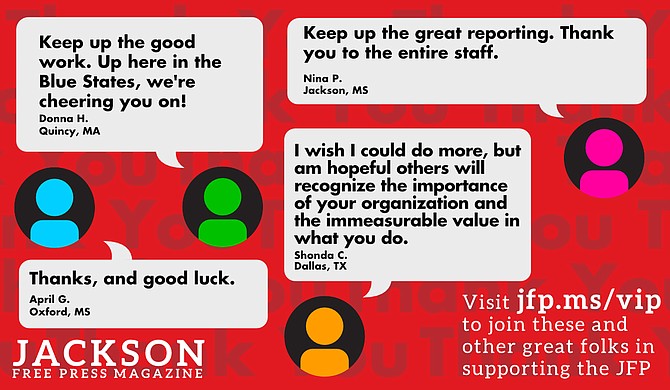 Thanks to all our new JFP VIPs!
COVID-19 has closed down the main sources of the JFP's revenue -- concerts, festivals, fundraisers, restaurants and bars. If everyone reading this article gives $5 or more, we should be able to continue publishing through the crisis. Please pay what you can to keep us reporting and publishing.