By day, only a skillful parallel parker can wedge into a space on the streets of downtown Jackson. Men and women in business suits stride with purpose down West Street and Capitol. Hot dog kiosks and the occasional horn honk convince us that we live in a capital city.
Yet by night, the brightest building west of State Street is the Mayflower, and it is easy to drive four blocks without seeing anyone.
"It's kind of weird to me how the downtown is packed in the afternoon, but at night it's just a ghost town," says 24-year-old Ryan Baucum. "No business is open after 5 o'clock. Usually in big cities, there is a daytime crowd and a nighttime crowd. There are bars, restaurants, everything."
With at least nine college campuses in the metropolitan area and several others at the periphery, the lack of downtown traffic after sundown is astounding. Driving downtown on a Thursday night, the only person I spot is a man in a wifebeater chucking rocks at the deserted King Edward.
The barely legal and under-30 crowd have become accustomed to this sort of desolate scene, and many discount the metro area as the territory of law firms, court cases and drug transactions.
"Our downtown has a lot of businesses, but they're not entertainment-based," says Aaron Wright, a 19-year-old Jackson native and sophomore at Holmes Community College. "Most people you see walking around downtown are either walking to court or just got out of court."
Having recently returned from a vacation in Washington, D.C., Wright misses the big-city centralization that lends itself to shoulder-to-shoulder sidewalk traffic. Wright is not the only young Jacksonian who wishes for a centralized entertainment area downtown.
"I think the biggest problem now is this idea that Jackson is so unsafe," says Baucum. "The more business we have, the more people are going to feel safe downtown. I mean, there's no real area where people can walk around. There's no strip."
The closest thing Jackson has to a strip is the Commerce Street line-up of Martin's, W.C. Don's, Hal and Mal's, and Fire.
As a member of the popular local group Goodman County, Baucum often travels around the South on the weekend playing shows.
"We've been to places with late-night record and bookstores and bars that are more like coffeehouses where you just chill out," says Baucum. "The only thing open at night downtown in Jackson are bars. I really think this area would be nice with more late-night restaurants other than the Waffle House and IHOP and any kind of business—bowling allies, pool halls, anything."
Like Baucum, many young people wish Jackson had a larger selection of nightlife and entertainment, in general. "There's a lot of stuff to do in Jackson, but I wish there were a wider variety," professes 21 year-old Millsaps student T.J. Jackson.
Fenian's is a favorite for Jackson and his girlfriend, Hannah Gross, also a Millsaps student. Yet even the friendly neighborhood pub can get old after a while.
Many young people think that the mindset that Jackson has nothing to do simply holds the city back.
"People start using 'Jackson has nothing to do,' 'Jackson is a boring town' as an excuse for not getting out of the house, for being lazy," says Baucum.
On the flip side of Jackson being boring, some people see Jackson as the grand adventure because it is a forager's paradise. Jackson is the thrift-store find that may not match perfectly with your bedroom, but damn, it was a good deal.
If you can find something to do in Jackson, you will be ever more appreciative than if it were all laid out for you.
"There's a lot to do in Jackson. It's just a matter of finding it," says 24-year-old John Dietrich. "It's not there in your face all the time, which is kind of nice actually. It's kind of like a little hideaway where you can go, and all your friends are there. I lived in New York for a while, and everyone goes out all the time, and there's a ton of stuff to do, but you can kind of lose yourself in it all."
While Dietrich appreciates the tight-knit, familiar vibes of Jackson, he admits that there is something to be desired, a "happy medium" between New York and Jackson.
Like Dietrich, 27-year-old Cody Cox, also in Goodman County, thinks that Jackson has a lot to offer if you are willing to work to find it and open to appreciating what is already here.
"I like Jackson. If I didn't like it, we wouldn't be here," says Cox. "I mean, we could move off to a bigger city and have more options of places to play, but I'd much rather stick around here and support what we have. There is a huge underground scene of artistic people in Jackson of all sorts."
"So many towns are the same," continues Cox. "I think a lot of people in Jackson have the mindset that they have to go elsewhere instead of focusing on what we have here. I think that's the biggest problem in Jackson—a lack of confidence in being here and doing something worthwhile."
Many young people seem to be awakening to the idea that Jackson, for all its shortcomings, has much to offer and even more potential. Jackson is a work in progress in which everyone has a stake and the opportunity to be heard.
Previous Comments
ID

84606

Comment

"It's kind of weird to me how the downtown is packed in the afternoon, but at night it's just a ghost town," says 24-year-old Ryan Baucum. "No business is open after 5 o'clock. Usually in big cities, there is a daytime crowd and a nighttime crowd. There are bars, restaurants, everything." This is so true. But, it is not just downtown. Fondren has the same problem. Even in Birmingham's "5 Points" area the shops stay open later to help encourage diners and bar hoppers to shop. It also increase that "foot traffic" ATL and Ladd spoke of on another thread. I think in time as the areas develops it will change. You have to go to County Line road to be able to "eat and shop" after 6pm. And that sux!

Author

pikersam

Date

2006-08-23T18:50:23-06:00
ID

84607

Comment

One thing that surprises me, but I guess it shouldn't in light of what pikersam just pointed out, is how early Rooster's closes. When I was staying in Jackson this past winter, there were at least a couple of times when the friends I was staying with in Fondren, and I, wanted to hit Rooster's for dinner, but found we'd missed "the window"; they were closed. :-( Not that I blame them for closing; it's just another symptom of what pikersam was talking about -- no foot traffic in the evenings around there. Best, Tim

Author

Tim Kynerd

Date

2006-08-25T08:25:29-06:00
More stories by this author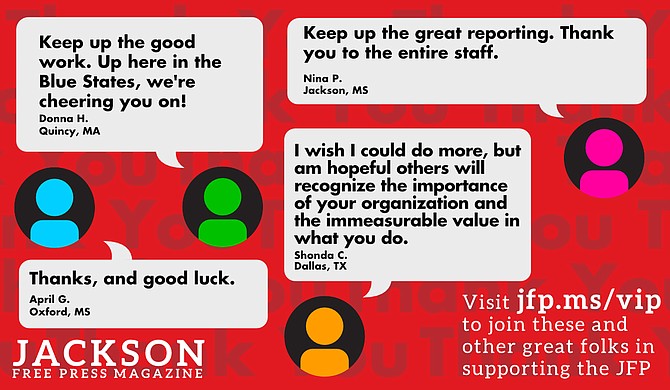 Thanks to all our new JFP VIPs!
COVID-19 has closed down the main sources of the JFP's revenue -- concerts, festivals, fundraisers, restaurants and bars. If everyone reading this article gives $5 or more, we should be able to continue publishing through the crisis. Please pay what you can to keep us reporting and publishing.