Mayor Melton's state of emergency is over, but a youth curfew ordinance still remains on the books in Jackson. If the City Council is serious about combating juvenile crime, it will get rid of the curfew and concentrate on creating crime-fighting programs proven to reduce crime in the capital city.
A curfew won't, and hasn't, worked. Jackson's juvenile curfew has been in effect since 2001—even though in 1995 the National Council on Crime and Delinquency found that curfew enforcement is ineffective at reducing crime and unnecessarily funnels large numbers of non-delinquent youth into a criminal justice system that is already inundated with alleged offenders.
Bad things happen to youth who undeservingly end up in the juvenile justice system. At best, they'll be surrounded by more sophisticated youth who can teach them the tricks of the delinquency trade. At worst, such a child will be subject to the horrific abuses, medical and educational neglect that are inherent in Mississippi's juvenile-justice facilities.
Curfew enforcement is clearly an inefficient use of our scarce crime fighting resources. During the recent state of emergency, police netted 66 juvenile curfew violators, according to The Clarion-Ledger. Of those 66, only six youth received citations for "illegal" behavior—offenses like tobacco possession, disorderly conduct and disturbing the peace. Surely, Jackson residents are not safer because six loud-mouthed, under-age smokers caught a charge.
Because the curfew likely violates the Constitution and a federal statute, it will cause Jackson far more problems than it solves. In Chicago v. Morales, the U.S. Supreme Court invalidated an anti-loitering statute meant to alleviate gang activity because the statute was unconstitutionally vague. State supreme courts have used the analysis in Morales to strike down juvenile curfew ordinances, which like the Jackson ordinance fail to both define the prohibited behavior in a manner that ordinary people can understand and provide standards so police can enforce the statute in a non-discriminatory manner.
The Jackson ordinance makes it unlawful for any person under the age of 18 to "remain" in "any public street, highway, park, vacant lot, establishment or other public place between the hours of 10 p.m. to 6 a.m. on weekdays and 12 a.m. and 6 a.m. on weekends." The ordinance carves out exceptions for youth who are with their parents or have a "reasonable necessity" to be out past the curfew. The critical language in the statute is open to many interpretations. Who decides what a "reasonable necessity" is? Courts frown on laws that give such little interpretative guidance and such unfettered discretion to law enforcement.
Jackson's juvenile curfew provides stiff penalties for violators. Parents who knowingly allow their child to violate the curfew are fined $25 for a first offense and an additional $25 for each additional offense. Business owners who knowingly allow a youth on their premises during the curfew hours are fined $100 for the first offense and $50 for each subsequent offense.
But the most dire consequences are reserved for children themselves. In clear violation of the federal Juvenile Justice and Delinquency Prevention Act, the ordinance provides that curfew violators will be taken to the Hinds County Henley-Young Juvenile Justice Detention Center—and will remain in jail until their parents retrieve them. The juvenile justice system is only for youth who have been accused of committing acts that would be crimes if committed by an adult.
Legally, curfew violators cannot be sent to training school, and they can only be held in detention for 24 hours before a court appearance. If Hinds County fails to comply with the prohibition on incarcerating status-offenders, Mississippi will lose thousands of federal crime-fighting dollars. Both the U.S. Congress and the Mississippi Legislature have decided that jail is not a legal placement for an offense like curfew violation. If the city of Jackson fails to follow these laws, we will lose significant federal dollars.
Worst of all is the dangerous message the curfew sends to Jackson's young people. Jackson is currently treating all youth—even innocent youth—like criminals. Most Jackson youth are not preying on our elderly, participating in drive-by shootings, other gang activities, or dealing drugs. Most of our young people attend school and church regularly, have future dreams and goals and are respectful to their parents and the other adults in their lives. These children represent the future of the Capital City.
Jackson lacks the programs that most other urban communities use to prevent youth crime: structured academic and recreational programming during the summer months, a more extensive summer job corps, mentoring programs, arts internships, and updated, safe recreational facilities. But for all Jackson lacks, it also has vast untapped crime-fighting resources. We have a strong faith community with thousands of potential mentors and summer Bible school teachers, a vibrant arts community that can show our talented youth how to express themselves positively through art, and the most prosperous business community in the entire state.
A community working together to pool resources and provide support and outlets for our youth is the most effective crime-prevention strategy. All Jackson citizens must take responsibility before we lose another child to the criminal justice system. In the words of B.C. Forbes "Upon our children rests the fate and fortune of tomorrow's world."
Attorney Sheila Bedi is co-director of the Mississippi Youth Justice Project in Jackson.
Previous Comments
ID

73234

Comment

Sheila Bedi is a wonderful advocate for youth in this state, and we're so lucky to have her. She spoke at the ACLU meeting last night about the way young people are being demonized in this city, while the only things that have ever been shown to reduce crime--creating positive social support networks--are neglected. We need our police officers, but the most effective crimefighters in this city are the folks who directly work with and mentor at-risk youth. Cheers, TH

Author

Tom Head

Date

2006-08-03T00:00:54-06:00
ID

73235

Comment

melton got rid of the programs and trained/licensed Social Workers who initiated programs geared towards protecting the youth of our City. I guess this goes back to his election BS when he told Jackson that he could run City Hall with himself and two other people. What I guess he meant was that he could "RUIN" City Hall and it has only taken one person to do that - Mr. Melton, in person. I salute Sheila Bedi for her advocacy for youth. She bringS so much to the table and it is such a shame that her message falls on the deaF ears of this administration. Melton claims to be the expert and his remedy is Curfew or Jailyou. Just think about this for a second: There are thousands of 17 year olds in the military. Many are fighting that stupid war that started out to be a war against WEAPONS OF MASS DESTRUCTION but, has since taken on the title of THE WAR AGAINST TERROR. melton is well into his second year with his WAR AGAINST YOUTH. What a mess!

Author

justjess

Date

2006-08-03T09:55:03-06:00
More like this story
More stories by this author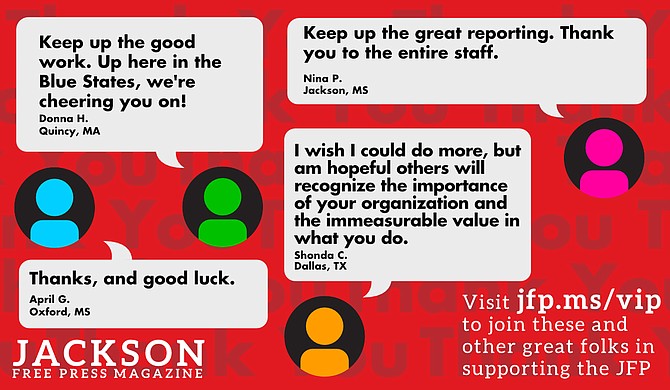 Thanks to all our new JFP VIPs!
COVID-19 has closed down the main sources of the JFP's revenue -- concerts, festivals, fundraisers, restaurants and bars. If everyone reading this article gives $5 or more, we should be able to continue publishing through the crisis. Please pay what you can to keep us reporting and publishing.