Thousands of picture postcards lie in a crate at the end of my bed. From California to New York, Texas to the Black Hills of South Dakota, I have thousands of mementos of summers spent with my Nanny. Down vacant country roads and busy city highways we went in her cream-colored Ford, which wouldn't go over 45 m.p.h. on steep hills. Granny, my 70-year-old great grandma, was relegated to the backseat after getting us lost one too many times in places that conjured images of men with chainsaws. I was 8, but I was in charge of the map.
"Come see our parrots and eat with Jacques. Battlefield Inn 20 miles ahead," I read aloud from the signs we passed.
"Can we stop there, Nanny?"
She always said yes: Rock City, where a person can see seven states, the palace made of corn in South Dakota or the audacious palace of a King in Memphis. We visited every Laura Ingalls Wilder home that was open to the public, purchasing a corn husk doll, a bonnet and a butter churn.
Cemetery trips to visit long-dead relatives for genealogy records filled in our time. Each place shaped my view of the world and cemented my love for Nan and my country.
Continental breakfast was a must for any hotel we stayed in. Our lunch was soggy sandwiches at an oil rig-shaped picnic table on the outskirts of Texas. Dinner came at 5 o'clock on the dot, even if that meant eating hot dogs at the local Little League baseball game.
What would my uncle think of us eating octopus by the perpetually gray and dark North Sea? Or Captain Crunch at an English bed and breakfast where I fell in love with a boy who wrote me for years? Would he like the motel in Nashville with gunfire outside the room and strange hairs in the bed? How loud would he yell if I told him about the downtown Walsenburg, Colo., hotel with drug dealers and homeless people in the next room, where we had to put a chair under the door to keep it shut? He wouldn't approve, but I miss it. Four babies, a marriage and 12 years have passed since the last time I traveled with Nan. The dry spell will end this month, however, when we journey to Memphis together. My 8-year-old self counts the hours.
"Your aunt collected spoons. Do you think Georgie would like spoons?" she asked me over the phone last week. Spoons, dolls, postcards—whatever my daughter collects, she will treasure it like I treasure the postcards, full of memories, at the end of my bed.
My Delta, Too
by Issac Byrd
I often travel up Hwy. 49 to visit my mom and the old men and women in my community of small landowners. This flat landscape of great fiction, music, tales, and Baptist preachers has retained its raw, earthy, sensory and soulful ethos. My family followed much the same route in the early 1900s, and along with my African ancestors who came with the Europeans in the 1830s, cleaned up the swamps and plowed the mules from Yazoo to Memphis and from Grenada to the Mississippi River. I come home for inspiration, hope, a sense of family and belonging. This is my Mississippi Delta, too.
Racin' With The Wind
by Lynette Hanson
I've discovered that if I want to "take the world in a love embrace" and arrive at my destination so that "the feelin' that I'm under" is a good one, CDs are the O-N-L-Y way to go. I avoid corporate radio, fading signals, advertisements and someone else making listening decisions for me.
For Meridian, home of father-of-country-music Jimmie Rodgers, I'd play "The Legend of Johnny Cash," "The Very Best of Dwight Yoakum," and any/all of my four Dixie Chick CDs plus Buddy Jewel's first CD so I could catch "Sweet Southern Comfort," a quintessential song of the South that I love for its sound and lyrics, plus his amazing voice. If I continued eastward on I-20, towards Birmingham and Atlanta, I'd play U2's "Rattle and Hum" and "Lenny Kravitz Greatest Hits."
Driving up I-55, to Memphis and Beale Street, I'd listen to the "Ultimate Isaac Hayes: Can You Dig It" and "Shaft," Free Sol's "11:11," Herbie Mann's "Memphis Underground," "Elvis Presley 'That's The Way It Is'" and the soundtrack for "Get Shorty," not just for Booker T and the MGs' "Green Onions" but that'd be reason enough.
Headed on down to New Orleans, it would be "The Very Best of Aaron Neville" and his "The Tattooed Heart," "Hot Cajun & Zydeco Music from Tabasco" and the soundtrack for "The Big Easy" (but I'd skip Dennis Quaid's song).
In Jackson, I'd be groovin' to Buffalo Nickel's "Noise and Conversation," Dorothy Moore's "Gittin' Down Live!," Rhonda Richmond's "Oshogbo Town," and Eric Stracener and the Frustrations' "Trick Bag"—shop local—or "The Beatles 1," "Movimiento Popular" from Grupo Fantasma" and any of five Andrea Bocelli CDs—think global.
Like Steppenwolf says, "Lookin' for adventure, yeah drivin' gonna make it happen."
More like this story
More stories by this author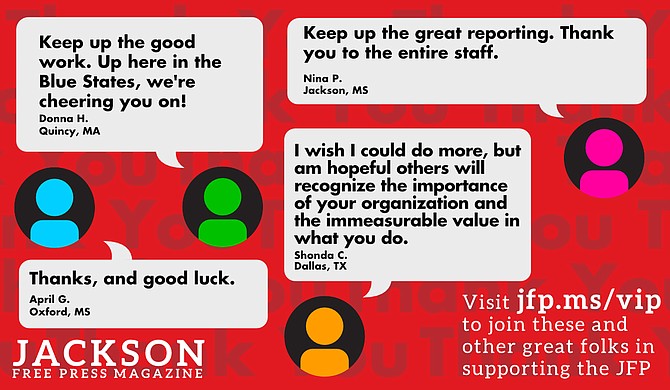 Thanks to all our new JFP VIPs!
COVID-19 has closed down the main sources of the JFP's revenue -- concerts, festivals, fundraisers, restaurants and bars. If everyone reading this article gives $5 or more, we should be able to continue publishing through the crisis. Please pay what you can to keep us reporting and publishing.