To all of you evacuees-turned-Jacksonians: Welcome. Whether you're looking for the hippest hip-hop scene, the hippest hipster scene or another hip-in-its-own-way scene, Jackson has plenty to offer you. And the Jackson Free Press has your guide to all of those offerings—every week in the print edition, and updated every single day online at jacksonfreepress.com. Meantime, though, here are some answers to some sure-to-be frequently asked questions about our city. This is only part one in a series, though. This week, we present you with the FAQ about Jackson's nightlife—everything from eating to grooving with art.
I'm an art fiend who needs to get to the best gallery—fast. What's the 411 on galleries?
In last year's JFP Best of Jackson issue, our readers ranked these galleries tops: Gallery 119 (3017 North State St.; 601-366-5141), Brown's Fine Art (630 Fondren Place; 601-982-4844) and Nunnery's (426 Meadowbrook Road; 601-981-4426). But don't miss the Mississippi Museum of Art (201 Pascagoula St. 601-960-1515), either. If you're in the mood for something really new, don't miss the Fondren ArtMixes on the first Thursday of every month. Fondren retailers and galleries stay open late and offer free wine, beer and snacks to boot! Just walk from spot to spot (See http://www.fondren.org.)
I need some good jazz to soothe my nerves.
Seven* Studioz (147 Millsaps Ave., 601-371-0358) is a good place to start, but don't forget to visit The Hunt Club (1525 Ellis Ave.; 601-944-1150) or the Alamo Theater (333 N. Farish St.; 601-352-3365). You have to drive a bit, but Fusion Coffeehouse north of Jackson has great jazz every Sunday afternoon, smoke-free, presented by jazz patron Charles Hooker. (Highland Colony Parkway in Ridgeland. 601-856-6001).
I'm from the Coast, and we enjoy some great seafood. Where can I get it?
The Mayflower Café (123 Capitol St.; 601-355-4122) is the oldest and arguably the best seafood joint in town, but you can also get your tasty fill at AJ's Seafood (900 E. County Line Road; 601-956-2588) or Bonefish Grill (201 Colony Way, Madison; 601-607-3334).
I'm from the Coast, and I don't like seafood. In fact, I don't eat any meat at all. Where can I eat?
Jackson has quite a few vegetarian offerings, including High Noon Café for lunch (2807 Old Canton Road; 601-366-1602), Stamps for veggie burgers (4654 McWillie Dr.; 601-713-3020), Ruchi for excellent Indian food; order the dosa every time (5101 I-55 North; 601-366-9680) and Thai House for, you guessed it, Thai food (2665 I-55 South; 601-373-8154). Fenian's has a good Boca burger, and you can get fried okra instead of French fries (901 E. Fortification St., 601-948-0055). We also like the veggie burgers and falafel at Aladdin (730 Lakeland Dr., 601-366-6033).
I miss my neighborhood bar. Where is a great local watering hole without froufrou?
Our readers love Fenian's and the bars at Hal & Mal's (200 S. Commerce St. 948-0888) and Martin's (214 S. State St. 601-354-9712). We're also digging the bar at W.C. Don's (216 S. State St. 601-969-6962).
Where can I hear real Delta blues?
The 930 Blues Café (930 N. Congress St. 601-948-3344) is the place to start. Introduce yourself to Jackson with the house crooner and sweetheart, Jackie Bell. Then check out the changing weekly acts from there. Also, Vasti Jackson and his guitar is back at Crystal's Lounge on Thursday nights. This is authentic and oh-so-worth it (2815 Lynch St. at Ellis Ave., 601-355-2090). And Schimmel's has the Subway rockers and other blues artists on the weekends (2615 N. State St. 601-981-7077).
Where do I get my indie films?
If you're into renting, check out Video Library (5050 I-55 North; 601-956-7226) or Video Café (1808 N. State St.; 601-352-3939). If you prefer the big screen, join the Crossroads Film Society (http://www.crossroads.com) and watch film screenings or check out one of the monthly films at Millsaps College's Southern Circuit Series (601-974-1299).
Where's the best spoken word in town?
Santiago's (101 South St.; 601-372-3380) has two nights of spoken word: Lyric Lounge on Thursdays at 9 p.m. and Uncensored on Sundays at 9 p.m. Club Total (342 N. Gallatin St.; 601-714-5992).
I dance my socks off! Where can I groove?
Headliner's (6107 Ridgewood Road; 601-957-6110) or 105 Capitol (105 E. Capitol St.; 601-969-1110) for a mix; Jack & Jill's (3911 Northview Dr.; 601-982-5225) for gay and straight clientele; Freelon's for hip-hop (440 N. Mill St., 601-353-5357; Hamp's Place (3028 W. Northside Dr., 601-981-4110) for R&B and soul (especially Wednesday).
How do I keep up with everything happening?
Sign up for the JFP's Lounge List at jacksonfreepress.com for regular event updates.
Tune in next week for part two of the JFP's FAQ For Newbies Guide.
More like this story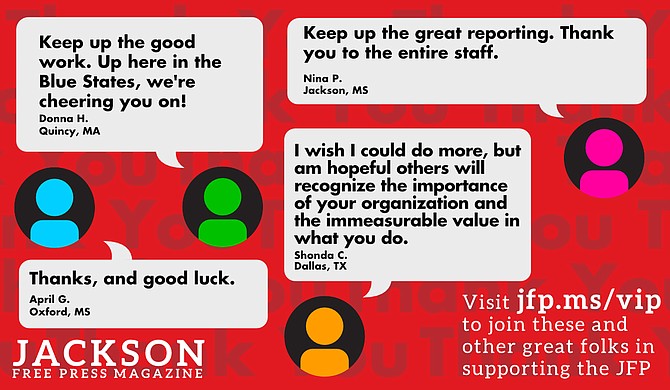 Thanks to all our new JFP VIPs!
COVID-19 has closed down the main sources of the JFP's revenue -- concerts, festivals, fundraisers, restaurants and bars. If everyone reading this article gives $5 or more, we should be able to continue publishing through the crisis. Please pay what you can to keep us reporting and publishing.