In an Op-Ed for the Sunday New York Times, columnist Frank Rich has the best explanation I've seen of the White House Iraq Group (WHIG), the group of White House staffers (including Rove, Libby and V.P. Cheney, among other familiar Bush Admin officials) that would meet to discuss the strategy of "selling" the war in Iraq to the American people. Starting with the timeline -- Rich says that WHIG was in operation in the summer of 2002, or well before the American people were told that war in Iraq was inevitable -- and it was responsible for a great deal of the hype leading up to the war, including much of the discredited "intelligence" that was used, at the time, to suggest that Iraq had a nuclear WMD program.
The piece also offers a suggestion as to what Fitzgerald -- the special prosecutor investigating the leak of CIA agent Valerie Wilson's identity -- may be going after with his investigation. Many pundits seem to believe that Fitzgerald is looking into a wider conspiracy, potentially by this group, to discredit Wilson's husband, former ambassador Joseph Wilson, because he revealed his belief that the evidence pointed away from the White House's assertion that Iraq had a nuclear WMD program. In fact, the credibility of Wilson's assertions might have underminded the entire argument put forth by WHIG unless he was successfully discredited. He wasn't, and their argument was underminded (for the majority of people, anyway)...and they may have used classified information in their attempts to discredit him, for which WHIG is now feeling some blowback.
Here's the money graf from Rich:
It's long been my hunch that the WHIG-ites were at their most brazen (and, in legal terms, reckless) during the many months that preceded the appointment of Mr. Fitzgerald as special counsel. When Mr. Rove was asked on camera by ABC News in September 2003 if he had any knowledge of the Valerie Wilson leak and said no, it was only hours before the Justice Department would open its first leak investigation. When Scott McClellan later declared that he had been personally assured by Mr. Rove and Mr. Libby that they were "not involved" with the leak, the case was still in the safe hands of the attorney general then, John Ashcroft, himself a three-time Rove client in past political campaigns. Though Mr. Rove may be known as "Bush's brain," he wasn't smart enough to anticipate that Justice Department career employees would eventually pressure Mr. Ashcroft to recuse himself because of this conflict of interest, clearing the way for an outside prosecutor as independent as Mr. Fitzgerald.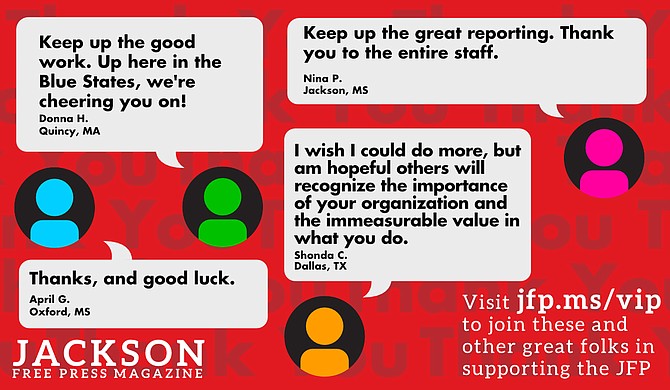 Thanks to all our new JFP VIPs!
COVID-19 has closed down the main sources of the JFP's revenue -- concerts, festivals, fundraisers, restaurants and bars. If everyone reading this article gives $5 or more, we should be able to continue publishing through the crisis. Please pay what you can to keep us reporting and publishing.