A friend of mine recently advised me about how to attract women. An authority on the subject, he is—in the vernacular—a "babe magnet."
"All you need is a few good pick-up lines and knowledge of what women want," he counseled. What could be easier, I thought. Clever and witty pick-up lines will flow from my talented writer fingers, and no one knows better than I what women like—especially when it comes to food. I diligently set about to offer the ladies of the greater Jackson metropolitan area the benefit of my company.
Initially, I felt a pick-up line would be most effective if it provided some level of education for the woman. Thus, I approached a group of ladies at the bar of a local fine dining establishment with the line, "Did you know that the Zinfandel grape is actually red?" I didn't know if their coolness was due to my syntax or if I should just give up on anyone whose taste is so inferior that she actually believes white Zinfandel is an improvement over unsweetened Kool-Aid.
After a revision of appropriate conversation starters, I headed for those places women like to eat. As basic human motivational needs, food and sex are intertwined. Thus, women often eat out in order to attract men. The type of establishment indicates the category of man for which they are searching.
My first stop was the Cherokee (1410 Old Square Rd., 362-6388). Women come here to meet real men—men who eat beef and drink beer. Excellent cheeseburgers, homemade fries and a great atmosphere attract a good crowd of both sexes. I approached a female prospect and laid one of my new lines down: "How would you like a man so hot he can melt even fat-free cheese?" While I did not obtain the desired result, I did learn that security at the Cherokee is very efficient.
From the Cherokee, I proceeded to Nick's (1501 Lakeland Dr., 981-8017). Women like men with money. One's mere presence at a fine dining venue indicates both superior taste and financial status. I was in my element—a trained gourmand ready to impress. I sat next to an attractive woman about my age while I waited for my table. Optimistically, I advised the hostess I needed a table for two. "How would you like to meet someone who can really put the flame to your crème Brule?" I asked. Over superb calamari and a crisp light Pinot Gris, I made a note to check for wedding bands in the future.
Women like to eat outside. This comes from ancient times when men did the hunting and gathering and women sat outside the cave all day and waited for the males to bring home the evening repast. Que Sera Sera (2801 N. State St., 981-2520) is a perfect location for outside feasting. The heated patio is securely walled off from traffic. A varied menu offers everything from po-boys to some of the best fish in town. Such places are not recommended for meeting women, however. My anthropology contacts tell me that back in the days of cave people, the women killed time by sitting in groups of three to four, talking with animated gestures. The purpose, as I understand it, was to ward off saber-tooth tigers with shrill noise. This practice continues today, making it virtually impossible for anyone outside the group to be noticed.
Finally, women like breakfast. It has to do with their nurturing instinct. While possibly deficient in math and science, they are exemplary at the mothering thing. Women see breakfast as the most important meal of the day. Therefore, when unable to force it down their children, they appreciate the opportunity to eat out.
I suggest Broad Street Baking Co. (4465 I-55 N, 362-2900) should your relationship make it to breakfast. There's plenty for those bent upon satisfying a sweet tooth, as well as more than enough for the health conscious. (And don't miss the cheese grits.) I go there alone, but not for long. A new set of conversation starters percolates in my gifted mind.
More like this story
More stories by this author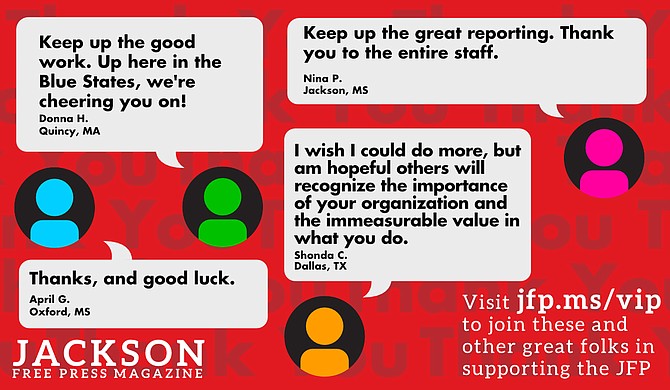 Thanks to all our new JFP VIPs!
COVID-19 has closed down the main sources of the JFP's revenue -- concerts, festivals, fundraisers, restaurants and bars. If everyone reading this article gives $5 or more, we should be able to continue publishing through the crisis. Please pay what you can to keep us reporting and publishing.