Mondo County
Some place names in Mississippi are comical, and some are just plain bizarre.
There are Mississippi communities named after animals, such as Alligator (Pike County), Coon Tail (Monroe), Possumneck (Attala), and Frogtown (Scott). Then there are those named for body parts: Arm (Lawrence), Foote and Heads (both in Washington County) and Gums (Yalobusha). Food names like Bacon (Chickasaw), Coke (Tishimingo), Hot Coffee (Covington) and Lunch (Itawamba) really do exist. Random quirky community names include Bewelcome (Amite), Hard Cash (Humphreys), Nod (Yazoo), Joe (Rankin), Darling (Quitman), Rain (Lincoln), Increase (Lauderdale), Double Churches (Jefferson Davis) Synagogue (Alcorn), Tabernacle (Attala), Gift (Alcorn) and Christmas (Bolivar). Who knew that in Alcorn County there is a By, or that in Copiah County, there is an It? Biblical place names abide here, too, like Bethlehem (Marshall), Calvary (Winston), Moses (Kemper), and Sampson (Lauderdale).
Mississippi has borrowed several place names from other states—Michigan (Benton), Nevada (Hinds), Oklahoma (Carroll), Oregon (Holmes) and Texas (Kemper and Stone). Probably few Mississippians know that there is an Africa and a Dublin in Coahoma County, an Ireland in Wilkinson County, a Paris in Lafayette County, a Scotland in Yazoo County, an Egypt in Chickasaw and Holmes, or a Rome in Sunflower and Winston counties.
Perhaps even fewer know that there is a Needmore in Tallahatchie County, a Success in Harrison County, and an Increase in Lauderdale. Then, in Kemper County there is Electric Mills and in Yazoo County, Oil City. There is Dont in Covington County. Supposedly, when this area was being named, every suggested name was met with a "Don't name it that." Because of the multitude of dont's received, the people agreed to name it Dont. There is Soso in Jones County, named for a man who, whenever asked about his health, would reply, "Oh, just so-so." There is Rising Sun in Leflore County. This was supposedly named for a band of poker players that played all night until sunup, and they created a club called the Rising Sun Club. Later, a community that settled there took the name. Midnight in Leflore County was named for a man who won the land in a poker game at the stroke of midnight.
Only One Rock Star
Ever wonder how Rock Star Missionary Baptist Church, just off Highway 80 in Brandon, got its name? Here's the scoop, straight from Baxter Evans, 72, a member of the church for 62 years and a deacon for 42.
Thirty years ago, a group of deacons and members were planning for a church anniversary—the church is at least 137 years old, having started when former slaves met beneath a tree in a wooded grove just west of the Brandon courthouse. In today's church there's a dated plaque just at the door that says "First Colored Baptist Church of Brandon." Mr. Baxter pointed out, "We don't really know if the date on the plaque is for the plaque or the date of the church's founding."
No member had ever heard the exact story of how Rock Star came to be either, but through their discussions, the group surmised that the church's founders held in high regard the Rock, symbolizing Christ and the church, in the hymn "Rock of Ages." The founders must have decided to combine the Rock with Star, which also refers to Christ, Mr. Baxter said, because of their regard for Christ and His church. "The name set a solid foundation for it," he told me on the phone. "We like it, too, because if someone says Morning Star, it's 'which one?' Or if someone says True Vine, it's 'which one?' I don't know of another Rock Star. My father used to say, 'There's only one Rock Star.'"
Highways of Heroes
Both the House and Senate have approved SB 2076 to name a portion of US-49 East in Leflore and Tallahatchie counties and a stretch of Highway19 in Neshoba County in honor of victims of race violence. Highway 19 would be renamed for James Chaney, Andrew Goodman and Michael Schwerner, the trio that was kidnapped and killed by Klansmen just off that highway June 21, 1964. US-49 East would be renamed Emmett Till Memorial Highway, in honor of the black teenager beaten to death by white men in 1955 in Money, Miss.
Sen. Gloria Williamson, D-Philadelphia, introduced Senate Bill 2961, which was never brought to a vote in the Senate Highways and Transportation committee because Chairman Billy Hewes, R-Gulfport, originally blocked it, saying it was related to the litigation going on with Edgar Ray Killen.
But Williamson amended another bill to add this ray of light in for the civil rights trio. She told the JFP Monday: "I was nervous and didn't know how it was going to be viewed because they decided to put the Emmett Till amendment right behind mine. We voted, and an overwhelming majority was for the bill. Then, Billy Hewes changed his mind because he didn't want it to be recorded as him voting against this when no one else was, so he stood up and asked to change his vote from nay to yea. He and some others on the Highways and Transportation Committee and one other senator were the only ones against it. After he changed his vote, all the others changed their votes, too."
Williamson explained the process she followed to get the amendment through: "I talked with the lieutenant governor first and told her I was adding this as an amendment. I'm guessing she told Barbour because he was behind this bill, I believe. He thought it would bring a good image to the state. Heck, with as much pull as he has in this place, the bill wouldn't have passed without his support."
Crispy Critter, and Other Jacksonians
You know how it is. You're standing around gabbing and all of a sudden, someone is wondering something and you get curious yourself, and you're off—on a tangent to some, but on a quest as far as you're concerned.
My latest involves people's names and the unusual-ness thereof. Knowing that I would need some help researching, I put to work my own two personal unusual-named assistants: my mother Edna Earle, 79, and my aunt Mary Baker, 71, dividing the residential pages of the phone book between them. Valiant as they were, their eyes got tired (Mama's) and/or boredom (Aunt Baker: "So many people have the same first name.") soon set in.
Recalling the delight I felt in 1969 when I lived on Northwest Street, across from the cemetery and up the street from someone listed in the phone book as Crispy Critter—I think there's a law office right about there these days—I sat down at a mid-century black metal TV tray, adjusted my 21st century halogen-bulbed lamp and went at the phone book.
I did find some interesting themes: colors, like Rosie and Pinkie or Violet and Amethyst or Cherry and Ivory. Some were names with a regal feel—Princess, Prince, Queen, King and Sir. How about inanimate objects, like cars or things to do with them—I found several Edsels, an MPG (miles per gallon?), a Mercedes or two, a Chevetta (sort of fits) and a Redhonda. And Shrome surely reminds you of Chrome—it did it for me.
Then there were the ones you could call place names—be they proper nouns in real life or not—Dixie, Thessalonia (that was a country way, way back that had a King Bonifacious and a Princess Eleonora), Russia, Forrest, River, Sea, Valley, Lane, Dellta (yep, spelled that way), Tijuana and China. Some for sure are common nouns made into proper nouns—Idea, Trivia—believe it or not, Trivia is Latin and is another name for Diana—Seller, Lap, Skipper, Nylon, Velvet, Brother, Author, Guitar, Season, Zero, Commas and Rock. Carrying on with the parts of speech, I found a verb and few adjectives although the spelling might be off a bit—Tripp, Classie, Lil, Sandy, Loyal, Bitsey, Sweetie, Icy, Icey, Squeaky, Solitary, and Chilen (as in just chillin' over here).
Some names were entertaining for their juxtapositions, like Rose followed by Royce, as in the L.A.-based singing group that had so much fun with "Car Wash."
All those multiple-syllable Southern names are delightful to my ears, like Clinnie Mae, Flyree, Allie Fair, Viverdell, Early Mae, Collester, Mae Grace, Fannette, Parthena, Zebedee, Pearlena, Flozell, Girl Lee, Curtiscene, Ellastine, Icey Mae, Bathsheba, Appithaney, Mae Epsia, Eltrue, Baby Ruth, Ora Mae, Wylene, Oscar Earl and Lizzie Pearl (real-life twins), and Sudie Mae (my grandma) and Nelia John.
Previous Comments
ID

78011

Comment

Speaking of funny names, when I lived in Jackson in the late 1980s, for a few years there was someone listed in the phone book as "Rimshot Thudpucker." Then, one year, I checked the new phone book and found that Rimshot apparently had gotten a divorce: he (I'm assuming it was a he) was no longer there, but there was a listing for "Martha Thudpucker." And then there's the artist who was listed in the Jackson phone book for years as "Qiana Corsette," a name he had taken from the Sears catalog. :-D

Author

Tim Kynerd

Date

2005-03-10T04:38:40-06:00
ID

78012

Comment

I've always liked include Panther Burn in Sharkey County just east of Bear Garden, northeast of Booth, and west of Romeo. It's also a little southwest of the Kongo and northwest of Big Eddy Landing. An unintentional name in the phonebook was a misprint. A student at a local college had the first name Shi'hed but the phone company trnsposed the apostrophe into a 't'...

Author

GDIModerate

Date

2005-03-10T09:45:08-06:00
ID

78013

Comment

BTW Alligator is in Bolivar County.

Author

GDIModerate

Date

2005-03-10T09:53:00-06:00
ID

78014

Comment

I also remember a "Shithead Jones" in the Jackson area phone book many years ago. A family friend who is a trauma surgeon at a local hospital swore that this individual had been a patient of his and that her(?) name was pronounced she THAY ed.

Author

Count No Account

Date

2005-03-15T11:53:18-06:00
ID

78015

Comment

Count, do please tell me you're kidding.

Author

Tim Kynerd

Date

2005-03-15T13:13:06-06:00
ID

78016

Comment

Sorry, Tim, I stand behind my story. I just now saw the mention of the same entry in GDI's post, missed that before.

Author

Count No Account

Date

2005-03-15T13:23:01-06:00
ID

78017

Comment

I had forgotten about GDI's post by the time I read yours. Even if it weren't true, it's still a great story. Perhaps I'll start calling people "she THAY ed." They can't get mad, right? ;-)

Author

Tim Kynerd

Date

2005-03-15T14:41:33-06:00
ID

78018

Comment

Along the same lines, a local bartender back in the roaring '90's was listed as "Vincent Vega". Some Eliot fan was "J. Alfred Prufrock". "Rimshot Thudpucker" will always be my favorite, because it was in the Jackson phone book for so long, and was probably really someone's name.

Author

Count No Account

Date

2005-03-15T14:54:49-06:00
ID

78019

Comment

i remember rimshot thudpucker. we called him many times and asked about martha thudpucker. i remember shithead jones as well. the best was a listing for a guy named led zeppelin. they all were called...repeatedly

Author

pjmcilwaine

Date

2006-03-28T00:27:42-06:00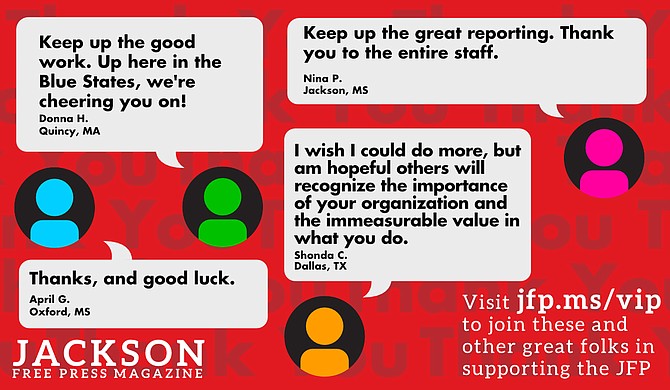 Thanks to all our new JFP VIPs!
COVID-19 has closed down the main sources of the JFP's revenue -- concerts, festivals, fundraisers, restaurants and bars. If everyone reading this article gives $5 or more, we should be able to continue publishing through the crisis. Please pay what you can to keep us reporting and publishing.