Led by Christopher "Free Sõl" Anderson, Memphis-based Free Sõl will perform in the Hal & Mal's Red Room, Friday, July 15, from 8:30 p.m.-1 a.m. Free Sõl starts with a Prince, Isley Brothers, and Sade influenced smooth and soulful R&B groove, then they kick into an eclectic high energy hip-hop-funk fusion of OutKast, Sugar Hill Gang, and the Chili Peppers. Think of them as Jay Z meets Rick James, with jazzy horns, and a shot of Linkin Park. The transitions are so diverse there truly is something for everyone…regardless of race, color, age, old or new school creed. C'est revolution de la Sõl.
Memphis' own urban/rock band Free Sol and 2003 Grammy Showcase Winners brought home their biggest win yet as The 2005 BMI Urban Music Showcase Winners in Atlanta! Chosen among five finalists across the country, Free Sol's winning performance wowed industry professionals in one of the biggest urban music scenes…Atlanta; Once again, validating Memphis as a home-breed for great talent. "We have had great success over the past few years and this is absolutely one of the best successes yet," states Raheem Baraka, Manager of Free Sol, "These guys are talented, dedicated and deserving."
Free Sol began its roots acquiring respect and awards in its hometown of Memphis and it is evident with this win that they are quickly gaining immediate appeal and recognition as one of Memphis' prize possessions. Catherine Brewton of BMI Urban said, "It was the best performance witnessed of any BMI Showcase!"
Rey Fleming, President of The Memphis Music Commission had this to say, "Atlanta is the #1 urban music market in the United States. For a Memphis artist to go into that market and take top prize at BMI's Urban Music Showcase is a very significant achievement. Free Sol proved to be a better talent than many of Atlanta's own artists… So it shouldn't be any surprise as the city continues to produce nationally recognized award winning talent today. Free Sol is one of the best up & coming talents this city has to offer".
Free Sol is currently touring the southeastern United States promoting their debut album distributed by Redeye entitled "11:11". Some nationally recognized upcoming performances for Free Sol are: Austin City Limits in September, www.aclfestival.com ), and the Voodoo Music Festival in October (www.voodoomusicfest.com ). For more information about Free Sol's tour schedule, please visit www.freesol.net
************
Free Sõl was organized in the fall of 2002. After winning the 2003 Mid-South Grammy Showcase, Free Sõl quickly solidified itself as one of the most eclectic and original collectives around. With its sound rooted in Hip-hop, Free Sõl masterfully blends elements of jazz, funk, rock, soul, and rap, making it almost impossible to pigeonhole the band into one musical genre. Free Sõl is on a mission to deliver music that looks past commercialism and allows one to listen, question, agree, disagree, and find deeper meaning through the fusion of great music and high energy performances.
Free Sõl's latest album 11:11 is in stores now (via Redeye Distribution).
***********************************************
"The best band out of Memphis in years!"
- Isaac Hayes
"Hot! Hot! Hot!"
- Juicy J of Three 6 Mafia
"A modern day hip-hop Marvin Gaye"
- David Porter, Producer, Songwriter
"You can not deny them"
- Carlos Broady, Producer
"Free Sol arrived on the scene with a ferocity, charm, and intelligence that has not been seen since the glory days of Isaac Hayes. From sweet, melodic bump-and-grind numbers, to hardcore political and social commentaries, to raging party anthems, Free Sol brings it REAL to the people."
- Memphis Music Commission
"Whenever and wherever Free Sõl performs, the audience just loses control...pure excitement!"
-Don Mann, President - Memphis Records
[Music] Hip-Hop + Rock= Free Sol
by Stephen Belden
Midway through my interview with Christopher "Free Sol" Anderson, the talkative, laid back front man of the Memphis-based "hip-hop fusion" band Free Sol, I ask Anderson if he thinks their own blend of hip-hop, rock, jazz, R&B, soul—even metal—will be easily accepted by the mainstream. He laugh. "I think we're gonna be the biggest in the world. It's gonna blow up," he says. Despite Anderson's jubilant tone, he isn't joking.
One might think these are big words coming from a band playing mostly bars and music festivals throughout the Southeast. But consider this: Jay-Z and Linkin Park's recent "mash-up" album, "MTV Ultimate Mash-Ups Presents Jay-Z/Linkin Park: Collision Course" topped the Billboard charts at No. 1, not to mention Jay-Z's recent hit single with former Run DMC-turned-Red Hot Chili Peppers producer Rick Rubin, "99 Problems," which featured a hard-rock guitar and drums lifted straight from Billy Squier. Ludacris recently performed a remix of his song "Get Back" with pop-punkers Sum 41.
While the trend isn't new—Rubin was mashing Aerosmith with Run DMC 20 years ago—it's certainly coming into its own as of late and not just in the hip-hop world, but the pop-music world in general.
But for Anderson, it doesn't stop there: "Everybody's playing with a band these days. Really, that is the beauty of hip-hop. There is no boundary to it; you can do a jazz track, and its still hip-hop."
Anderson insists he doesn't find anything especially new about Free Sol's special brand of hip-hop; for him it's always been there, waiting to come out: "Hip-hop has always been there. Jazz has always had hip-hop in it."
After dropping out of school, Anderson made a solo hip-hop album, selling copies on the street. He soon decided he wanted a band, asserting that "hip-hop needs that to stay alive." In 2002, Anderson pulled three members from varying backgrounds. Primo is a keyboardist who'd played mostly gospel but also R&B and soul with artists like Al Green. Elliott (or, WhiskE) is a former studio engineer and classically trained guitarist who names Pantera guitarist Dimebag Darrell as his hero. Drummer Kickman Teddy who, Anderson claims, "came straight out of church," has a gospel background. Additionally, Free Sol's influences read like the play list for some sort of jazzy adult contemporary station forced to infiltrate hip-hop into their mix: Prince, Sting, Outkast, 2Pac and Sade.
What's apparent is that, unlike Jay-Z and Ludacris' respective collaborations, this band is not simply a rock band with a rapper for a front man— Free Sol is a band in the truest sense of the word, even improvising at their live shows.
Although Anderson says the band's style, which often includes horns and bright keyboards usually found only in '70s soul, alongside metal guitar and a hip-hop beat, isn't completely embraced by the hip-hop audiences in his hometown ("They call me a 'head banger,'" he says), he isn't phased by the Memphis attitude.
"I don't think they get it, yet. I hate to say, but I think a lot of times that crowd needs video exposure (to accept new music). The whole Memphis crowd is used to a certain mentality and a certain style. Memphis is a hard place to stay. It's a great place to be from, but it's a hard place to stay. But I wouldn't want to do it anywhere else," he says, adding, "I think we're opening (new) doors."
Anderson says their next album "In the Spirit of David," the follow up to their debut 11:11, will hit stores this summer.
Free Sol is now playing live in Jackson about once a month. Watch here and the music calendar for updates.
More like this story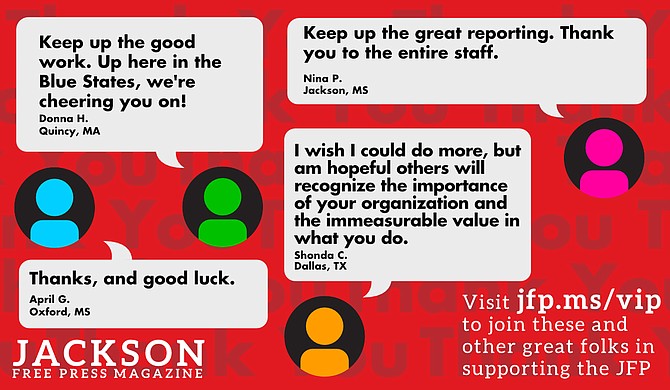 Thanks to all our new JFP VIPs!
COVID-19 has closed down the main sources of the JFP's revenue -- concerts, festivals, fundraisers, restaurants and bars. If everyone reading this article gives $5 or more, we should be able to continue publishing through the crisis. Please pay what you can to keep us reporting and publishing.