"Preacher" Edgar Ray Killen's jury trial has ended; he was convicted of manslaughter in the deaths of the three young men on June 21, 1964. On June 23, 2005, Judge Marcus Gordon sentenced Killen to the maximum allowed under Mississippi law: 60 years (20 years for each homicide). Killen will be held in isolation at the Central Mississippi Correctional Institute until a state "classification" process is completed. Killen will be labeled either a medium or a maximum security prisoner and will remain in the Rankin County prison or be shipped to Parchman to serve his time. In either case, he will be in isolation in a cell for 23 hours a day, Monday through Friday. Weekends and holidays, he will remain in his cell for 24 hours a day.
The appeals process now begins. Asked about this process after the "motions" hearing ended Monday, June 27, 2005, defense attorney James McIntyre told reporters that at least five respected citizens promised to cover all the costs associated with Killen's appeal. Appeals to the state appellate courts may take three or more years before Mississippi jurists reach final judgments. And then there is the possibility of an appeal with the U.S. Supreme Court, a process that may take a year before the Court decides whether to hear Killen's appeal.
People who have followed the short trial in the media have many questions. For example: "How can the prosecutors jumpshift from a murder charge to a manslaughter charge?" Well, in Mississippi, as Judge Gordon pointed out, all murder trials can include a lesser offense, manslaughter, if requested by prosecutors. Mississippi statute 97-3-19 (1)(3) states: "An indictment for murder or capital murder shall serve as notice to the defendant that the indictment may include any and all lesser included offenses thereof, including, but not limited to, manslaughter." Further, Mississippi statute, Miss. Code Ann. § 97-3-27(1994), defines manslaughter as follows:
"The killing of a human being without malice, by the act, procurement, or culpable negligence of another, while such other is engaged in the perpetration of any felony, except rape, burglary, arson, or robbery, or while such other is attempting to commit any felony besides such as are above enumerated and excepted, shall be manslaughter."
In the Killen case, because of the paucity of new evidence generated by the prosecutors before the trial, the state asked that the lesser offense of manslaughter become part of the jury's consideration. Judge Gordon agreed.
In the state's case against the 80-year-old Klansman, the primary evidence used to link Killen to the murders of the three young men in the 2005 trial were excerpts from testimony given in 1967 by two Klansmen-turned-FBI informants, now deceased. The state had very little new evidence to present in 2005. Although the prosecutors had tried for months to convince one or more of the living Klansmen who participated in the executions to become witnesses for the prosecution, all these men told D. A. Mark Duncan and Attorney General Jim Hood they weren't involved.
The prosecutor's case boiled down to testimony from the three victims' families and testimony from two FBI agents who were involved in the 1964 search for the trio. These witnesses talked about the climate. They could not and, therefore, did not talk about Killen's role in the murders. In addition, there was very weak and probably non-credible testimony from a convicted rapist who recalled that as an 11-year-old, he overheard his grandfather and Killen talking about the murders. There was also testimony from a Klansman who was marginally involved in the 1964 events who, on cross-examination, admitted that he lied about these events in the 1967 federal trial. And in the middle of these live witnesses (who could not place Killen as the planner of the executions), "actors" read from the 1967 transcripts excerpts that did place Killen in the leadership role when the Klan set out to kill the trio of civil rights workers.
Still, testimony from 1967 showed that Killen had told Meridian Klansmen that he needed them because three civil rights workers needed "their rear ends tore up"—thus raising the pivotal question for jurors of whether Killen planned for them to be killed. If he did, it was murder. If not, it was manslaughter.
However, as the defense noted—again and again—to the jurors, there was no way that they could have cross-examined these dead FBI informants. They impeached the credibility of the 1967 informants, calling them liars and Judases. The defense also presented live witnesses who placed Killen at a funeral home the night of the murders (not that he had to be present to be convicted of murder; yet, this alibi planted seeds of doubt).
In its summation, the defense repeated said the 1967 FBI informants were liars who took money from the federal government in return for their lies. They claimed that the state did not come close to meeting the burden of guilt beyond a reasonable doubt. Duncan told the jury in his summation that "we" (Hood and Duncan) believe strongly that the evidence presented showed that Killen deliberately planned the executions of the three men, but if there was a question whether they had shown "guilt beyond a reasonable doubt" of murder, then then the jury should consider the charge of manslaughter. Given the general weakness of the state's case, manslaughter quickly became a very viable option for the prosecutors and, as it turned out, for the jurors as well.
As a few jurors stated afterward, guilt of murder beyond a reasonable doubt was not a realistic path for the majority of jurors to take because of the quality of the evidence. Evidently, they were divided 6-6—not "deadlocked" or "hung" as reported by other media—six for manslaughter and six for murder at the end of two hours of deliberations. The jury returned to the hotel, and, the next morning, it took them less than three hours to return a verdict of guilty of manslaughter on three counts.
While there was not guilt beyond a reasonable doubt that Killen plotted the murders, there was guilt beyond a reasonable doubt that Killen's actions inexorably led to their murders, and therefore he was guilty of manslaughter. There was no "jumpstarting" by the prosecutors—under Mississippi's criminal code, the jurors could consider manslaughter as a "lesser offense" and likely chose the verdict that best matched the evidence as presented.
Photo: The bodies of James Chaney, Andrew Goodman and Michael Schwerner were found in Neshoba County buried in a dam on Aug. 4, 1964.
Previous Comments
ID

141837

Comment

In the online edition of the July 6 edition of the LA Times appears a commentary written by Warren Paprocki, an engineer in Philadelphia, Mississippi and a member of the Killen trial jury. Paprocki gives his reasons why the manslaughter conviction was handed out to Edgar Ray Killen for the deaths of Michael Schwerner, James Chaney and Andrew Goodman. "COMMENTARY Mississippi Turning: Inside the Killen Jury By Warren Paprocki, Warren Paprocki is an engineer in Philadelphia, Miss. "The jury was initially split between those who felt he was guilty and wanted to convict him of murder and those who felt he was guilty and were frustrated because the state did not present sufficient evidence to convict him under the jury instructions. "Still, we followed the law and the court's instructions. We did not enter into some exercise of "jury nullification" in which jurors vote according to their convictions rather than by the law as prescribed either for or against Killen. As it was put to me by a fellow juror: "If your brother was on trial here, wouldn't you want him tried according to the law?" "In order to convict Killen on murder charges, according to our jury instructions, it had to be proved that he had pulled the trigger or that others had been acting under his specific direction to kill the three men. What we heard in court was that Killen told some people in Meridian that three civil rights workers "needed their asses tore up" and then showed these people where to sit and wait for the three in Philadelphia. But it was not established that he gave them any instructions to perform a specific act..." The rest the article is interesting as well ... http://www.latimes.com/news/opinion/commentary/la-oe-paprocki6jul06,0,1423774.story?coll=la-news-comment-opinions Looks like the ball is back in the attorney general's court ... Susan Klopfer I've posted this to my Neshoba blog http://neshobanews.blogspot.com

Author

Susan Klopfer

Date

2005-07-07T10:23:03-06:00
ID

141838

Comment

That's a nice summation of it. At least he went down for something, and it was even something that mostly fit. :) Now we have to hope he stays in jail.

Author

Ironghost

Date

2005-07-11T14:53:32-06:00
ID

141839

Comment

Read the following and began to wonder how "Preacher" is holding up ... June 23, 2005 ACLU Sues CMS over health care of people incarcerated in Mississippi SHELIA BYRD, Associated Press Posted on Wed, Jun. 22, 2005 http://www.kansascity.com/mld/kansascity/news/local/11958260.htm JACKSON, Miss. - The American Civil Liberties Union has sued the St. Louis-based health care provider for inmates at Mississippi's Parchman prison, alleging prisoners have been misdiagnosed and received inadequate treatment. The federal lawsuit against Correctional Medical Services, Inc., one of the nation's largest for-profit medical providers for prisoners, was filed Wednesday on behalf of 1,000 inmates at Parchman's Unit 32. Other defendants are Chris Epps, the commissioner of the Mississippi Department of Corrections, deputy commissioner Emmitt Sparkman and other agency officials. The lawsuit was filed in federal court in Greenville. "We're hoping that the lawsuit is going to make a big difference in conditions in Unit 32, which we really do think are so grossly inhumane as to amount to torture," said Margaret Winter, associate director of the National Prison Project of the ACLU. (CMS is at Rankin, too ...) sk

Author

Susan Klopfer

Date

2005-07-14T22:53:06-06:00
More like this story
More stories by this author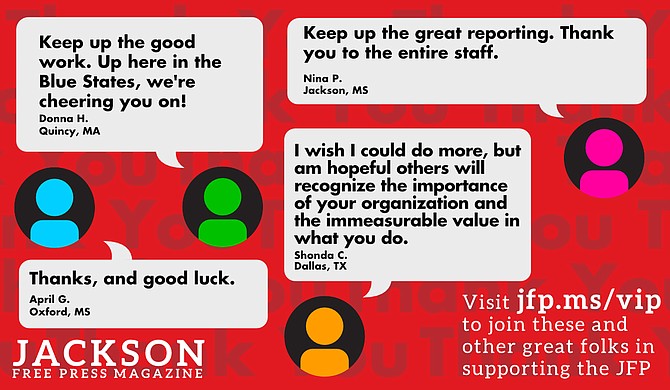 Thanks to all our new JFP VIPs!
COVID-19 has closed down the main sources of the JFP's revenue -- concerts, festivals, fundraisers, restaurants and bars. If everyone reading this article gives $5 or more, we should be able to continue publishing through the crisis. Please pay what you can to keep us reporting and publishing.