Here in Mississippi, we often get the short end of the stick. Find a list of positive statistics; we're near or at the bottom. Negative? Look to the top. Whenever a tornado strikes, newscasters rush to the nearest trailer park, and it makes national headlines when we vote to keep the Confederate flag.
Yes, we wear shoes and have indoor plumbing. No, we don't marry our cousins. Yes, we like to drink first-rate wine.
Many people believe we cannot find as good a wine selection here as we could in other states. I think this might come from misconceptions about the Alcoholic Beverage Control, which I once mistakenly thought of as a necessary evil. Mississippi falls under control status. That means all wines bought in the state, except native wines, must go through the ABC. Often, a broker deals directly with the winery but still must do business with the ABC.
At the recent Sante South wine festival where 17 wineries provided tastings, Garth Cobb of Karly Vineyards (maker of several impressive zinfandels, especially Warrior Fires) mentioned how the system helps give wines the chance to age that they wouldn't get in open status states. The wines go to a temperature-controlled warehouse, where the big sellers don't even make it to the shelves. Higher-priced products may remain there up to six months.
Unfortunately, you can't have wine shipped directly to you (or I would quickly order the Karly Orange Muscat, among others). This is despite a Supreme Court ruling that many people felt would prove otherwise. Check out http://www.freethegrapes.com to find out more.
Luckily, the regulations for wineries to register in Mississippi are less rigid than many states. All it takes are a couple of pieces of paper. If there's a wine you really want but cannot find, ask your favorite liquor store to order it for you. You might have to buy the whole case, though.
Of course, the wine might not always be available. Those highly rated and described in Wine Spectator or a guidebook might be so limited and sought after that very few states get any. Wineries want to send their products to places where they will sell quickly. Obviously, Mississippi is a much smaller market than California or New York.
According to sales figures I received from Kathy Waterbury (a very helpful lady at the ABC), only two bottles with a wholesale price of over $7—Kendall Jackson and Ecco Domani—were among the 50 highest sellers for the first part of this year. The top 10 did, however, include Wild Irish Rose Red, Reunite Lambrusco and several white zins in a box.
Unique finds and great bottles are now sitting on shelves, collecting dust. I was recently and happily surprised to walk into Kat's and find the Biale Black Chicken Zinfandel, when I thought the state was out of it. Robert Biale makes explosive wines, including a petite sirah I haven't had the chance to try, yet. We have them here, even when I couldn't even find them in New Orleans.
We get quite a few wines that other states do not, including Lagier Meredith Syrah and some celebrated pinot noirs by Beaux Frères and Loring Wine Company. They might be in a store, at a casino or in a restaurant. It's up to us as consumers to buy and drink them—hardly a chore in my book.
While people seem more interested in wine these days, they are drinking less of it. We can't hope for more choices unless we drink more and better. Don't just walk past that bottle of Ridge Monte Bello, lightly touching the bottle with a sad sense of longing. Find a friend who loves wine as much as you do and splurge a little.
Previous Comments
ID

84347

Comment

Hats off to a good writer who knows her stuff. The tidbit about the ABC inadvertently benefiting local wineries by storing their stock is good information from a journalist who knows the value of investigation. Speaking strictly for me, I say we get someone to write on beer, too, and between the four of us (you, Lynette, the proposed beer columnist and me) we can get some real food talk going and steal a little thunder from more academic venues. And talk about investigative journalism, I think the first project we might undertake as a group is to go over to Donnaís and see whatís in her kitchen. Iíll bet you she has a head of iceberg lettuce in the `fridge that looks like a deflated football. Iím sure we could get a search warrant.

Author

JLY

Date

2005-07-06T19:33:36-06:00
ID

84348

Comment

Alright now, frisky gourmands! Here come the friggin' food police on me. You give the guy a fancy award and look what happens. Let me guess: you're bringin' the networks with you and then gonna lecture me on the contents of my fridge (which is worse then a head of Iceberg, let me tell you). Of course, Todd does cook. But even he hasn't mastered the fine art of cleaning out the fridge. ;-) A beer columnist is an excellent idea.

Author

DonnaLadd

Date

2005-07-06T19:40:14-06:00
ID

84349

Comment

Hey, it was Lynette's idea! Wasn't it, Lynette? Lynette? You need to back me up here . . . :D

Author

JLY

Date

2005-07-06T19:51:16-06:00
ID

84350

Comment

The BEER COLUMNIST IDEA! *duck*

Author

JLY

Date

2005-07-06T19:51:59-06:00
ID

84351

Comment

....and mayonaise, I bet there's millionaires that ain't got the mayonaise Donna's got (quoting Jeff Bridges in some old forgotten movie}

Author

dw

Date

2005-07-06T23:47:25-06:00
ID

84352

Comment

I'd love to see a beer columnist, as well. Beer drinking is a hobby of mine (and no...not watered down, mass produced American beer). I'd be interested to know more about beer laws in the state. I think that beer made on a premises has to be kept to a pretty dang low alcohol content. I've often wondered if that's discouraged other microbreweries from popping up like I thought they might have after the legislation was passed in the late 90's. I think there are really only two places in the state that even make their own beer...Hal and Mal's and the Gulf Coast Brewing Co. in the Beau Rivage in Biloxi. I HAVE noticed that more grocery stores have started carrying a much larger variety of beers now. Brookshire's, especially. I wonder if it's because demand for good beer has risen or if it's because of any laws changing, etc. Beer writer....great idea. Anything to get the interest kicked up a notch.

Author

millhouse

Date

2005-07-07T08:06:23-06:00
ID

84353

Comment

Okay, since there is some interest in getting a beer columnist, let me be the first to offer my services to help fill the position. I'll need an expense account and a designated driver to conduct the preliminary research, of course (not to mention the series of interviews themselves), and I think we should bring "millhouse" in as an expert advisor for a modest fee. I'm certain the potential for advertising will more than justify the initial outset.

Author

JLY

Date

2005-07-07T17:27:04-06:00
ID

84354

Comment

We could also have a "beer blog;" wouldn't that be fun? We could call it "The Jackson Free Belch."

Author

JLY

Date

2005-07-07T17:56:15-06:00
ID

84355

Comment

The JFB for short. I like it. ;-D

Author

DonnaLadd

Date

2005-07-07T17:57:42-06:00
ID

84356

Comment

Modest fee = buy my beer. :D

Author

millhouse

Date

2005-07-07T18:16:36-06:00
More like this story
More stories by this author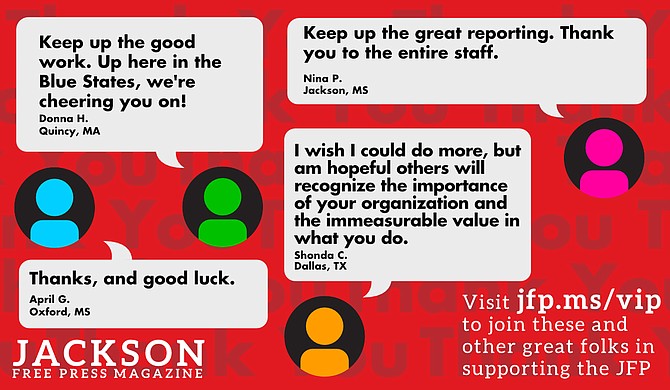 Thanks to all our new JFP VIPs!
COVID-19 has closed down the main sources of the JFP's revenue -- concerts, festivals, fundraisers, restaurants and bars. If everyone reading this article gives $5 or more, we should be able to continue publishing through the crisis. Please pay what you can to keep us reporting and publishing.