This week quality and quantity have got their proverbial jam on in high gear. On Thursday Rufus McKay, R&B/Blues lead vocalist for The Red Tops will perform with the Ben Shaw Band at the Millsaps Academic Recital Hall at 7:30 p.m. $10, 974-1043. Throughout the '50s and '60s The Red Tops performed at high school proms, and night clubs all over the tri-state area. You can wax nostalgic with beautiful classic Ben E. King inspired ballads and old school rocking R&B with "Swanee River Rock" or "Hello Is That You?"
Martin's is as hot as they come this week as they bring in three internationally renowned bands in three days. The sinister and experimental boy-girl nu-metal power-punk of Jucifer will U-Haul their wall of amplifiers to Martin's on Thursday. Whereas the yin of the White Stripes reigns in some Universes, Jucifer is their yang master in the opposing metaverse. Indeed, if some dark lord was juiced into a post-coital breakfast drink, Jucifer would surely, be the result. With nay but a drum kit and an axe to grind, whilst behind them, a brutal concave mass of amplifiers serve as a backdrop. Bring earplugs, and practice up on throwing your devil signs.
One of the most celebrated genres in popular music is that of the '60s cerebral psychedelic pop of The Beatles, The Beach Boys (Pet Sounds/SMiLE), The Byrds, The Kinks ("Waterloo Sunset"), and The Velvet Underground. Those origins of beautiful melodies and harmonies were continued throughout the '80s with the London based Creation Records with bands like Biff Bang Pow, Oasis, My Bloody Valentine, House of Love, Slowdive, Jesus & Mary Chain, Ride, and Primal Scream. Throughout the '90s the American South begat its own counter culture tradition of indie psychedelic pop thru the Elephant 6 Music Collective. From Ruston, La. the fledgling label grew and split to Athens and Austin, and bands like Apples in Stereo, Neutral Milk Hotel and Olivia Tremor Control thrived. Since the Elephant 6 imprint folded in the late '90s, musicians like The Shins, Of Montreal, The New Pornographers, and most recently, Rogue Wave have become the pinnacle international statesmen of what has sprung from Brian Wilson's "good vibrations." Opening for The Shins last year, Rogue Wave stunned the indie world with their debut release, "Out of the Shadow," on Sub-Pop Records. They have all the indie-psych carefree moog jangle of The Shins, the intimate melody of Elliott Smith and Simon & Garfunkel, with all the gorgeous waves of catchy hooks one could ask for. Do not miss their Mississippi debut at Martin's this Friday night. Touring nationally with Rogue Wave, the San Francisco duo Two Gallants will open. They play garage folk-punk and roots soul with a Dylan-esque poetic imagery for a backbeat. Mark your calendars for March 14, when Of Montreal returns to Martin's with a new album.
On Saturday night the indie rock shoegaze of Asobi Seksu ("Playful Sex" in Japanese) will return to Martin's. The Japanese pop-singer Yuki Chikudate leads this New York City wash of My Bloody Valentine and Sonic Youth.
Michael Burks will return to 930 Blues Café this weekend and join Ironing Board Sam, and Jackie Bell for some fiery flying-V blues guitar. Burks isn't some old time has been legend you wished you would've seen in their prime. He is prime time central, at the top of new blood, sending you home nightly with what legend he forges.
The reggae New Orleans Jam fusion of Saaraba return to George Street on Friday night, complete with Ska style horns. They will be performing material from their latest album "Nudivinity" for your dancing pleasure. Check them out at www.saaraba.com . I can't help but roll my eyes a bit when I hear a bunch of white boy jam kids laying down some socio-political Marley-esque lyrics about injustice. But these days the live musical praising of Jah comes all too infrequent. After the George Street show I recommend heading down West Street and checking out WMPR DJ C-Lecta at Club Seven on Millsaps Avenue, and hear him spin the Reggae and Soca we all wish we could get live.
Monday night, George Street will be having a Southern Fried Valentine's Day Love-In. At 7:30 p.m. they will be screening the documentary "Rising From The Riverbed" about the Oxford band Beanland. DayBreakDown will debut their new CD, "Make Me Wiser," immediately after the film. The CD is fresh off the press and this is your first chance to sample the latest from one of Mississippi's favorite George Street Jukes. You can order dinner, watch the movie, get the new c.d. and see the live show all under one roof for Valentine's night.
Other highlights this week include Johnny Sketch and the Dirty Notes at George St. on Thursday, the HeARTS Against Aids Benefit on Saturday, and "A Night at the Oscars" with the Symphony Orchestra and Thacker Mountain Radio live from Hal & Mal's on Friday. Thacker Mountain Radio will be receiving the Governor's Award for the Arts at the Old Capitol Friday afternoon at 2 p.m. The reception and entertainment at Hal & Mal's will be broadcast live. Performing at the show will be Caroline Herring, Louis "Gearshift" Youngblood, James "Super Chikan" Johnson (blues) 7 p.m. $10. www.thackermountain.com
For details on these and other events see the lounge list and music calendar.
If you listen to rock radio or watch rock videos at all, you have heard "Ugly" by The Exies. Their single is currently the number five rock single in the country. For five bucks you can see The Exies at Headliner's on Wed., Feb. 16. It's not just your ordinary 93.9 alt.rock. Grammy-winning rock producer Nick Raskulinecz (Foo Fighters, Velvet Revolver) helped give them that Seattle Nirvana style grunge edge to their alt. rock and roll jams. Fled from the Sun kicks off the show at 8 p.m.
Memphis-based Free Sõl will perform at George St. on Wed., Feb. 16, free, 9 p.m. Free Sõl starts with a Prince, and Sade influenced smooth and soulful R&B vibe, then they kick into an eclectic high energy hip-hop-funk fusion of OutKast, Sugar Hill Gang, and the Chili Peppers. Think of them as Jay Z meets Rick James, with jazzy keyboards, and a shot of Linkin Park. The transitions are so diverse there truly is something for everyone…regardless of race, color, age, old or new school creed. Do not miss these guys. C'est revolution de la soul.
Herman Snell
More like this story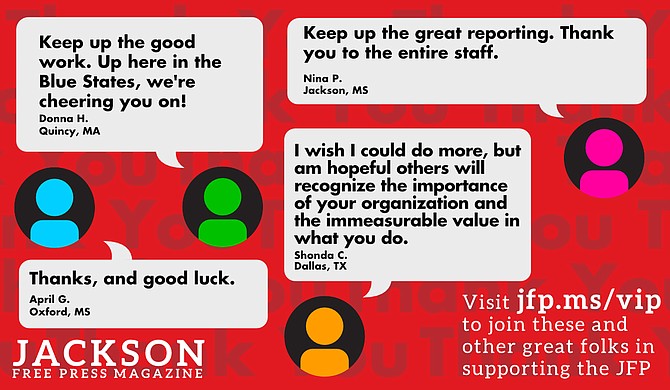 Thanks to all our new JFP VIPs!
COVID-19 has closed down the main sources of the JFP's revenue -- concerts, festivals, fundraisers, restaurants and bars. If everyone reading this article gives $5 or more, we should be able to continue publishing through the crisis. Please pay what you can to keep us reporting and publishing.