Think global. Shop local. It's emblazoned on one of the many bumper stickers on the back of my car. It's all over the JFP. It's on the lips of my closest friends. And I believe it.
Why should I spend my day working, toiling 'til I can't stay awake any more, just to give my money to some bigwig corporation owner who probably donates money to causes antithetical to everything I believe? Shopping locally, I know I can walk up to Ron Chane and understand where my money is going. Though I might not ask to speak to the owner over my morning coffee at Cups, it's nice to know that I can. The best thing about Jackson is that this city is full of businesses that are not only locally owned—they're pretty cool, too, and they are driving the city's Renaissance. Chane sells clothes that make me drool enough to actually spend money on a new shirt (this is more of a feat than you can realize). Cups produces coffee so much better than any expensive Starbucks brew I've had. And Lemuria offers a better book-reading atmosphere (with better readings, too!) than any Books-a-Million, Borders or Barnes and Noble in town. So, of course I'm going to think global and shop local. There's not a reason in the world (or city) not to.
— Casey Parks
Second place: Lemuria Book Store (4465 I-55 N., 366-7619)
Third place: Cups (various locations)
Good showing: Bravo! Italian Restaurant & Bar (4500 I-55 N., 982-8111) and Hal & Mal's Restaurant & Brewery (200 Commerce St., 948-0888)
Best Music Store: Be-Bop Record Shop (various locations)
Lookin' for folk, pop, soul, new age, classical, jazz, blues, hip-hop, movie soundtracks, local artists? Be-Bop is the place you'll want to shop. The fact is, their unique stock catalogue and customer service, plus underground music and archive records, combine to make this Jackson's favorite place to search for that special music your soul needs—know what I mean? Go through the door of any Be-Bop location to search through the plethora of musical genres. Customer service is friendly and effective; you, the music consumer, will get the attention you need to find the music you want. And it's a locally owned business, so the profits don't go to Bentonville, or Colorado or somewhere.
Not only does Jackson think that Be-Bop is a wonderful music store, but the employees share the same view. So, if you are looking for a place to interact with knowledgeable lovers of music and want to learn more, then Be-Bop is calling your name.
— Thabi Moyo
Second place: Best Buy (6374 Ridgewood Court Dr., 977-9115)
Third place: Morrison Brothers Music. (127 Dyess Rd, Ridgeland, 956-0135)
Best Urban Bike Ride: Belhaven
There is no shortage of good bike routes in Jackson, but this year the most popular place to go for a relaxing bike ride is the Belhaven neighborhood.
Virgi Lindsay, director of the Greater Belhaven Neighborhood Foundation, says she believes one of the most important reasons why Belhaven attracts bikers is its central location. People who work downtown are only a few minutes away, making it convenient to work a bike ride into their schedule. The terrain is hilly enough to challenge riders and interesting to look at. Plus, the Greater Belhaven Security Association's patrols make riders feel a little safer in the neighborhood.
Second-place finisher Old Canton Road offers interesting landscapes, dotted with plenty of restaurants in case someone on a journey wants to stop for a meal.
The third best route is the Natchez Trace—quiet, scenic and filled with history.
—Daniel Townsend
Second place: Old Canton Road
Third place: Natchez Trace
Best Place for Yoga: Butterfly Yoga (3218 N. State St., 594-2313)
A true sign of a progressive, creative community is a plethora of yoga studios. And we have them. And we have yoga of various types, which is important because one style does not fit all. This year, though, one yoga studio stands out above the rest for JFP readers: Scotta Brady's Butterfly Yoga. Scotta made a big move last year, taking over the old Studio Chane building in Fondren (a gas station even before that), painting it hot green and opening her yoga there. Inside, she teaches Anusara yoga to a growing group of Scotta groupies. Her students love her! And for good reason: She is funny, beautiful, hip (I always picture her at Elixir's opening in a groovy mini dress and go-go boots) and, most importantly, knows what she is doing. She will stop in the middle of a class and give one student individualized attention depending on your needs. And she is not shy about presenting a well-rounded yogic experience, complete with chants and a Buddhist prayer bowl. Scotta is making a name for herself in a city with many good yoga options—from Joyflow to Courthouse to the YMCA to Triangle (which offers my personal favorite, Iyengar) to the new "hot" studio, Bikyam, out Lakeland. Cheers to Scotta and our other yogis who are determined to help us rid our bodies of stress and pain. We need you all.
— Donna Ladd
Second place: Joyflow Yoga Center for Healing (2807 Old Canton Rd., 898-0300)
Third place: Courthouse Racquet & Fitness
(various locations)
Best Alternative to Wal-Mart: Target (two locations)
"Somebody told me that you get really mad at people if they shop at Wal-Mart," said one of our interns the other day when she caught me running into the sales room to grab something off the printer. I tried to make it clear that it wasn't exactly a company policy—she could shop at Wal-mart on her own time—but, truth is, I don't want Jackson Free Press money spent in a Wal-Mart. That's true. Not even if it's really darned convenient because they've got the photo processing lab right there next to the cold cuts. I encourage avoiding Wal-Mart whenever possible. I think the company is antithetical to the America I want to live in.
So, is Target much better? Not much. I still cringe when I see that the clothes are made in El Salvador, as that seems to mean fewer jobs for people in American textiles. (Remember when it used to be conservative to care whether something was Made in America?) But Target is less predatory in their business practices, and they make a habit of donating a portion of their profits to local charities. Even better is Rainbow Co-op. I've noticed that whenever I accidentally make some massive corporate-controlled error in judgment, I'm never in Rainbow when I do it. Funny how that works. Everything from food to toiletries to toilet bowl cleaner is best bought in Rainbow if you'd like to see the co-op continue to exist and the hard-working little guy just occasionally get rewarded for what he or she is trying to accomplish.
—Todd Stauffer
Second place: Rainbow Whole Foods Co-op (2807 Old Canton Rd., 366-1602)
Third place: Fred's (various locations)
Best Window Shopping: Highland Village Shopping Center (4500 I-55 N., 982-5861)
Driving north on I-55 Frontage Road, it is difficult not to hang a right into the lot of Highland Village. With 45 storefronts there daring the next passerby to resist the eye-candy that inevitably awaits behind every pane of glass, it is nearly impossible to resist.
The sculpture, gazebo, bubbling fountain and ever-blooming vegetation are just added perks to coerce Jacksonians to take a stroll, look for that little happy you've been meaning to get a dear friend or, even better, that something you know you well deserve. From the hand-crafted toys straight out of the crayon-box hues at Old Tyme Commissary to the freshest designer trends at Inside Out, the window displays are not to be rivaled. Highland Village truly is window shopping at its best!
— Jen Barker
Second place: Fondren District
Third place: Treehouse Boutique (3000 North State St., 982-3433)
Best Gallery: Gallery 119 (3017 North State St., 366-5141)
Gallery 119 is consistently our readers' choice for Best Gallery. And that fact says something to me: Jacksonians are discernible about their art. They want the real thing. They're not just looking for art to match the sofa.
Jacksonians know that James Patterson, the proprietor and curator, knows art and photography. And he knows artists and photographers. He gives the most packed openings (although some of the other galleries, like Southern Breeze and Nunnery's, are packing them in as well), and he knows people all over town. James may be grumpy and a bit curmudgeony—but people like James. He is a unique character to say the least—and who else should be running the city's best gallery?
We hated to see Gallery 119 leave downtown and move to Fondren. We need our good galleries and art downtown. However, the move to share the space with Article Design—another of our favorite local businesses, especially for the mod furniture pimps around the office—has worked wonderfully, leading to some great openings during Fondren Art Mixes. Congratulations to a worthy contender.
— Donna Ladd
Second place: Southern Breeze Gallery (4500 I-55 N., 982-4222)
Third place: Nunnery's Gallery (426 Meadowbrook Rd., 981-4426)
Best Florist: Greenbrook Flowers (705 N. State St., 352-5743) and
(6655 Old Canton Rd., 957-1951)
You may know Greenbrook Flowers as the cool Victorian building on North State near downtown with the two PT Cruisers—hippie-flower stickers all over them—sitting in the driveway. I know it as the place I use every Valentine's to send a lil' somethin'-somethin' to my sweetheart. The hot thing for Valentine's this year is going to be the mixed dozen roses. Just imagine getting a bouquet of colors delivered to your front doorstep. Ooh-la-la.
Greenbrook Flowers, owned by Brook and Janet Jacobs, has been around for five generations. That's about a century's worth of friendly faces to help you pick something for your loved one. The coolest thing I have recently learned is that the owners of Greenbrook started a holiday several years ago called Good Neighbor Day. Every September, lots of volunteers join the local employees to give out a free dozen roses to every single customer that comes through the door that day. You are then supposed to keep one rose for yourself and give the others out to people you care about. Greenbrook gave out around 50,000 roses last year. Eventually, the holiday got so big that FTD Flowers started doing it as well and declared it a national holiday. Now florists everywhere celebrate Good Neighbor Day which originated right down at Greenbrook Flowers on North State St. So give this year's Best Florist a try.
— Brett Potter
Second place: A Daisy A Day Flowers & Gifts (1220 E Northside Dr., 982-4438)
Third place: Green Oak Florist (5009 Old Canton Rd., 956-7150)
Best Liquor Store: Kats Wine Cellar (901 E. Fortification St. # B, 354-9181)
To me, the mark of a good liquor and wine store is a place where they can tell me what I need to buy without treating me like I'm an unsophisticated idiot. And where they have options that I can take to any type of event. Kats Wine Cellar fits this bill: It's a neighborhood liquor store where everyone knows your name and, better yet, the kinds of wine your significant other tends to buy when he's in there without you. It's small, but packed with wine and liquor options. Kats provided wine for the JFP table in Fondren Corner during ARTMix and was extremely helpful each time, suggesting an affordable jug wine that people enjoy. They are part of the community, and right in the heart of a future Renaissance area of Jackson: the Fortification Street corridor.
A word, as well, about McDade's and Briarwood: These are two other liquor stores with great selection and personal service. All three of these businesses are local businesses of the highest order, and we're proud they're our readers' choices.
— Donna Ladd
Second place: McDade's Wine & Spirits (1220 E Northside Dr., 366-5676)
Third place: Briarwood Mart Wines & Spirits (4949 Old Canton Rd., 956-5108)
Best Fitness Center: Courthouse Racquet & Fitness (various locations)
For those interested in staying in shape, losing a few pounds or becoming an overall healthier person, the Courthouse offers programs and facilities that are hard to compete with. The Courthouse, Best of winner in 2004 as well, provides kids' activities, seniors' activities and activities for everyone in the middle. Tennis, racquetball, volleyball, wallyball, and basketball are among the competitive sports available at the Courthouse.
Baptist Healthplex and the YMCA tied this year for second place. Baptist Healthplex offers a variety of activities and all their trainees have degrees in exercise science, which means customers are able to work with professionals who have a good knowledge level about exercise. There's something for everyone at the YMCA, too, and a welcoming atmosphere (the Fortification Street Y is a favorite of the JFP staff). Third place went to Fitness Lady. Some of the things that attract women to this facility include the 130 aerobic classes, 20 treadmills, free childcare and tanning beds.
— Daniel Townsend
Second place: Baptist Healthplex (various locations) and YMCA (various locations) (tied)
Third place: Fitness Lady (various locations)
Best Dollar Store: Dollar Tree (various locations)
Give my son a couple of dollars, and he's Monkey Warbucks. The Dollar Tree is great because the math is simple. Mommy, how much is this? Umm … a dollar? Pick up a laundry basket or a garbage can at The Dollar Tree and then scour the aisles for dorm room accessories. Think scrubby sponges, games and desk supplies. Grab some ribbon and wrap it up like a red convertible for the graduates at church or in the neighborhood.
Monkey prefers Dollar General simply because they carry the "collection" toys. He loves those toy sets that have a doctor's kit or the play money. Dollar General also stocks our favorite junk food: Twizzlers, Junior Mints and Lemon Heads.
— Emily Braden
Second place: Fred's (various locations)
Third place: Dollar General (various locations)
Best Thrift Store: NUTS (114 Millsaps Ave., 355-7458)
Henri Matisse's series of still lifes and nudes printed in gold, blue, green and burnt orange, hangs over my bed: $1 each panel. My yoga mat sits upright, turquoise edges tucked tightly as it rests against the wall on my shelf: 50 cents. My coat is strewn across the bottom of my bed—thick, silk-lined and gray: $3. Directly ahead, I have three shelves of novels, enough to fill a garbage bag for $1.
I look around my dorm room, and I spot all of the things I have bought at NUTS. My room, my residence, my life is filled with stuff from NUTS. Located in the heart of the Millsaps Avenue Art District, NUTS (Neat Used Things for Sale) is a branch of the Good Samaritan Center: all proceeds help the Center with its programs and offerings to the community.
Sipping from my burgundy-striped, tight-lipped coffee cup, sleep in my eyes, warmth going down while I smile at the treasures I have found in my home city's best little thrift store: Priceless.
— Jessica Kinnison
Second place: Salvation Army Thrift Store (110 Presto Ln., 968-3987)
Third place: Goodwill Industries (various locations)
Best Museum: Mississippi Museum of Art (201 E. Pascagoula St., 960-1515)
We called it "Opening 78." There was a controversial exhibition of Mississippi artists, in which the daughter of the Mississippi Symphony Orchestra's conductor won Best in Show. I privately named the painting "A Demon Sucks Her Toe." Performance artists clanged cymbals outside and wandered through the sculpture garden chanting "opening, opening, opening." We unveiled a two-ton sculpture and awarded the artist $10,000. (It became known locally as "the cheese grater.") There were Mylar balloons and speeches, but not much of an audience for any of it.
This was the first day in the life of the Mississippi Museum of Art. There is a much longer history to tell, of the individuals who nurtured the vision, like Bitsy Irby, Janet Redmont, Bill Watkins and Theo Inman, all of whom have passed, and many others living and dead. And of the green, underpaid staff that worked killing hours, almost 24 hours a day, like mad fanatics with a vision, for more than three months to pull it off. The ambitious young director, Jim Czarniecki, has long since left the South. But all our dreams and ambitions have remained on display in this hard-won people's museum, enhanced and expanded by subsequent directors and staffs and boards of directors. It seems fantastical that the museum we built and inhabited in 1978 has become so vital—outgrowing its space, responding to new generations, still nurturing the fragile and mysterious product called "ART."
— Ruth Campbell Williams
Second place: Mississippi Museum of Natural Science (2148 Riverside Dr., 354-7303)
Third place: Old Capitol Museum of Mississippi History (100 North State St., 576-6920)
Best Public Park: LeFleur's Bluff State Park (2140 Riverside Dr., 987-3923)
It hardly seems fair: Laurel and Parham Bridges are great neighborhood parks, but how can they compete with first-place winner LeFleur's Bluff? The best playground in town (more like a playworld). A frisbee golf course. The fantastic Museum of Natural Science. Hiking trails. And don't forget Mayes Lake, with its entrance off Lakeland Drive. It's the best spot in town to see fall colors: I swear you can pretend you're in New England while admiring all of the red leaves in October. Quite simply, LeFleur's Bluff is one of the best things about Jackson. A good friend who has lived here for almost two years recently admitted to me that she had never even been to LeFleur's Bluff. Well, that's just silly. It's like living in New York and never going to Central Park. — Stuart Rockoff
Second place: Laurel Street Park in Belhaven and Parham Bridges (5055 Old Canton Rd.) (tied)
Third place: Smith Park (302 Amite St.)
Best Tattoo/Piercing Parlor: Squench's Tattoos Ltd. (3780 I-55 S., 372-2800)
Not only is Squench's No. 1 (again), but they are already also celebrating their 20th year in Jackson! Mr. and Mrs. Squench's family-oriented tattoo and piercing shop has been around long enough to get the respect and admiration of inked-up Jacksonians all over. But Mrs. Squench attributes all the credit to their customers, "We do tattoos and our customers go tell other people about us." Evidently—this is Squench's third year to win this category.
"We just please people." That's the motto of our second-place winner, Eternal Body Art. Five years in business and once again a spot on the JFP's Best of rankings only reiterate that. Their piercing work is limited to the basics, but tattoos are what they do best. Their current big project—a scene on one side of someone's body. Go ahead: Turn your body into a canvas. It's yours, after all.
— Kate Jacobson
Second place: Eternal Body Art (3611 I-55 S., 346-5963)
Third place: Animal House Tattoo Company, Pearl (Non-working number)
Best Boutique: Treehouse Boutique, (3000 North State St., 982-3433)
The world of fashion is ever-changing; as refreshing as this can be, it is even better to know that the boutique you've loved for five years is still around and fresher than ever. Treehouse Boutique, in the heart of the Historic Fondren District, is filled with delightful clothing, accessories, housewares and gift items. Whether you need to soak the stress away with sea salts or bubble bath, lather up with sweet-smelling soaps or have something to put on after all that relaxing, Treehouse is still Jackson's Best Boutique, two years running. Stepping through the door, you are enveloped with warmth, clean feminine scents, and six rooms of all the trendy, funky clothing and stylish, eye-catching jewelry and accessories you can bear. You just can't help feeling like embracing your womanhood and reaching for your wallet. And if you're a man who loves a woman, Treehouse is your spot for the perfect gifts—just have her tell the sales clerks what she wants for Valentine's Day, pop in later, and you will be well loved.
— Jen Barker
Second place: Lemongrass (4465 I-55 N., 914-3181)
Third place: Soma Women's Apparel (2945 Old Canton Rd., 366-9955)
Best Festival: Jubilee!Jam
Smaller is better? Well, you probably wouldn't get a Sweet Potato Queen to say that, but it was true of Jubilee!Jam last year, which reined in the pylons by a few blocks and ended up with a spot-on outdoor festival, complete with a lack of show-stopping rain. Sure, it was a little hot, but we're supposed to be hip to that. The acts were good, the turnout was nice, and everybody got their famous Thing-You-Shouldn't-Eat-Even-Once-a-Year on a Stick. That's the point. As for St. Paddy's Day—well, that's pretty much what makes Jackson, Jackson these days, isn't it? One day that parade may just turn up Farish Street ... and then life in Jackson will have come full circle.
— Todd Stauffer
Second place: St. Paddy's Day Parade
Third place: Farish Street Festival
Best Change to Jackson: Convention Center
Actually, the No. 1 change to Jackson seems to be the attitude that more and more people have about how possible it's going to be to reinvigorate the city. Not everyone wants it to happen—stinkin' naysayers remain—but more and more people seem to be climbing on the Jackson bandwagon. Indeed, there's no better example of that than the Convention Center, whereby Jacksonians actually got together and decided to tax themselves (and, truth be told, visitors and suburban residents who decide to eat or sleep in a hotel bed in Jackson) to build a shiny new building downtown.
Were we right? Was it a good idea? Who really knows? The convention business is a tough one, and it's going to have to be a well-run and exceptionally marketed facility by the time it's built and the conventions get booked. But the Jackson of the future may well be a place where people want to have the occasional convention—don't discount that. More to the point, though, is the coalition that came together to drive this convention center proposal—old, young, diverse, North, East, West, South and downtown folks ... we're impressed. Sure, Election Man may have had something to do with it, but a lot of people had to back this convention center to make it the success that it was. And they did.
— Todd Stauffer
Second place: Fondren
Third place: Farish Street
Best New Slogan for Jackson
Back in the '60s, Jackson was known as "The Crossroads of the South." In his inaugural address in July 2001, Mayor Harvey Johnson Jr. announced that it was time for Jackson to become the "Best of the New South." Jacksonians themselves have spoken out at the behest of the JFP's Best of poll, coming up with several new slogans, some worth mentioning, some not.
It's a shame, but way too many slogans were laced with violence and crime—"Everybody Duck," "Safer Than Iraq," "Our Joggers Can Outrun Your Bullets," "Duck and Cover," "Get a Gun or Get Out," "Welcome to Jackson, We're Stealing Your Car Now," "Jackson, the New Compton" and "It's Crime, Stupid!"
Then there were those who took on issues like roads: "Let's Name the Potholes"; changes in downtown: "We Still Have the King Edward"; the suburbs: "Jackson, It's No Madison"; and money: "A Great Place to Raise Your Taxes" and "We'll Spend It and Hope to God They'll Come."
Others got creative—"Jack Sun's Up and Rising," "Action Jackson: Come Bask in Our Glory," "The South Will Rise Again (Only This Time We'll Be Armed with Intelligence)," and "Jackson, Mississippi" Rednecks Who Try to Be Artsy." That last one's insulting to Jackson's artists, though, don't you think?
The truth is, the positive slogans—like "Jackson Can Make It Happen," "Join Hands and Celebrate," "Jackson, A City on the Go," and "Invest in a Better Jackson"—far outweighed the negative ones. Just like the somewhat silent majority of Jacksonians who don't make the nightly news.
My personal favorite, though: "Jackson: Putting the 'ass' Back in Class."
— Lynette Hanson
More like this story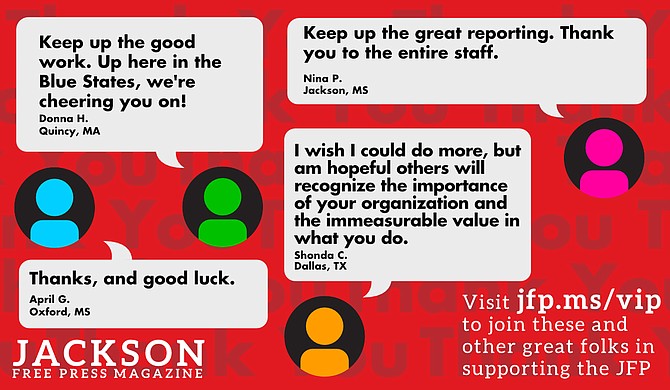 Thanks to all our new JFP VIPs!
COVID-19 has closed down the main sources of the JFP's revenue -- concerts, festivals, fundraisers, restaurants and bars. If everyone reading this article gives $5 or more, we should be able to continue publishing through the crisis. Please pay what you can to keep us reporting and publishing.