Best New Restaurant: Pan Asia (862 Avery Blvd. N., Ridgeland, 956-2686)
An urbane atmosphere, a diverse menu, a well-stocked bar and a friendly staff including chef Grant Nooe—all are part of the Pan Asia experience.
Start with appetizers like the spicy Calamari served with Thai chili sauce, the lettuce wraps, Shrimp and Pork Dim Sum, or the Summer Rolls. For your entrée, the stir-fry bar never disappoints; create your own meal with your choice of vegetables, meat (chicken, beef, shrimp, scallops or salmon), tofu and noodles or rice; the stir-fry bar ranks at the top of most people's list. Other favorites are the California Pad Thai, Seared Tuna Salad, Grilled Duck Breast, Thai Cashew Chicken and most importantly Buddha's Feast. With a happy hour from 4:30-6:30 p.m., Monday through Friday, including half-priced drinks and selections on the menu, you have no excuse not to frequent Pan-Asia.
— Knol Aust
Second place: Stix Restaurant (109 Marketplace Ln., Flowood, 420-4058)
Third place: Elixir Restaurant & Bar (4800 I-55 N., 981-7896)
Best Bar Food: Hal & Mal's Restaurant & Brewery (200 Commerce St., 948-0888)
Jackson knows how to drink. But man and woman cannot live by booze alone, which is why God invented bar food. Fortunately, our fair town's got that covered, too. All the finalists in this category should be proud of their wares (the crawfish wontons at Elixir are to die for, by the way), but Hal & Mal's can claim a special place in the hearts of Jackson's hungry lushes.
The menu is as classic as the venue. Whether it's those special tamales, the award-winning gumbo, the big fried plate, or the huge and delicious muffaletta, patrons at the White Brothers' warehouse have plenty of great choices. The friendly and efficient staff gets the orders out quickly and accurately. The food even makes the music sound better, and it usually already sounds pretty darn good. Now, if only I wasn't writing this after the bars have closed …
—Scott Albert Johnson
Second place: Cherokee Inn (1410 Old Square Rd., 362-6388)
Third place: Fenian's Pub (901 E. Fortification St., 948-0055)
Best Restaurant That Closed Its Doors: Bruno's Eclectic Cuisine
Bruno's was absolutely a point of pride for many of us—it was certainly the first spot I would think of when I knew my dad was coming into town, because I felt confident that he'd enjoy the steak or fish, and I'd enjoy the Thai food while Ms. D would sop up something Spanish. Those were, indeed, the days. Here's to hoping that a one-term stay in the Guv's mansion for Mr. Barbour might translate into new digs for Luis Bruno that would allow us non-Bentley-owning Mississippians to enjoy him once again. One more reason to mark 2007 on your calendar ...
— Todd Stauffer
Second place: Ironhorse Grill
Third place: Grady's American Grill
Best Place for a First Date: Keifer's
For romance, much rides on the first date. Keifer's grabbed first place with it's laid-back atmosphere, always prompt, kind service, best fries in town, and you can always sit outside on their heated porch—and nothing is more date-friendly than outdoor dining at a great price. Not far behind, Walker's Drive-In, located in Fondren, offers a mod take on patio dining with a mural by the Projectors offering a little something to talk about before you bite into the succulent entrées prepared by Best Chef Derek Emerson. Not to be snubbed, Julep is a seven-days-a-week date spot offering a full bar, live music two to three times a week and great brunch. The lime-green exterior is only a nibble of what to expect on the inside. Julep has the accoutrements for a perfect date—from their bloody marys and delicious fried chicken to their light fixtures and seating. Valentine's Day is fast approaching—I suggest testing these three before you settle on your destination for the 14th.
— Jen Barker
Second place: Walker's Drive-In (3016 N. State St., 982-2633)
Third place: Julep Restaurant & Bar (1305 E. Northside Dr, 362-1411)
Best Fried Chicken: Two Sisters Kitchen (707 N. Congress St., 353-1180)
Despite the fact that you have KFCs in Moscow now, fried chicken defines the Southern sensibility, so it's excruciatingly apt that Two Sisters Kitchen on North Congress, the very antithesis of a fast-food grease distributor, placed first in this category for the third year running. What more confirmation do you need of the fact that Two Sisters upholds a fine old tradition of casual, home-style dining in the heart of the city?
Julep's placement corroborates the depth of their abilities, but Rooster's is a personal favorite. If the world were my oyster, I'd have lunch at Rooster's twice a week, but, alas, once every other week is all I can handle. I guess I'm just one of those people who can get too much of a good thing.
—Jesse Yancy
Second place: Julep Restaurant & Bar (1305 E Northside Dr., 362-1411)
Third place: Roosters (2906 N. State St., 982-2001)
Best Sushi: Little Tokyo (various locations)
Little Tokyo wins again. No surprise at all. I know that both Nagoya and Haru have developed devoted followers who argue passionately for their favorites (yes, the Nagoya roll is very good), but I've yet to see (or eat) anything that will cause me to give up my devotion to LT. Part of what gets me about LT is that they were first—the pioneers of raw fish in Jackson. And that just takes guts, and I'm thankful for their perseverance in expanding the tastes of Jackson. LT also matches my idea of the sushi experience—crowded and lively, but somehow not cluttered or cramped. Plus, they've managed to mix in a dollop of Southern hospitality with great Japanese food—either everyone who eats there is a regular, or they just greet everyone like a regular. My children love nothing better than heading over on Sunday evenings to hang out at the sushi bar (with the waving cat) and chow down on edamame, California rolls, tempura and green tea. As for mom and dad, we can enjoy our yellowtail, spicy tekka rolls and softshell crab rolls without having to share with the kids.
— Kate McNeel
Second place: Nagoya Japanese Cuisine & Sushi Bar (6351 I-55 N., 977-8881)
Third place: Haru Japanese Restaurant (5834 Ridgewood Rd., 899-8518)
Best Vegetarian Option: Rainbow Whole Foods Co-op (2807 Old Canton Rd., 366-1602)
It's safe to say that at least half my paycheck goes to one of the restaurants that placed in this category. When the Millsaps cafeteria has offered the same leftover spinach balls three times in a week, I know it's time to hit up one of my old faithfuls. Plus, there isn't a weekday that goes by that I don't venture over to Rainbow, Jackson's numero uno vegetarian option, for some delectable—be it tofu, soup or one of Domini Bradford's new High Noon creations. When second-place winner Basil's first opened for lunch, every vegetarian at the JFP trekked over there multiple times a week for just one more bite of savory pesto mayonnaise coupled with real buffalo mozzarella. The No. 7 veggie sandwich is so close to my heart—the tastiest treat under $3 in all of America as far as I'm concerned. And runner-up Ruchi—well, let's just say Ruchi is a vegetarian's dream establishment. Not only can you fill up on free sauces and papadum before whatever delicious entrée you've ordered has come, you've got about 20 choices for that delicious entrée. And the dosa rocks. Thanks, guys, for keeping this skinny little vegetarian alive.
— Casey Parks
Second place: Basil's (2906 N. State St., 982-2100)
Third place: Ruchi India (5101 I-55 N., 366-9680)
Best Casino Restaurant: Ameristar (Vicksburg)
It's true, whether you believe it or not; some people do go to casinos just to eat. At the Ameristar or the Golden Moon, many prefer the buffets to the restaurants, simply because they're such good deals. Ameristar's Heritage Buffet has Steak and Crab Legs for $18.99 on Friday and Saturday nights. It's quite a sight to see people holding plates piled with six-inch high stacks of orange crab legs, in both hands no less. I particularly like Ameristar's turkey, fried chicken, baked potatoes and baked sweet potatoes, greens, salad bar and dessert bar. Plus, their sweet tea is divine.
—Lynette Hanson
Second place: Beau Rivage (Biloxi)
Third place: Pearl River Resort (Choctaw)
Best House Salad Dressing: Hal & Mal's Restaurant & Brewery (200 Commerce St., 948-0888)
I have to admit that I was skeptical about all the hoopla over "comeback dressing" when I first, well, came back to Mississippi. I'd read about Hal & Mal's comeback in Jill Conner Browne's "Book of Love," and I'd wondered what was so special about it. So I ordered it when I arrived in J-town. It tasted like damned Thousand Island dressing, with a bit of spice thrown in. But then—inexplicably being that I'd always hated that Thousand Island crap —I kept ordering the stuff on my Greek salads and even on my Onion Ring Po-Boy (not on the menu; this vegetarian contocted it in order to stay in the po-boy game) and just to dip saltines into when it's too late to wheedle more substantial chow out of the staff. Go figure: Now I'm hooked on the stuff. Downright, bonafidably addicted. Is it because it's a special secret blend of spices? Maybe. Or maybe Hal spikes it with something especially evil and addictive. Whatever the truth, Jacksonians love the hell out of this nectar—and even give it to Yankees for Christmas presents. Go figure.
—Donna Ladd
Second place: Mayflower Café (123 West Capitol St., 355-4122)
Third place: Dennery's (330 Greymont Ave., 354-2527) and Cherokee Inn (1410 Old Square Rd., 362-6388) (tie)
Best Hangover Food: Waffle House (various locations)
Waffle House is a slight winner over Krystal due to the fact that all of its locations are open 24 hours a day, 365 days a year. Krystal has cut back some, those slackers. Also, Waffle House offers a more varied menu. The food has the subtle textures and grease needed to battle a hangover, and the coffee is great. The service is usually fast, and the jukebox volume is kept low.
—Buck Weaver
Second place: Krystal (various locations)
Third place: Cherokee Inn (1410 Old Square Rd., 362-6388)
Best Plate Lunch: Cherokee Inn (1410 Old Square Rd., 362-6388)
Driving toward the Cherokee Inn between 11 a.m. and 1 p.m., you'll notice a steady flow of vehicles headed that way—patrol cars, office workers' cars, repair workers' trucks—all filled with people with one thing on their minds: plate lunch at the Cherokee. At the Cherokee, plate lunch is—as it has always been—meat, vegetables, bread and iced tea. Said menu is posted for you in two places on those blackboards you write on with neon colors, topped with a lighted Budweiser sign, so they're easy to spot. On Thursdays, their busiest plate-lunch-day, the boards read: Roast beef with mashed potatoes, string beans, salad, tea included, $6.99 plus tax. You'll find desserts like peach or blueberry cobbler ($1.75), ice cream, 75 cents extra; lemon ice box pie or pecan pie ($1.75); and cookies'n'cream pie ($1.75) Personally, after eating that plate lunch, I don't see how you could even hope to have room for a dessert. Make the sweet tea do, that's my advice.
—Lynette Hanson
Second place: Two Sisters Kitchen (707 N. Congress St., 353-1180)
Third place: Peaches Café (327 N. Farish St., 354-9267)
Best Doughnuts: Krispy Kreme (1100 East County Line Rd., Ridgeland, 956-2468)
I do have to show my bias here—Shipley's was my first Southern doughnut experience; they're popular at my office staff meetings, and so I freely admit they're a personal fave. Shipley's takes home third place. Newcomer Pillow Donuts came in second—and I have to admit to cheating on first-love Shipley's and munching on Pillow Donuts now and then. But you have to get there early, because when the morning batches are gone, Pillow closes. And they're out by 11 a.m. most days. So go early! The dominating doughnut, though, is Krispy Kreme—a Southern-founded doughnut company (opened in Winston-Salem, N.C., in 1937) that has taken over the world.
—Beth Kander
Second place: Pillow Donuts (5036 Parkway Dr., 572-8332)
Third place: Shipley Do-Nuts (103 Highway 80 E., Clinton, 925-0020)
Best Appetizer: Julep Restaurant & Bar (1305 E Northside Dr., 362-1411)
Any kitchen grunt will tell you that most appetizers are fussy and time-consuming to prepare, but they're an important part of any menu. They help establish an ambience and set the stage for the main course. When it comes down to it, appetizers are as much about what goes on around them as they are about what goes into them.
Now, in restaurants that have an ethnic theme, you expect specific appetizers; in the case of third-place winner Keifer's, for instance, you find an excellent variety of traditional mezedakia. Bravo!, who came in second, is tethered, to some degree, with this specification as well, since their appetizer menu has middle Mediterranean roots, but Bravo! strains at the leash with delicious departures, such as stuffed new potatoes and salmon cakes with black bean sauce.
Yet the challenge to offer impressive appetizers is greatest when it comes to a restaurant anchored in a concept, a restaurant that has no discernable prior criteria save genius. And this is where Jackson's Best Appetizer winner Julep Restaurant and Bar cooks. The butterbean hummus, the shrimp toast and the layered green tomato are all liable to make you slap Momma and hide her wig.
— Jesse Yancy
Second place: Bravo! Italian Restaurant & Bar (4500 I-55 N, 982-8111)
Third place: Keifer's Restaurant (705 Poplar Blvd., 355-6835)
Best Nothing-But-Carbs Menu: Rooster's (2906 N. State St., 982-2001)
Rooster's is the perfect blow-your-diet-Friday lunch hour food. Onion rings and dumplings and banana pudding … oh my! Plus, it's close to the office, wherever one's office may be, from a location in Clinton off I-220 or in Fondren near, and I do love to say it, Liz Henry. Post-gluttony shopping at its finest.
Broad Street Baking Company and Café also offers a carboholic utopia where you can get carbs with your carbs. We love breaking bread at Broad Street with a glass of red wine, and don't forget the lemon squares and cowboy cookies. Stop by after 4 p.m. for a great price on bread, then go home and pretend like you've been Betty ByGawd Crocker all the livelong day while juggling mom duties plus your community responsibilities. That's a super soccer-mom secret, so don't you dare tell anyone.
—Emily Braden
Second place: Broad Street Baking Company and Café (4465 I-55 N., 362-2900) and Amerigo (6592 Old Canton Rd., Ridgeland, 977-0563) (tied)
Third place: Old Venice Pizza Company (1428 Old Square Rd., 366-6872) and Cherokee Inn (1410 Old Square Road, 362-6388) (tied)
Best Place to Go Off Your Diet: Walker's Drive-In (3016 N. State St., 982-2633)
Are you sure you want to do this? I mean, you promised yourself you were going to lose 10 pounds (at least), and maybe you actually quit ordering cheeseburgers with mayonnaise, but what the hell; seize the day, right?
If you get cold feet at the last minute, remember that you can order sensible amounts of reasonably healthy food in almost any restaurant in Jackson except for those that serve only pieds de porc à l'écarlate and beer. OK, so you're going to porc out; here's how you do it: Go to Walker's, winner of Best Place to Go Off Your Diet. First, order a split of the fried lobster tails and crab cakes for an appetizer, then a salad with their legendary horseradish/comeback dressing and then the red fish Anna with hollandaise and crabmeat. Finish up with the crème brulée. Have a nice light Beaujolais with this, and don't blame me if the Cialis doesn't work.
If you're slipping off the Atkins Diet, hit second-place winner Broad Street, where they make carbs jump through hoops; if you're going off low-fat, either of the tied-duo of Rooster's or Red Hot & Blue is for you.
—Jesse Yancy
Second place: Broad Street Baking Company and Café (4465 I-55 N, 362-2900), Rooster's (2906 N. State St., 982-2001) and Red Hot & Blue (1625 East County Line Rd., 956-3313) (tied)
Best Gumbo/Red Beans & Rice/Outdoor Dining/Weekend Brunch: Que Sera (2801 N. State St., 981-2520)
One thing is clear ... the only way we can keep Que Sera out of the top tier of Best Of winners is to start using electronic balloting machines and outsource the vote-counting to Florida.
Although they were involved in some neck-and-neck races, Que Sera has pulled out a stunner—four wins that represent appreciation for their specialties and more than a nod to the improvements that the restaurant has made to its outdoor seating and overall ambience. Que Sera offers an extremely solid gumbo, with the traditional dark roux and the sense that the gumbo is what it should be—a nose-tingling mixture of coastal critters that you'd almost prefer not to ask after. Just spoon, lift, enjoy and repeat.
The red beans and rice at Que Sera are a mess. Not that there's anything wrong with that—after all, Que Sera still offers the paper menu placemats that we're inevitably caught trying to hand to the waiter, particularly if Que Sera has not been our first bar-hopping stop of the evening. The red beans and rice fit those paper menus—sloshed onto the plate with a little juice spilling over the edge, special Andouille sausage brought in special from Louisiana, piled high if that's your pleasure. Only two people in the company know how to make either their red beans and rice or their gumbo—when I called to inquire, they were pretty tight-lipped about the whole thing.
(To me, it's also worth noting that the nachos are done with red beans and broiled just enough to singe the chips when they come out right. Sorry...it's the Texan in me. I guess we could use a Best Nachos category next year ...)
The weekend brunch is also a standout, what for the fact that they HAVE ONE (hint to all restaurants that don't) and that it's a sinfully luxurious most-of-the-afternoon affair. Eggs, coffee, screwdriver ... ahh. The weekend. I love the weekend.
Outdoor dining? Naturally. With the big glowing firepit in the wintertime and the umbrellas in summer, Que Sera has taken itself from that place with the picnic benches right out on State Street to a sophisticated sidewalk eatery, complete with Bass on tap. Get there at about 3:25 p.m. on a Friday and order a drink, positioning yourself to people watch just like you're in Paris. Stay until they kick you out. If nothing memorable happens to you that day, then it's time for you to stop shaving and buy a boat.
—Todd Stauffer
Best Gumbo
Second place: Hal & Mal's Restaurant & Brewery (200 Commerce St., 948-0888)
Third place: Broad Street Baking Company and Café (4465 I-55 N., 362-2900)
Best Red Beans & Rice
Second place: Hal & Mal's Restaurant & Brewery (200 Commerce St., 948-0888)
Third place: Déjà Vu (810 Lake Harbour Dr., 899-8690)
Best Outdoor Dining
Second place: Walker's Drive-In (3016 N. State St., 982-2633)
Third place: Keifer's Restaurant (705 Poplar Blvd., 355-6835)
Best Weekend Brunch
Second place: Julep Restaurant & Bar (1305 E Northside Dr., 362-1411)
Third place: Bravo! Italian Restaurant & Bar (4500 I-55 N, 982-8111)
Best Pizza: Soulshine (5651 Highway 25, Brandon, 919-2000)
Though they have retired their downtown restaurant, Jackson still loves their soulful pizza. That's right, Chris "Bubba" Sartin's Soulshine Pizza is No. 1 … again. Pizza lovers can still get their fix at the store in Brandon, and at a new location in Ridgeland this spring. Despite the move, the Southern-style pizzas will keep the same "soul & feeling" Sartin puts into every bite. For a unique pizza with fresh ingredients, Jackson residents turn their taste buds to Old Venice, second-place finisher. After three years of success, the restaurant remains a favorite among pizza fanatics, but, as one manager notes, "We have more than just pizza." Third place went to Bravo!, home of wood-fired pizzas. Jacksonians have been dining at Bravo! for 10 years now, for parties, banquets and romantic dinners, and just for pizza. Each pie is made individually for your enjoyment. Most popular pie: Pizza Bianco.
—Kate Jacobson
Second place: Old Venice Pizza Company (1428 Old Square Rd., 366-6872)
Third place: Bravo! Italian Restaurant & Bar (4500 I-55 N., 982-8111)
Best Chef: Derek Emerson, Walker's
I love people who love what they do. And the winners of Best Chef clearly love what they do—it shows in everything they make. They all have a gift with food that the rest of us can happily appreciate. Chef Emerson is the stand-out chef in this list of culinary geniuses. Every meal from his kitchens delights on multiple levels—presentation, flavor, unexpected combinations, the freshest ingredients. Favorites include fried Portobello mushrooms, house-made tamales (the best in Jackson), and Everything-Crusted Tuna. His crème brulee is some of the best I've had outside of Paris.
The others on the list have their own genius as well, and have developed passionate followers around town. Chef Godfrey's Caribbean cuisine captures the flavors and colors of a beach vacation. Sandy Scott has some delightfully unique dishes, and the sandwiches he's created for Video Café are an unexpected gourmet treat. Nick Apostle's presence in Jackson assures us all of a perfectly prepared Tilapia or peppercorn steak whenever we feel the need. And when Bruno's closed, it was nothing short of tragic. Sure, the denizens of the governor's mansion get to enjoy Bruno's cooking, but some of us just aren't able to get an invitation to dinner these days.
—Kate McNeel
Second place: Sandy Scott (Video Cafe) and Chef Godfrey (Godfrey's Take-Away) tied
Third place: Nick Apostle (Nick's) and Luis Bruno (Gov. Haley Barbour) tied
Best Barbecue: Hickory Pit (1491 Canton Mart Rd., 956-7079)
You love the Hickory Pit. It's been serving its famous chopped-pork sandwiches along with ribs and chicken since it opened in 1981. It even serves beef brisket, which warms the heart of this Texas transplant. Also not to be missed are its home fries—wide, thin fried potatoes that make the extra calories worth it.
The true mark of good barbecue is the burp test: Your meal should "revisit" you periodically for the next several hours. Nothing beats the pleasing return of that hickory smoke taste even after your stomach has gone to work digesting the meat. Gas doesn't give you this sensation—only the luscious smoke of real hardwood. In my opinion, no place in Jackson passes the burp test better than E&L Bar-B-Q, our third-place winner (and first place last year). Best ribs in town, if not the state. If you haven't been, do yourself a favor, and check it out.
—Stuart Rockoff
Second place: Red Hot & Blue (1625 East County Line Rd., 956-3313)
Third place: E&L Bar-B-Q (1111 Bailey Ave., 355-5035)
Best Dessert: Amerigo (6592 Old Canton Rd., Ridgeland, 977-0563)
Apparently, people who like Italian food also eat dessert. If one is to pig out on pasta and pizza, one may as well dive into the tiramisu. In any event, Amerigo and Bravo! again ranked numbers one and two. Along with the tiramisu, the key lime pie (a quarter of a pie!) at Amerigo is a favorite. At Bravo! I am torn between the double chocolate bread pudding and the vanilla crème brulee with caramelized bananas.
Bravo!'s sister restaurant, Broad Street, is choice number three. Order any pastry Broad Street offers, and you will not be disappointed. Broad Street allows you to begin your sugar rush at breakfast. Order the giant cinnamon roll, slather it with butter and promise to eat nothing but lettuce for lunch.
—Andrew Scott
Second place: Bravo! Italian Restaurant & Bar (4500 I-55 N., 982-8111)
Third place: Broad Street Baking Company and Café (4465 I-55 N., 362-2900)
Best Po-Boy: Good Time Deli & Catering (870 Blvd N., Ridgeland, 957-7055)
A good po-boy is one of the most unique kinds of sandwiches you can find. You have to really do a lot to work on at least the initial bite. After that, you are pretty much ready to devour the whole thing. The problem is, after eating the sandwich, there is so much stuff that has run out the side that essentially there's another whole course waiting for you!
Good Time Deli serves up the best po-boy in the city. Other items on the menu include: chicken fried steak, spaghetti, roast beef and veal parmesan. The sides include cole slaw, onion rings, fries, and red beans and rice. They also have other kinds of sandwiches like turkey breast and meatball. Just thinking about trekking over to Good Time will have your mouth watering.
—Ayana Taylor
Second place: Sal and Phil's Seafood Restaurant & Lounge (6600 Old Canton Rd., 957-1188)
Third place: Hal & Mal's Restaurant & Brewery (200 Commerce St., 948-0888)
Best Chinese and Best Take-Out: Best Wok (225 Meadowbrook Rd., 368-9555)
I remember the first time I had Best Wok—my friend John had heard about it through classmates, and we went dressed in our best appetites. An entire box of food and a mere $11 later, we lay on the ground in ecstasy. Stuffed way past our bodies' allowance, we both knew we had found something wonderful. Best Wok was not only the best-tasting Chinese food I had had since moving to Jackson, it was the cheapest. I had ordered soup for less than 2 dollars and had been given something comparable to a bucketful of undeniably wonderful liquid. After that first visit, I refused to eat Chinese anywhere else. In fact, Best Wok eventually became part of my weekly routine—one night a week my friend Jay and I sat outside of Fred's and Piggly Wiggly, waiting for our lo mein and sweet and sour chicken (respectively) as if it were our birthdays. When Jay moved to New York, I almost felt like promising him I would never go again without him. After all, so many of my nights there had been spent learning to love him. But, sorry, Jay. It's too damn good. I'll take the lo mein and fried rice, please.
— Casey Parks
Chinese
Second place: The Empress (6720 Old Canton Rd., 977-6279)
Third place: Sun Koon (5105 I 55 Frontage Rd. N., 366-4940)
Take-out
Second place: Broad Street Baking Company and Café (4465 I-55 N., 362-2900)
Third place: Keifers Restaurant (705 Poplar Blvd., 355-6835)
Best Asian: Thai House (2665 I-55 S., 373-8154)
The Thai House is, by definition, the best Thai restaurant in the city, but it might be the best restaurant in the city, period. With food to make your face sweat, the Thai House is the only restaurant in town that serves authentic Thai cuisine. But fear not, owners Watt and Tim say they can make any dish on the menu as mild or as hot as you like it (except the curry, which is hot by divine design) because of the nature of the spices they use and because they make each dish individually as it is ordered, in sharp contrast with many buffet-style Asian restaurants. Also, it's one of the few restaurants in Jackson to offer an extensive number of vegetarian options rather than just one or two. Personal favorites on the menu include the pad thai, the red curry and the coconut ice cream.
—Kit Williamson
Second place: Pan Asia (862 Avery Blvd N., Ridgeland, 956-2686)
Third place: Third place: Ruchi India (5101 I-55 N., 366-9680)
Best Italian: Amerigo (6592 Old Canton Road,Ridgeland, 977-0563)
My heart is gladdened that JFP readers chose Amerigo as their favorite Italian restaurant. I attribute their refinement and good taste to my columns, of course, and I am pleased with their epicurean progress. Amerigo not only has excellent food (the Veal Picatta is to die for) but the best-trained wait staff this side of five stars.
Second on the list of favorites is Bravo! in Highland Village. Every item on the menu at Bravo! is first-rate, but I can promise that the pan-seared, crab-crusted fish of the night will become your favorite once you try it.
A national chain, the Macaroni Grill placed third. While the food is more than adequate, the local store would do well to send their wait staff to Amerigo for training.
Many readers mentioned Fratesi's. Quiet and nestled along Lake Harbor Drive's "restaurant row," Fratesi's offers a casual atmosphere along with Italian favorites.
— Andrew Scott
Second place: Bravo! Italian Restaurant & Bar (4500 I-55 N., 982-8111)
Third place: Macaroni Grill (6376 Ridgewood Court Dr., 957-3999)
Good showing: Fratesi's (910 Lake Harbour Dr., 956-2929)
Best Place to Eat When Someone Else Pays: Nick's (1501 Lakeland Dr., 981-8017)
It can be tough, deciding where to have someone else take you to dinner in Jackson. Nick's, Char and Walker's are three great picks. Nick's is an all-around great restaurant—aside from the wonderful food (and the famous Tower of Butter), it has great ambience and service. Our idea of heaven (well, one of them anyway) is sitting on the couch in their bar, sipping martinis and nibbling on their tasty array of appetizers—especially the spring rolls and calamari.
Char gets points for having one of the liveliest bars in town, with excellent martinis and good bar service. It's the place to go for a hearty, home-style lunch, and the dinner salads are a meal in themselves. It's also a great place to go to satisfy your inner carnivore—they serve excellent, and huge, steaks.
Walker's is just about perfect, even when you have to pay your own tab. Chef Emerson is there to work his magic—the watercress salad and the bread pudding spring to mind. And, there's the Sea Bass. Or, a steak with mashed potatoes with truffle oil. The wine list offers something to complement every taste. And, though it's not listed on the menu, Walker's offers the tastiest vegetarian plate around.
—Kate McNeel
Second place: Char Restaurant (142 Highland Circle, 956-9562)
Third place: Walkers Drive-In (3016 N. State St., 982-2633)
Best Meal Under $10: Keifers Restaurant (705 Poplar Blvd., 355-6835)
By now a Jackson landmark, Keifer's offers superior inexpensive salads and sandwiches. Patrons can dine at a table in the Greek restaurant's homey interior or outdoors overlooking the historic Belhaven district. Extremely fast, friendly service and their signature cottage fries appetizer make Keifer's a hot spot for quick lunches (and thrifty college students). The relatively new Basil's Pasta and Panini Parlor has rapidly emerged as a premier location for Jackson lunching—grabbing second place in this category after being open only a few months. With some plates running as low as $3, the Fondren Corner eatery fills the stomach without emptying the wallet. The unique panini—a thin, crusty sandwich bread—is a favorite. Don't miss the pasta salads, the tomato-basil soup and the deviled eggs—all JFP staff favorites. The iconic Jackson spot, Cherokee Inn, may be quaint-looking from the outside, but inside the roaring kitchen is serving up the city's tastiest no-nonsense Southern eats. The plates are intimidating in size, but not price. The staff is uncommonly friendly, and the jukebox is usually bustling. The move to the new location across from Moe's on Old Square hasn't hurt one bit.
—Paul Dearing
Second place: Basil's (2906 N. State St., 982-2100)
Third place: Cherokee Inn (1410 Old Square Road, 362-6388)
More like this story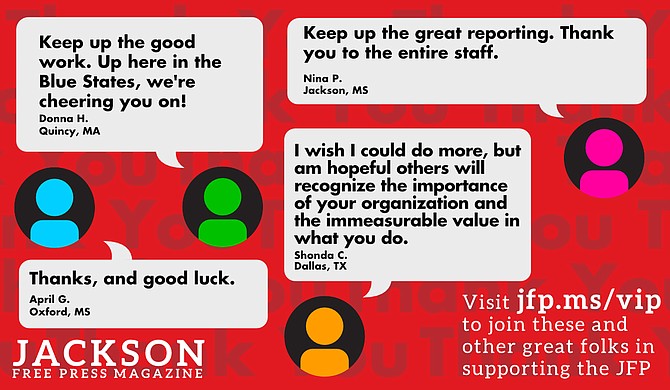 Thanks to all our new JFP VIPs!
COVID-19 has closed down the main sources of the JFP's revenue -- concerts, festivals, fundraisers, restaurants and bars. If everyone reading this article gives $5 or more, we should be able to continue publishing through the crisis. Please pay what you can to keep us reporting and publishing.